WTM LATAM Exclusive: Travel Outlook for 2022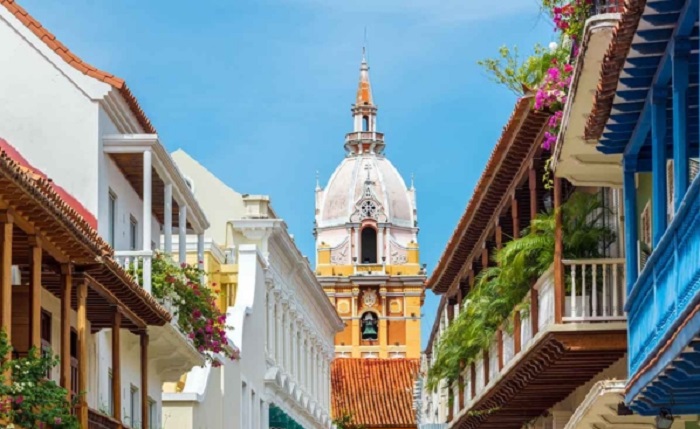 As a Global Data Partner of the World Travel Market (WTM), the Head of Market Intelligence, Juan Gomez, has been invited to present at WTM LATAM this week in Sao Paulo on April 6 on the Travel Tech stage.
Here are a few points the Head of Market Intelligence shall share in his presentation on the LATAM Travel Outlook for 2022 – to catch the whole presentation and live panel discussion with ProColombia and Emprotur Brazil, make sure you register to attend.
The Americas pave the road for travel recovery in 2022
In 2021, the Americas outperformed all other global regions in terms of international arrivals. And it was LATAM and the Caribbean leading the way, luring travel-hungry tourists with their simple travel rules, safety protocols and regular flights from the US and Europe.
Fast forward to 2022 and LATAM and the Caribbean continue to shine, way above the average international figure of -59%.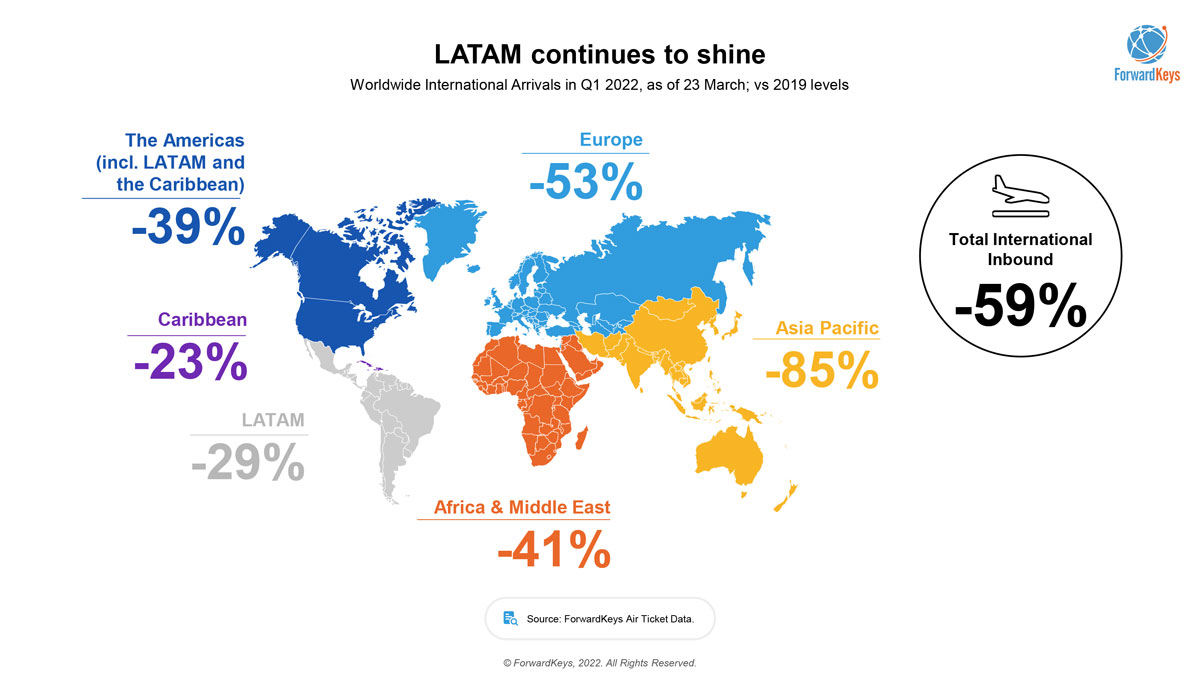 Stealing the limelight are destinations in Central America in Q1. The most resilient destinations are El Salvador at +28% on pre-pandemic levels, followed by Nicaragua (+8%) and Mexico (-8%).
"Mexico was leading the way in 2021, however, as more regional neighbours have opened their borders and made enticing travel offers, they are facing more competition," says Juan Gomez.
Easter, Summer and beyond in LATAM
Travel demand for Easter and summer are getting close to 2019 levels, at -13% and -12% respectively for travel to LATAM. Colombia and Costa Rica are well-positioned to make a post-Omicron recovery. For both destinations, issued tickets are above 2018/2019 levels since the beginning of 2022.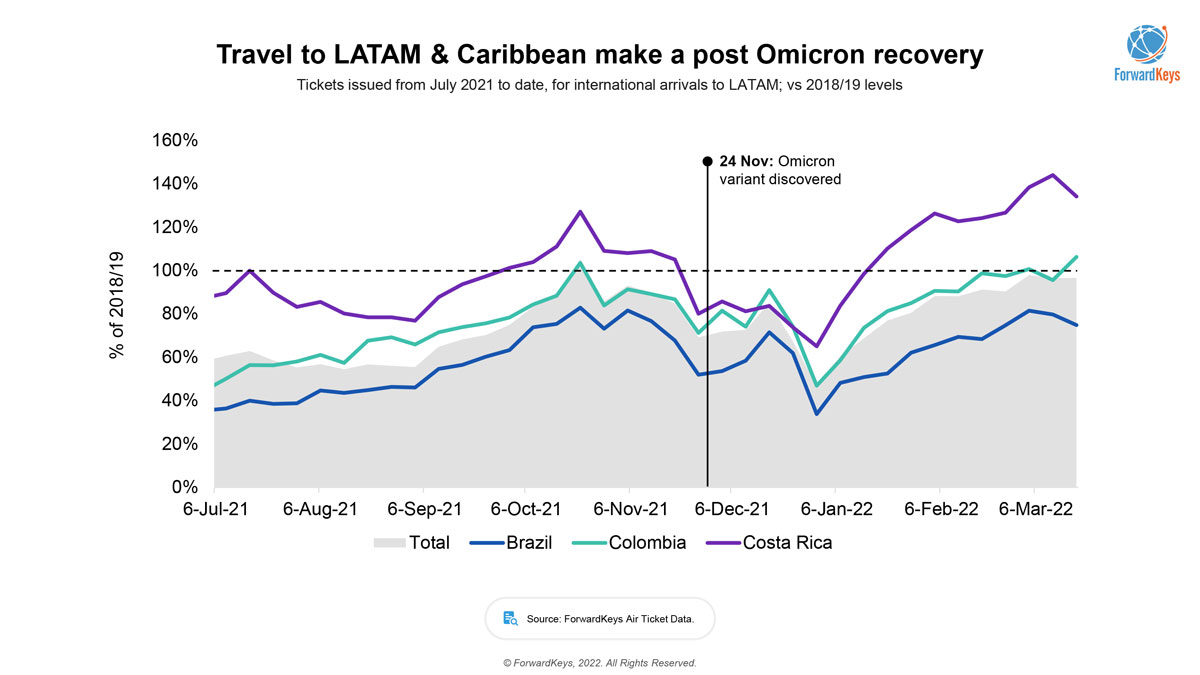 "Colombia is faring well in both travel intent and demand according to our data," says Gomez. "We can see that transatlantic travel in terms of flight searches from the US and Spain is strong while international arrivals from April – June are particularly high from regional neighbours," he adds.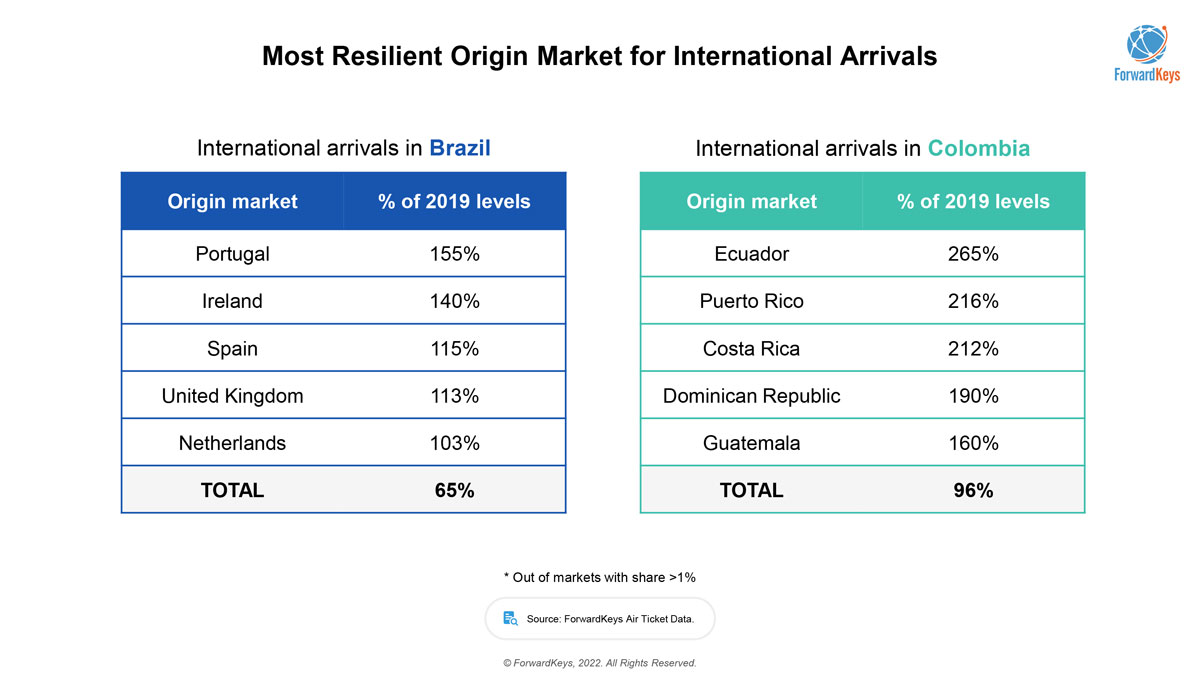 Learn more about the road to recovery, the impact of the Russia-Ukraine conflict and luxury travel to LATAM by visiting the Travel Tech stage this April 6. Make an appointment for a one-on-one demonstration with Juan Gomez and take advantage of the special WTM LATAM offer valid till the end of April.
To learn more about the data behind this article and what ForwardKeys has to offer, visit http://forwardkeys.com.