Is the Flu Making a Late-Season Comeback?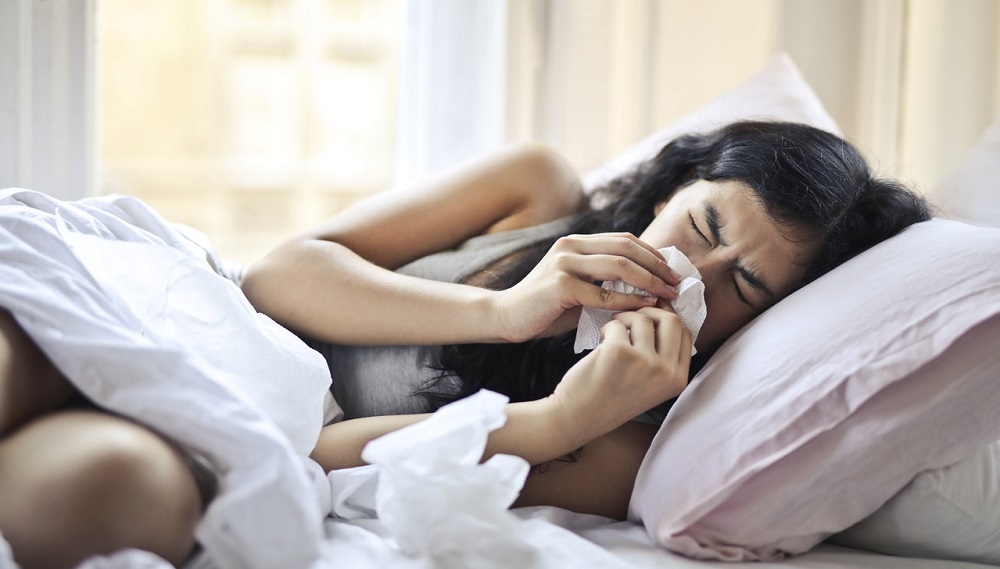 In regions where BA.2 prevalence is rising, Kinsa's data shows a higher incidence of respiratory symptoms like runny nose and cough among adults. This subvariant now makes up the majority of COVID cases sequenced nationwide, but that proportion varies regionally, from about 93% in the New York/New Jersey region down to 73% in the Great Plains.
We expect that as BA.2 increasingly predominates, cases will also increase, since this subvariant appears to be more transmissible than the original Omicron variant. However, we don't anticipate that this variant will create as large a case surge as the first Omicron wave, thanks to population immunity both from prior infection with Omicron (which research shows holds up well against BA.2), and from vaccinations and boosters.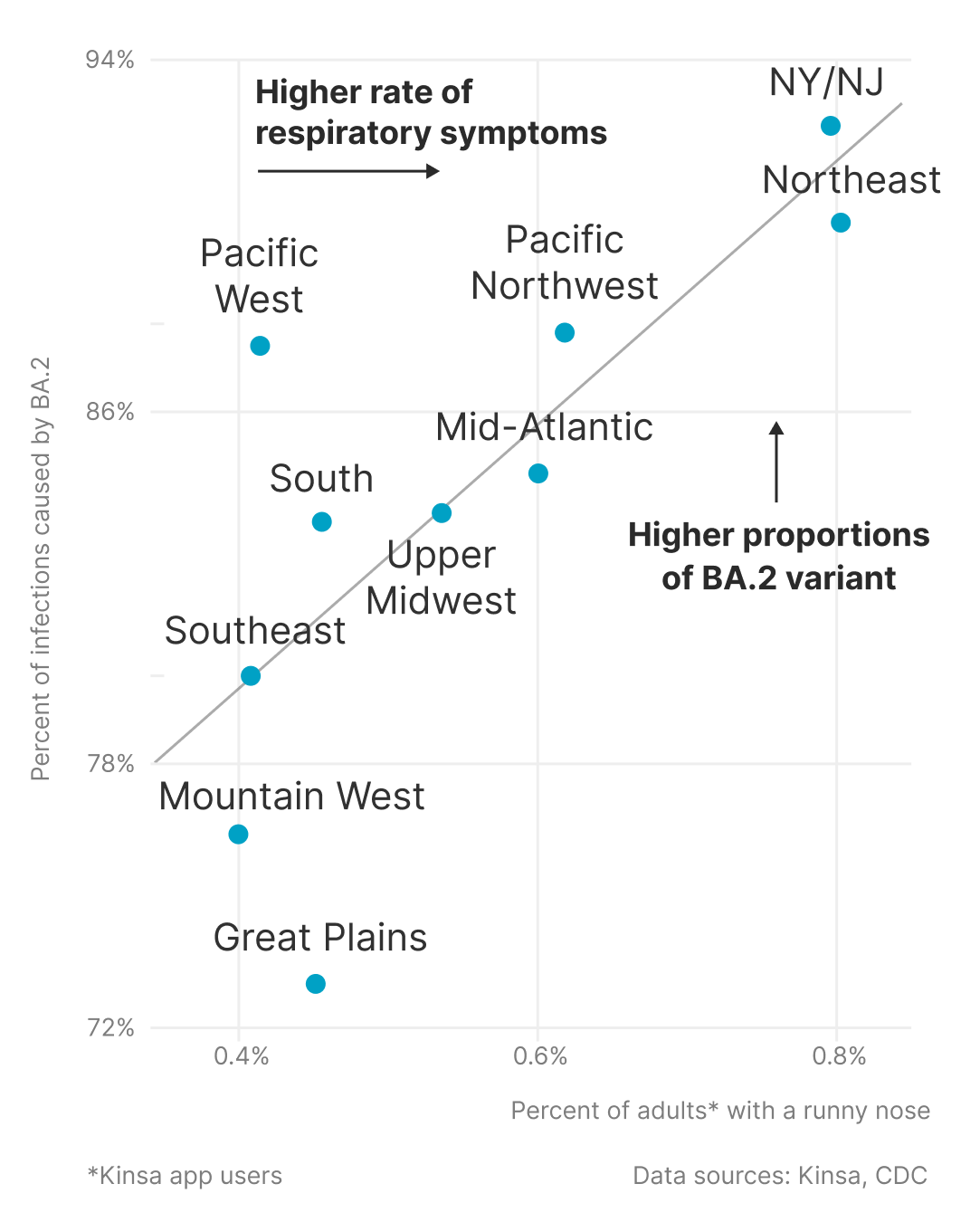 The relationship between BA.2 prevalence and observed respiratory symptoms may also be confounded by something else going on: while everyone's attention has been on COVID, the flu has been making a late-season comeback.
Since early February, as the Omicron wave and COVID precautions subsided, flu cases have increased nationally. They are still at a fraction of what we'd see during a "normal" (pre-COVID) season's peak, but are above what we'd typically see at this time of the year, according to CDC data. Additionally, other respiratory illnesses and seasonal allergies - both of which can cause similar symptoms - are circulating.
Kinsa's data shows respiratory symptoms increasing in the New York/New Jersey region, which coincides with where reported flu and COVID cases are increasing and where BA.2 makes up the highest proportion of positive COVID tests. We'll continue to keep an eye on this.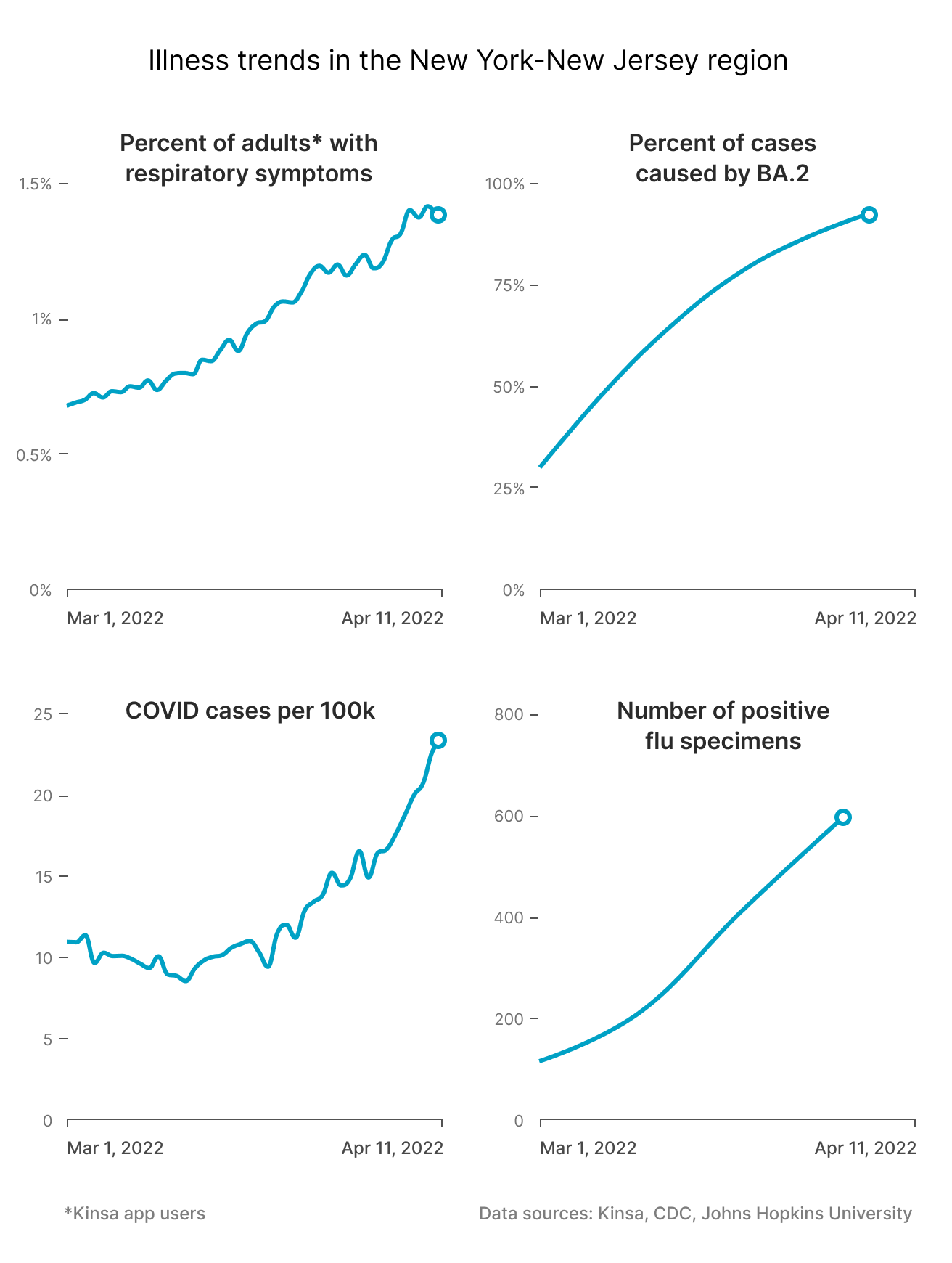 Some good news ahead: warmer weather around the corner is likely to help limit the extent of both flu and COVID transmission, as both viruses thrive in less humid and indoor environments. In the meantime, here are some resources to help keep you and your loved ones safe:
To learn more about the data behind this article and what Kinsa has to offer, visit https://www.kinsahealth.co/.