Monthly Jobs Recap: Companies put the brakes on hiring in April


A month of decline
After the four previous months of slow, yet steady job listings growth, April jobs data shows employers are removing job postings and putting a pause on recruitment. With the uncertainty in the economy and increased interest rates businesses are being more conservative when hiring. Total active job listings in the U.S. were down by 3.1%, affecting nearly every occupation, industry, and state.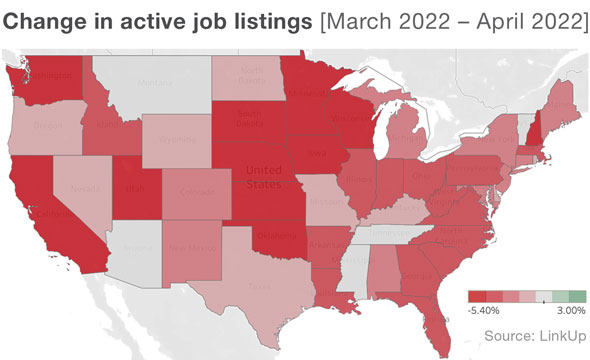 Job listings with the highest rates of decline were concentrated in Healthcare, with listings down more than 5%. Jobs were also down in the Construction (-5.1%) and Information (-4.7%) industries. At the occupation level, we also saw noteworthy declines in Management (-5.1%) and Production (-4.6%) occupations last month. All of these declines seem pretty drastic, compared to the continued growth we had grown accustomed to.
Watching the growth
Only a few industries and occupations are increasing job listings at the moment**. I**ndustries with slight job listing growth: Accommodation and Food Services (0.62%); Transportation and Warehousing (0.61%); and Mining, Quarrying, Oil and Gas Extraction (0.57%). At the occupation level, we finally saw growth in Educational Instruction and Library (2.0%) and Arts, Design, Entertainment, Sports, and Media (0.4%) following long periods of decline.
Looking at the S&P 500® LinkUp Jobs Indices, eyes have been on the Energy Sector as it continues to stay on the top. According to our data the only subsector with growth was in fossil fuels generating electric power (up 7.1%).
We've also been closely following the Information Technology Sector lately. After a long reign of growth, rumors are that tech is putting the pause on hiring too. We can confirm that our April jobs data shows Architecture and Engineering (-2.9%) as well as Computer and Mathematical (-1.5%) occupations down for the first time since November 2020. Yet—looking at the daily data our job indices provide, it appears not all tech jobs are down, and overall they are coming back up.
To learn more about the data behind this article and what LinkUp has to offer, visit https://www.linkup.com/data/.