How is online apparel reacting to high inflation? (let's look at their jobs)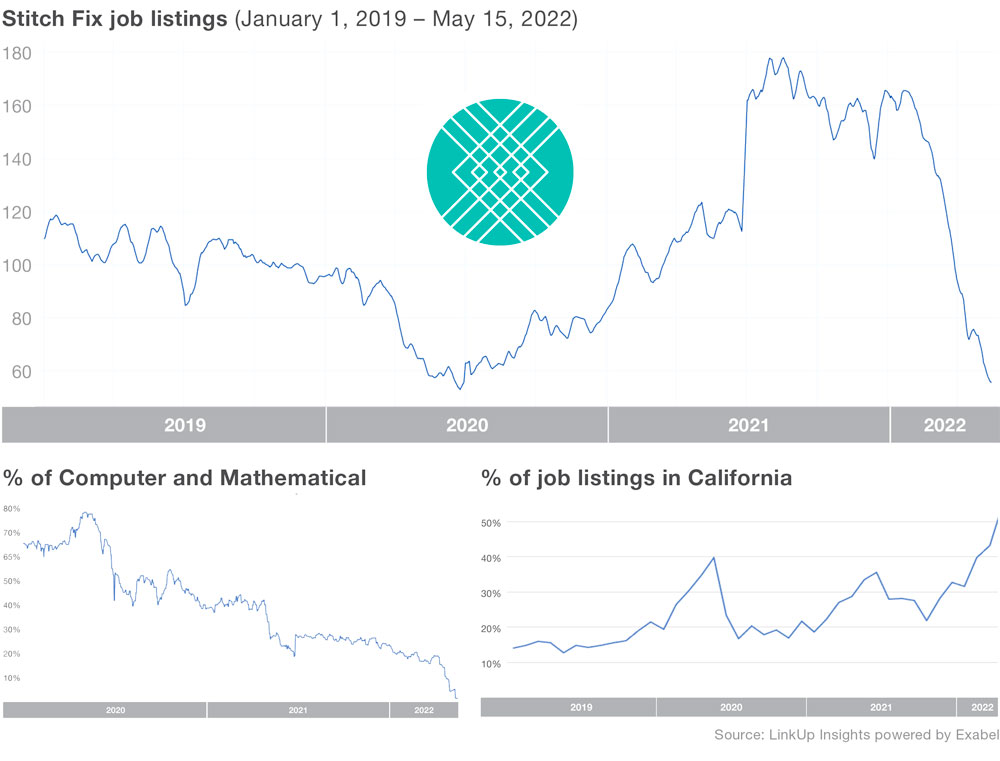 A recession is starting to look like a possibility. Household budgets are being squeezed by decades of rising inflation, housing costs are continually breaking records, and consumer confidence is plummeting. As a result, customers are less likely to spend money on non-essential things. The apparel industry bears the brunt of the impact. Consumers can easily trade down for less expensive items and stretch out the lifespan of their existing wardrobe. It's easy to slash spending on apparel when times are tough. The situation becomes worse for e-commerce-focused apparel companies as shoppers are heading back to brick-and-mortar stores. Digital marketplace Farfetch stock has collapsed (down more than 75%), from the pandemic highs to the pandemic lows. Well, how about some niche e-commerce apparel businesses that set themselves apart by offering unique services? Will these extra offerings help them avoid customer cutbacks or will they make things worse? We'll talk about e-commerce apparel companies that are in subscription boxes and resale categories separately.
Subscription box service
Stitch Fix is the market leader in the subscription box market that is known for having personal stylists send clients a "Fix" with pre-packed items that consumers can choose to either keep or send back. Its online sales model promises a perfect marriage of technology and human fashion expertise. The approach entails gathering information like preferences, size and budget via style quizzes, as well as from purchases and returns, and engaging human stylists to foster personalization. It charges a $20 "styling fee" per box, which is applied to anything a customer buys.
It's not turning out to be a great way to run an apparel business, however. Now five years past its IPO, Stitch Fix is struggling to hold onto its identity. Its founder and CEO has stepped down, and the company is increasingly looking more and more like a traditional e-commerce store with its "Freestyle" offerings. Year to date, Stitch Fix has shed about half of its value. And relative to all-time highs above $90 notched in January 2021, the company is trading at a mere fraction of what it once was.
It previously laid off 1,400 California-based staffers in June 2020, saying that it wanted to save money by replacing them with less expensive labor from other states. Stitch Fix has been decreasing its recruiting since March 2020, according to LinkUp data, three months before its formal layoff announcement. The demand for work progressively increased one month following the announcement, but by the beginning of the year, it had begun to decline dramatically. Stitch Fix appears to be in a pickle, especially given its current stock price.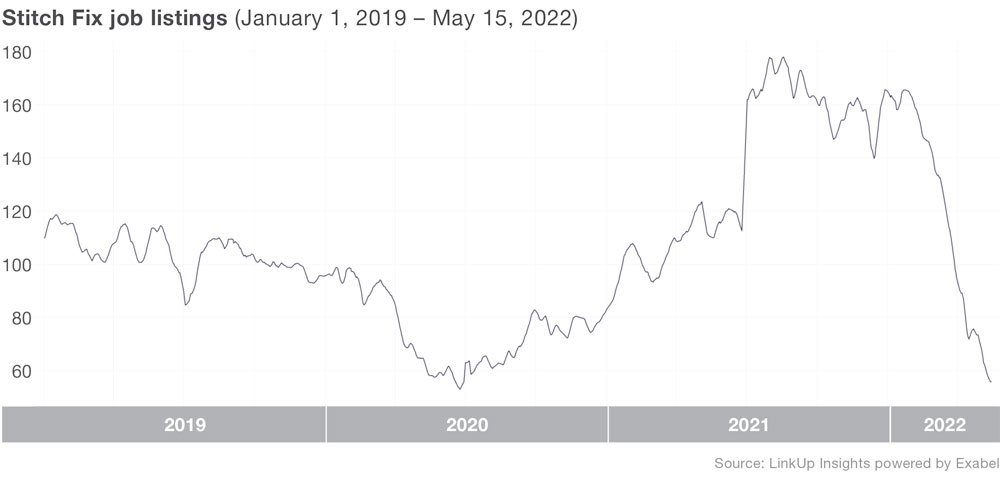 We looked into this company's hiring data in California. California hiring as a percentage of total jobs peaked in May 2020 at almost 80% and has subsequently fallen to an all-time low as of May of this year. Jobs can be found in Pennsylvania, Oregon, Arizona, Texas, and remote locations.
[
](https://blog.linkup.com/data-seekers/wp-content/uploads/sites/4/2022/05/LinkUpBlogMay31StitchFixinCA.jpg)![](/uploads/220601-linkup2.png)
We also find that the company has a low hiring demand for stylists who offer style recommendations in addition to Stitch Fix's algorithms that personalize the clothes for its customers. However, the share of computer and mathematical related jobs has risen from 14% in 2019 to more than 50% today. The company's expanding use of computer-generated clothing recommendations and stylist decrease make one can't help but wonder if there is a possibility that one day Stitch Fix will completely replace the stylist with a computer algorithm.
[
](https://blog.linkup.com/data-seekers/wp-content/uploads/sites/4/2022/05/LinkUpBlogMay31StitchFixComputerMath.jpg)![](/uploads/220601-linkup3.png)
Resale
Dressing fashionably can be rather expensive. Clothing does not come cheap and, at this time of high inflation, that picture is only likely to worsen for the foreseeable future. Fortunately, there are some alternatives for customers to save some money and stay in style. One way is to buy them through the online resale marketplace like Thredup and Poshmark. The resale market is expected to grow by 24% in 2022 and reach $82 billion by 2026, according to research from ThredUp and GlobalData Retail.
ThredUp allows sellers to list their clothing so that buyers can find attractive deals, sometimes as much as 90% off. Instead of relying on the clothing going straight from the seller to the buyer, however, the company sends its sellers a Clean Out Kit. The sellers then fill that kit and return it to the company using the prepaid label that's on it. From there, the company handles the selling process.
According to LinkUp data, the number of jobs at ThredUp has been steadily increasing in recent years, with the majority of the work being in "mathematical and computational" and warehouse-related fields. In fact, since the second half of last year, the percentage of warehouse-related positions has fallen, while the percentage of computer-related occupations has climbed.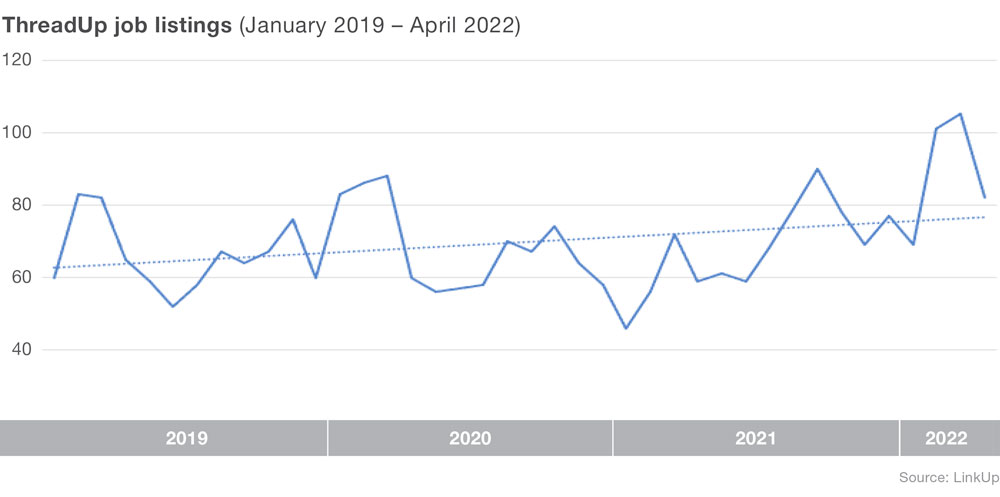 We weren't surprised to find ThredUp's complicated, custom-designed warehouses, which use technology and algorithms to automate practically every aspect of its logistics, thanks to the hiring of a huge number of tech personnel. When bags of clothing arrive at the warehouse, visual recognition technology is used to identify and inspect each garment to determine what it is and if it is in sellable condition. The demand and pricing for each item, as well as the optimal payout to a seller, are then predicted by algorithms.
[
](https://blog.linkup.com/data-seekers/wp-content/uploads/sites/4/2022/05/LinkUpBlogMay31ThreadUpComputervsWarehouse.jpg)![](/uploads/220601-linkup4.png)
Another major resale marketplace Poshmark operates differently by providing a massive pool of buyers and leaving the selling up to the seller. Poshmark's platform combines social media and e-commerce to give sellers options to connect with buyers and market their products.
Since November of last year, we've been keeping track of its job postings. According to our data, their hiring totals have been moving down slightly since February of this year, but not as dramatically as Stitch Fix.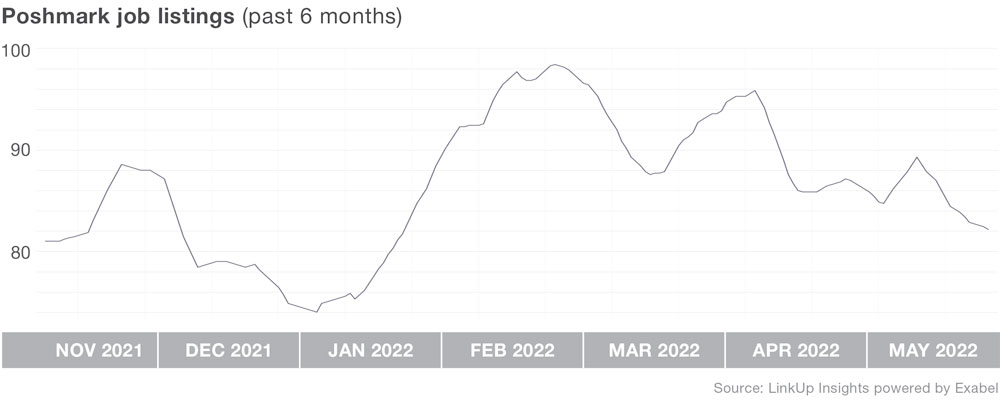 Takeaway
Concerns about inflation, interest rates, supply chain challenges, and the war in Ukraine have forced apparel companies to rethink their spending plans for the current quarter. Apparel companies that provide premium stylist services, like Stitch Fix, have been pressured into slowing hiring and cutting back costs in an effort to make up for losses. Companies that provide value to customers, such as ThredUp and Poshmark, may have a good chance of holding their own.
To learn more about the data behind this article and what LinkUp has to offer, visit https://www.linkup.com/data/.