Online Therapy is Supporting Mental Health Through Digital Ads
In today's difficult and unprecedented times, taking care of our mental health is more important than ever. With online mental health therapy services like BetterHelp, TalkSpace and Cerebral, consumers have a variety of options to meet with a therapist and support their mental health anytime, anywhere. We took a look at how these services have adjusted their ad spend throughout 2022 so far, and may continue to shift their spending with current events.
Supporting Mental Health & Privacy from Home
Online therapy services have spiked since therapists took extra steps to provide new ways to keep people safe during the COVID-19 pandemic, and it continues to rise in popularity due to convenience and even the support of financial aid and flexible payment options.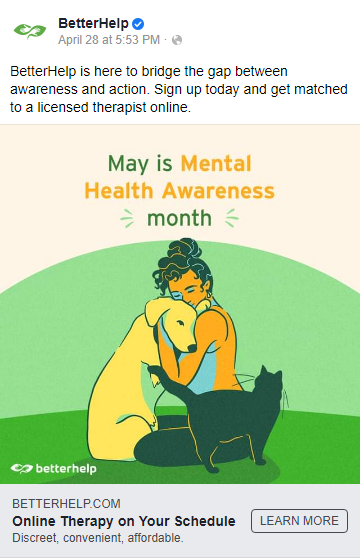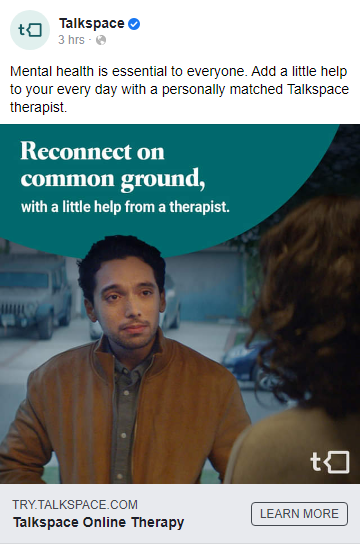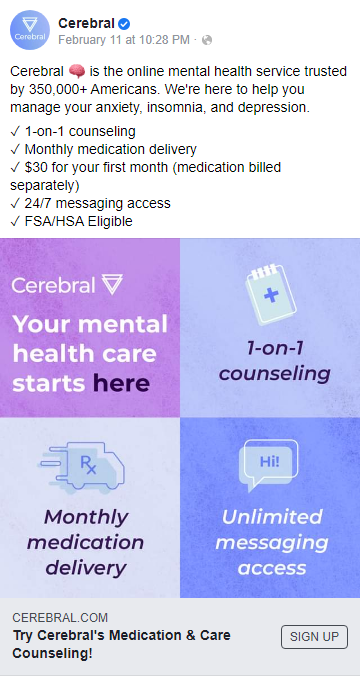 Mental Health Awareness Month
Leading up to Mental Health Awareness Month in May 2022, BetterHelp, TalkSpace and Cerebral all amped up their ad spend with their most recent creative to reach consumers across social media, OTT and desktop video. BetterHelp had a total ad spend of $19.8 million in just this time period, accounting for almost half of their entire ad spend dollars so far in 2022. 49 percent of this amount was spent on Facebook with $9.8 million, which was also the top publisher for TalkSpace as well. BetterHelp seemed to push their peak spending moment in the middle of Mental Health Awareness Month, with a healthy and steady ramp up in the beginning of May. Their ad spends in May was a whopping $4 million more than the previous month. TalkSpace's budget has been significantly lower than the others at $5.9 million total, but similarly to BetterHelp, 35 percent was spent on Facebook during April and May 2022, and 42 percent with $2.5 million this year. In addition to Facebook, TalkSpace invested the same amount of budget to OTT during this time with Hulu, Paramount+, Pluto TV, Tubi and Peacock being top publishers in that area. They made a splash the very beginning of the month with a massive spike in OTT ad spend on May 1st, then trailed off for the next few weeks.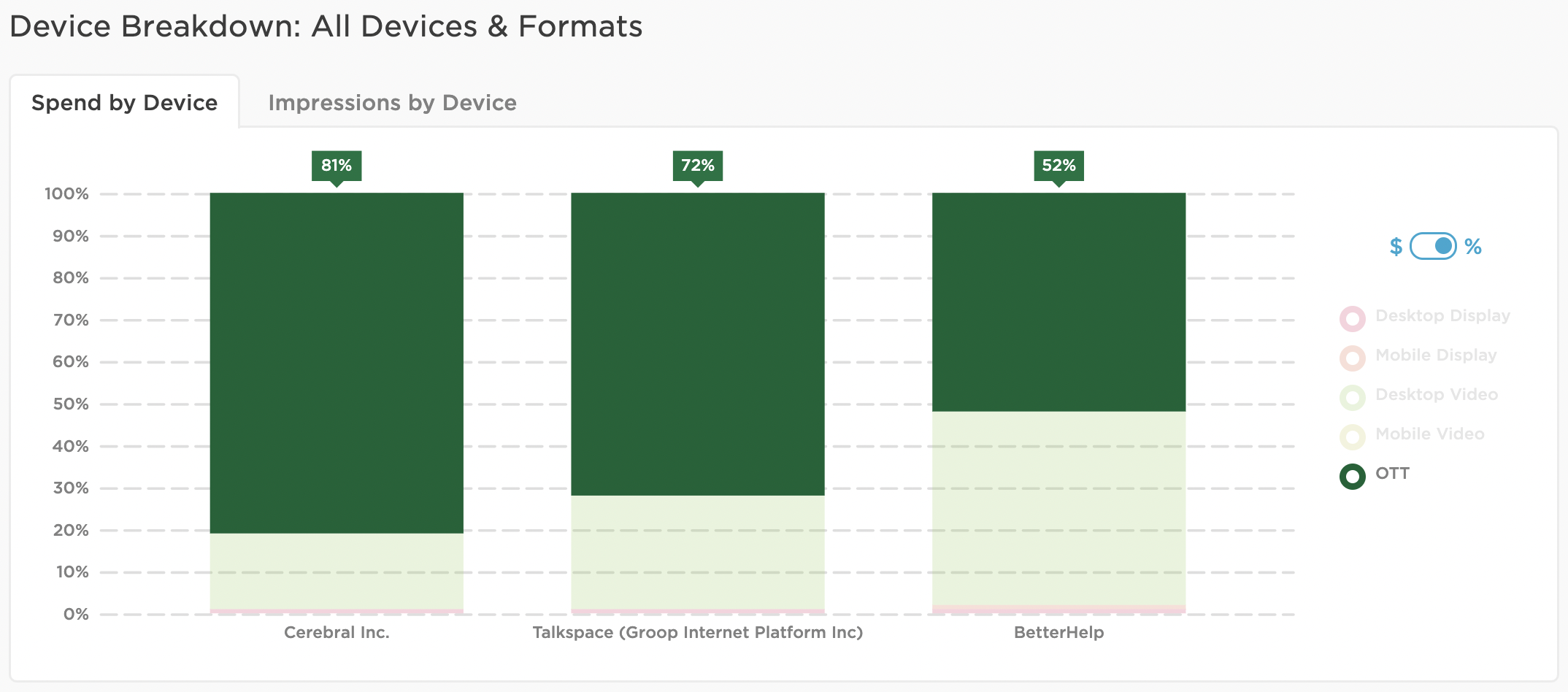 Cerebral has a total ad spend budget in the same range as BetterHelp with more than $32 million, and $14 million of that was allocated for April and May this year. Setting themselves apart from the other two brands, Cerebral has turned to social media for the majority of their ad spend. 40 percent of their ad spend during this two-month period was placed in TikTok alone with $5.7 million, followed by Instagram with $4.2 million and Facebook with $3.5 million. Snapchat was also included in this array of social platforms. Combined, this makes up 94 percent of Cerebral's ad spend around Mental Health Awareness month, with the remaining budget dedicated to publishers like YouTube and several in the OTT space. Unlike BetterHelp and TalkSpace, Cerebral's strategy was around reaching consumers before May, with a peak in ad spend at the beginning of April, followed by a solid curve in spend until the end of May.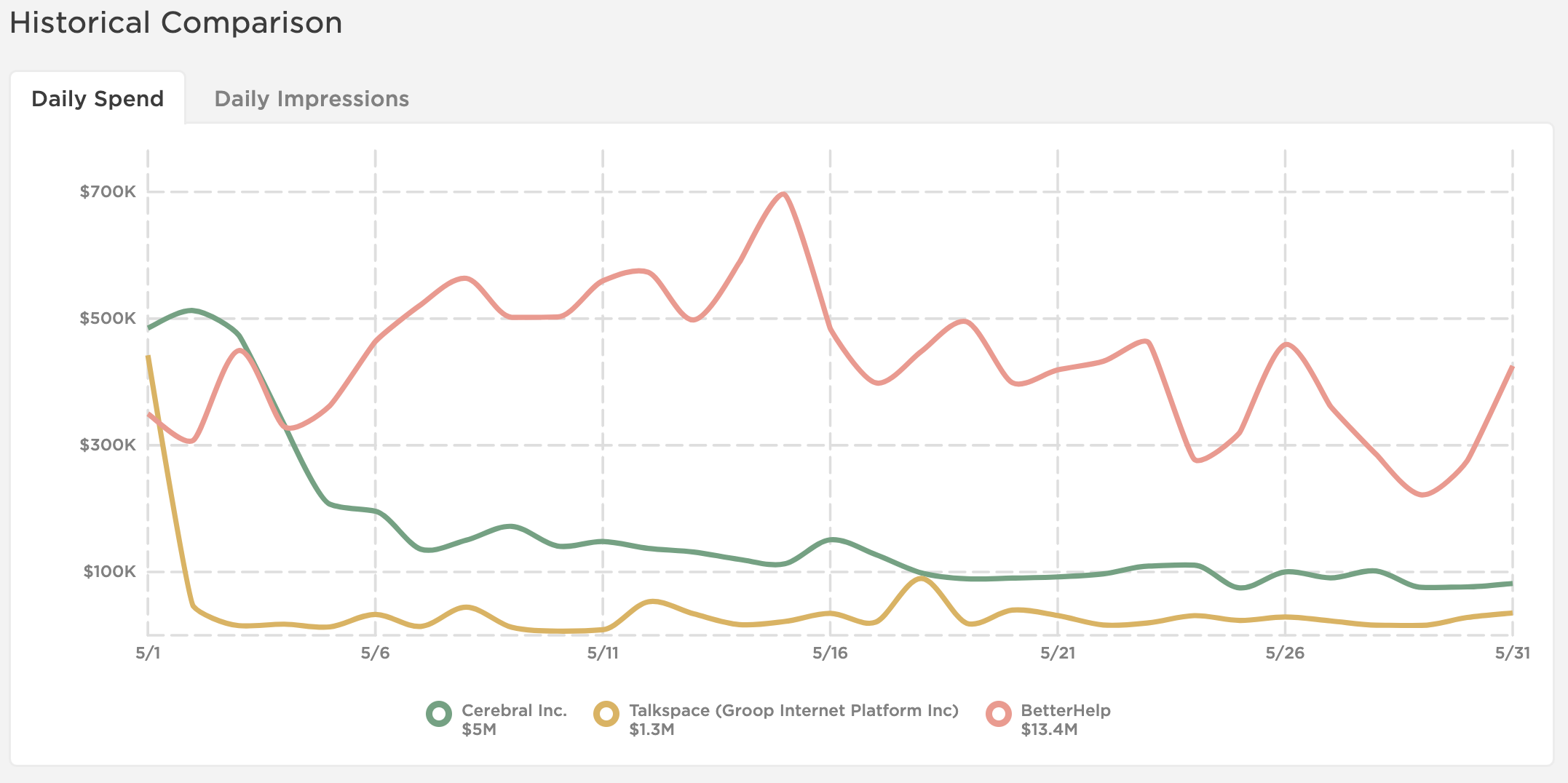 Reaching People Through Social Media
A trend we are seeing throughout 2022 so far is BetterHelp, TalkSpace and Cerebral all investing large portions of their ad spend budgets on social media platforms, with Cerebral leading the charge. This is likely due to them targeting a younger audience and also meeting people where they are at, since younger generations are consuming their news and content mostly through social media instead of older, more traditional outlets. We also know that during the pandemic-induced lockdowns, people turned to social media for social connectedness, increasing daily screen time on these apps. Cerebral has spent 44 percent of their total ad budget on TikTok this year and 96 percent on social media overall, including Instagram, Facebook and Snapchat, similar to the brief time period around Mental Health Awareness Month. The numbers speak volumes about their confidence in this investment.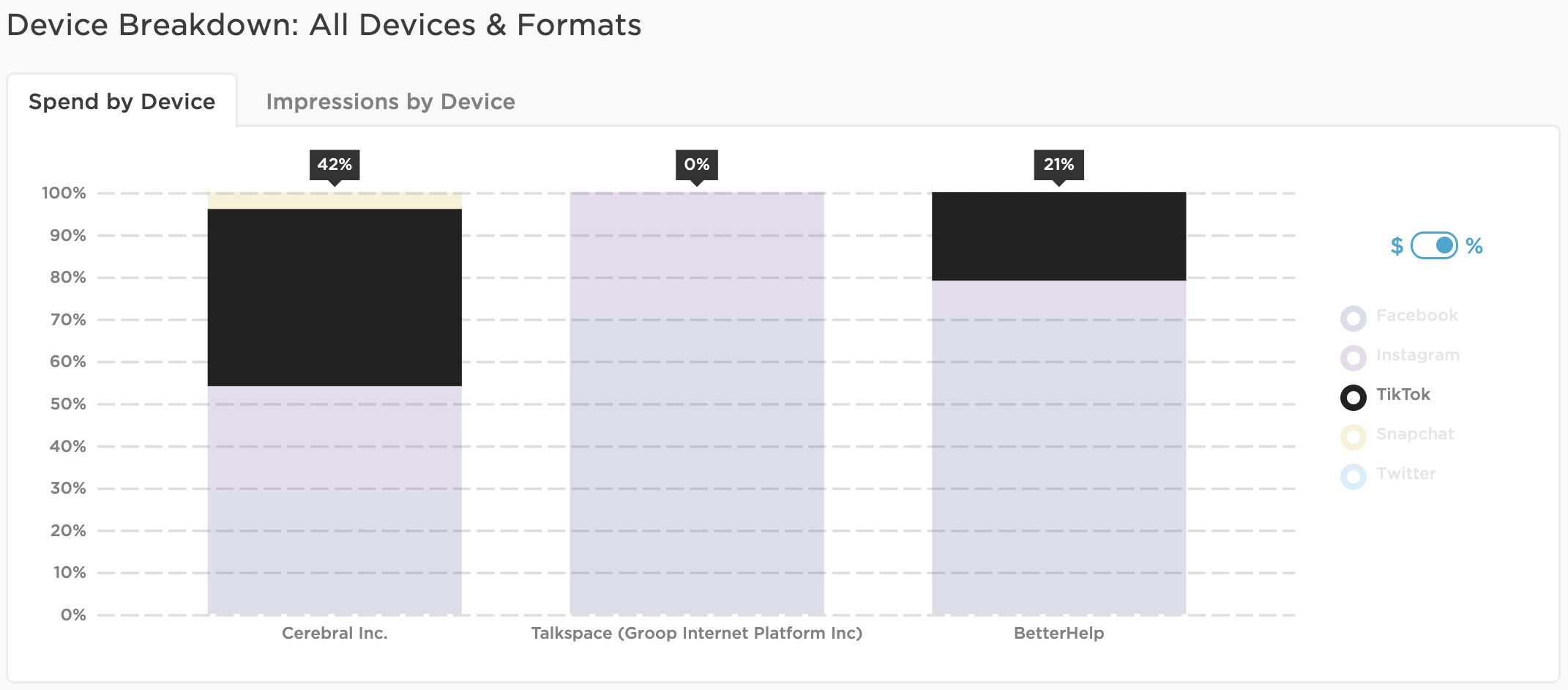 While BetterHelp and TalkSpace are continuing to place ad spend dollars in OTT and desktop video, they are placing their bets on social media as well. BetterHelp has spent most of their ad spend budget on Facebook so far this year, followed by OTT at 26 percent and desktop video advertising at 14 percent. TalkSpace allocated 42 percent of their budget this year thus far to Facebook, exactly the same percentage as BetterHelp, and is also continuing to look for brand lift via OTT and desktop video. TalkSpace has no ad spend in TikTok, Snapchat or Twitter. It seems that Cerebral, founded in 2020, is putting its ad spend dollars in the most trendy and current platforms likely because they are the newest to the space and are inclusive of the younger age groups. TalkSpace launched in 2012 and BetterHelp followed one year later in 2013, so while still incredibly relevant and successful, their more diverse ad spending habits make sense for how the media landscape has evolved.
The Future of Online Therapy
The future of online therapy is that it is here to stay, and brands like BetterHelp, TalkSpace and Cerebral will continue to support individuals through their life challenges and mental health needs. In 2020, Cerebral Co-founder Kyle Robertson stated that 57% of Americans with a mental health disorder have never received treatment. Over the course of the last two years and a global pandemic later, that number remains over 50%, with over 60% of kids and young adults with major depression not receiving treatment in the US. The want and need for online therapy is greater than ever before, whether to combat a mental health crisis, navigate unprecedented times with current events, or even for daily self-care and regulation of your mental wellbeing. Online therapy services like BetterHelp, TalkSpace and Cerebral are making themselves seen and heard by placing their ad spend dollars where their audiences are at, and providing positive change through more accessible, affordable and convenient therapy one day at a time.
To learn more about the data behind this article and what Pathmatics has to offer, visit www.pathmatics.com.