Who is Leading the Virtual Bank Race in Hong Kong?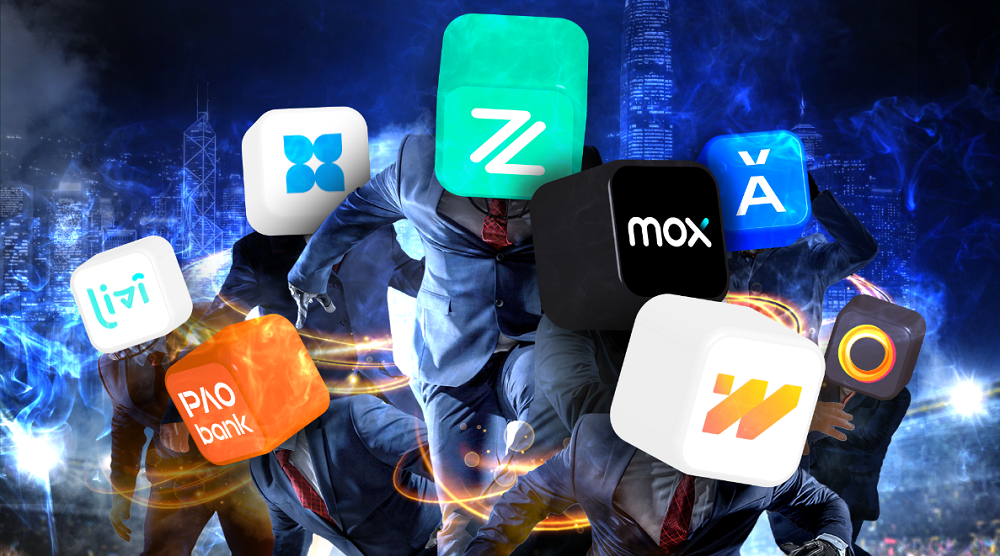 According to consulting firm Quinlan and Associates, the virtual banking industry in Hong Kong is forecasted to create a HK$76 billion ($9.7 billion) per annum revenue opportunity by 2025, servicing a total customer pool of 1.9 million (i.e. 24.9% of the current Hong Kong population).
In 2019, the Hong Kong Monetary Authority licensed eight virtual banks. These eight firms are: ZA Bank, Mox Bank, WeLab, Airstar, Livi, PAOB, Ant Bank and Fusion. Amongst the eight virtual banks in Hong Kong, this represents an average annual revenue opportunity of HKD 9.5 billion (US$1.2 billion), and equates to an average revenue market of about 2.4% per virtual bank. While this sum is by no means small, the virtual banking industry is expected to consolidate in the years to come with only a handful of existing players managing to survive (and thrive).
Let's take a dive into Measurable AI's proprietary e-receipt panel to unearth some insights into user growth since 2020 when these eight virtual banks were launched one after another.
Which Virtual Bank is Leading the Race When it Comes to Attracting New Users?
According to the Hong Kong Monetary Authority, the virtual banking community attracted 800,000 new users in 2021, doubling its growth in 2020. With all the eight banks launching around the same time around 2Q20, it'd be interesting to see how their user growth has fared up until now.
We take a dive into the e-receipts data provided by Measurable AI's proprietary panel and discover that ZA bank has been leading the race when it comes to user growth since 2020 . Runners up is MOX with Livi coming in at a close tie.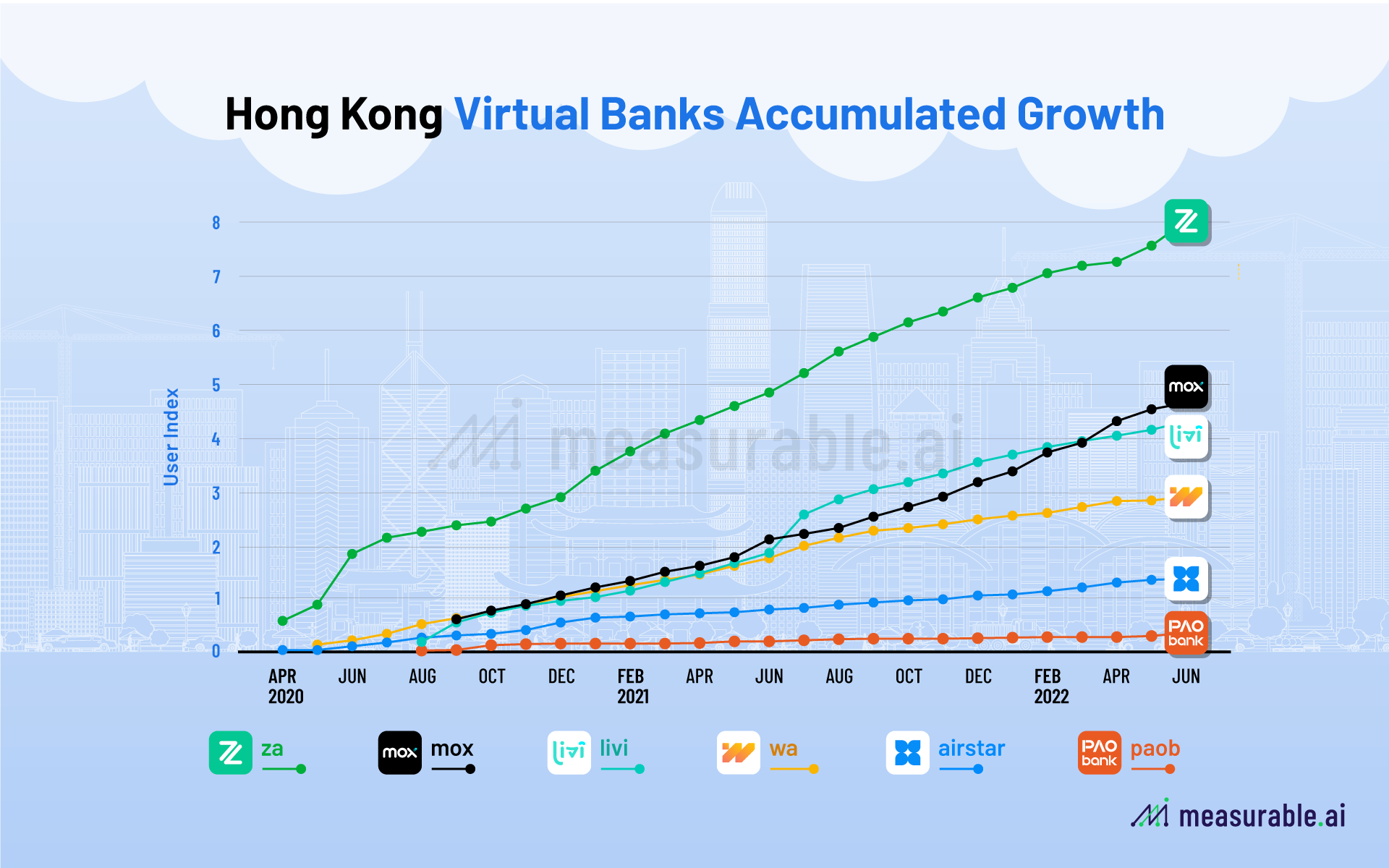 As depicted by the chart above, We Lab fell off the curve after the first year, and ranks No.4 as of 2022 Q2 . Meanwhile, Airstar and Ping An's PAOB are the laggards without too much user growth when it comes to the virtual banks in Hong Kong.
What About Hong Kong E-Wallet Companies Octopus vs PayMe?
When it comes to virtual payment facilities in Hong Kong, we cannot neglect the two e-wallets in Hong Kong: Octopus and Payme.
Octopus, the government owned transportation and payment system has been around since 1997 while PayMe, operated by HSBC, was launched some 20 years later in 2017.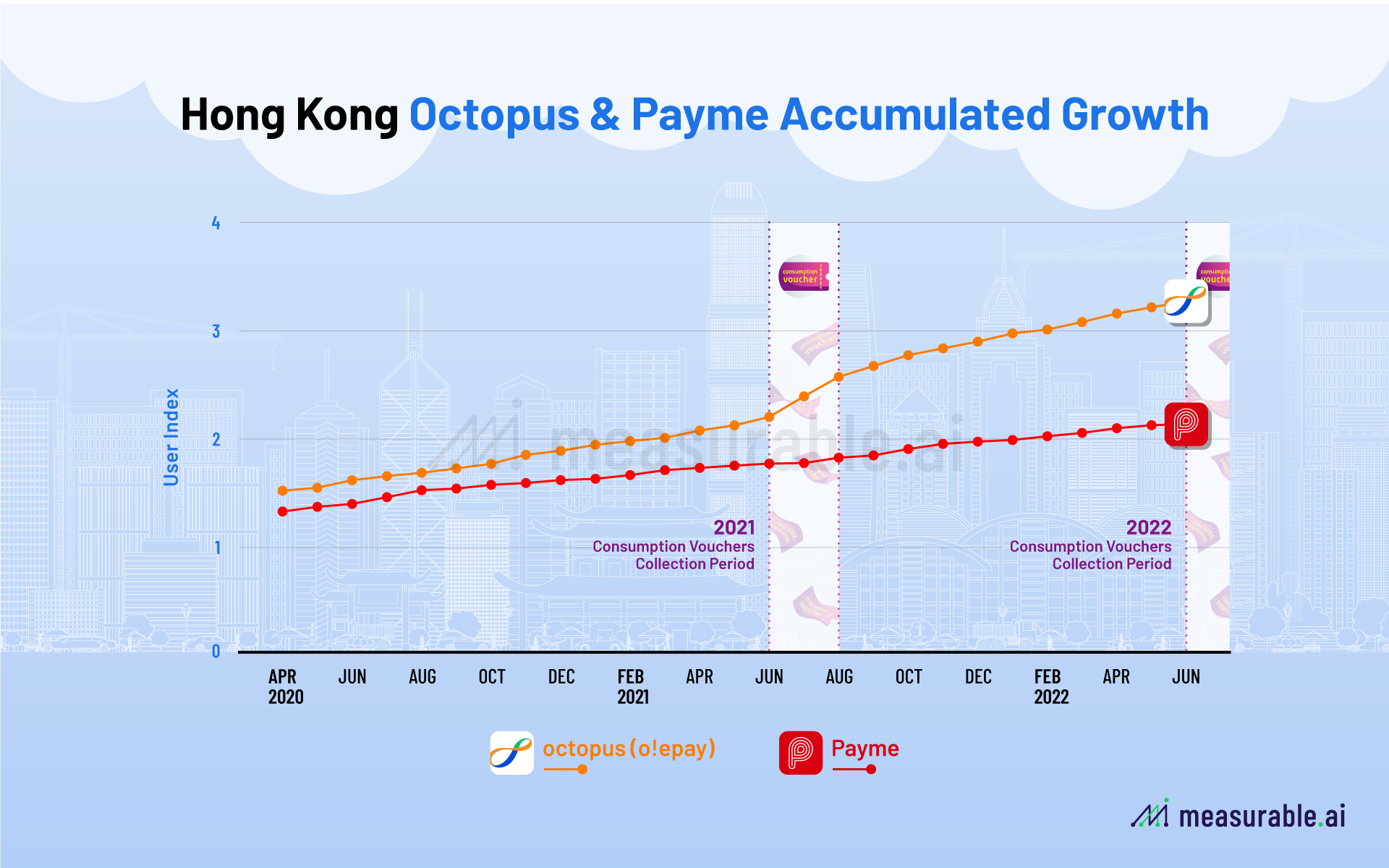 We take a closer look at Measurable AI's e-receipts data to unlock some insights when it comes to user growth. Starting from April 2020, both Payme and Octopus seemed to be more on par when it came to user base. However, the real divergence emerged when Octopus's user base leaped significantly around June 2021 due to the first phase of the Hong Kong government's consumption voucher spend whereby local residents were granted 4000 HKD each (who doesn't like free money after all?) Users were allowed to receive this grant via their octopus card among other local e-wallet services.
The second phase of the consumption voucher this April to June 2022 (5000 HKD) also helped maintain Octopus' user growth lead against Payme. We expect this growth trajectory to continue with the third phase (10,000 HKD) kicking in this August 2022.