Meal Kit app usage grows 98% since Q4 2021 as Meal Delivery apps stagnate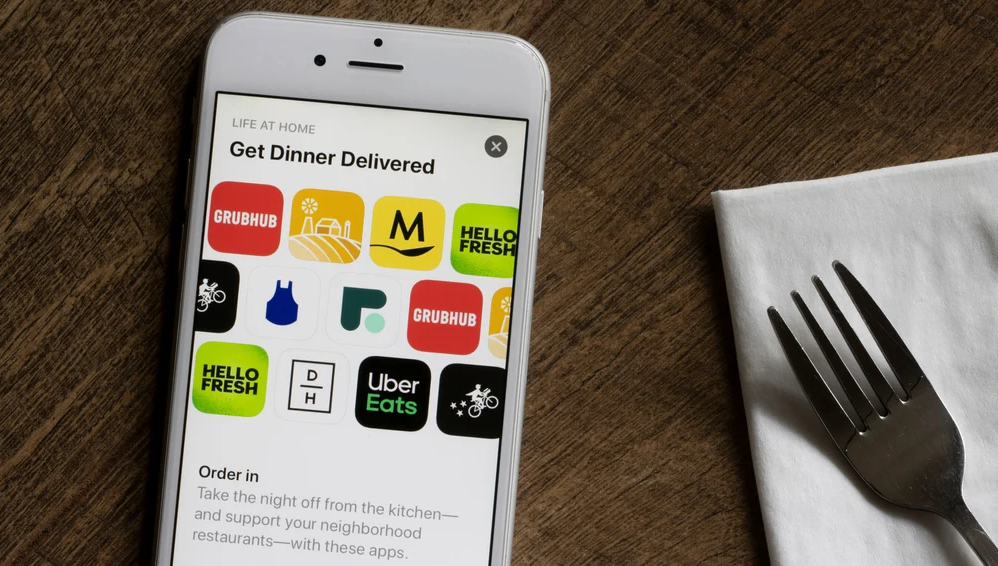 Meal Delivery app engagement is stagnating for the second year in a row, giving Meal Kit apps room to grow monthly active users (MAU) 98% from last year. MAU among the top 7 U.S. Meal Kit apps jumped 42% in Q1 2022 from Q4 2021, and another 56% in Q2. Meanwhile, MAUs among top Meal Delivery apps grew 1% and 2% across the same timeline. As Americans realize economic pressures, mobile data shows that high cost conveniences may be being cut. The Ultrafast Delivery app market (Getir, Gopuff, etc.) is a perfect poster child example. In Q2, it declined growth for the first time in two years at a -30% loss.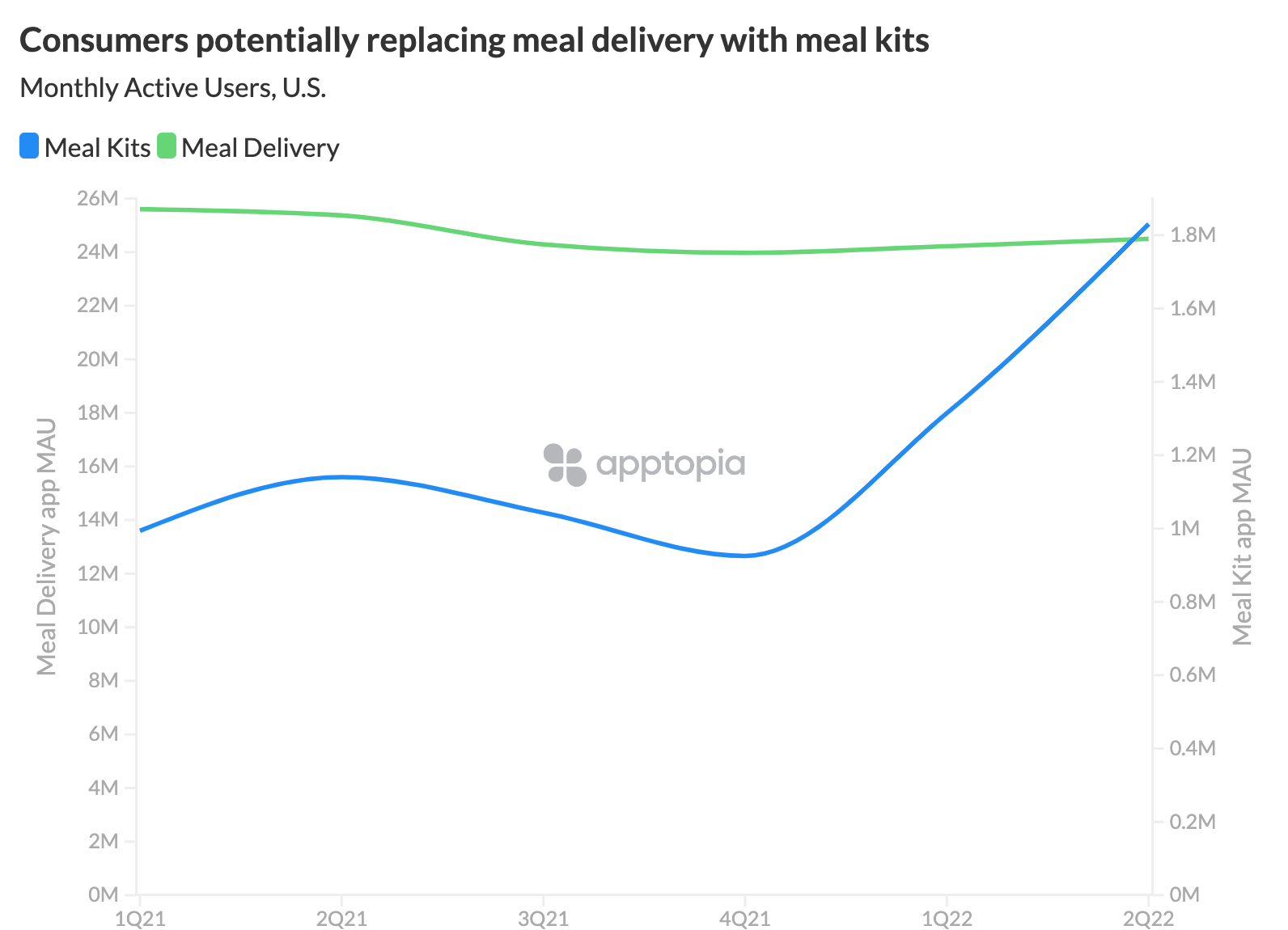 DoorDash, Uber Eats, and Grubhub, the leaders among the top 6 Meal Delivery apps in the U.S., each updated their app subtitles to include the word "grocery" in the last year, signaling that Americans were ordering-in less. The Meal Kit app momentum, therefore, shows an interesting moment in time; one where the Americans most accustomed to meals delivered test a lower cost alternative that is still less effort than going to the grocery store.
HelloFresh and its vegan-keto subsidiary Green Chef are the Meal Kit apps resonating most with this niche. HelloFresh has been the market leader by both downloads and MAUs since 2015 when it started the market with Blue Apron. After growing U.S. downloads 207% QoQ in Q1 of this year, it's safe to say it will stay at the top. Green Chef, which HelloFresh launched in February 2021 to cater to special diets, grew quickly to overtake Blue Apron's hold on second place by both downloads and MAU this year.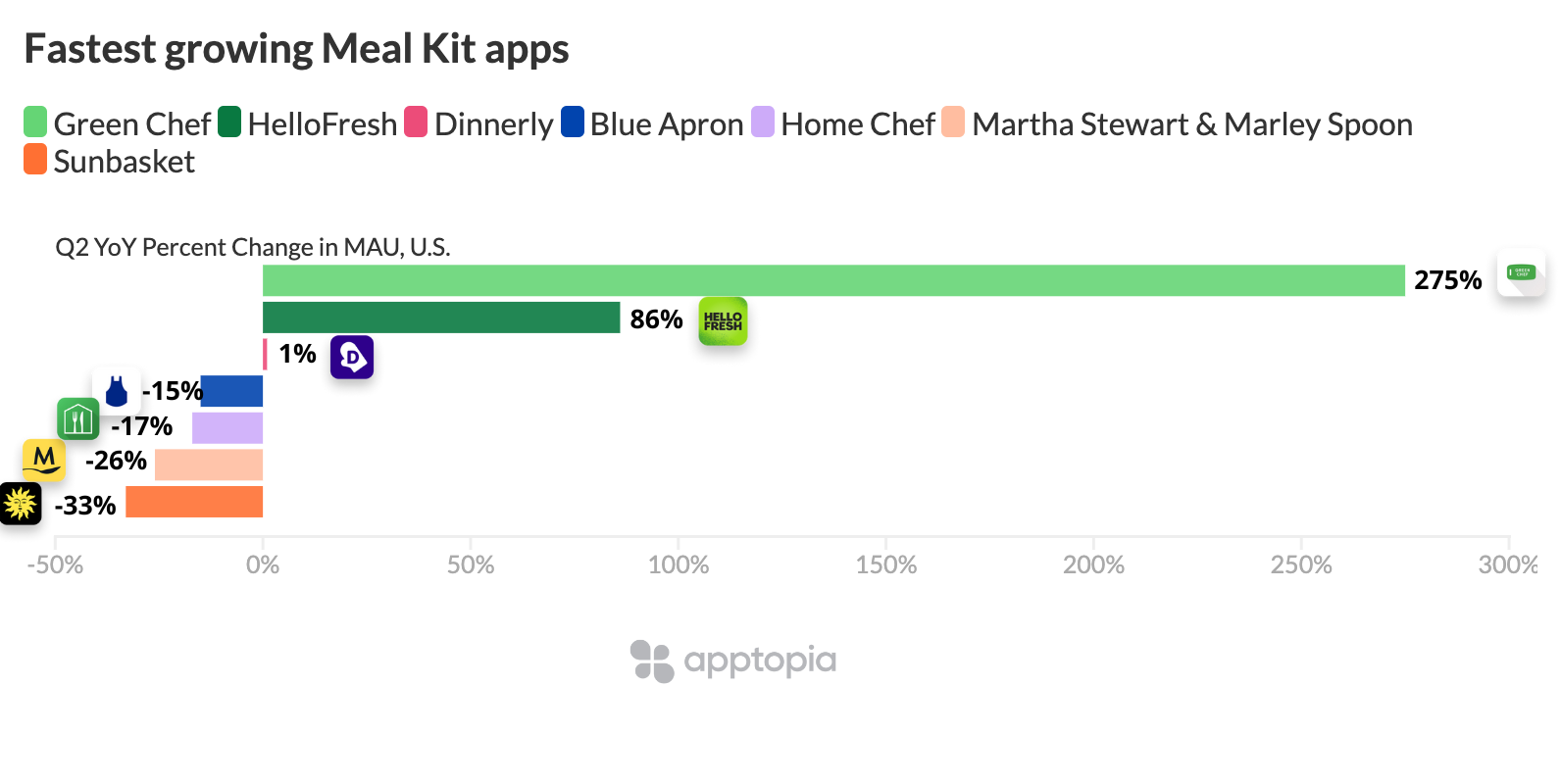 At the end of the day, Meal Kit apps have a smaller addressable market than Meal Delivery apps and do not pose the threat that Grocery Delivery does. But when you look at Grocery Delivery leader Instacart's growth against the market average of Meal Delivery and Meal Kits, it follows the same trend line as Meal Kits – suggesting new or re-engaged users are of the same mindset.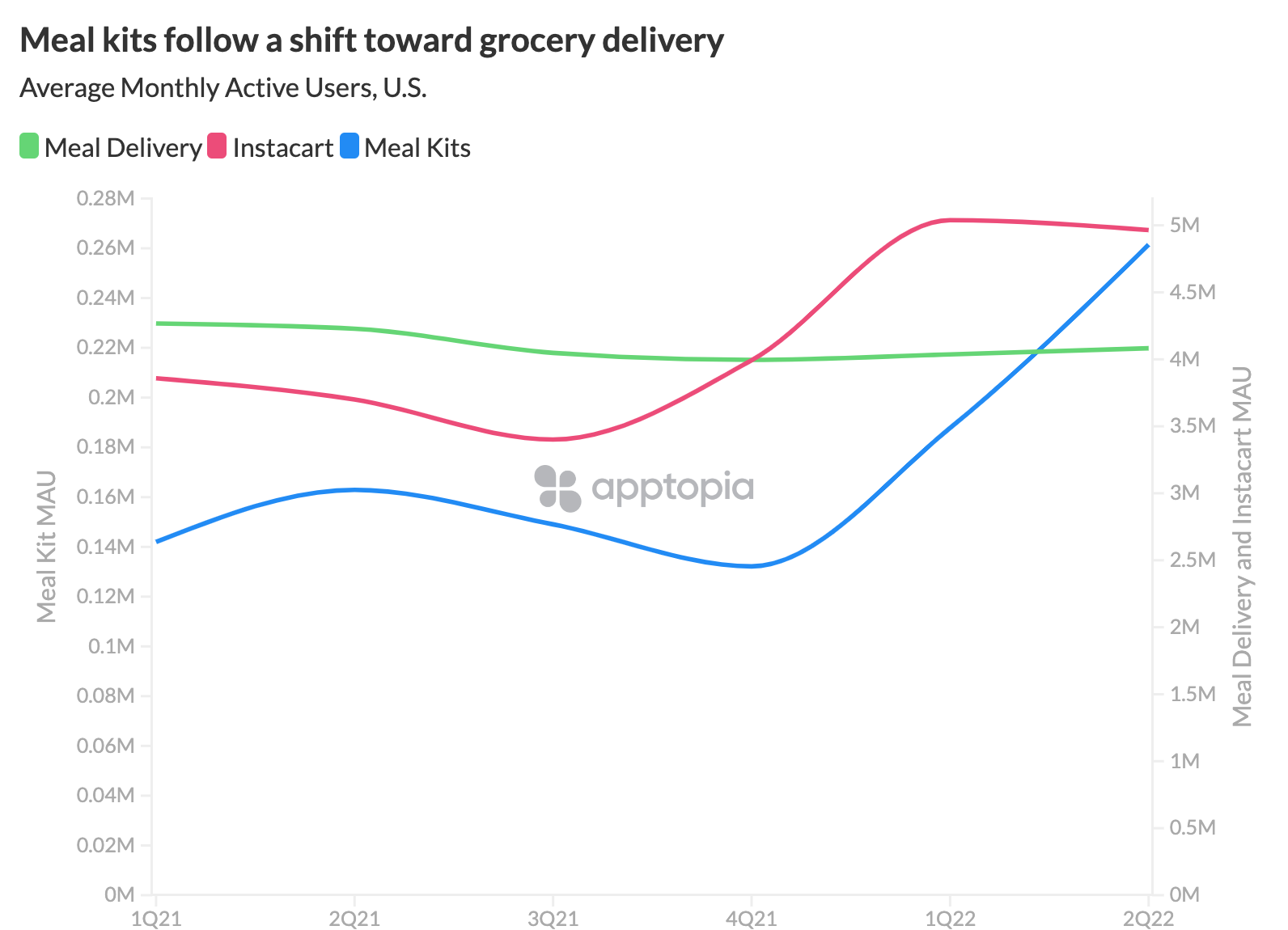 If Grocery Delivery apps, including Grocery Store apps, wanted to protect their businesses against the deep pockets of DoorDash and Uber Eats, integrating a Meal Kit option could help to capture more users that favor convenience but at less of a cost.
To learn more about the data behind this article and what Apptopia has to offer, please reach out to Connor Emmel at cemmel@apptopia.com.