Hong Kong's Noodle Rhapsody: Food Delivery Insights on TamJai and SamGor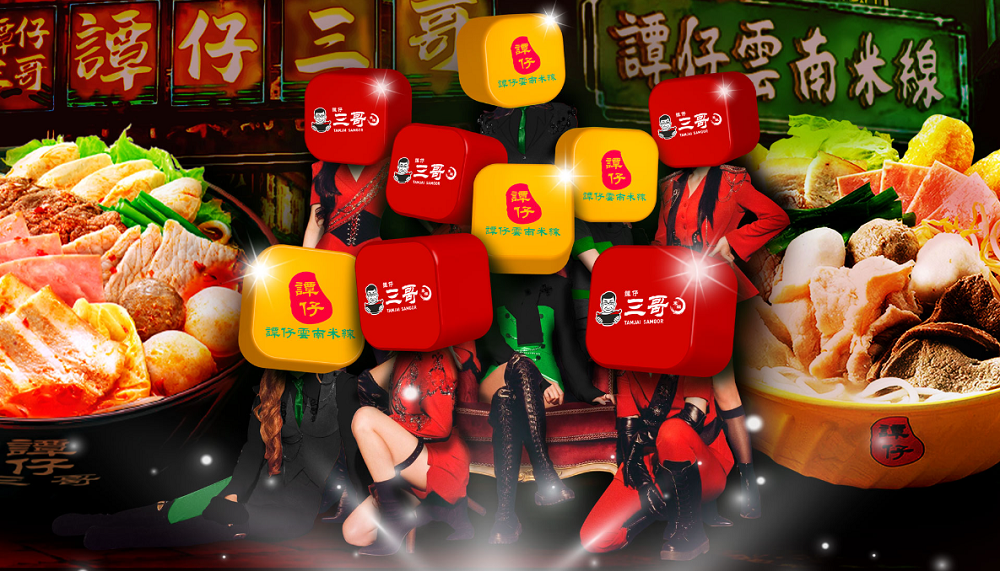 Spicy and numbing broth, smooth yet chewy rice noodles, affordable menu prices, and waitresses known as "TamJai Jeh Jeh" with distinctive accents… With all these features, TamJai noodle chains are rapidly taking over every district in Hong Kong.
Tam Jai International (HKEX: 2217), which runs TamJai Yunnan Mixian (譚仔雲南米線) ("TamJai") and TamJai SamGor Mixian (譚仔三哥米線) ("SamGor"), is now wholly owned by Japan's largest restaurant operator Toridoll Holdings Corporation(TSE: 3397).Apart from serving Yunnan-style rice noodles in Hong Kong, Tam Jai International also expanded its restaurants in Mainland China, Singapore, and Japan.
As mentioned in its annual report earlier, takeaway and delivery orders accounted for nearly half (48.3%) of Tam Jai International's revenue, showing that the food delivery market matters.
TamJai and SamGor have strong partnerships with two food delivery platforms in Hong Kong: Deliveroo for TamJai and Foodpanda for SamGor. By offering special takeaway discounts and promotional campaigns, it is quite common for customers to order TamJai noodles online.
We dive into Measurable AI's e-receipt consumer panel for the delivery platforms in Hong Kong to understand what insights they reveal about both TamJai chains' delivery orders.
What's the most popular broth?
Famed for their soup bases with secret recipes, the broth is essentially the soul of TamJai rice noodles. Both TamJai and SamGor serve a handful of different soup bases, from non-spicy clear broth to Sichuan spicy soup.
With Measurable AI's exclusive data panel, we analyzed the food delivery orders of both TamJai and SamGor. So, which soup base is the most popular?
Among SamGor's food delivery orders, the clear broth, numbing spicy soup, and tomato soup each accounted for 22.3%, 21.8%, and 21.5% of the orders respectively, neck and neck competition. As for TamJai's order, the Sichuan spicy soup accounted for 31.2%. This is followed by the clear broth (21.9%) and then the tomato soup (14.6%).
Interestingly, by food delivery order volume, clear broth soup accounted for around 20% for both TamJai and SamGor.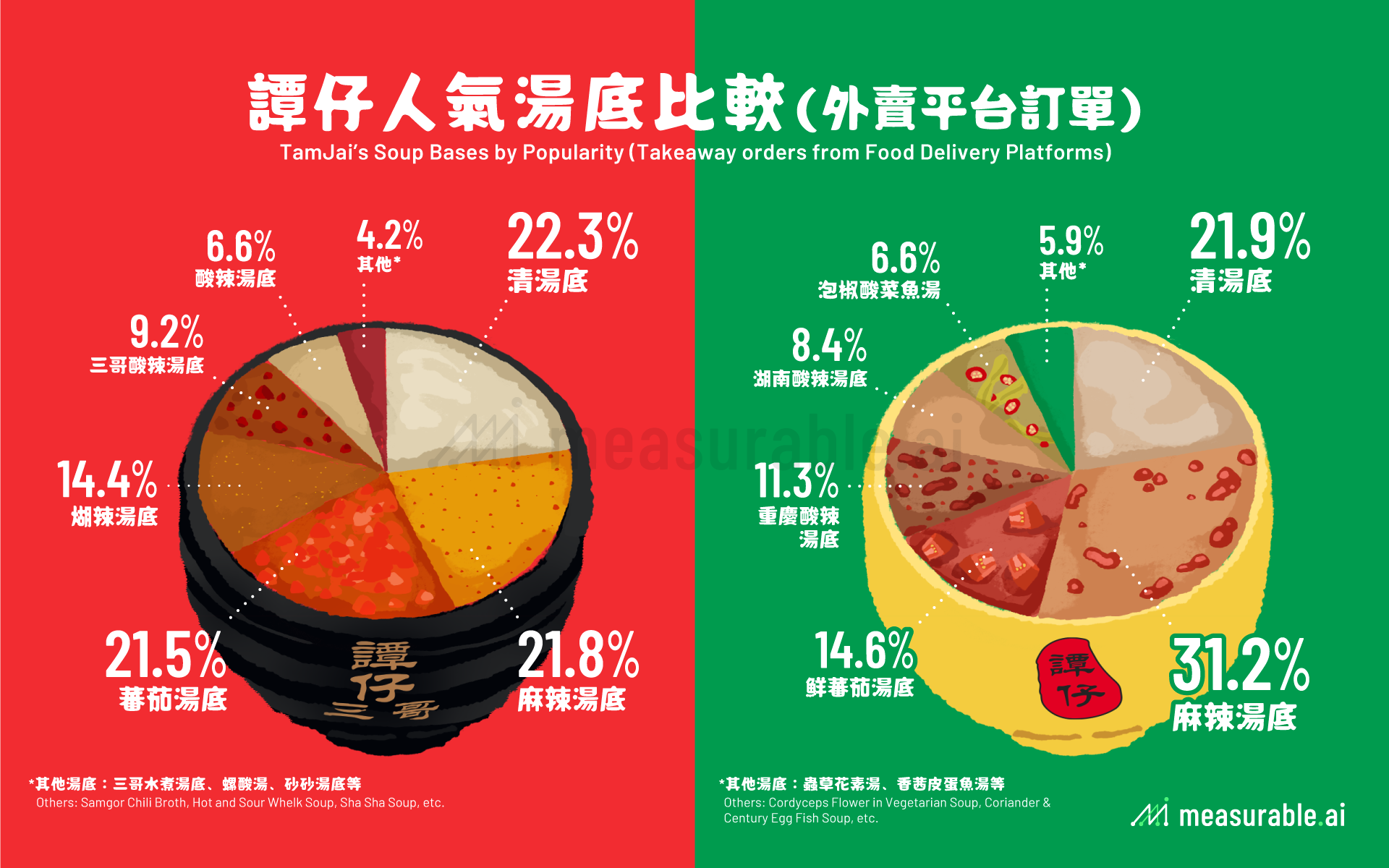 How much spice can you take?
For spicy food lovers, go ahead and try the spicy and numbing soup by TamJai and SamGor to satisfy your cravings. TamJai is renowned for its incremental spiciness scale from "10 Mild Spicy" (the least spicy level) all the way to extra spicy. The spiciness is a real kick and not for the faint-hearted.
According to Measurable AI's e-receipt consumer panel, "10 Mild Spicy" is the most popular among TamJai and SamGor's food delivery orders, followed by "5 Mild Spicy" and "Mild Spicy".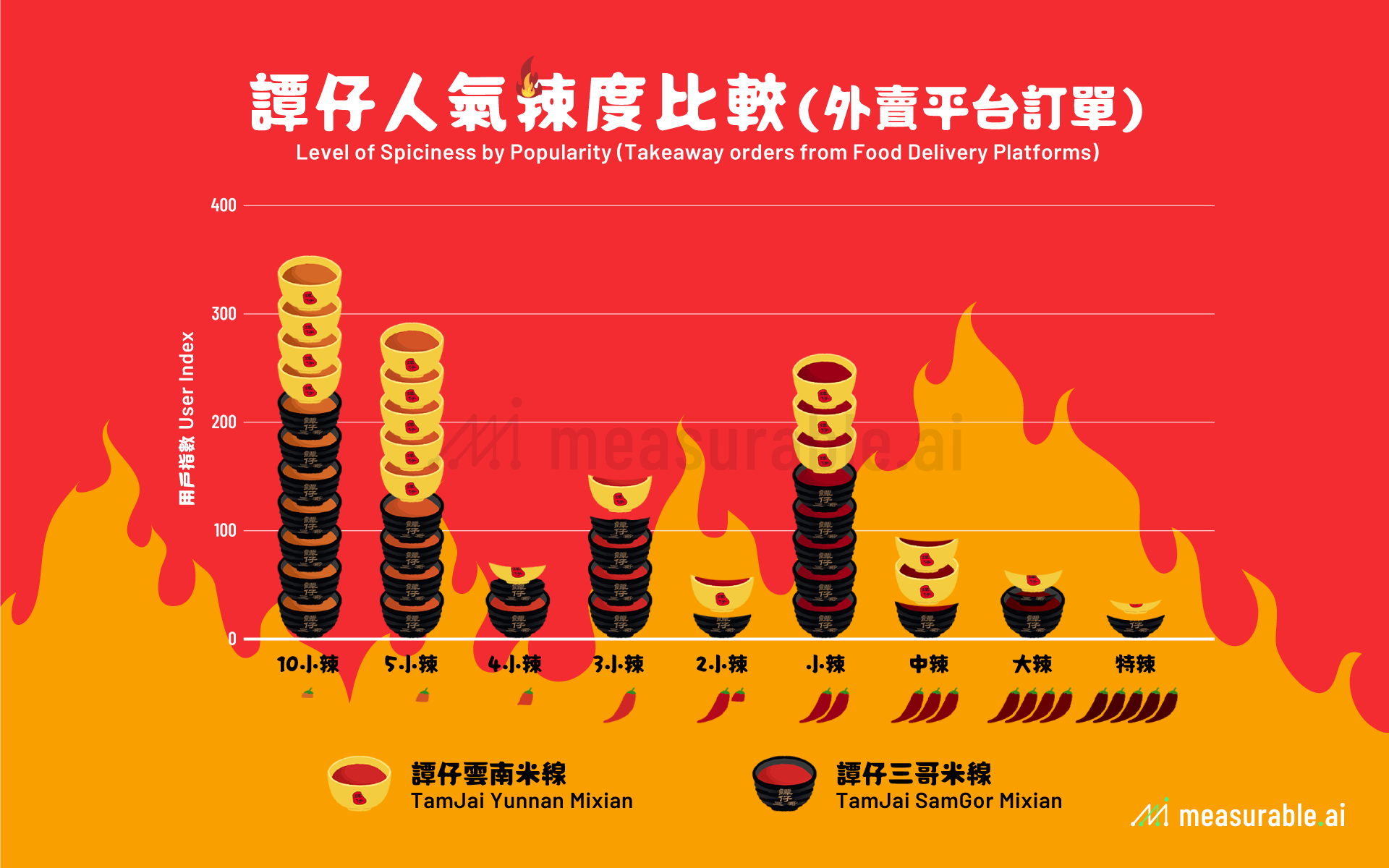 Most popular toppings to spice up your TamJai experience
There are so many reasons why TamJai's noodles are so popular in Hong Kong. Both TamJai Yunnan and TamJai SamGor allow you to customize your own bowl of rice noodles with over 30 delicious toppings.
We take a look at Measurable AI's data through bowls of TamJai noodles delivered amongst the two food delivery platforms. Apparently, chicken is the most popular topping.
Comparing the top 10 toppings between TamJai and SamGor, there are 7 duplicated toppings, including chicken, pork belly, bamboo fungus, minced pork, cuttlefish ball, beef, and fish curd.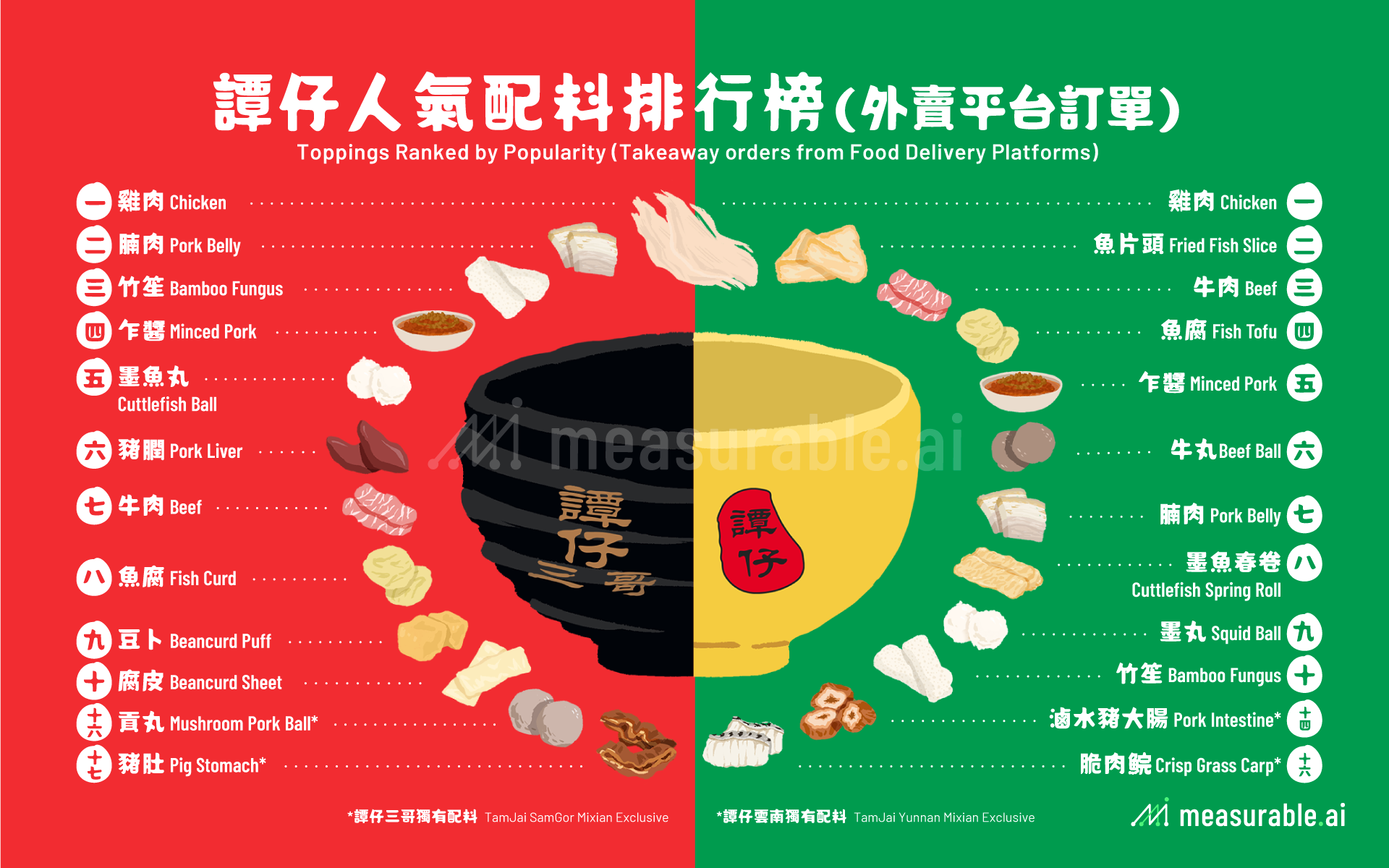 Most hated (excluded) complementary toppings
A burger usually comes with lettuce, tomato, and onions and there is also a TamJai noodles equivalent. Each bowl of rice noodles comes with beansprouts, chives, and beancurd sheets. Customers can choose to exclude these 3 toppings according to their preferences.
Among delivery orders from TamJai Yunnan and TamJai SamGor, Measurable AI's panel indicates that the "No chives" option accounted for 25%, while "No bean sprout' and "No beancurd sheet" options accounted for 17% and 5% respectively.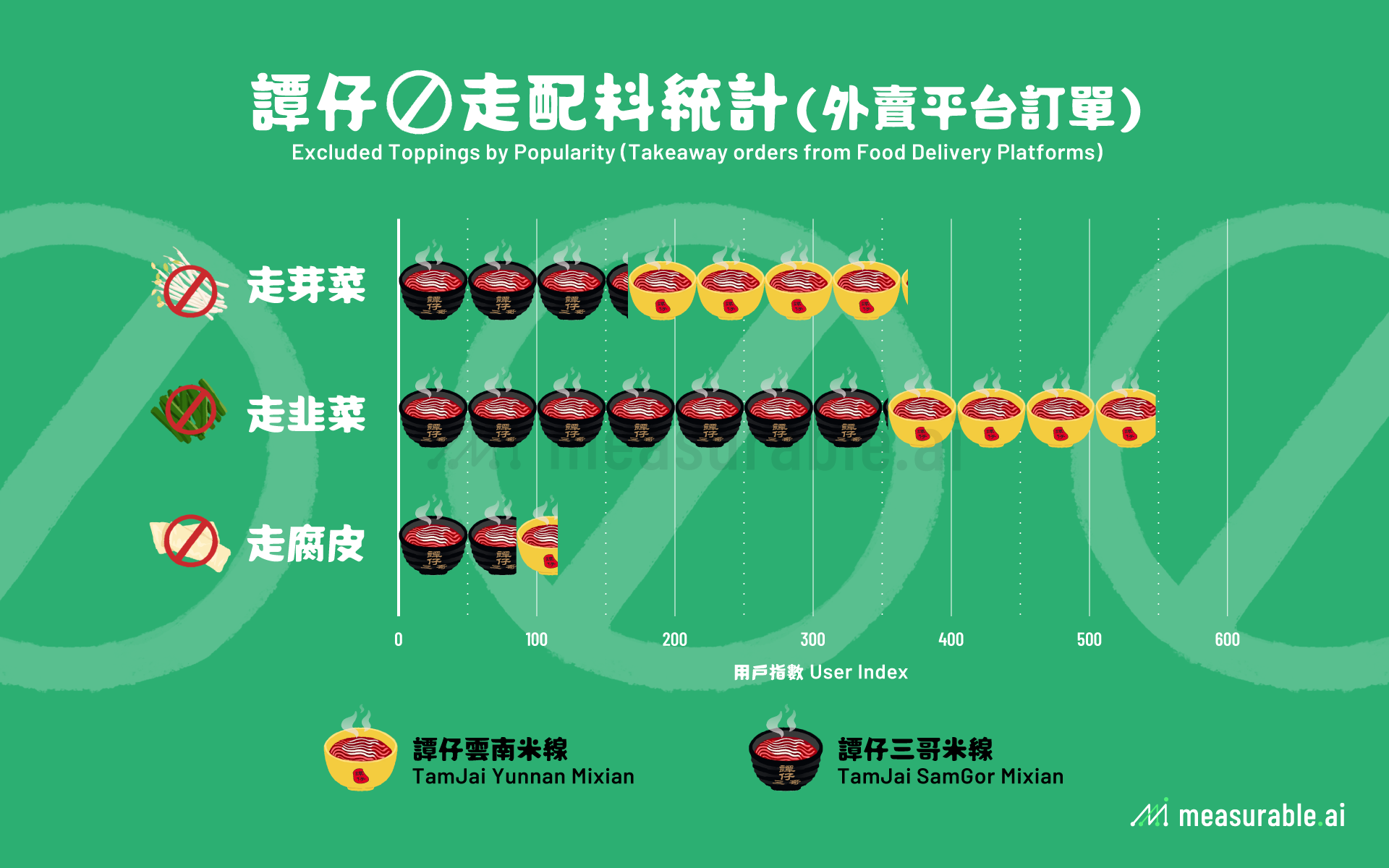 What to drink with TamJai noodles
The Hong Kong-style iced lemon tea is a great thirst-quencher and a great accompaniment to TamJai's spicy noodles. According to Measurable AI's food delivery data, the most popular drink is iced lemon tea, which accounted for 25.5% of TamJai and SamGor's food delivery orders.
What about soft drinks? Canned drinks are also very popular, accounting for 21.5% of all food delivery orders, with Coke, Sprite, 7Up, and Cream Soda being the most popular soda options.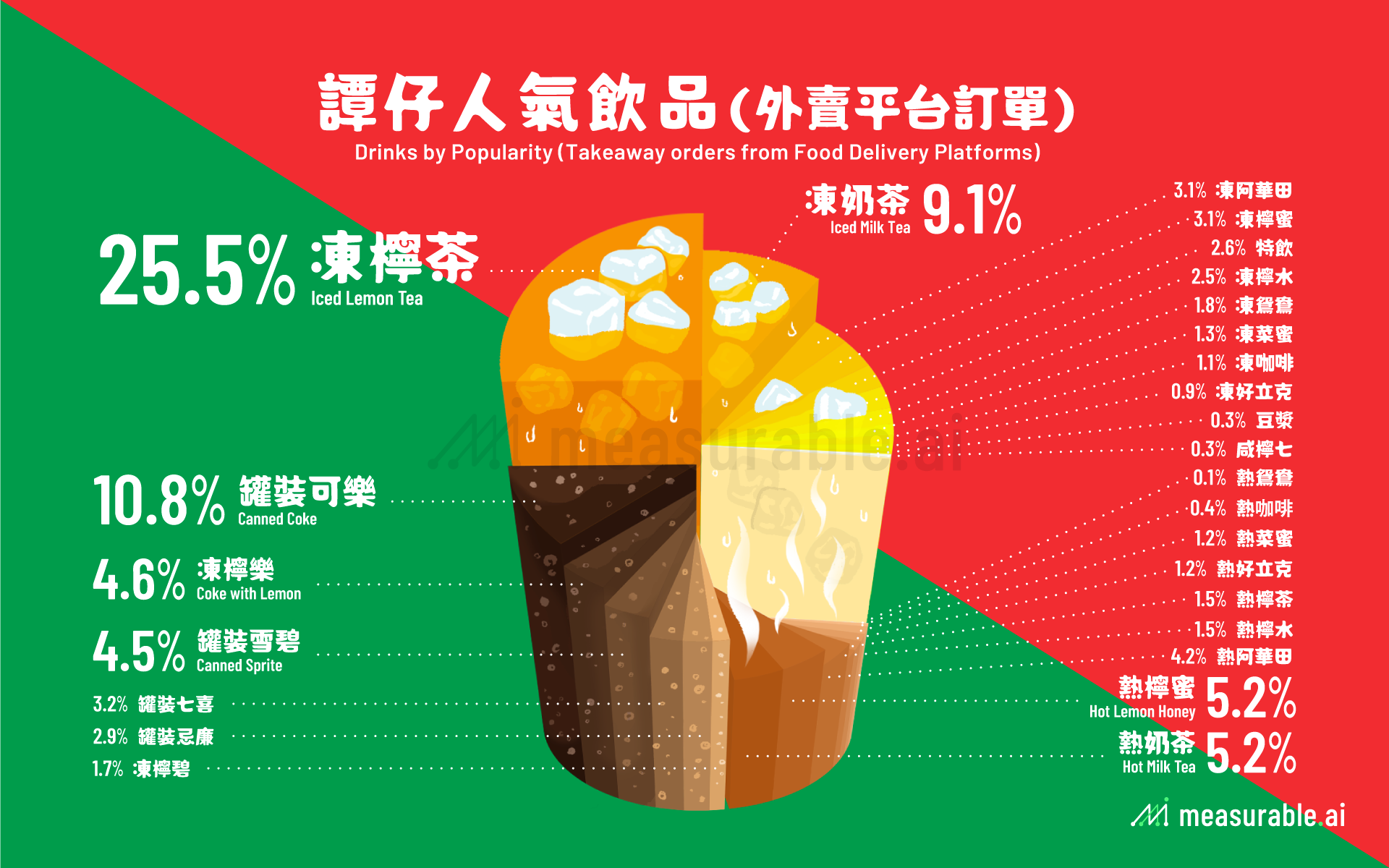 **
User overlap between TamJai and SamGor**
Over the years both TamJai Yunnan and TamJai SamGor have won the palates of many customers in Hong Kong. Whichever TamJai you prefer, let's take a look at the user overlap data between both TamJai brands.
According to Measurable AI's food delivery data, the user overlap between TamJai and SamGor is around 13%. Among all SamGor customers, around 20% also ordered TamJai, and 27% the other way around.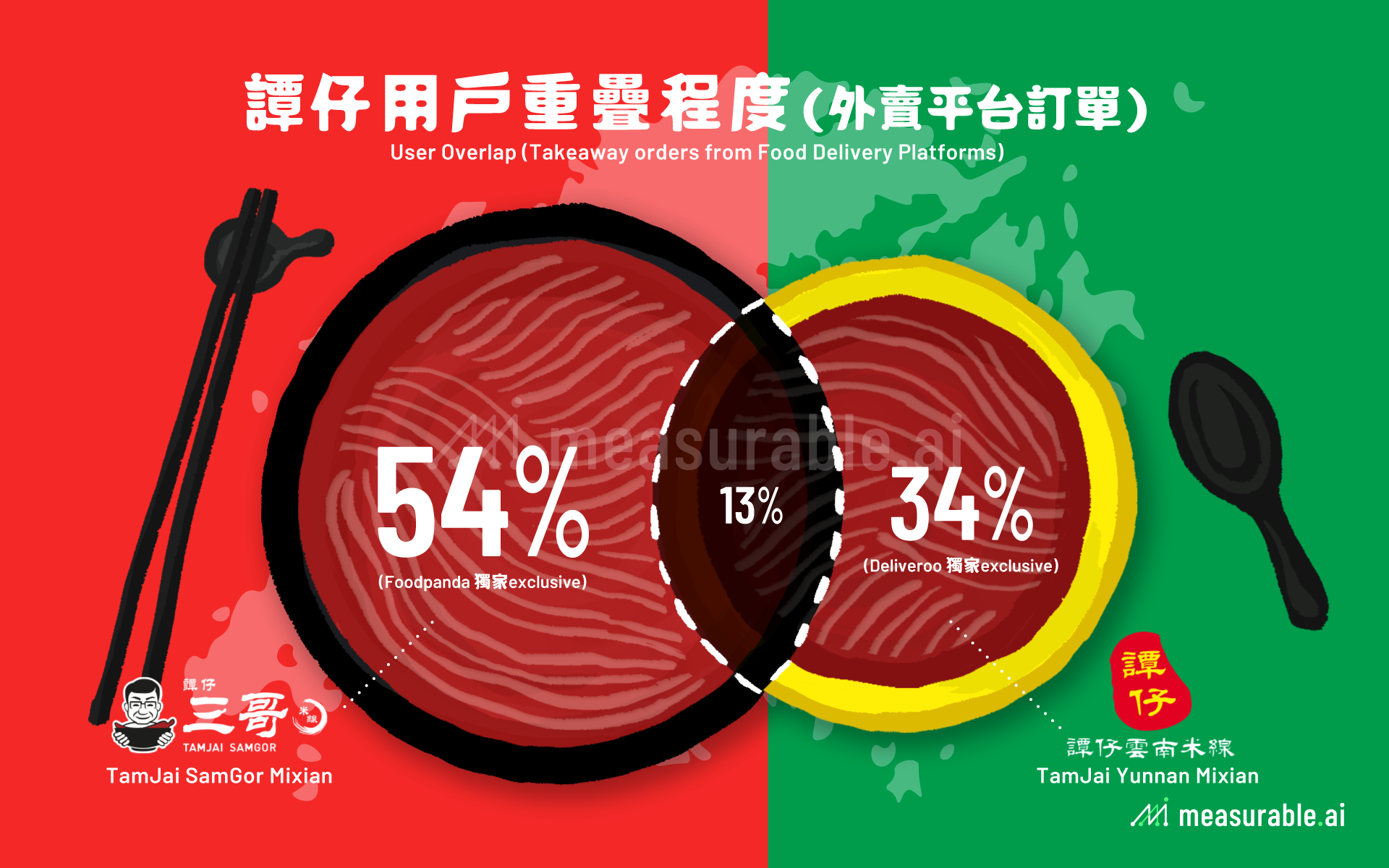 Average Order Value: TamJai VS SamGor
In terms of average spending on food delivery orders, SamGor's average spending is HK$154.8, while TamJai's average spending on food delivery is HK$161.7. The price range is roughly the price of a set for two, with two bowls of rice noodles, snacks, and drinks.
Market Share by Order Volume
Curious about the market share of TamJai and SamGor on food delivery platforms?
Recently, Measurable AI released the top restaurant chains on food delivery apps in Hong Kong. TamJai SamGor Mixian owns around 3.8% of the market share in 2022 Q2 on Foodpanda by order volume. The other brand TamJai Yunnan Mixian, now exclusively on Deliveroo, owns around 3% of the market share on the platform.