How Are Target, Walmart, and Wholesale Clubs Faring in 2023?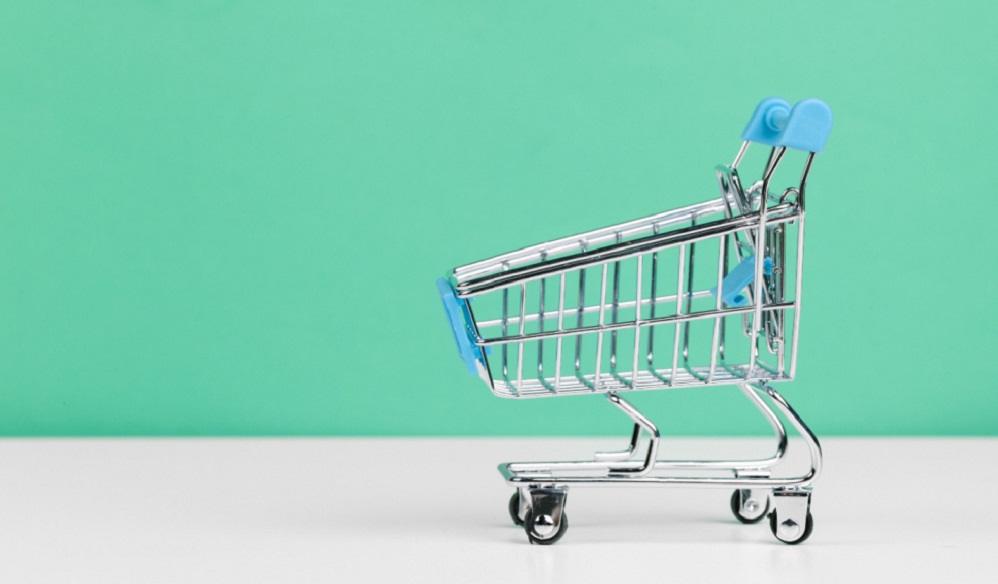 With another holiday season behind us, and as high prices threaten to continue holding retail back in 2023, we dove into the foot traffic and location intelligence data to understand what lies ahead for Target, Walmart, and other leading superstores.
Target, Walmart, and Wholesale Clubs In the Face of Economic Uncertainty
Superstores such as Target and Walmart were one of the pandemic's major retail beneficiaries. The category's strength continued in the first half of 2022 as some shoppers traded down in the hopes of stretching their budgets in the face of ongoing inflation. And although the continued economic headwinds finally did reach superstore traffic in the second half of the year, many of the leading brands still managed to hold on to their pandemic gains and stay ahead of 2019 visit levels. But what does the new year have in store for the sector?
Difficult Comparison to 2021
The strength of 2021 made for difficult year-over-year (YoY) comparisons, as pent-up demand, accumulated savings, and an early start drove an unusually robust season in 2021, so assessing the success of 2022's holiday season is challenging. Visits to Target, Walmart, Costco, BJ's Wholesale, and Sam's Club were down in October and November 2022 relative to 2021, likely a result of comparisons to last year's extended season. But by December 2022, the YoY visit gaps had narrowed significantly with all brands seeing traffic more or less on par with 2021 numbers – indicating that superstores still play a major role in consumers' holiday shopping and party prepping routine.
Still, traffic data does seem to indicate that the economic difficulties of 2022 have begun to take a toll on consumers – January visits were down for almost all superstore chains analyzed, with the exception of Target that seems to be continuing its winning streak in the new year.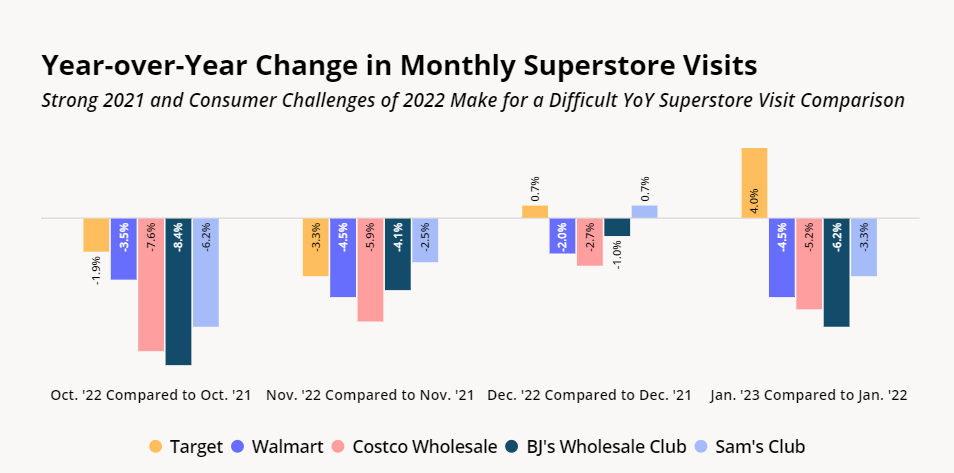 Year-over-Three-Year Visits Highlight Superstores' Strength
Given the unusual retail nature of 2021, comparing 2022's holiday season performance to pre-pandemic traffic levels can offer a better sense of the sector's improved position since the pandemic. While November 2022 visits were slightly lower than November 2019 visits – likely due to the reduced importance of Black Friday, year-over-three-year (Yo3Y) visits in October and December 2022 were up almost across the board.
Target and Sam's Club (owned by Walmart) posted the biggest Yo3Y gains – which may also explain Sam's Club recent expansion announcement. Walmart saw the biggest visit slump – but location intelligence shows that the current traffic dip is likely just a temporary setback for America's largest brick-and-mortar retailer.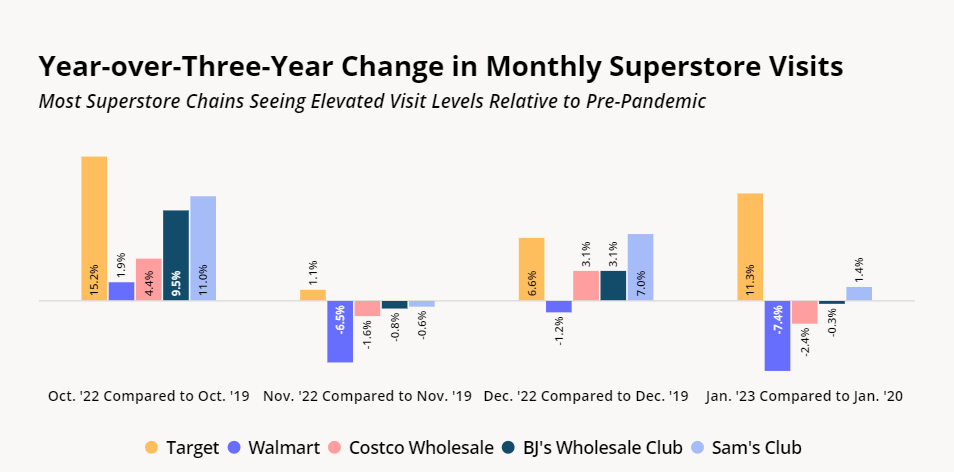 Inflation Likely Hitting Walmart's Consumers the Hardest
Walmart's Yo3Y visit gaps may be reflecting the impact of the ongoing inflation on the superstore giant's consumer base. An analysis of the median household income (HHI) for residents of the five superstore chains' True Trade Areas (TTAs) reveals that Walmart's trade areas tend to house the low-income consumers – with a median HHI of $54.8K. In contrast, BJ's and Target serve TTAs where residents have a median HHI of $62.7K and $63.7K, respectively, while the median HHI in Costco's TTAs stands at $70.3K.
But if the combination of inflation and a lower-income visitor base driving visits to Walmart down, why is Sam's Club (a subsidiary of Walmart), which also serves a similar consumer base, doing so well?
The answer may lie in the competitive landscape of the different types of superstores. With the massive expansion of the discount and dollar store category in recent years, the value-priced superstore sector has gotten increasingly crowded, and cash-strapped consumers may be trading down from Walmart in favor of dollar stores until prices begin normalizing. But the wholesale space is much less competitive, and for those looking for a deal in the wholesale membership category, Sam's Club – which has the lowest wholesale membership fee – may still be the most attractive option.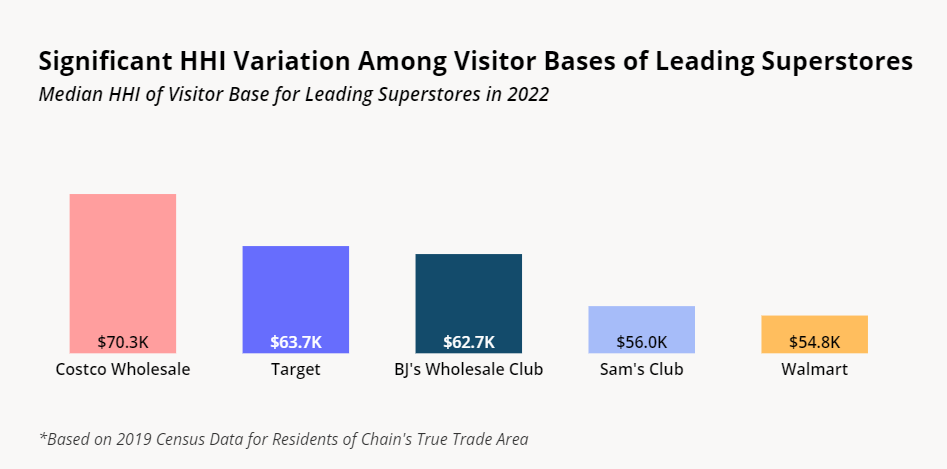 Walmart Still the Undisputed Superstore Leader
And although Walmart may be going through a temporary visit slump, it's important to remember that the chain is still the most dominant brick-and-mortar retail player in the country. In 2022, over half of the total visits (59%) to Walmart, Target, Costco, BJ's, and Sam's Club went to Walmart, slightly lower than the chain's visit share in 2019.
The cross-shopping trends are even more impressive: Between 74.4% and 92.1% of 2022 visitors to the other superstores also visited Walmart at least once last year, and between 48.6% and 72.8% also visited Walmart at least four times, for an average of one visit to Walmart per quarter. And between 21.3% and 44.5% of visitors to other superstores in 2022 (more than one out of every 5 visitors) also visited Walmart at least 12 times last year, for an average of one Walmart visit a month. This all indicated that Walmart is still extremely well positioned to hold on to its throne as America's reigning superstore despite the stiffening competition.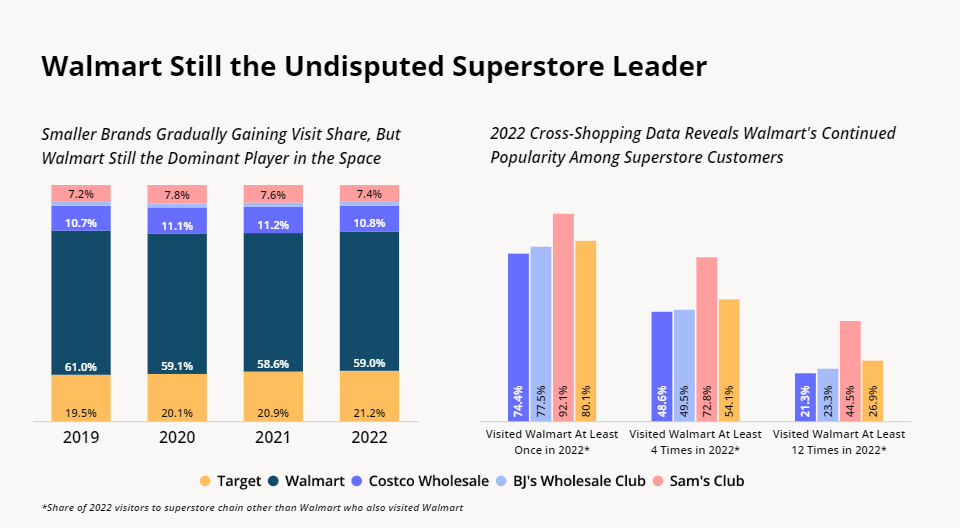 To learn more about the data behind this article and what Placer has to offer, visit https://www.placer.ai/.