Dining & Valentine's Day Recap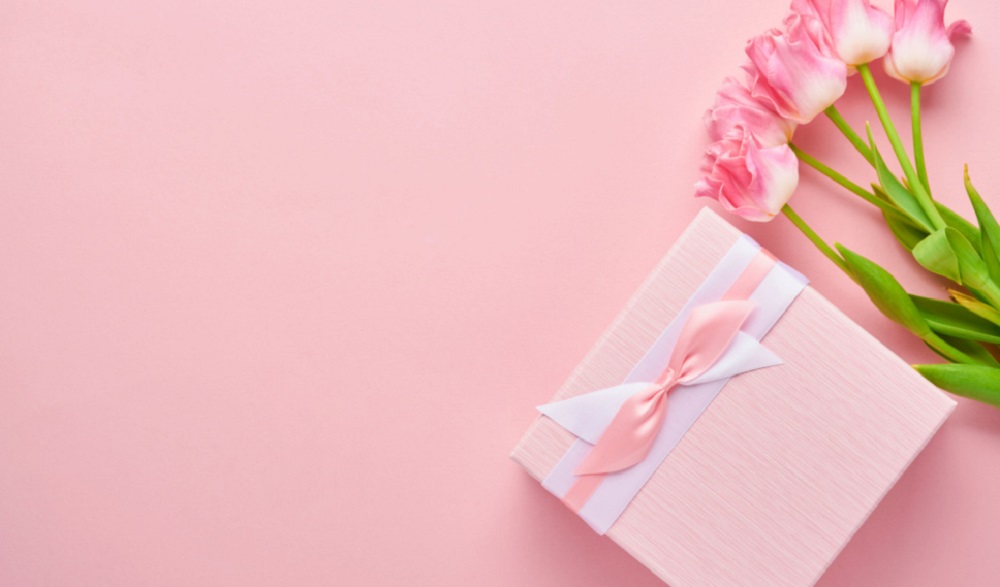 The dining industry has been slow to fully recover from the impacts of the pandemic, and the ongoing inflation and tighter consumer budgets are making a 2023 comeback seem increasingly unlikely. Notably, even Valentine's Day – often marked by elevated restaurant visits – may not be enough to revitalize the industry. Still, some brands are managing to meet, and exceed, their 2019 visit levels. We dive into the state of the sector to better understand what is driving these trends.
Industry Changes Leading to Visitation Shifts
To better understand how the full-service restaurant (FSR) industry is faring so far in 2023, we took a closer look at the year-over-three-year (Yo3Y) visitation trends to 20 of the largest chains in the country.
FSR winners included steakhouse chains Texas Roadhouse, LongHorn Steakhouse, Capital Grille, and breakfast restaurants First Watch and Waffle House. These two categories – steakhouses and breakfast chains – have enjoyed a recent rise in popularity, likely boosted by recent expansions. Steakhouse leader Texas Roadhouse aims to grow from 596 locations to 900 in the next decade. First Watch opened 43 stores in 2022 and has plans for annual unit expansion between 10% to 12%, with the eventual goal of operating around 2,200 stores nationwide.
Three steakhouses saw particularly impressive growth, with January 2023 seeing Yo3Y growth of 17.5%, 5.3%, and 0.5% for Texas Roadhouse, LongHorn Steakhouse, and The Capital Grille, respectively. In the breakfast space, First Watch exceeded January visits by 18.2% Yo3Y, and Waffle House's visits grew by 9.8%.
Still, these trends don't mean all steakhouses and breakfast restaurants are doing well Yo3Y. With the cost of dining out 8.2% higher than last year, many middle or lower-income diners are trading down or forgoing a restaurant meal entirely. This trade-down has led to a decline in restaurant visits in the middle of the pricing scale like Cracker Barrel, Denny's, and IHOP while benefiting lower-priced chains like Waffle House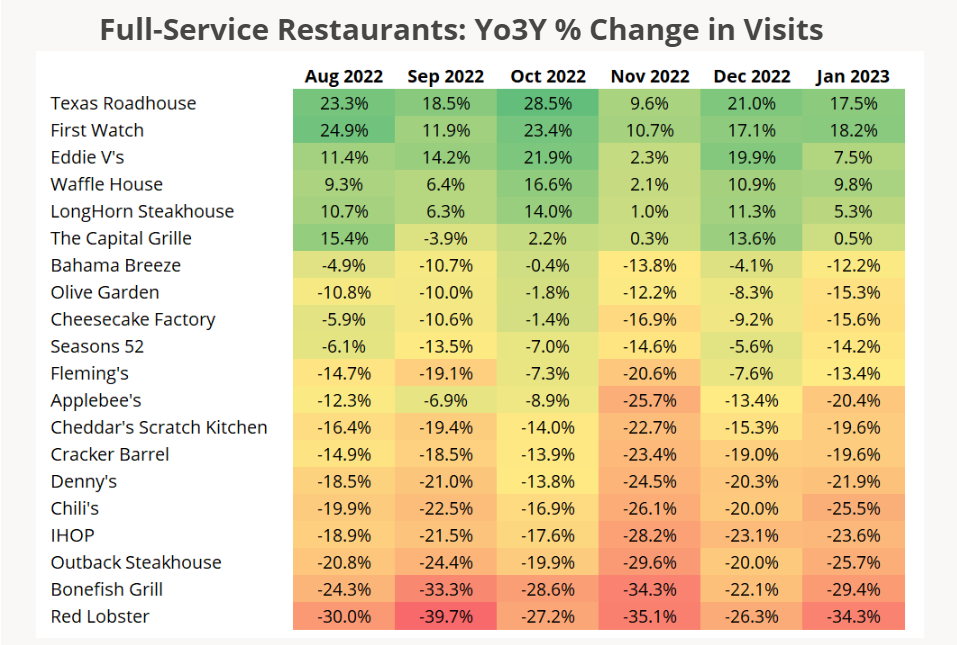 Fast-Casual's Pivot
Further highlighting the effects of rising costs, visit trends to quick-service restaurants (QSR) and fast-casual dining options have evolved over the past few years. Although both fast-casual and QSR enjoyed strong visitation patterns from Q1 2017 onward, fast-casual typically performed better than QSR between 2017 and 2019.
The pandemic saw the first instance of QSR outpacing fast-casual, with the category's visits per location exceeding fast-casual average visits per location by around 35% in Q2 2020. The trend continued in Q3 2020, but fast-casual returned to outperform QSR for most of 2021 and early 2022. Since Q2 2022, however, as inflation took over from COVID-19 as consumers' primary concern, visits to the segment have lagged behind QSR.
This change is likely a result of how fast-casual dining pricing has changed. Some brands, like Chipotle, choose to substantially raise their prices while discouraging discounts. The price increases may have cut into these concepts' visit numbers but not necessarily into the brands' profits, as higher prices encourage a more profitable customer base to visit their locations.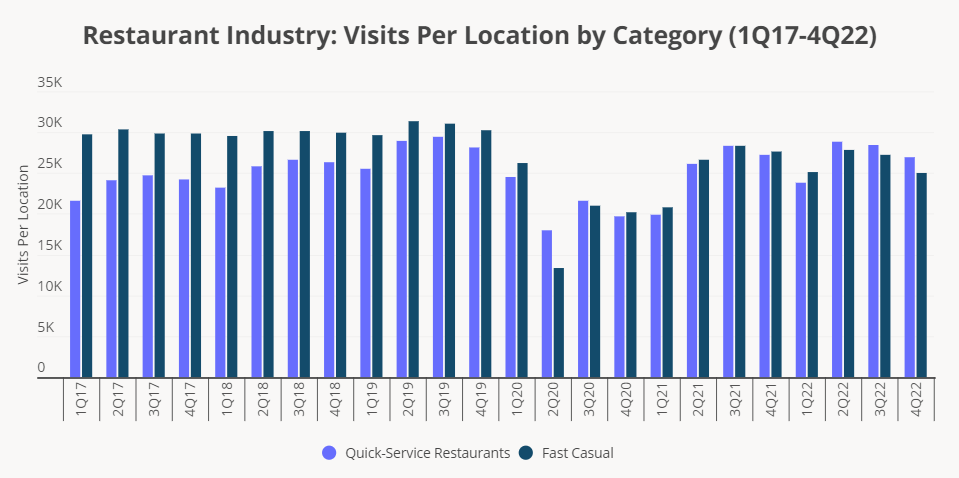 The Valentine's Day Effect
Valentine's Day is a day of love and consumer spending, one that typically sees restaurants booked out months in advance. Consumer spending has been projected to reach $26 billion on gifts and other declarations of affection for Valentines 2023, an 8% increase from 2022. But how people spend their money on Valentine's Day has changed over the past few years.
Beauty and self-care saw visit growth of 4.7% year over year (YoY) on Valentine's Day, while the other categories analyzed saw visit lags, with visits to restaurants down 0.2% YoY. Jewelry retailers saw 13.4% fewer visits than the previous year.
These shifts are likely another extension of the inflationary impact on consumer behavior and changes in how people spend money on Valentine's Day, with more emphasis on experiential gifts and presents, though inflation could also be playing a role.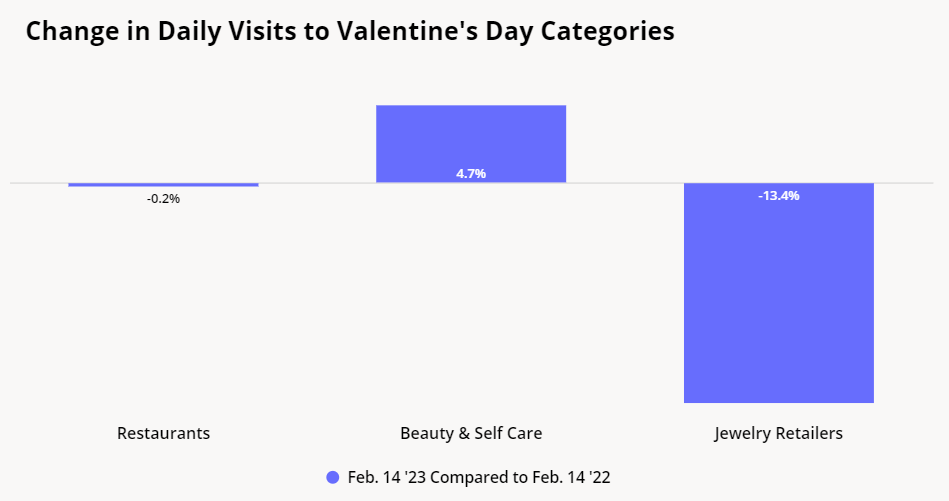 To learn more about the data behind this article and what Placer has to offer, visit https://www.placer.ai/.