Many Ways to Win: Midwest Grocery Deep Dive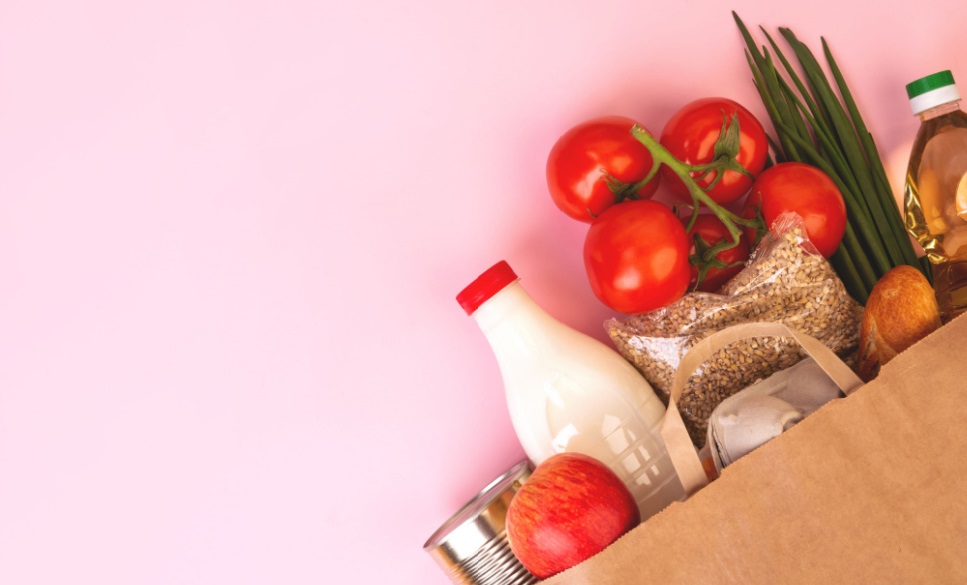 2022 saw continued foot traffic growth in the grocery category nationwide. And as rising food prices continue to weigh on the consumer, the grocery space remains top of mind for retailers and analysts with their finger on the pulse.
Grocery is a regionally-focused retail category, meaning that leading brands tend to dominate specific geographic areas of the country. In this blog, we'll dive into the leading grocery chains in the Midwest to take a closer look at the ways brands are driving foot traffic to their stores.
Top Chains By State
The regional nature of the grocery sector is driven, in part, by local preferences and the need for supply chain infrastructure to transport food and keep it fresh. As a result, there is room for many brands to be successful and carve out their share of grocery visits.
Based on Placer.ai's Brand Dominance Map for the Grocery category in January 2023, nine different brands claimed the largest share of grocery visits in at least one of the 12 Midwest states, and two brands had the greatest visits share in multiple states. Kroger – the Cincinnati-based chain – was the predominant brand in Ohio and Indiana, and Hy-Vee – with its headquarters in West Des Moines – had the highest visits share in Iowa, South Dakota, and Nebraska. Other statewide visit share leaders include Cash Wise Foods in North Dakota, Cub Foods in Minnesota, Pick 'n Save in Wisconsin, Meijer in Michigan, Jewel-Osco in Illinois, Schnucks in Missouri, and Dillons in Kansas.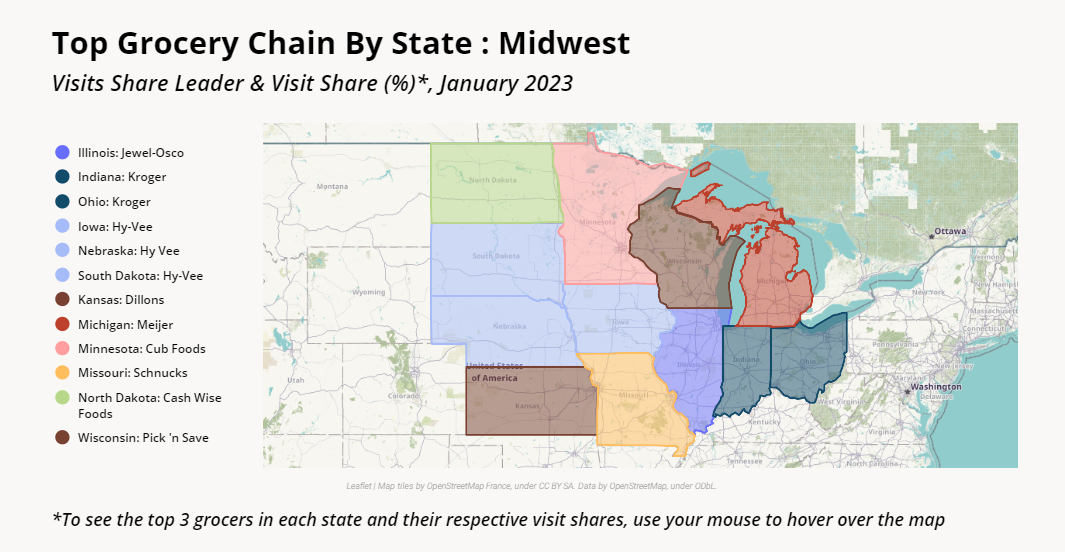 Grocery Battleground States
In the Midwest, being the most visited chain in a particular state isn't the only way to win in the grocery game. In January 2023, several brands had second or third-largest visit shares in multiple states – amounting to a significant percentage of visits overall.
Meijer – a Michigan-native grocer – claimed the majority of visits in the state (49%), but also the second-most visits in Ohio (15%) and Indiana (25%) and third-largest visit share in Illinois (7%). And Hy-Vee, which holds the top spot in Nebraska, South Dakota, and Iowa, was also the second most visited grocer in Kansas (12%), Minnesota (16%), and Missouri (14%).
Despite being the fastest-growing grocer in the nation in 2022, Aldi was not the most visited chain in any of the states analyzed as of January 2023. Still, the brand did take the second or third spot in six of the 12 Midwestern states. Aldi has a long history in the Midwest – its first U.S. store opened in Iowa in 1976, while Illinois is home to the company's headquarters and the most Aldi stores of any state. Aldi's significant share of grocery visits across multiple states indicates that grocery brands can be extremely successful and well-entrenched regionally even without dominating any one local market.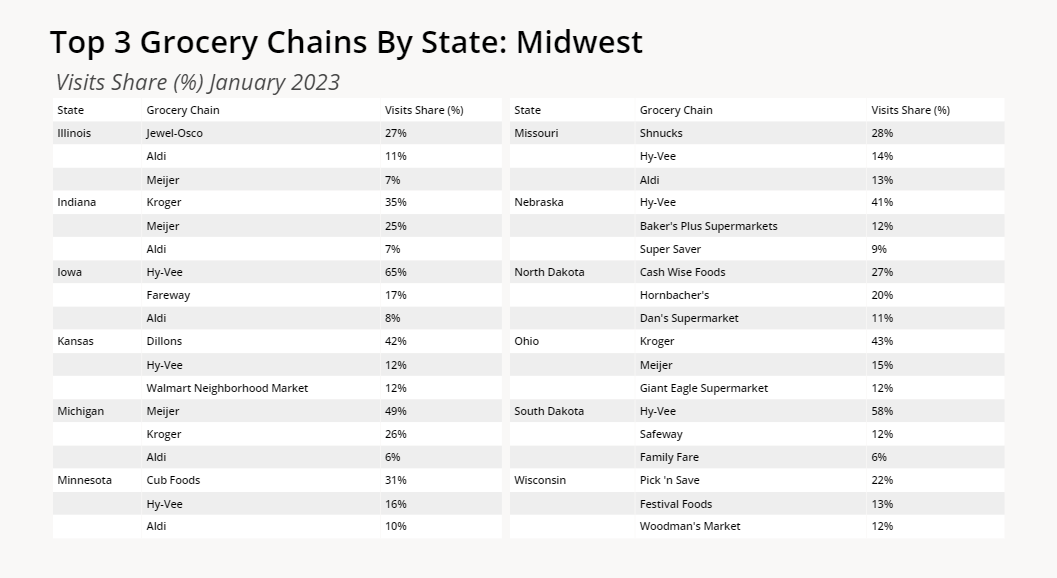 Checkout the Dakotas
In the absence of an expansive store fleet that crosses multiple state lines, smaller grocery brands can cash in as leaders in their local markets. Cash Wise Foods and Hornbacher's – two relatively small brands– are the top grocers in North Dakota and don't appear on the list for any other state. The two brands also claim a significant and fairly similar percentage of the state's grocery visits – 27% and 20%, respectively.
Both of these brands have found a unique strategy to drive visits. Cash Wise Foods has more stores statewide, while Hornbacher's has more locations concentrated in and around the state's most populous city – Fargo. And although Cash Wise Foods is the statewide visit leader, Hornbacher's can still enjoy a significant share of North Dakota grocery visits by serving residents of the state's most densely inhabited area. Fargo's population density allows Hornbacher's to command a smaller trade area while still competing closely with Cash Wise Foods for grocery visits.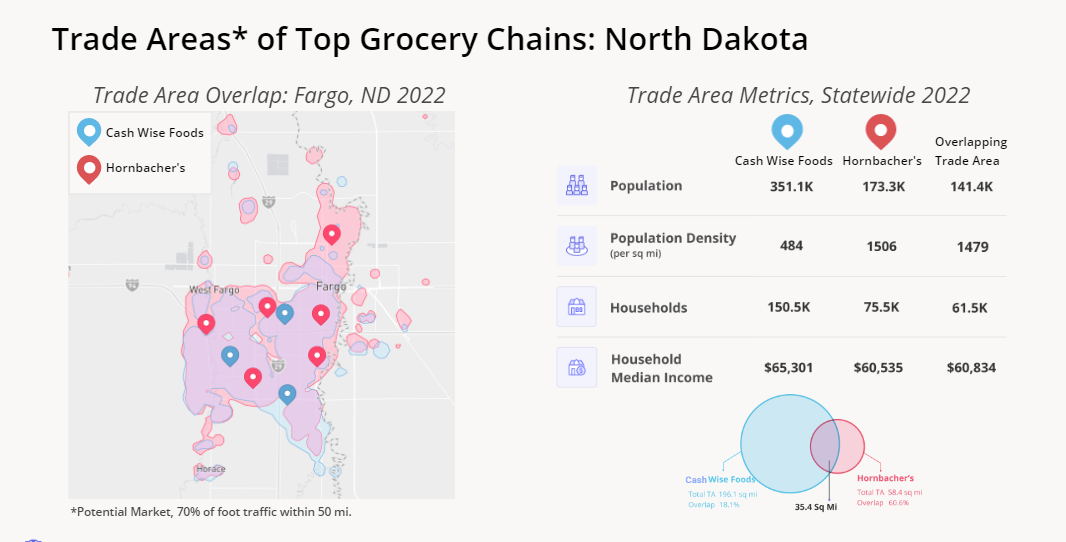 Another strategy for grocery brands looking to operate in regions where one player dominates the local market is to divide and conquer. In South Dakota, rather than duke it out in the same market, Hy-Vee and Safeway – the two most visited grocery chains in the state – each control a different area of the grocery space. Hy-Vee's locations serve eastern South Dakota and the state's biggest city – Sioux Falls – while California-based Safeway claims the western half of South Dakota and its second-largest municipality – Rapid City. The two chains' South Dakota locations have no overlapping trade areas and don't compete for visits, but instead take advantage of their dominance on opposing sides of The Mount Rushmore State to win visits share.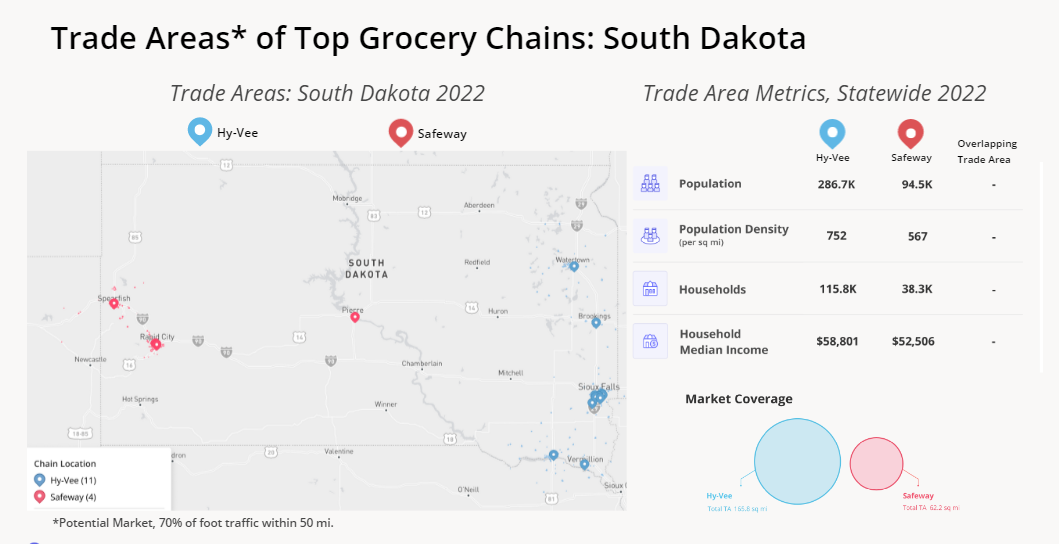 Midwest Roundup
The Midwest's grocery space is ripe with competition but there appears to be plenty of visits to go around. While some brands take the cake on the state level, others earn their keep by claiming a smaller percentage of the grocery visit share across one or multiple markets.
To learn more about the data behind this article and what Placer has to offer, visit https://www.placer.ai/.