Five Chains that Rightsized for Success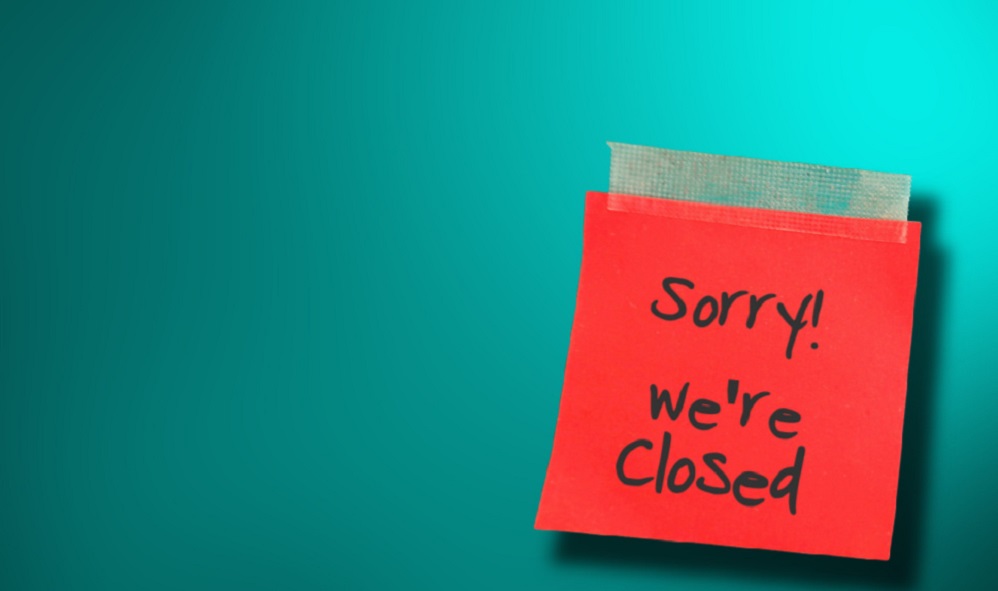 The past few years have thrown plenty of curveballs at brick-and-mortar retail – and in 2020, headlines announcing store closings and proclaiming an imminent "retail apocalypse" seemed to be everywhere.
But while shuttering locations can signal retail decline, rightsizing – taking proactive steps to match a company's store configuration to actual market conditions – can also be a chain's first step in regrouping to overcome unexpected hurdles. Retailers that prove themselves capable of reacting nimbly to a changing environment will ultimately be better positioned to thrive over the long haul.
In this post we'll dive into the data to explore how five chains have found success through rightsizing – whether by reducing their fleets, reformatting their venues, or in some cases rapidly expanding to meet accelerated demand.
Golden Corral Maximizes its Value Proposition
Derided as a "zombie" during the grim days of COVID – a chain that was dead but just didn't know it yet – Golden Corral has emerged from the pandemic in a position of renewed strength. With some 397 locations across 41 states, Golden Corral remains one of America's largest all-you-can-eat buffet restaurants. And although the chain was forced to reduce its footprint in the wake of COVID, closing about 120 restaurants throughout 2020 and 2021, in June 2022 the eatery reported a 3% to 5% increase in same-store sales compared to 2019.
Location intelligence data also shows a year-over-three-year (Yo3Y) increase in average visits per venue. And while the brand took a bigger hit than the wider full-service restaurant (FSR) category in 2020 and 2021, since January 2022 Golden Corral's visit-per-venue recovery has outperformed that of the broader FSR sector. This growth highlights the company's success at regrouping and maximizing its value proposition in the face of significant industry-wide challenges.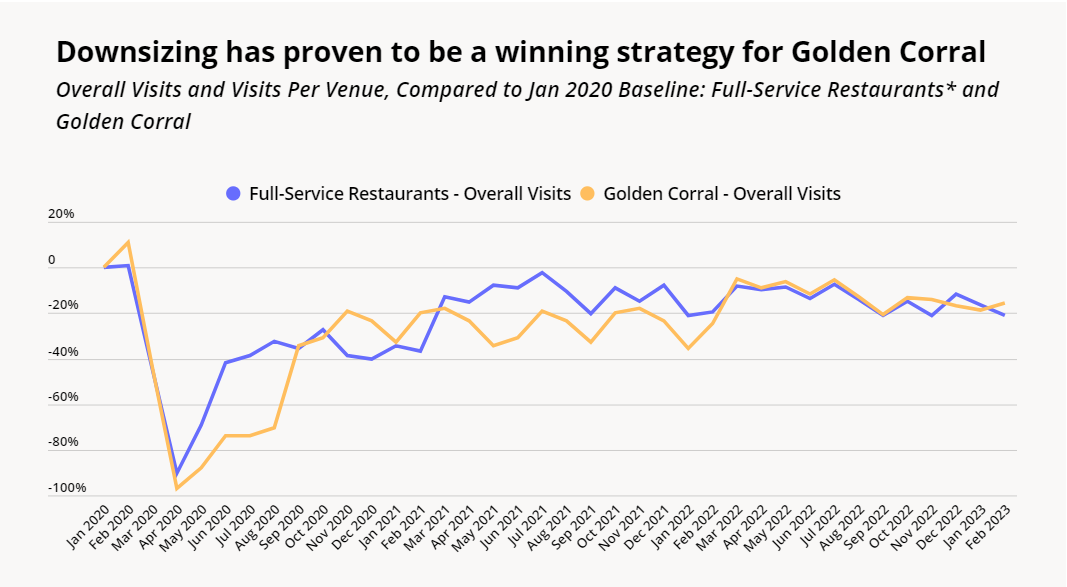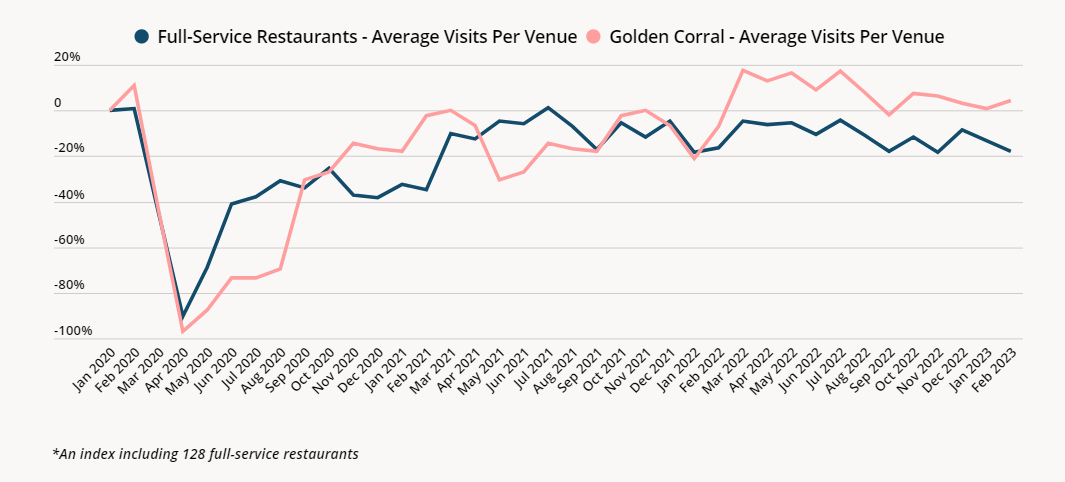 Barnes & Noble Becomes the New Neighborhood Bookshop
For Barnes & Noble, rightsizing has meant adjusting store size to maximize return on investment – as part of an overall strategy seeking to recast the brand as a neighborhood bookstore offering a locally-curated shopping experience. Rather than fruitlessly trying to beat Amazon at its own game, the brick-and-mortar behemoth has pivoted to embracing its "indie roots", becoming a physical space where visitors can enjoy the experience of browsing the aisles, engaging with other people, and discovering new books.
A look at one of its newer, small-format stores shows that this strategy appears to be paying off. In June 2020, Barnes & Noble opened a 14,000 sq. ft. venue on Cattlemen Rd. in Sarasota, FL – about twenty minutes away from the more traditionally-sized South Tamiami Trail location. And the newer Cattlemen location is not only continuing to see more than double the visits per square foot of the older store, it is also seeing a greater share of weekend visits. This may indicate that Barnes and Noble's smaller format is succeeding both in maximizing the value of its retail space and positioning the store as an attractive destination for people to relax on their days off.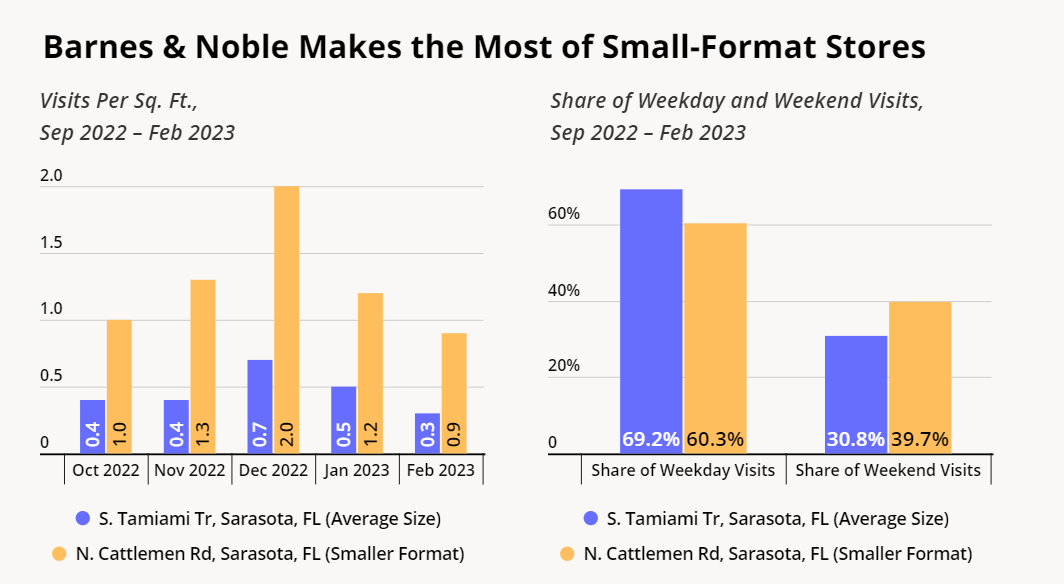 Gold's Gym Reclaims its Bodybuilding Glory
In 2020, when at-home workouts were all the rage and gyms appeared poised on a precipice, Gold's Gym was among the leading fitness brands to declare bankruptcy and announce the closure of many of its facilities. But humans, it turns out, like interacting with other people – and as Americans emerged from the pandemic, many of them made a beeline back to the gym.
Indeed, consumers' growing interest in health and wellness has fueled significant fitness industry growth in recent months – and Gold's Gym, which was sold to RSG Group following its Chapter 11 filing, is no exception to this trend. While a smaller (but once again growing) fleet means fewer overall visits compared to 2019 and early 2020, foot traffic to each of the chain's locations remains significantly higher than it was three years ago – showing that the chain has begun to reclaim its position as a go-to destination for bodybuilders and other more casual fitness buffs.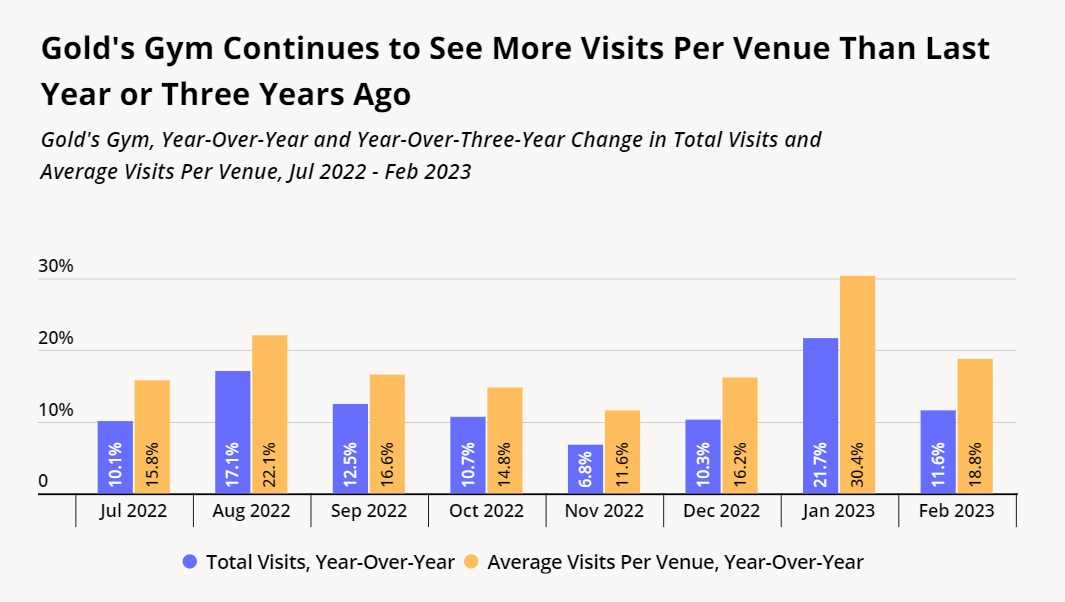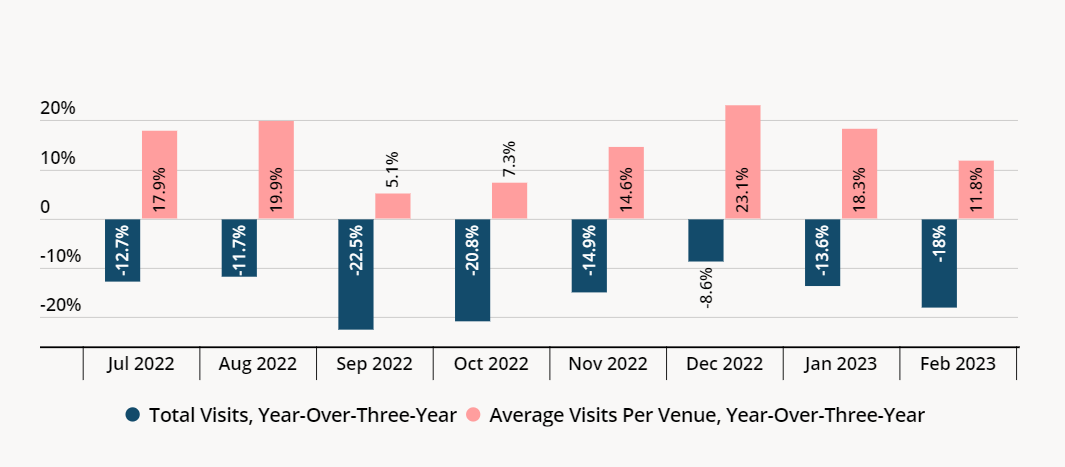 4. Lane Bryant Bounces Back from Bankruptcy
Top women's plus-size fashion chain Lane Bryant is another brand that has found success despite a pandemic-driven hit to the size of its store fleet. In July 2020, Lane Bryant's parent company filed for bankruptcy, as COVID wreaked havoc on an already-weakened entity. And the closure of about 150 stores appeared to signal a bleak outlook for the chain.
But following its sale later that year to private equity firm Sycamore Partners, the brand began to regain its footing. And while Lane Bryant's Yo3Y overall visit gap remained higher than that of the general apparel category through 2022, the average number of visits to each of its stores increased by 3.8%. The pandemic has been hard on some brick-and-mortar plus size retailers – but Lane Bryant's recovery shows that stores that can provide larger women with high-quality, fashionable apparel are still very much in demand.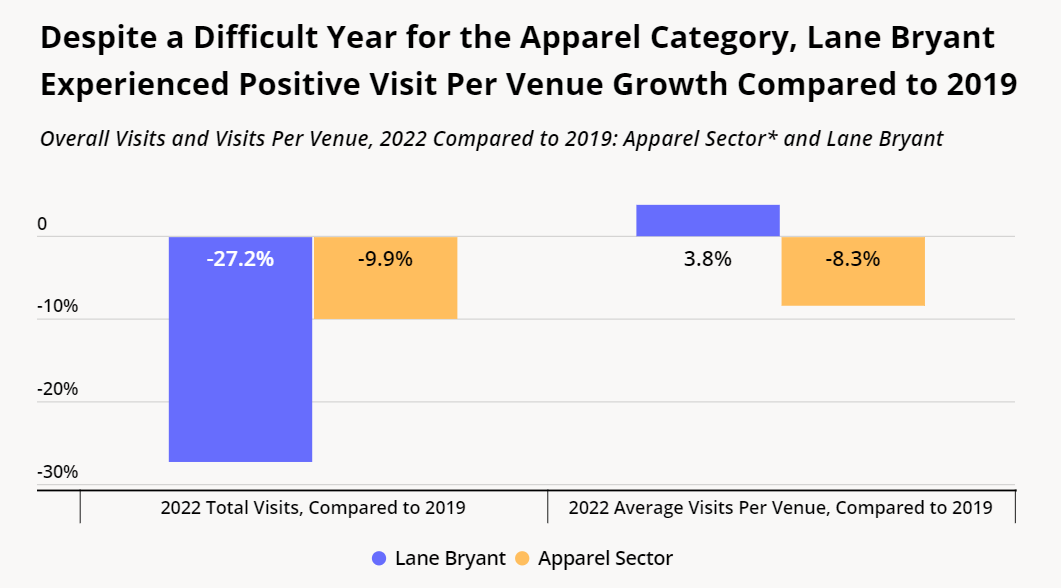 5. Dutch Bros. Leans into Growing Demand
While rightsizing often refers to downsizing a store fleet, companies can also rightsize by opening new locations to meet growing consumer demand. And the meteoric rise of Dutch Bros. is a case in point. With some 768 locations across fifteen states – up from just 264 in 2016 – the popular coffee chain has succeeded in dramatically growing its footprint without diluting its per-location performance. Between October 2022 and February 2023, Dutch Bros. experienced consistent year-over-three-year foot traffic growth – with overall visits, unique visitors, and visits per venue all significantly up compared to three years ago.
This success appears to be driven, at least in part, by the company's ridiculously loyal customer base. Dutch Bros. takes pains to ensure it is deeply rooted in the communities it serves, whether by fundraising for important local causes or reaching out to customers in times of need. And as the chain has expanded, its customers' loyalty has only increased. Between October 2022 and February 2023, a full 10.5% of Dutch Bros. customers visited the chain at least five times – up from 5.9% three years ago. This is a further indication that the brand's rapid expansion is indeed in step with what consumers actually want.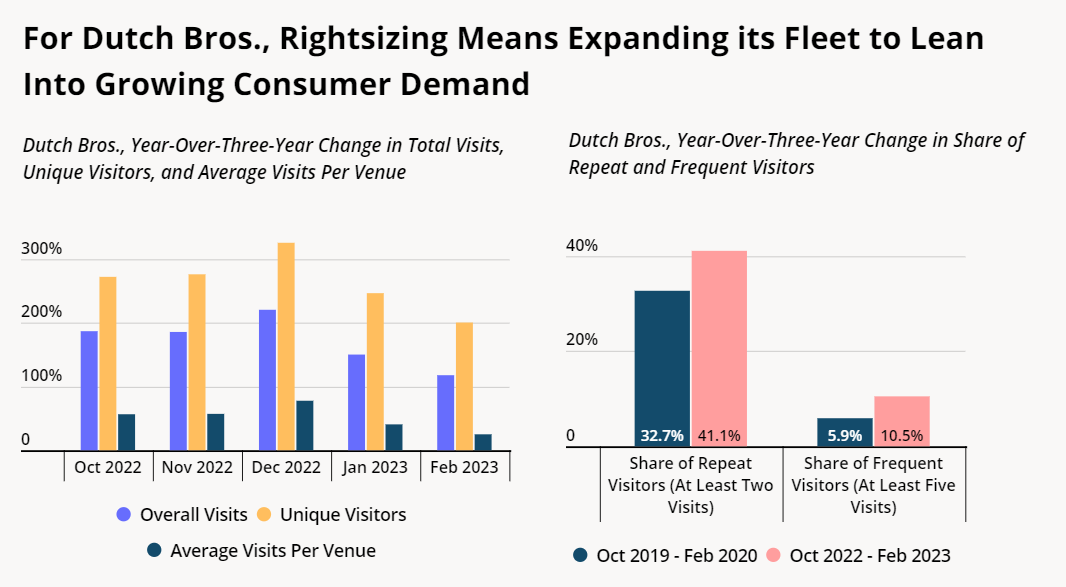 Key Takeaways
Retailers that rightsize are better positioned both to weather inevitable storms and make the most of opportunities that come their way. And whether undertaken from a position of strength or in response to unexpected turns in the market, optimizing a chain's physical footprint can be an important factor in retail success.
To learn more about the data behind this article and what Placer has to offer, visit https://www.placer.ai/.