Shanghai Disney App Usage points to a strong re-start
After months of being closed, Disney announced that it would reopen its Shanghai park with added social distancing precautions. Tickets for the May 11th opening went on sale the previous Friday and sold out almost immediately. Disney limited the number of visitors to the park to 30% of its normal capacity based on requirements from the Chinese government.
Apptopia, a leading provider of data on mobile application usage, provided us with data to analyze the interest in the reopening in more detail. When China first went into quarantine, downloads of the Disney Shanghai mobile app sank by more than 80%. It remained at this depressed level until May 5th, the day that Disney announced the reopen. Downloads of the Disney app then surged by more than 200%, reaching greater than 50% of the pre-COVID level seen in early January. What this tells us is that demand to attend the parks is nearly double what the Chinese government is currently allowing in terms of attendance.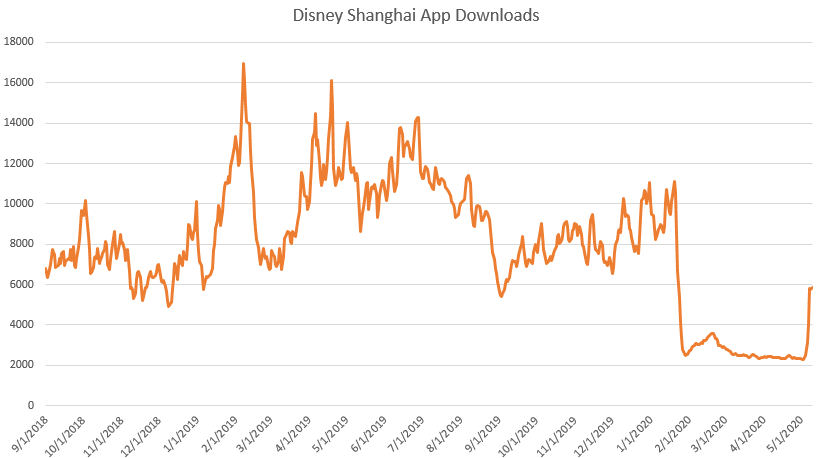 Assuming case counts stay where they are in China, the data from Apptopia points to a continued recovery at Disney and also shows that a majority of people may feel comfortable in more social situations as precautions to halt the spread of COVID-19 are put in place.
To learn more about the data behind this article and what Apptopia has to offer, please reach out to Connor Emmel at cemmel@apptopia.com.