Nike or Adidas: Which shoe retailer has the better recovery game?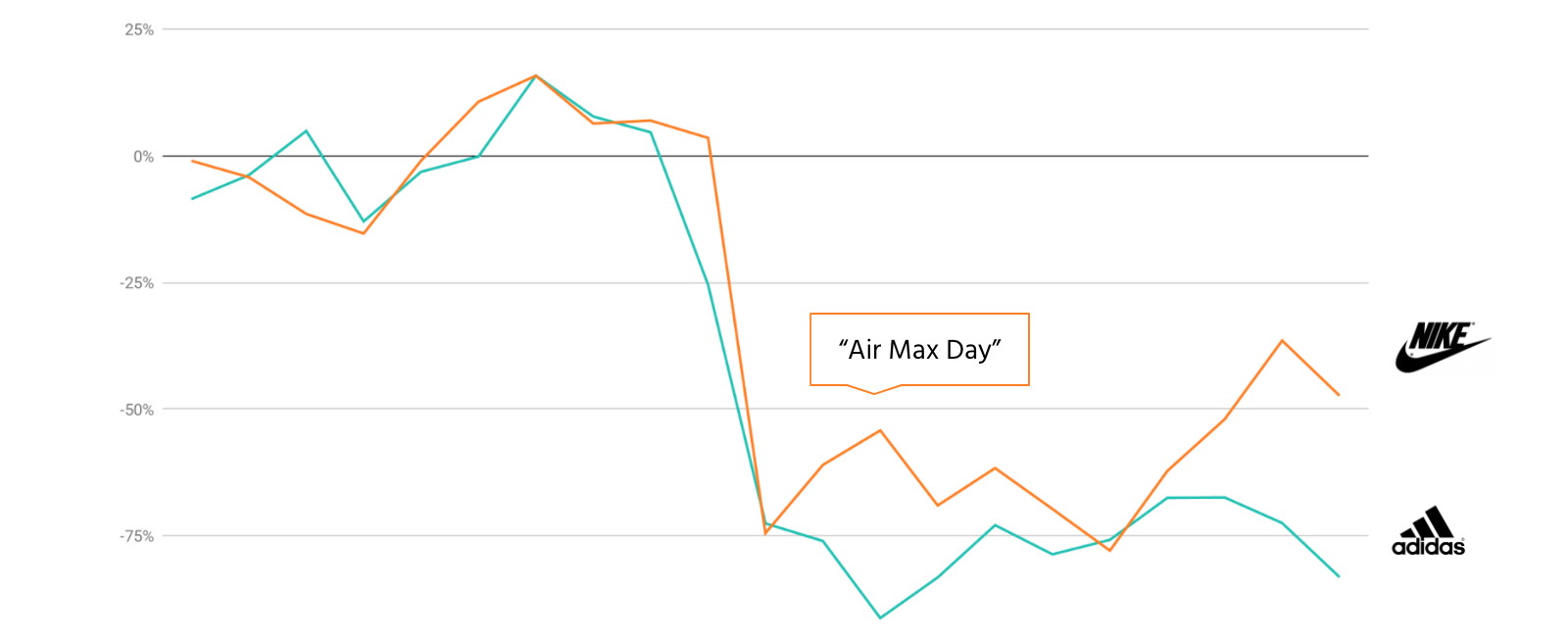 U.S. clothing retailers got a welcomed jolt of recovery heading into June 2020 as more people headed back to bricks and mortar locations.
Store visits had fallen as much as 90% in some states since shutdown orders were first issued, while the national average sits about -50% since reopening began, significantly lagging restaurant or grocery retailer visits.
But an abrupt increase of 20% or more in clothing retailer visitations was the national norm in the last week of May, with clear state and brand winners emerging as we look through the data.
Southern states are back in fashion
Leading all states, South Carolina - one of the first to both shutdown and begin reopening - saw visits spike to more than 150% of 2019 levels.
Neighboring Tennessee visitation levels achieved parity with the same period last year, as did clothing retailer visits in less-restricted states including South Dakota and Montana. In general, the southern states continue to fare better than those north.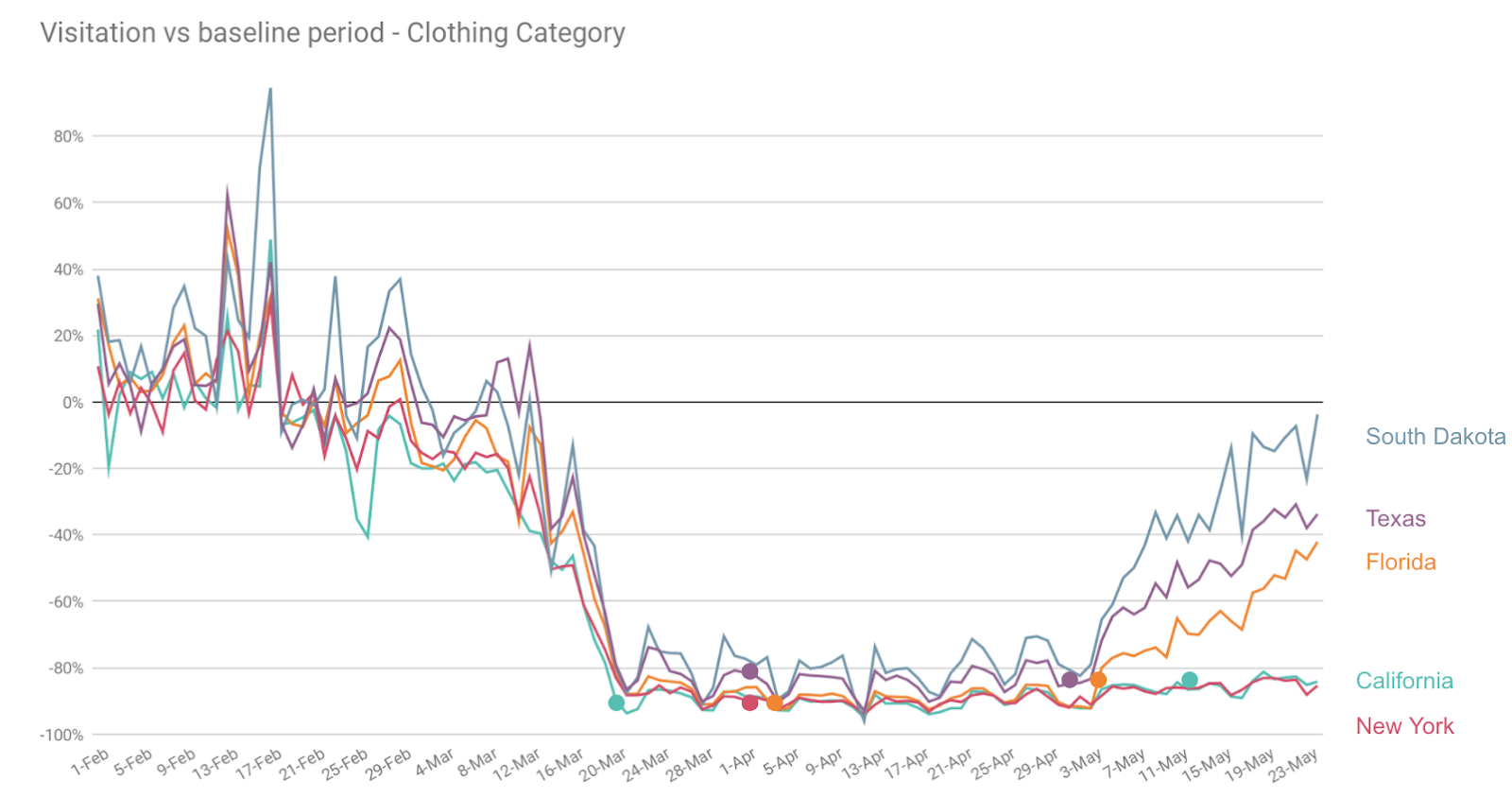 Clothing retailers in Texas and Florida, which we highlighted in our analysis of Memorial Day beach visits, are both enjoying better than average rates of recovery, having touched within 10% of 2019's visitation levels in the last week of May. Georgia is in a similar category, with visits having spiked to within 15% of 2019 numbers post Memorial Day, before slipping back to -25% year over year.
Shoe retailers are battling for foot traffic
In the same way that not all states are equal in terms of prevailing conditions (e.g. the timing and specifics of shutdown and reopening), not all brands appear to be equal in terms of their ability to draw consumers back to bricks and mortar locations. One prime example comes from the highly competitive athletic shoe category.
Nike and Adidas compete head-to-head in this lucrative market by selling through their own outlet locations, as well as via retailers of all kinds with bricks and mortar storefronts in shopping centers, strip malls, and independent locations.
Each brand has celebrity-athlete spokespeople, huge ad budgets, and the ability to target customers with location-based marketing.
To someone who's not big on shoe culture, there doesn't seem like much to separate the two brands. Yet Nike is crushing Adidas in terms of visitation recovery.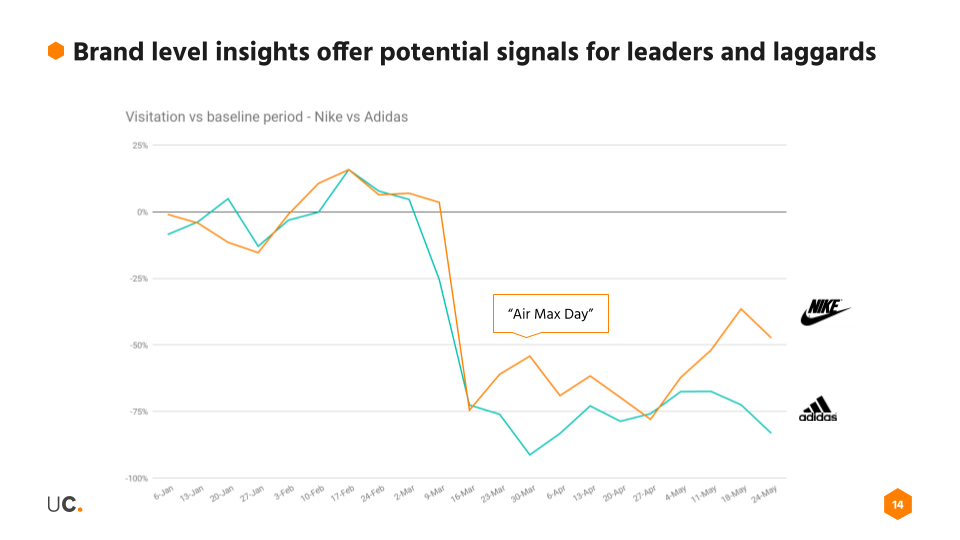 Both Nike and Adidas retail outlet locations took a common nosedive with the retail sector in early to mid-March as most state's shutdown orders began to take effect. By March 16th, Nike bottomed-out at about -75% visitation levels versus 2019, while Adidas' visitation continued to fall for the next two weeks, touching -90% at the end of March.
Heading into June 2020, Nike continued to widen the gap, climbing to within 45% of 2019 levels, while Adidas remains mired near -85%. So what are the difference-makers?
It's not Nike's first time at the dance
Since March 2014, Nike has celebrated the 26th as Air Max Day – the day the iconic Air Max shoe was first released. Nike uses Air Max Day each year to announce new products and celebrate the brand and the game. It is as important in the athletic shoe world as a new iPhone is to mobile aficionados.
The fact that Nike store visits spiked more than 20% in the period around March 26th, even as Adidas visits fell by nearly the same amount, indicates that consumer expectation for that standing tradition remains strong for the Nike brand.
Another factor influencing the gap between Nike and Adidas' visitation levels may be ESPN's March 2020 release of The Last Dance documentary series, which chronicles the rise of the Chicago Bulls behind Michael 'Air' Jordan, the most important human brand Nike has ever seen. The series gives regular play to the iconic Air Jordan shoe, the Nike brand, and shoe culture on the whole.
With more Americans at home as we shelter-in-place, The Last Dance has become very popular and that popularity will likely spike again in July when the series is released to a broader U.S. audience via Netflix.
Given mass exposure to this content, one can imagine the consumer's desire to Be Like Mike, along with our need to get moving again, influencing which shoe store we visit as we go outside again to work, shop and play.
To learn more about the data behind this article and what Unacast has to offer, visit https://www.unacast.com/.