Can eCommerce businesses hold onto their strong quarantine sales gains?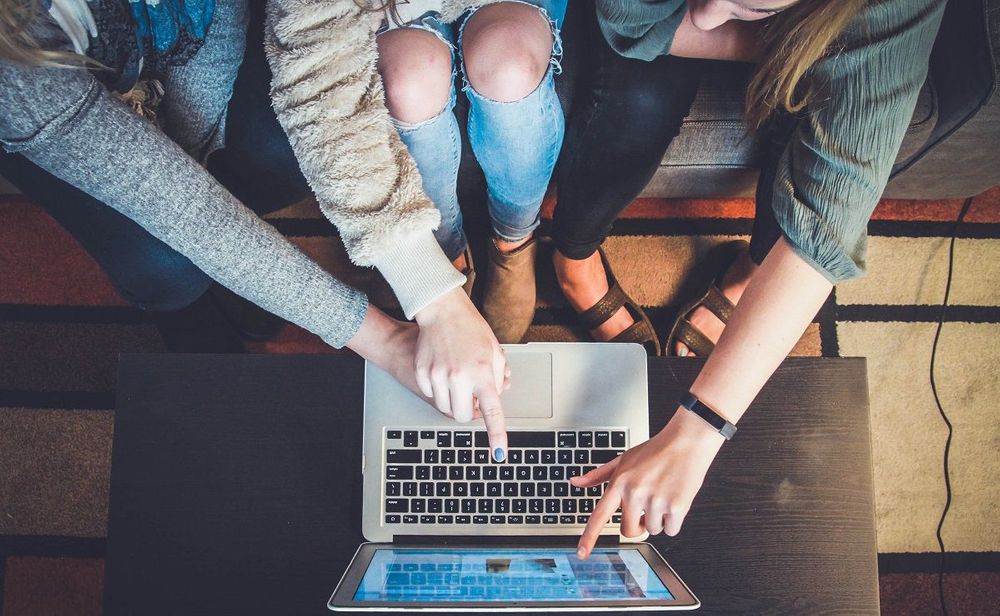 Along with the Nasdaq, many ecommerce and online focused businesses soared during quarantine. The thinking was that these businesses were either gaining new customers or were getting existing customers to spend in new ways. The belief was that when quarantine ends these gains would become permanent. If these gains aren't permanent and the sales bump was only driven by hoarding behavior or other one-time purchases, this shouldn't drive stocks higher since it will not add to long term company earnings. Instead it will actually create a sales headwind in 2021 when sales are compared to this one-time spike. In this article we dive into what drove sales increases for several companies with high eCommerce exposure. We include some with lower exposure in our dashboard for you to explore.
To understand the dynamic driving many companies' sales we partnered with Earnest Research. Earnest is a data analytics company that tracks debit and credit card purchases from millions of U.S. consumers. Their data allows visibility into different groups of consumers, those who have shopped with a vendor before and those who have not.
Etsy, Activision Blizzard, UberEats and Electronic Arts were among the businesses showing the most dramatic sales increases in April where new customer additions were equally as strong.
.
New represents the growth in the number of new customers year over year. Repeat is the growth in the number of existing customers year over year.
Below you can explore the trends by month on your own:
.
These new customer gains are dramatic and provide a strong justification for a valuation rerating. If these new customers are retained and behave as previous historically acquired customers, these businesses may have significant upside remaining in their stock prices.
Activision Blizzard and Electronic Art had the most impressive results. Both are mature businesses, yet they saw a substantial increase in new customers during quarantine. Activison Blizzard saw the growth in new customers up 260% compared to 55% for existing customers. For electronic Arts this impact was even more dramatic, with new customer growth up more than 10x existing customer growth.
Etsy's performance was uniform across measurements. Sales, repeat shoppers and new shoppers all increased sharply. Going into the quarantine the company had been seeing shrinking numbers of new subscribers. This explosion in new customers could lead to gains for the company for many quarters to come. At well over 100% increase YTD, this may be mostly baked into the company's stock price already.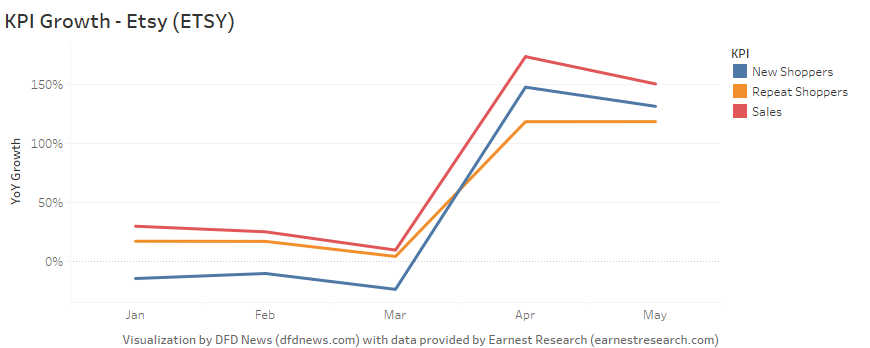 Blue Apron, which had seen shrinking new and repeat shoppers along with declining sales finally saw a huge positive impact in May with 38% new shopper growth. Given the company has seen shrinking existing customer growth, they will need to turn that around in order to justify the nearly 40% YTD increase in the company's stock price.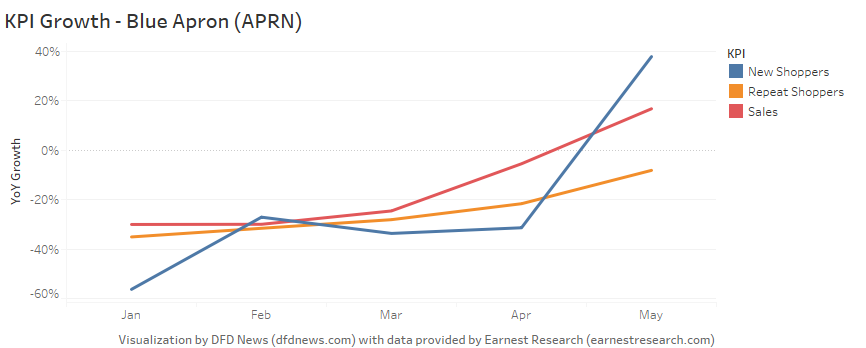 Chewy, an online Pet supply company saw a similarly health dynamic in April, but the shift tapered off quickly in May.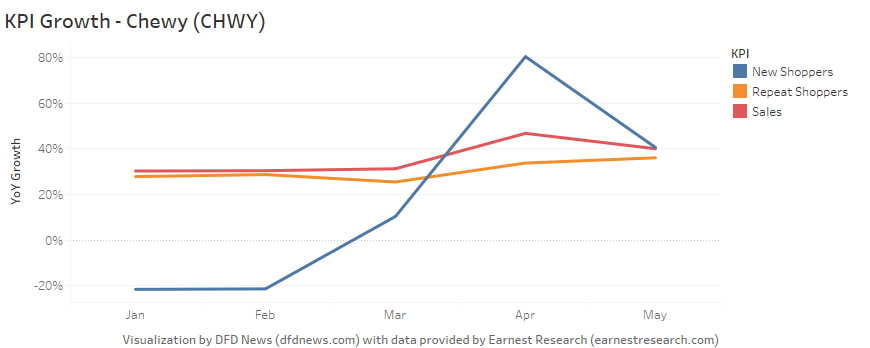 Overall the explosive sales growth in many ecommerce companies is being driven both by existing and new customers. This removes the concern that sales are being driven solely by hoarding behavior. The risk still exists that as people return to a more "normal" routine that their online purchasing behavior will revert back to what it was. Given the sharp upward move in stocks across the board it is all but a necessity at this point that these companies keep these new customers and continue to monetize them as they had customers they acquired in the past. As America re-opens we will soon see how much of this behavior is permanent versus temporary.
To learn more about the data behind this article and what Earnest Research has to offer, visit https://www.earnestresearch.com/.