As UK Enters Second Lockdown, New Patterns of Behavior Emerge
With the UK now in its second week of nationwide lock-down we are starting to see some familiar patterns of behavior based on analysis of foot traffic data. But there are also some significant differences compared to the first wave.
We looked at 5 indices for key sectors. All of our comparisons are against the average footfall in January 2020, as a pre-COVID benchmark.
In April, when the majority of businesses were closed, foot traffic fell by 80% or more across almost all sectors, with the exception of those in our food stores index. Traffic at supermarkets fell by just 35% in April and soon recovered. During September it was flat and in October up 4% compared to the start of the year.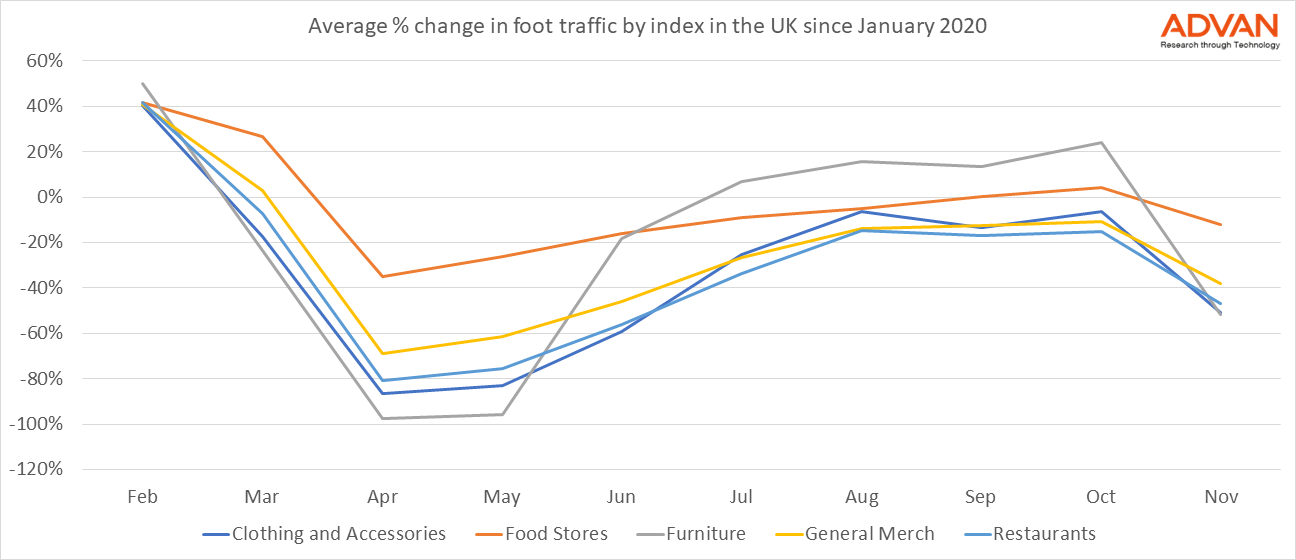 Traffic to restaurants, clothing & accessories retailers and general merchandisers also saw some respite during the summer months as lock-down eased and people embraced more freedom to shop and travel. Visitors to these merchants was around 10 - 15% below January during the August - October time frame.
Furniture stores have been a clear winner during the pandemic, as people spruced up their living space and created home offices. From a drop in visitors of 100% in April and May the sector rebounded, with foot traffic in October 24% above January.
In November, however, as we would expect given the new lockdown rules, visitor numbers have plummeted again across the board. Yet, if we compare the fall in traffic this month with the trends back in April, we notice markedly different attitudes towards the restrictions.
Our clothing and accessories index is down 51% in November to date, compared to a fall of 87% in April. General merchandise is down 38%, compared to 69% in April. Restaurants are down 47%, compared to 81% in April.
There are likely a couple of important things at play. First, the restrictions are not as stringent as they were during the first lock-down. Secondly, after 8 months of living with the virus, retailers and consumers have adapted their services and behavior to enable a better balance between keeping populations safe and enabling businesses to operate and survive.
To learn more about the data behind this article and what Advan has to offer, visit https://www.advan.us/.