Top Advertisers on Walmart.com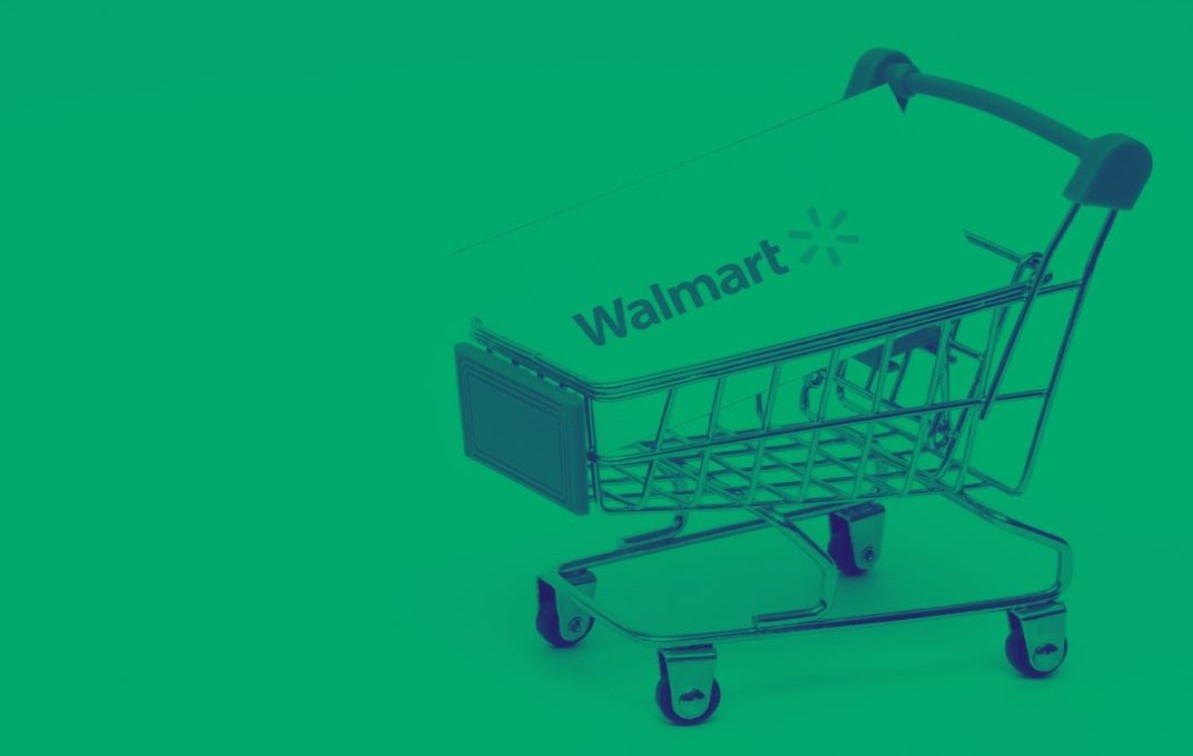 When it comes to retail nobody does it bigger or better than Walmart.
Where else you can find the Rush Hour DVD for $5, a boy yodeling on aisle three, and a crocodile in the frozen food section?
Walmart — that's where.
With over 11,500 stores under 56 brand names in 27 countries (and eCommerce sites in 10 countries), they don't call Walmart a "retail giant" for nothing.
Not bad for a mom-and-pop discount store opened in 1962 Rogers, Arkansas (population 5,700) by a guy called Mr. Sam.
Today, the hypermarket retail chain is the most prominent global retailer by far, generating over $514 billion in total revenue a year. (Compare that to the second biggest, Amazon, with $280 billion, and third biggest, Costco, with $152 billion.)
Walmart's business model to provide "always low prices" so customers can "save bigger and live better" obviously worked.
But customers aren't the only ones benefiting.
Advertisers alike are getting in on the revenue-generating fun, doing quite well for themselves riding Walmart's success.
Curious to see which advertisers are spending the most on Walmart? Us too.
Us: Magic Pathmatics Explorer on the wall, who is the biggest Walmart advertiser of them all?
Pathmatics Explorer: Coming right up….
1. Centers for Disease Control (CDC)
In what might be the understatement of the century, a lot's changed recently, especially when it comes to the need for public outreach.
So it's no surprise the CDC — America's national public health institute — has invested a lot in online advertising to get their message out. And where better to do it than Walmart, where America shops.
Of the $141 million in U.S. advertising spent on Walmart.com over the past 12 months, the CDC contributed the most with $7 million.
Less focused on selling and more on awareness, the majority of this spend went towards promoting PSAs like this one: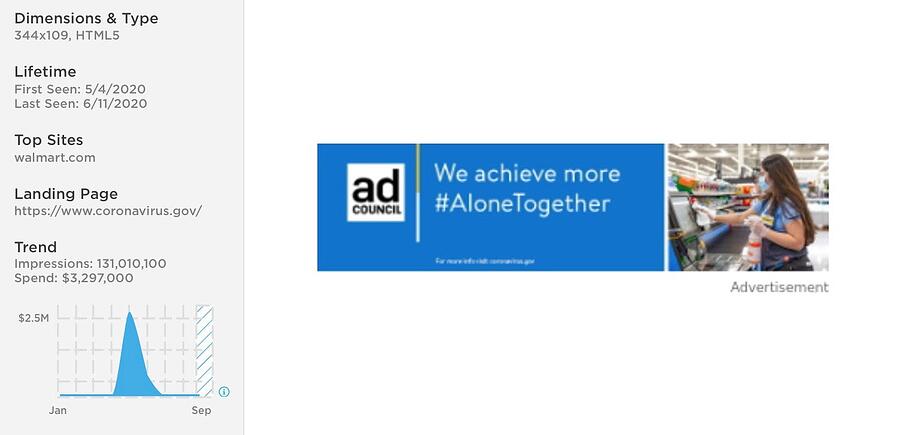 Looking at the analytics above, we see this banner alone accounted for nearly half the CDC's total ad spend on Walmart.
2. L'Oreal
The world's largest cosmetics company spent over $6.5 million on advertising on Walmart.com.

As you can see most of L'Oreal's ad budget went to YouTube — a whopping 30%! (Guess they got the memo YouTube is the most popular website to advertise on right now.) But they still had plenty left over for promotion on the site of one of their biggest suppliers.
Like with this ad for its Maybelline branded products: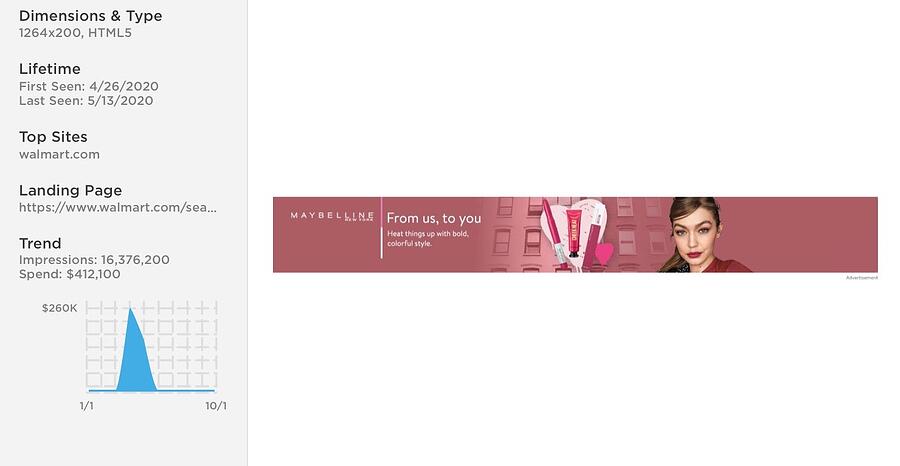 Pathmatics Explorer found that this was L'Oreal most expensive ad on Walmart.com. Followed by this one for its Nutrisse line: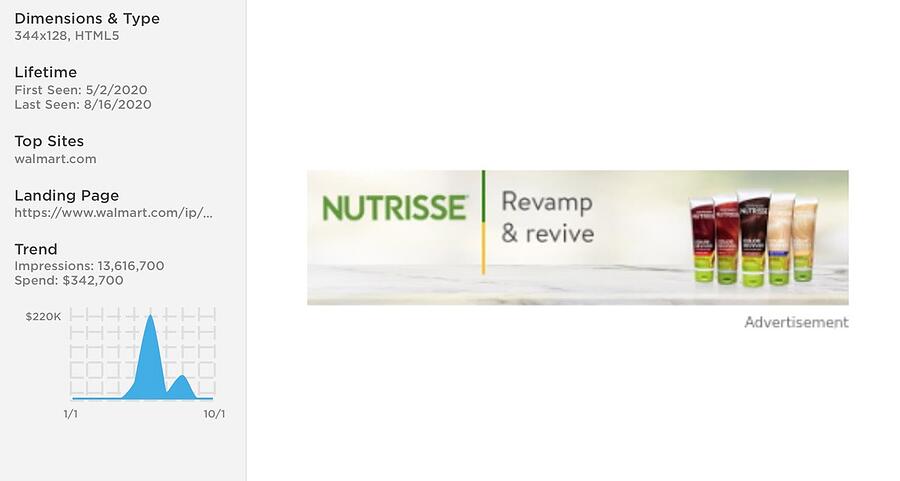 So, unlike the CDC, we can see from the data of those two ads that L'Oreal spread their spend out over multiple ads for various brands as opposed to going big on just a few hyper-focused campaigns.
3. Google
Coming in at third is Google, with just over $5 million spent on advertising on Walmart.com.

This just goes to show how popular an advertising channel Walmart is. These results show the world's biggest search engine puts it right alongside the top 3 most popular social media sites to advertise right on.
Our findings also give insight into the audience targeting Google thought the most profitable on Walmart. Seen in their ad creative, like this one: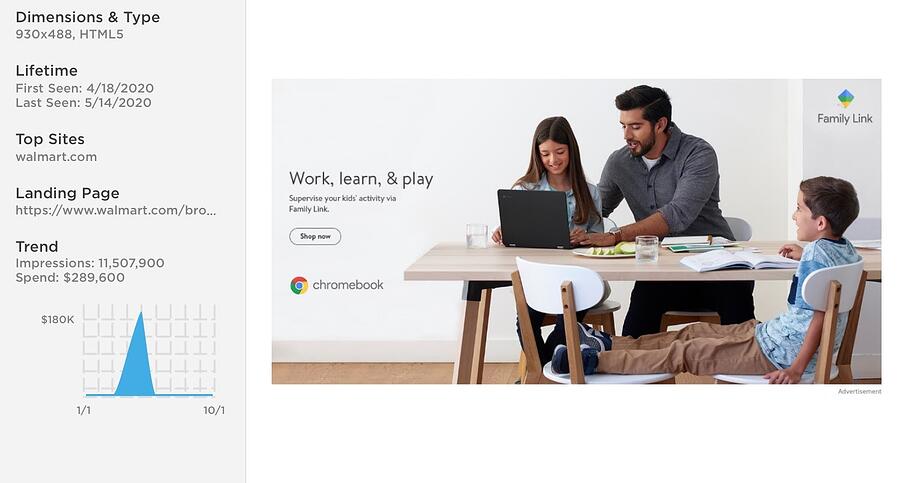 And this: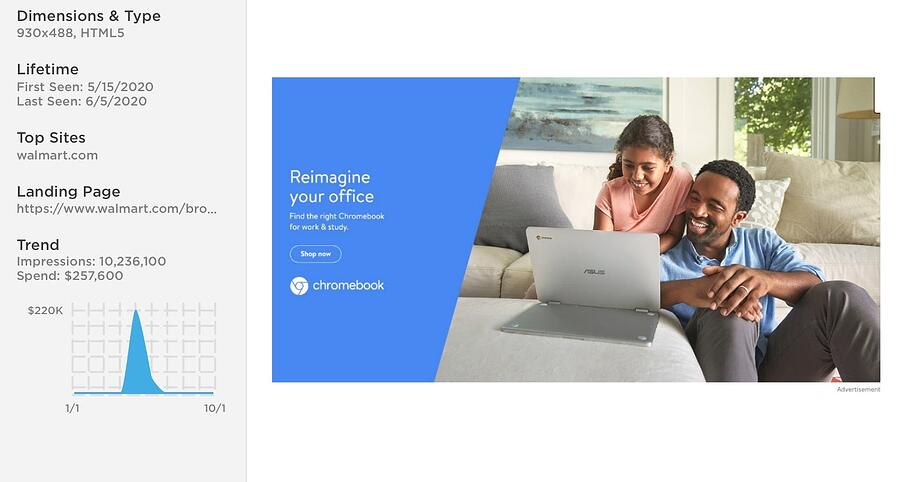 Looks like Google went with Walmart as one of its key channels for selling Chromebooks, using creative targeting families balancing working and schooling from home.
The takeaway? When you want to target families at scale, Walmart's the place to go.
What About the Rest?
Here's a snapshot of the rest of the top ten advertisers on Walmart.com for the U.S.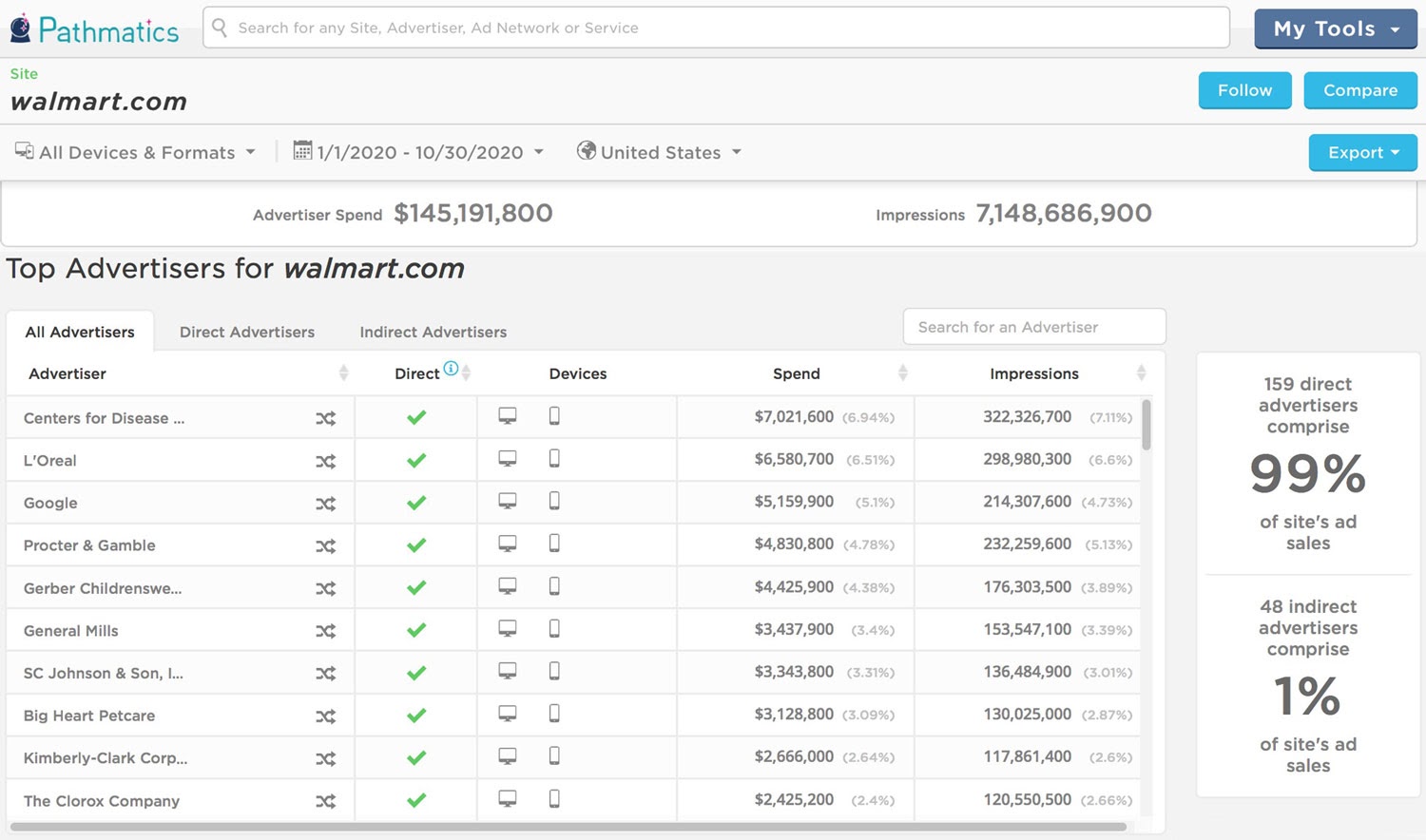 Nothing too unexpected, though Google definitely stands out as a surprise advertiser.
Diving a little deeper, let's see which industries Pathmatics Explorer found generated the most advertising revenue for Walmart.

It looks like the top three industries closely match our top three advertisers. Though without a doubt Consumer Packaged Goods (led by L'Oreal), spent the most as a whole, contributing nearly half of all ad spend on Walmart.
So there you have it. Advertising on Walmart in a nutshell.
Which it turns out is also something you can find there.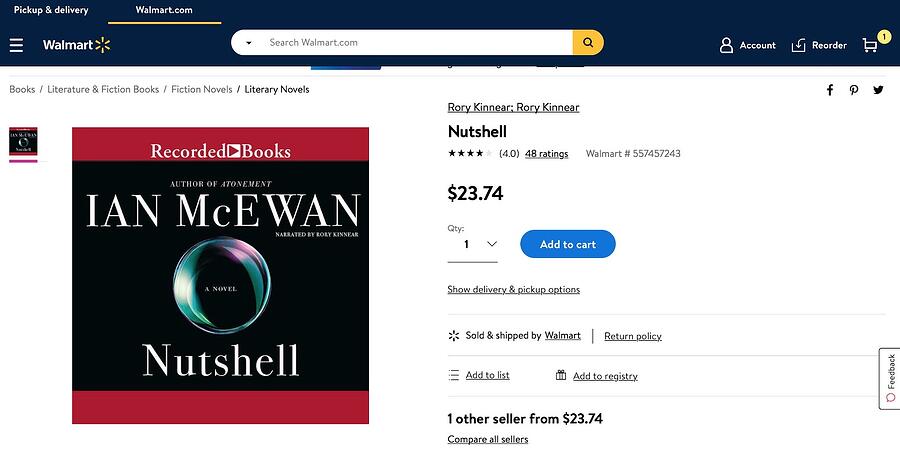 To learn more about the data behind this article and what Pathmatics has to offer, visit www.pathmatics.com.