Lululemon Spring 2021 Trends: Discounting, Category and Activity Patterns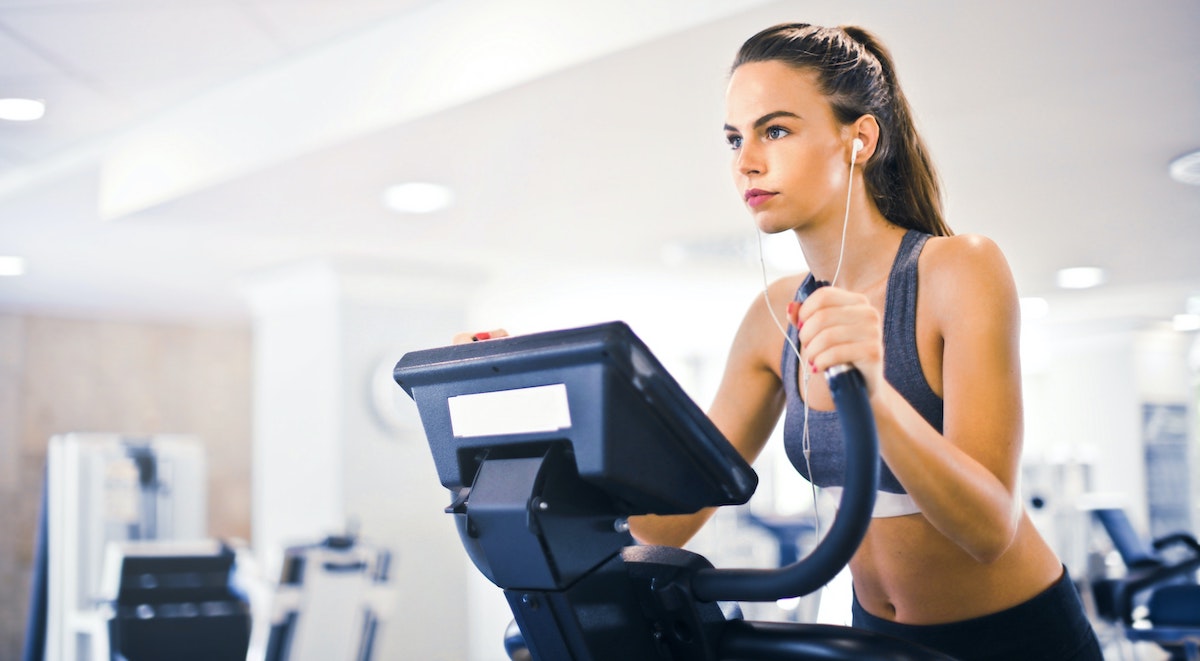 Athleisure – the fastest growing apparel category of the past decade – has drawn the attention of both incumbent retailers and new entrants. Within this niche, Lululemon stands out as a leader with its loyal customer base and premium lines. The innovative DTC retailer, which sells through both online and brick-and-mortar stores, sets an example for others. Using Viscacha Data's granular inventory & sales statistics, we analyze how consumers respond to Lululemon's pricing and product strategy over the winter-spring transition to inform future strategy.
Discounting
First, we analyze the promotional mix at Lululemon, both frequency of promotions and magnitude of discount by product category and gender. Over the last two months, Lululemon has steadily reduced the total proportion of products on sale, from around 40 percent in early February to roughly 25 percent by the end of March. Evidently, Lululemon saw a strong enough demand for its athletic products as weather warmed that the retailer was able to maintain its high regular prices for more products. Trends in promotional mix by product category are even more revealing: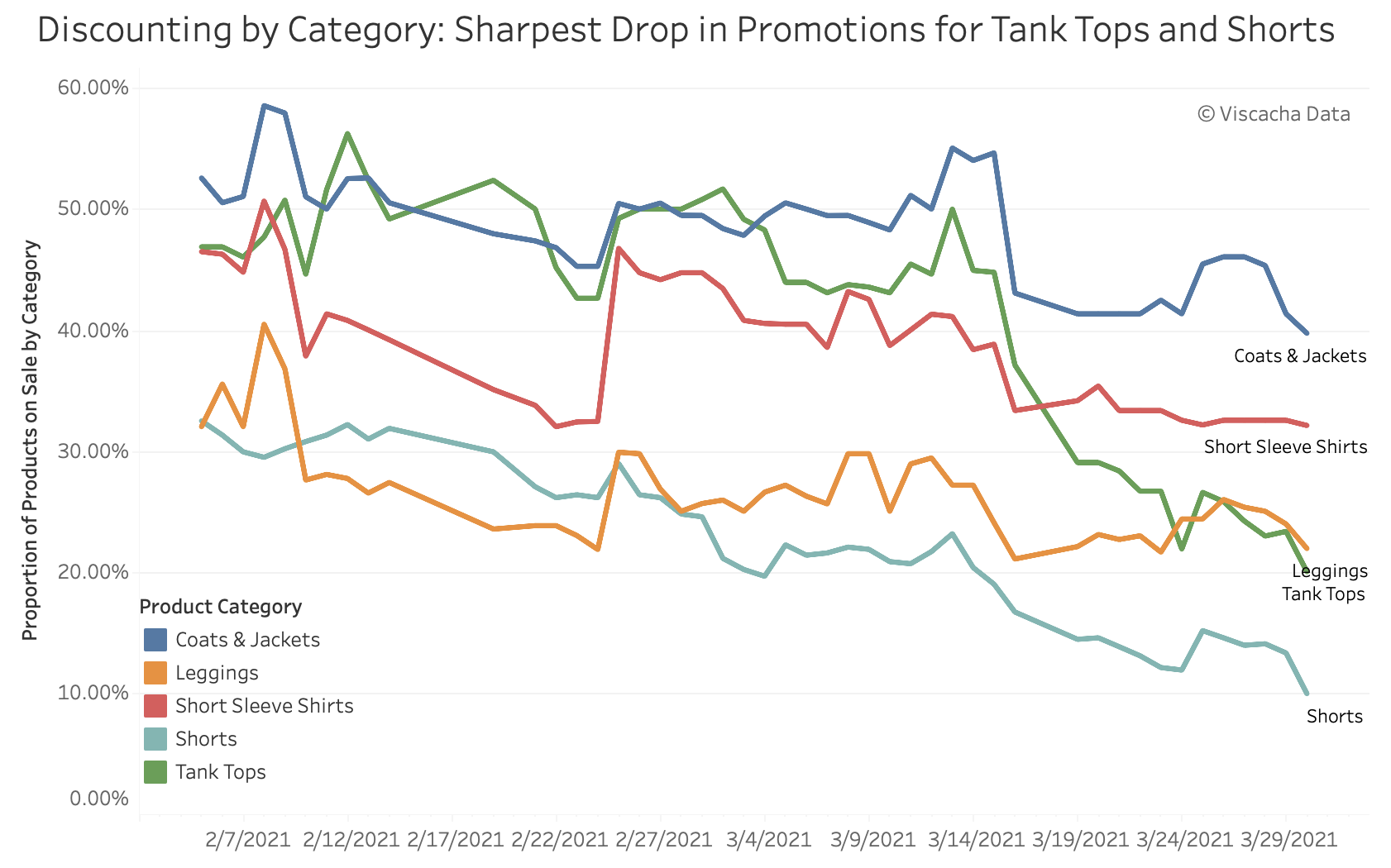 The reduction in promotions was most concentrated in tank tops and shorts as increased sales of these categories necessitated less discounting. Interestingly, though, recent promotional levels for products that should be going out of seasonal favor like coats and jackets and leggings are still lower than their February levels, suggesting that the drop in promotions is not just warm-weather related. Discounting at Lululemon has a gendered breakdown as well: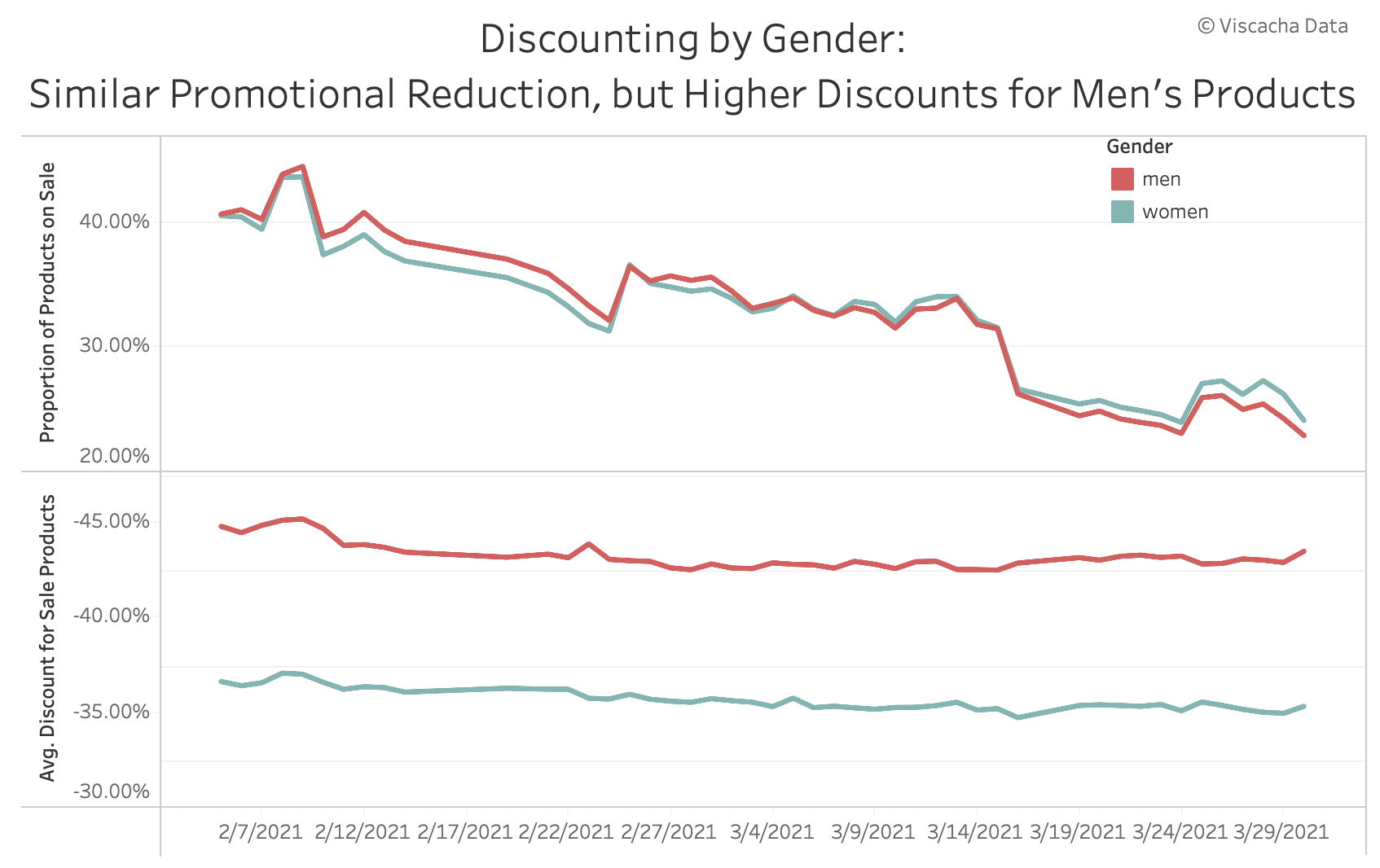 The reduction in proportion of products on sale is virtually identical for men's and women's products, suggesting differentiated demand by gender is not a major driver of when products are put on sale. Further, the average discount for products on sale has decreased only slightly for both genders - not commensurate with the sharp decline in number of products on sale - indicating that Lululemon's promotional strategy primarily focuses on changing when products are on sale as opposed to how much they are on sale. That said, the average discount for men's sale products is 10 percentage points steeper than women's sale products.
Category Performance
Just as discounting for warm weather products has decreased recently, sales for these products have quickly increased. The figure below shows the how average March sales compared to median sales (since November 2020) by category: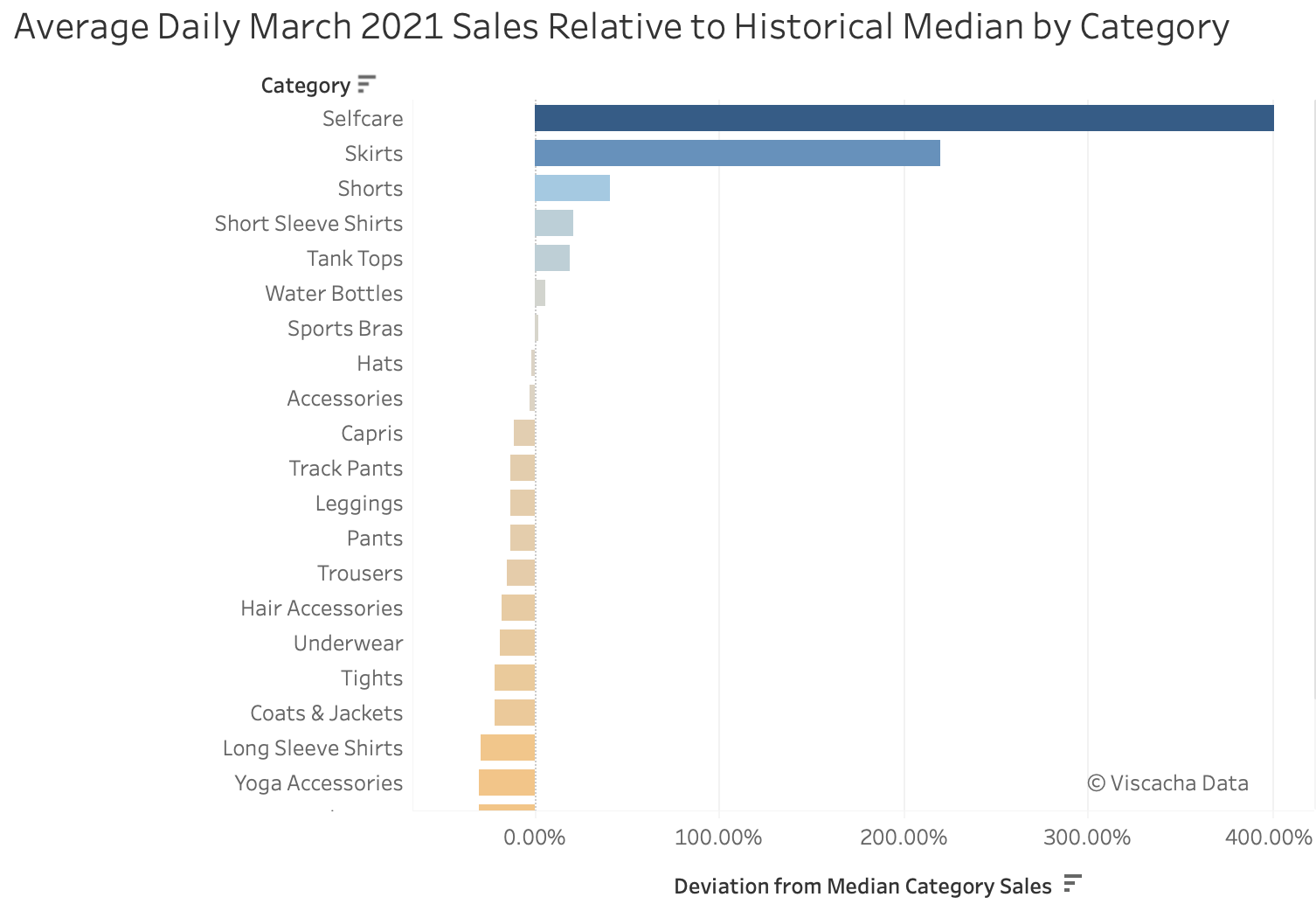 The categories with the most significant sales increases in March are selfcare (products like shampoo, deodorant, lotion, etc.) and skirts. In addition to these relatively small categories, more major ones like shorts, short sleeves and tank tops are running 20 to 40 percent above median. Analyzing the most below-median products is of interest as well: For example, the fact that leggings sales decrease less than long-sleeves and coats/jackets decrease less than joggers/sweatpants indicates that certain "cold weather" products have more enduring popularity than others when the weather warms.
Focusing on comparative changes in sales share for five top-selling categories lends further insight into category trends: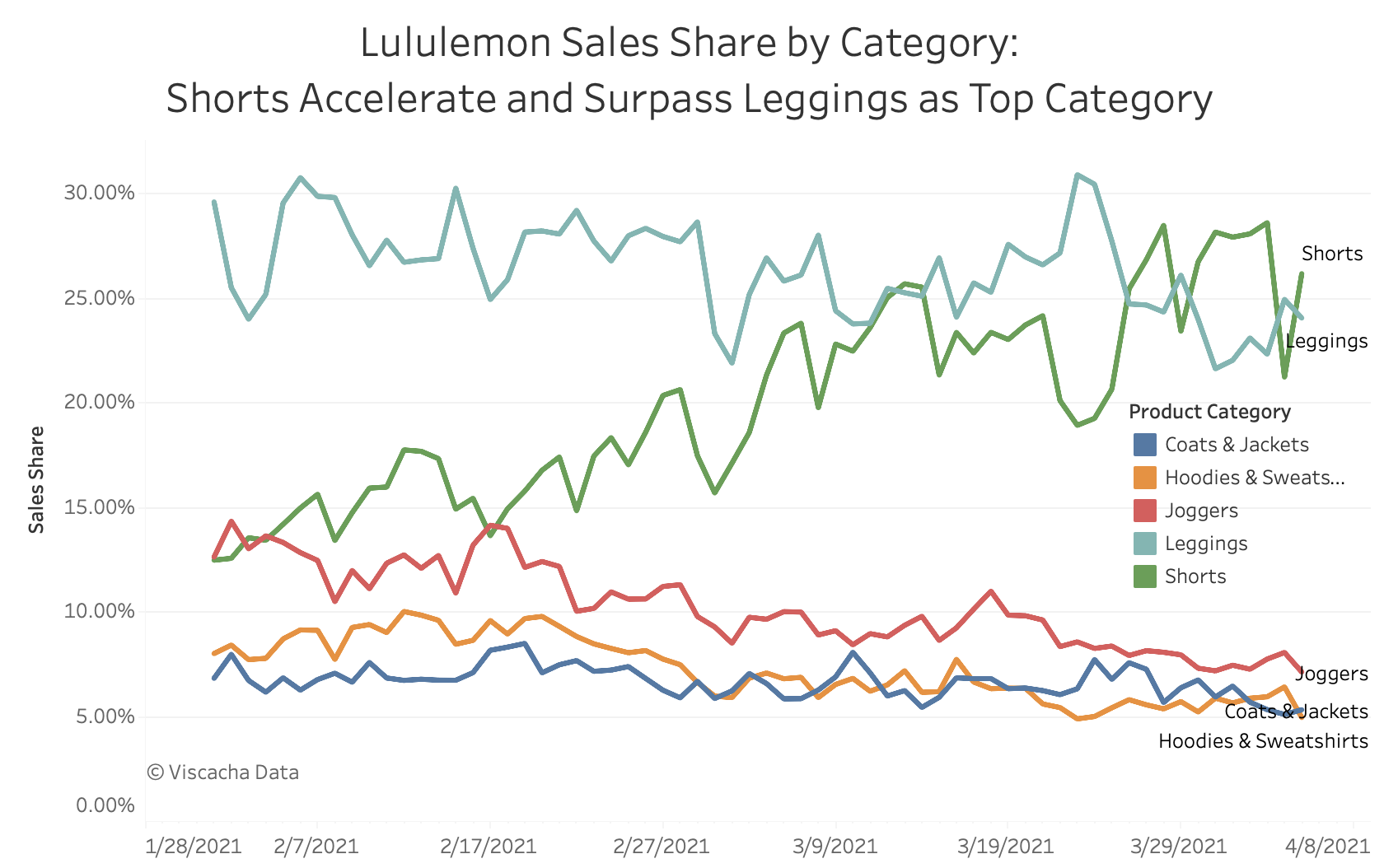 Since the beginning of February, shorts' sales share has more than doubled. Although leggings have seen somewhat of a share reduction, the majority of shorts' share gain has come at the expense of other categories, such as joggers and hoodies/sweatshirts whose shares have roughly halved.
Finally, analyzing sales patterns by activity classification tells even more about consumer behavior. Below shows trends for major activity segments starting in November 2020 to get a bigger picture of initial levels: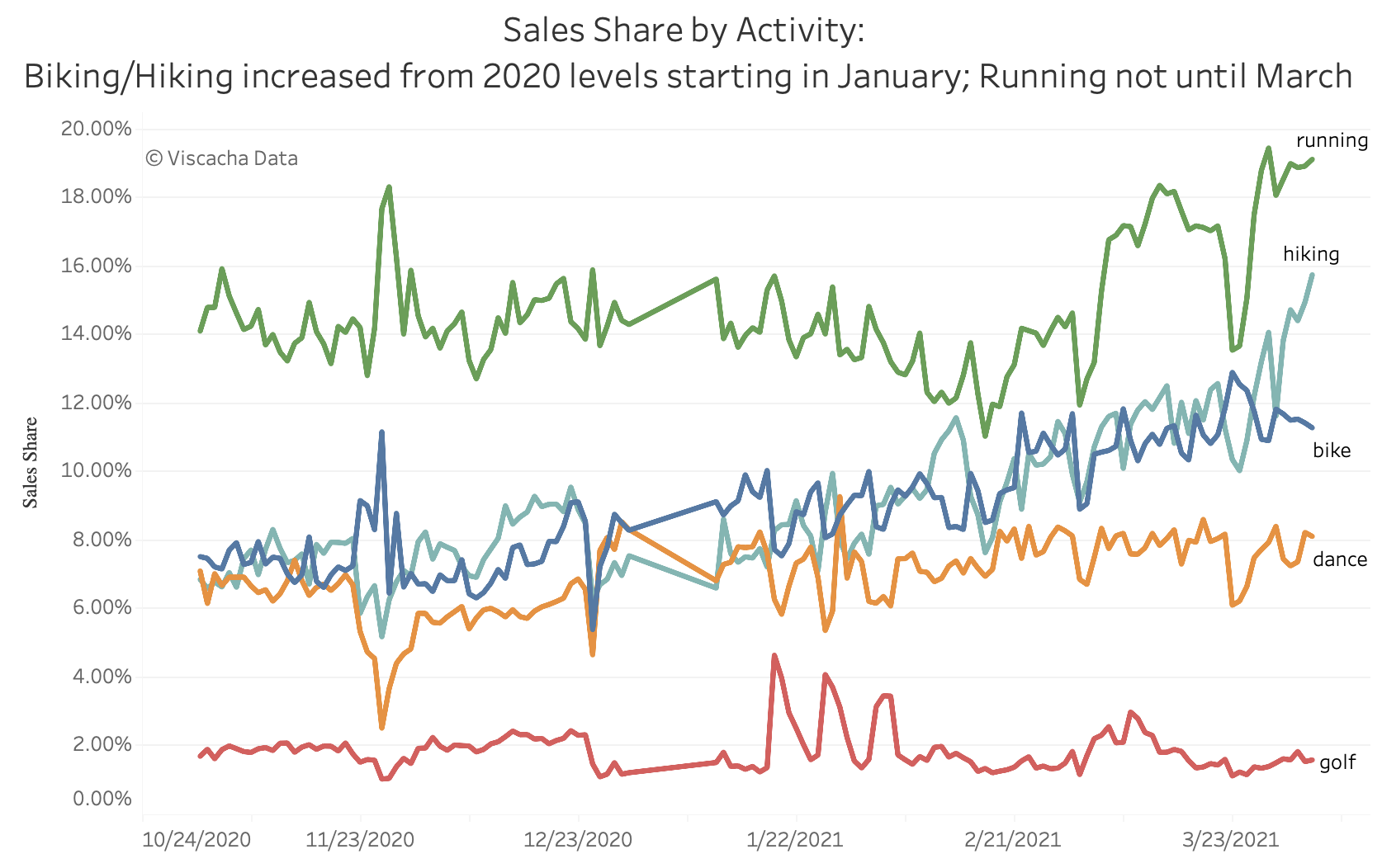 Since mid-February, running, hiking and biking products have all seen sales increases as consumers got outside more. However, hiking and biking gear saw increases from late 2020 levels starting about a month earlier, while running gear's share fell in January through mid-February. Given the early increase in hiking clothes sales before temperatures really rose in combination with the category's recent rapid increase, it seems this activity segment is a winner among consumers in 2021.
The mixture of spring fashion trends, warmer weather, and easing of pandemic restrictions and increased vaccine availability is a powerful force for any apparel retailer. For Lululemon, a retailer that fared comparatively well over the course of the pandemic, these factors have resulted in less of a need for discounting, especially for warm weather and women's products. In addition, the rapid increase in sales of shorts, skirts, tank tops and similar products at the expense of joggers, sweatshirts and long sleeves - but less so leggings - lends insight into the products with enduring popularity regardless of season. Similarly, sales trends by activity, such as the rapid increase in hiking clothes throughout 2021, indicates which activities consumers are most interested in, and thus may be applicable findings for other retailers as well.
To learn more about the data behind this article and what Viscacha Data has to offer, please reach out to at loften@viscachadata.com.