U.S. and Canadian Cannabis Industry Trends: Major Players and Upcoming M&A Activity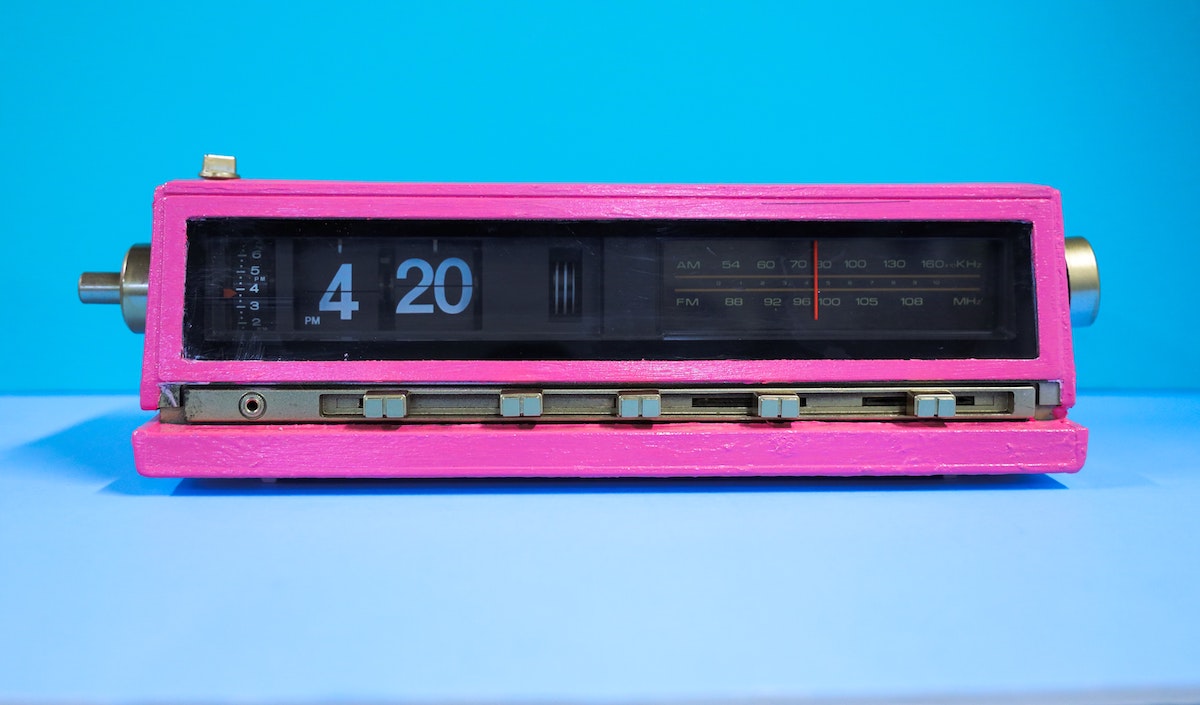 In the early days of the legal cannabis industry, public companies were concentrated in Canada where regulated marijuana sales were first allowed. Investors in both Canada and the United States poured investment into these stocks with the hope that Canadian companies could expand in the US as more states legalized medical and adult use. However, as piecemeal licensing regimes have rolled out, Canadian players have struggled to maintain an edge against newer US companies.
Viscacha Data sheds some light on the latest in US versus Canadian pot stocks in this analysis drawing upon our realtime sales dataset covering over 25% of dispensaries across the US and Canada. We find that in 2021 Canadian companies are continuing to lose market share, but may try to buck this trend by acquiring promising US operators or other Canadian competitors. A flurry of M&A very well could help Canadian firms hold onto their position in the rapidly expanding US market.
Overview: Market Share of Major Public Companies
How dominant are the larger cannabis players today? The top 8 large publicly traded cannabis companies shown below produce products accounting for between 6.5% and 8.5% of sales covered in our data in late 2020 and early 2021. But rather than expanding as markets grow, the share of most of these giants is trending downwards as more and more upstarts join the fray.
A number of factors explain the decline, but one is the struggles of Canadian companies to break into and grow in US markets. Over the past four months, sales at dispensaries owned by prominent Canadian cannabis companies – Cronos Group, Aurora Cannabis, and Aphria – have been dropping while up-and-coming US chains like Curaleaf have been consistently growing.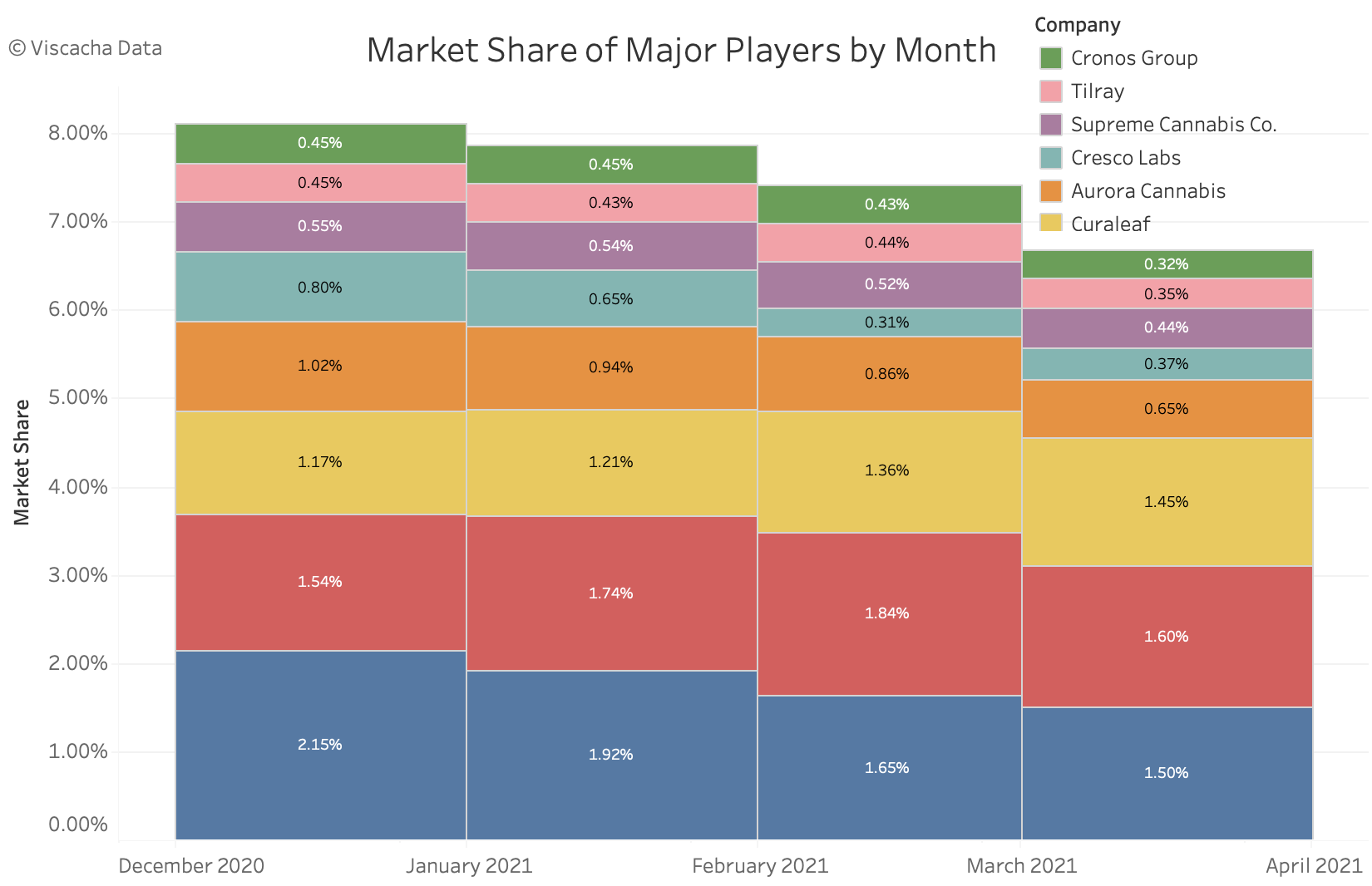 Upcoming M&A: Context and Predicted Outcomes
Of the eight public companies shown above, four are involved in major M&A activity expected to close within the next several months, with the potential to affect a significant portion of legal cannabis sales. On April 8, Canopy Growth Corporation announced a deal to acquire Supreme Cannabis Co., expected to close by the end of June. In December of 2020, Aphria and Tilray announced plans to merge to create the world's largest cannabis company by revenue, and Tilray's shareholders are expected to vote on the merger imminently. In this section, we analyze the companies involved in both these deals and how they might impact market share by product segment and geography.
Canopy and Supreme Cannabis Co.
Canopy's acquisition of Supreme would add five major brands - including one in the top 20 out of thousands of brands covered in our dataset - to Canopy's portfolio and increase Canopy's market share by roughly a third. To understand how this would affect Canopy's existing product mix, we compare the dominant product types by company over time: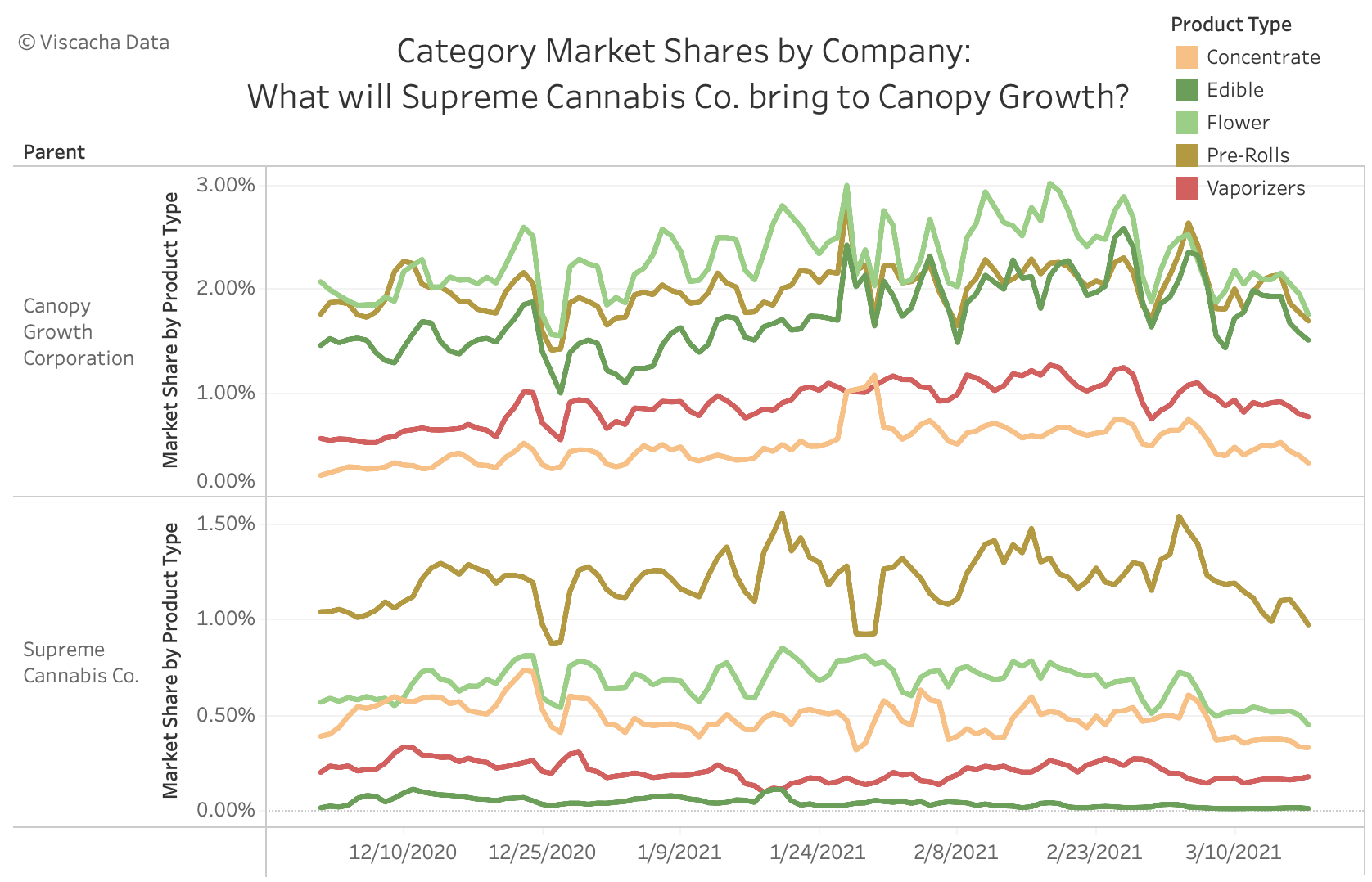 The acquisition would bring a relatively diverse product mix to Canopy, given their existing strengths: For example, while Supreme's share of the edibles market is quite low, Canopy already has significant sales in this market relative to other products. At the same time, Supreme's brands would increase Canopy's foothold in concentrates - which account for a rapidly increasing share of total marijuana sales: Concentrates are Canopy's smallest product segment by market share, but Supreme's third largest.
In terms of geographic distribution, both companies are heavily focused in Canada, but the acquisition could still bring some geographic diversity to Canopy's sales: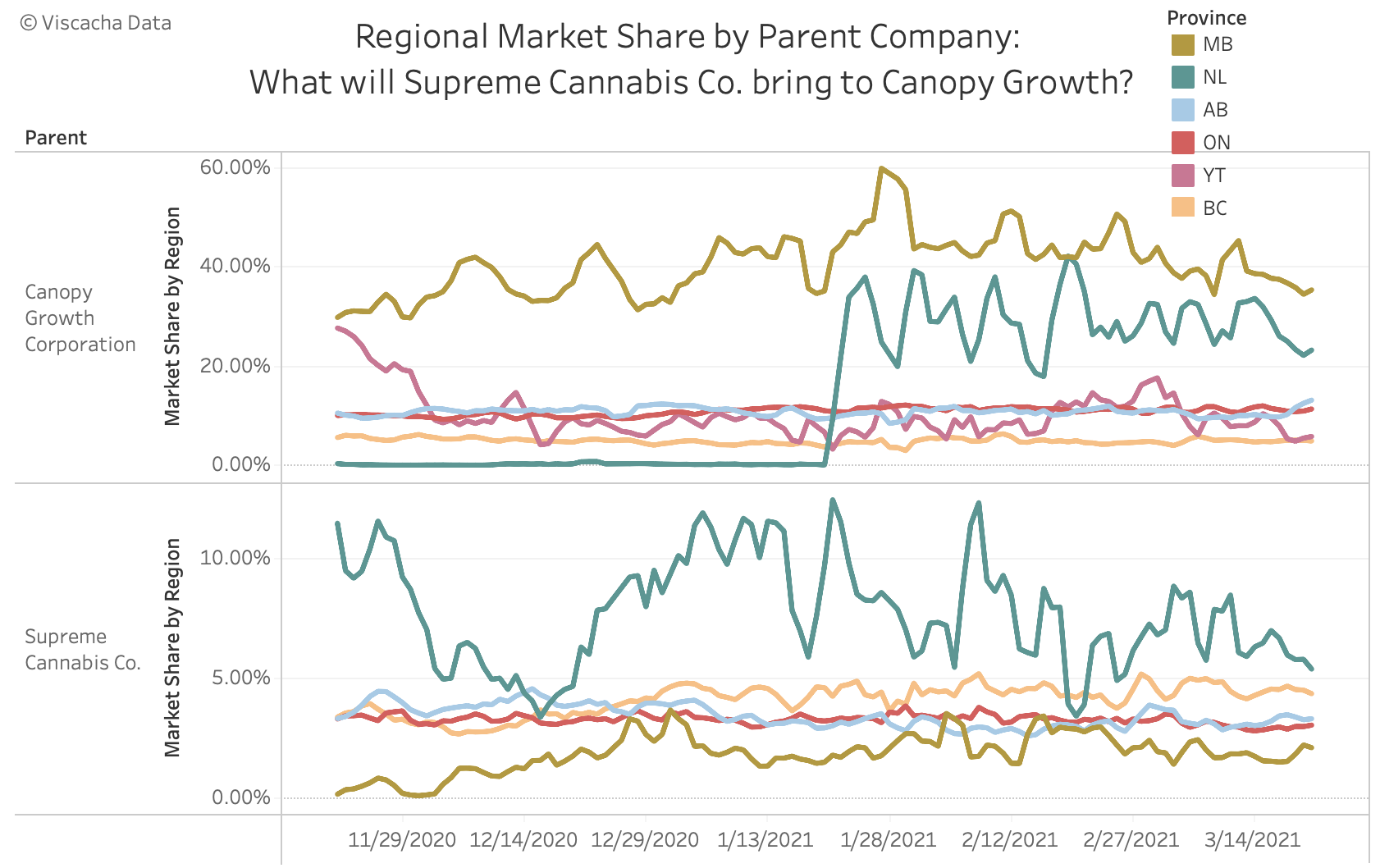 The acquisition of Supreme will solidify Canopy's dominant position in the Manitoba and Newfoundland and Labrador markets and bolster its sales in British Columbia, where Canopy's brands have steadied over the last few months as Supreme's have increased. Furthermore, although both companies' U.S. exposure is minor, as a share of its total Dutchie revenue Supreme has higher sales in Washington state than Canopy does in any U.S. state. If capitalized on, this could help Canopy break into the rapidly expanding U.S. market. On the flip side, however, Washington lags other states in its market share growth since December, so Canopy might be better positioned by focusing on growing its existing sales in states with higher momentum, such as Arizona.
Aphria and Tilray
Like the Canopy-Supreme deal, Aphria and Tilray are both based in Canada, presenting obstacles for their U.S. expansion. Even within the Canadian market, both companies have experienced issues on their own, especially Aphria which saw poor performance in the quarter ending 2/28 (consistent with our sales data showing a fall in market share). To lend insight into the source of the poor performance, we analyze Aphria's sales by major owned brands: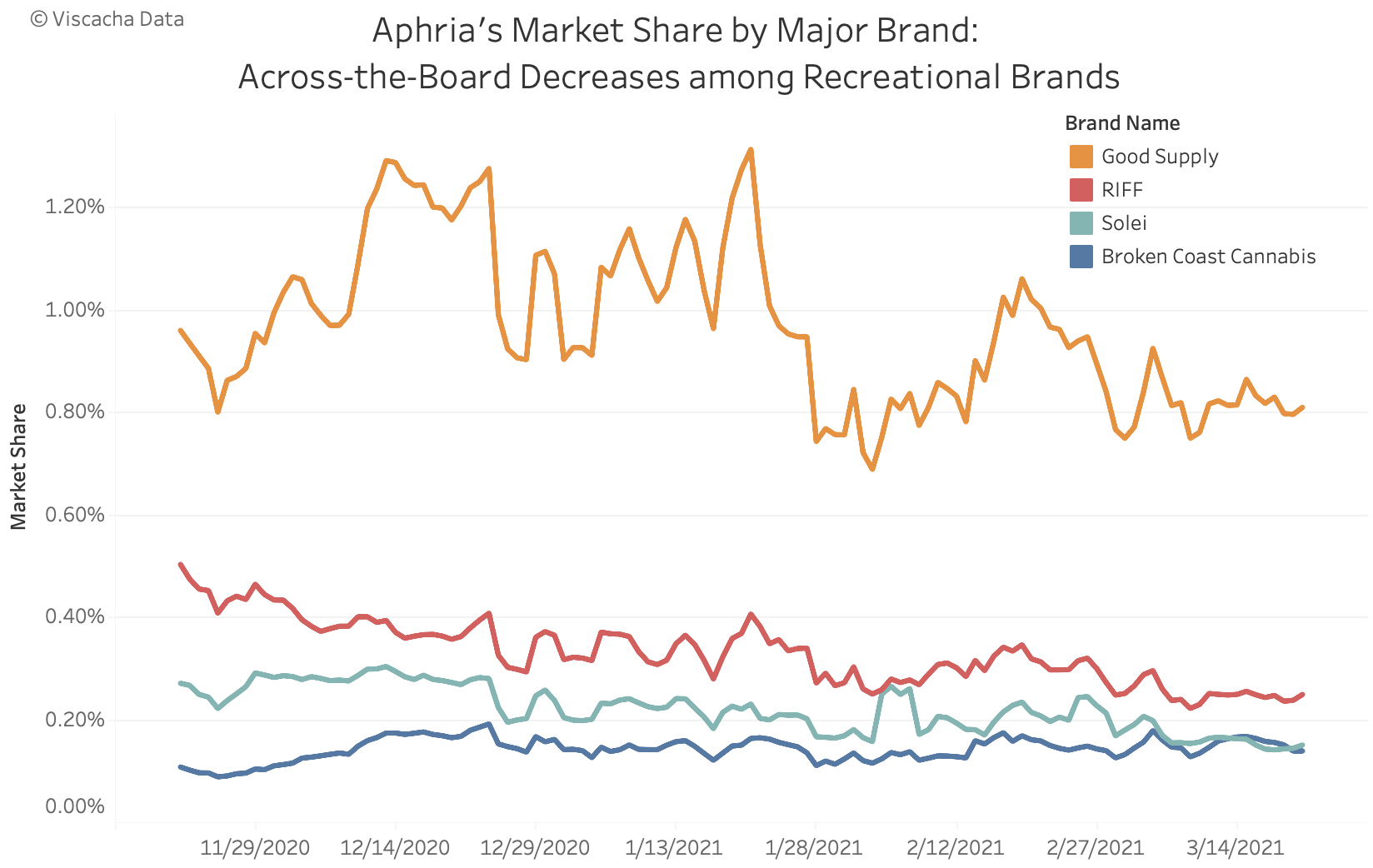 Overall, within Aphria's four top owned brands, the decline in market share is relatively across the board, with the exception of Broken Coast Cannabis. In contrast to the other three top brands, Broken Coast sells medical instead of recreational products, suggesting Aphria's falling market share stems primarily from losses in the recreational space. The Tilray brands covered in the Dutchie data (primarily owned by the subsidiary High Park) are entirely recreational, and have seen market share decrease less dramatically than Aphria's brands, so this may be good news for the company post-merger.
Curaleaf and the U.S. Market
Just as the growth prospects for cannabis companies confined to Canada may be weaker than those with U.S. strongholds, within the U.S. significant disparities in growth rates exist as well. Specifically, in 2021 Michigan and Arizona have seen significant market share growth, while Colorado, Nevada and Washington have stayed relatively constant or seen share decreases. Although this is likely driven to a significant extent by legalization date – recreational marijuana use was just legalized last year in Arizona vs. nine years ago in Washington – there still seem to be trends independent of time since legalization. For example, recreational cannabis use was legalized three years ago in Michigan, but the 2021 uptick over late 2020 is still noteworthy.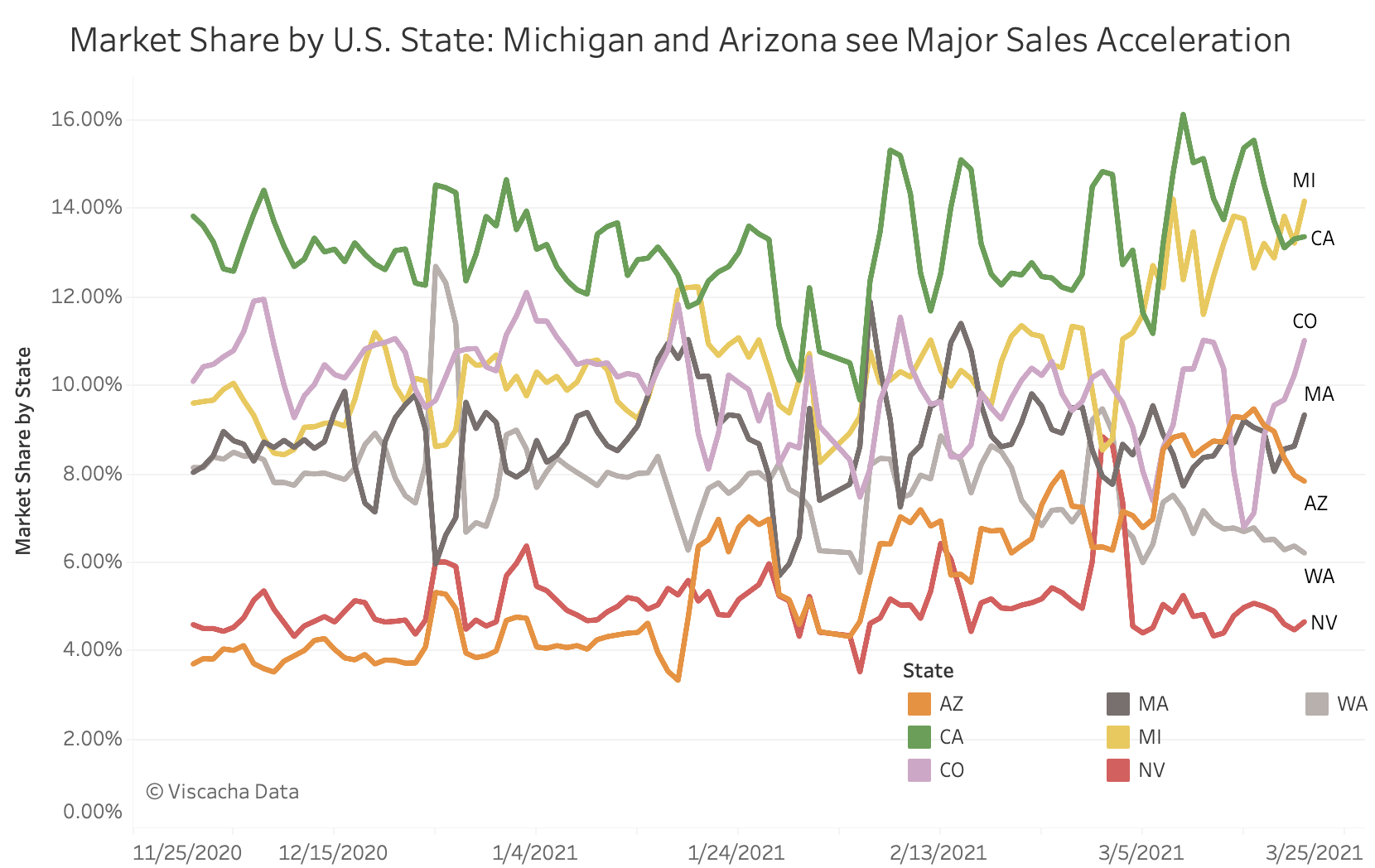 Finally, we look at the geographic breakdown of Curaleaf sales, given its market share gains relative to Canadian competitors and its standing as the largest U.S. cannabis company. Although Curaleaf isn't currently involved in any M&A activity with the other big players discussed above, the combination of its recent expansion into Europe with its stronghold in the rapidly expanding legal U.S. market could indicate strong future growth prospects.
To what extent is Curaleaf's expansion a straightforward function of general U.S. sales expansion as opposed to particular strengths in certain states? The plot below reports Curaleaf's total market share by month, divided by state: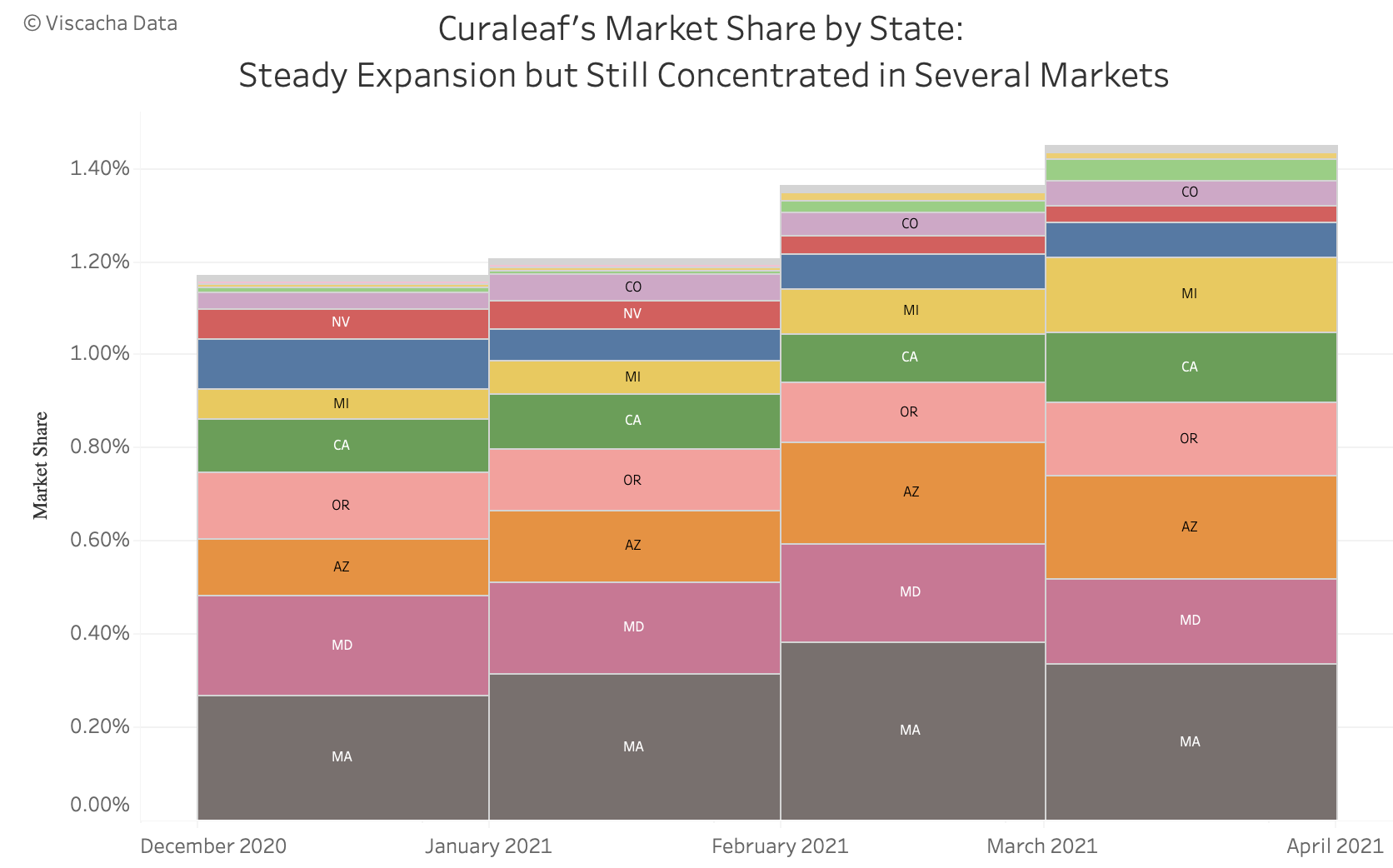 Generally, the market share trends are similar to the broad U.S. state trends described earlier, such as significant boosts in Michigan and Arizona. That said, Curaleaf's recent share increases in California and Oregon suggest the company has strong growth prospects even where legalization is old news. Furthermore, its dominance in some states that are not high ranking in total U.S. cannabis sales such as Maryland suggests it may have little competition in certain areas. That said, for being one of the largest players in the overall market, Curaleaf seems relatively concentrated in few states: Three states account for more than half of the company's sales through February, despite its foothold in around fifteen states. Based on the most recent March data, it seems possible this concentration is lessening, but it is too soon to tell if geographic diversification will increase meaningfully in the future.
To learn more about the data behind this article and what Viscacha Data has to offer, please reach out to at loften@viscachadata.com.