Has Streaming Hit Saturation?
The number of video streaming services has exploded over the last year, with several content providers launching their own platforms. And while there's always consumer appetite for new channels, room on the Roku doesn't necessarily translate to room in their wallets. In today's Insight Flash, we look into whether the streaming market is nearing saturation, comparing subindustry growth rates in the US vs. UK, noting market share changes for new versus incumbent players, and examining whether cross-shop rates are indicative of room for further fragmentation.
Video Streaming spend growth has far outpaced that of the overall Telecom & Media industry in both the US and the UK. However, while Telecom & Media growth has been relatively similar in the two markets, Video Streaming growth has been much higher in the US. Since the beginning of 2020, Video Streaming spend growth has been at least 40% in the US, while in the UK it peaked at 29% in March 2020 and has gone as low as 11% in August 2020. This implies that the US market may have more room for additional streaming services, while the UK may be closer to saturation.
Industry and Subindustry Trends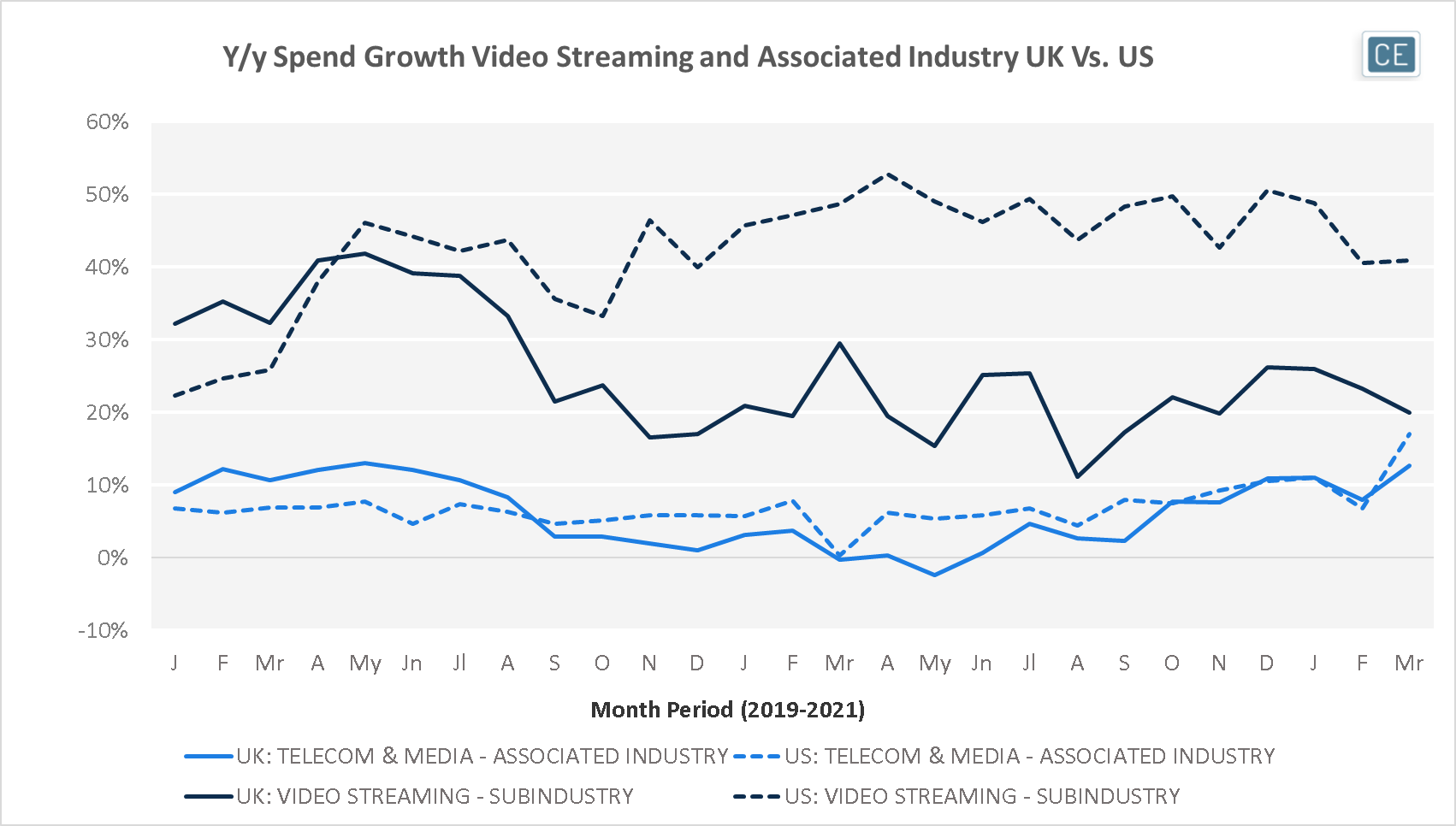 In both the US and the UK, Netflix has been the big loser from streaming fragmentation. Last month, its share of streaming subindustry sales was down over 35% in both geographies versus the year prior. In the UK, Amazon's Video on Demand was the big winner, picking up about as much share as Netflix lost. In the US, the Disney portfolio of streaming services saw the largest gains, with Hulu, ESPN PLUS, and Disney Plus each gaining over 10% share. Notably, Disney Plus also gained over 10% share in the UK.
Change in Spend Share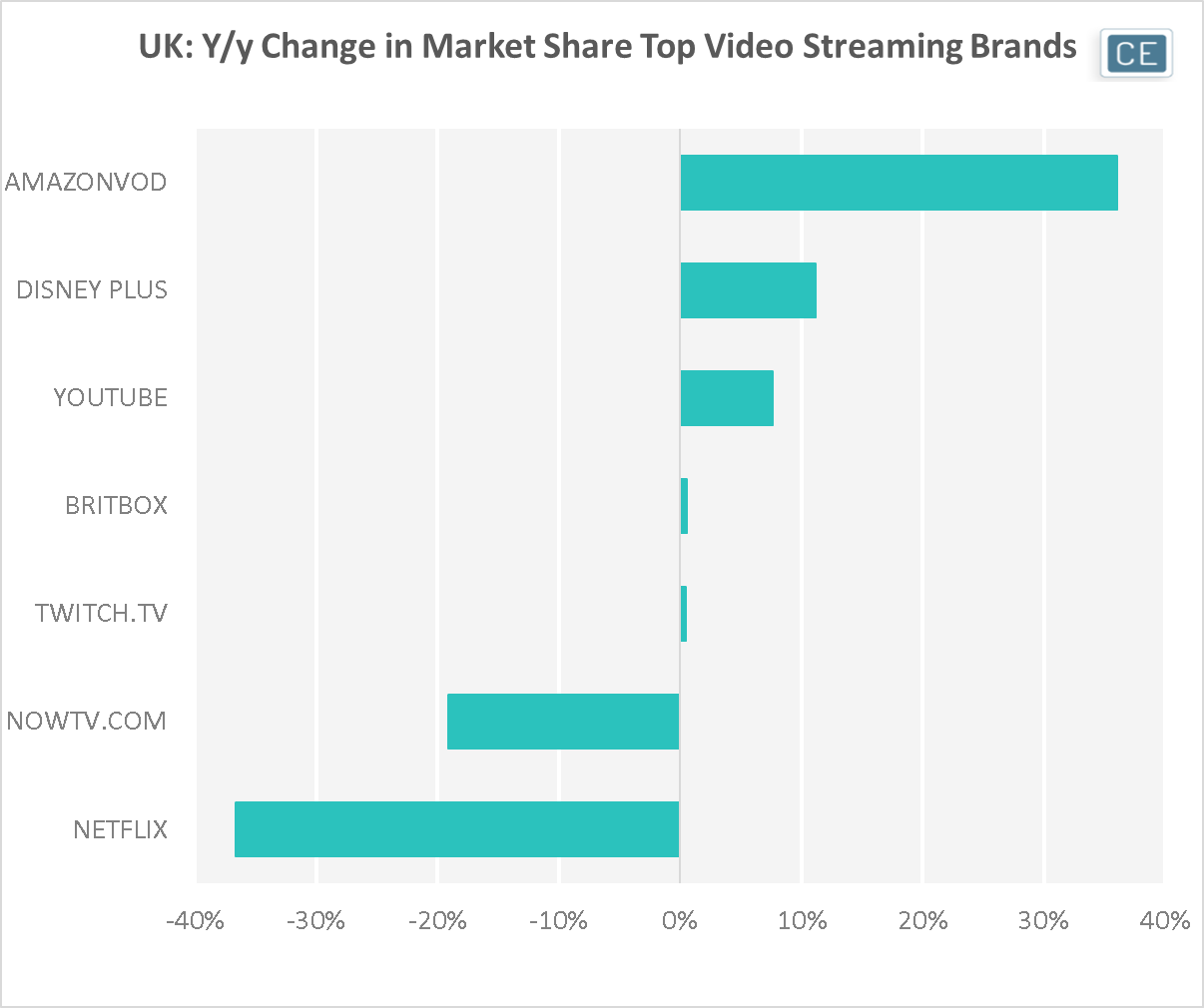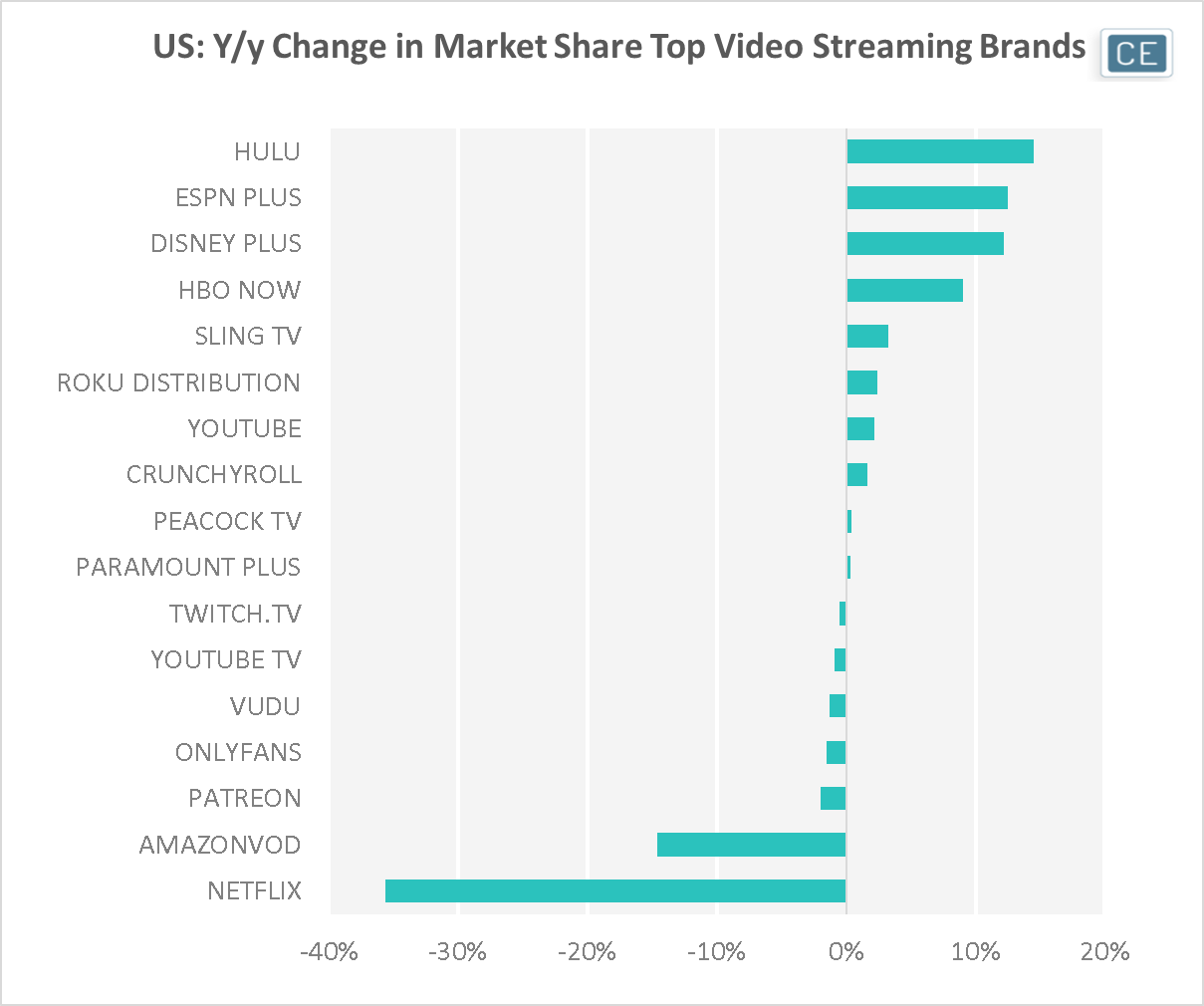 Note: UK data for the 35 days ending 4/13/2021 vs. the prior year period, US data for the 35 days ending 4/21/2021 vs. the prior year period
Despite losing ground over time, Netflix remains the streaming service of choice in the US. 35% of those making an Amazon Video on Demand purchase in the last month also subscribe to Netflix, and 40% of paid Hulu subscribers do. Those who spent money on Amazon Video on Demand only cross-subscribed Hulu 18% of the time and those who paid for Hulu only cross-subscribed Amazon Video on Demand 17% percent of the time, half the rates of Netflix cross-subscription. Newcomer Disney Plus has quickly found footing in existing subscribers of other services, capturing cross-spend in the last month from 13% of Hulu paid subscribers, 10% of Amazon Video on Demand paying shoppers, and 8% of Netflix subscribers – note that these numbers likely understate true cross-subscription since the data reflects payments in the last 35 days and wouldn't capture Disney Plus's high annual subscriber base if their renewal month wasn't in that period.
US Cross-Shop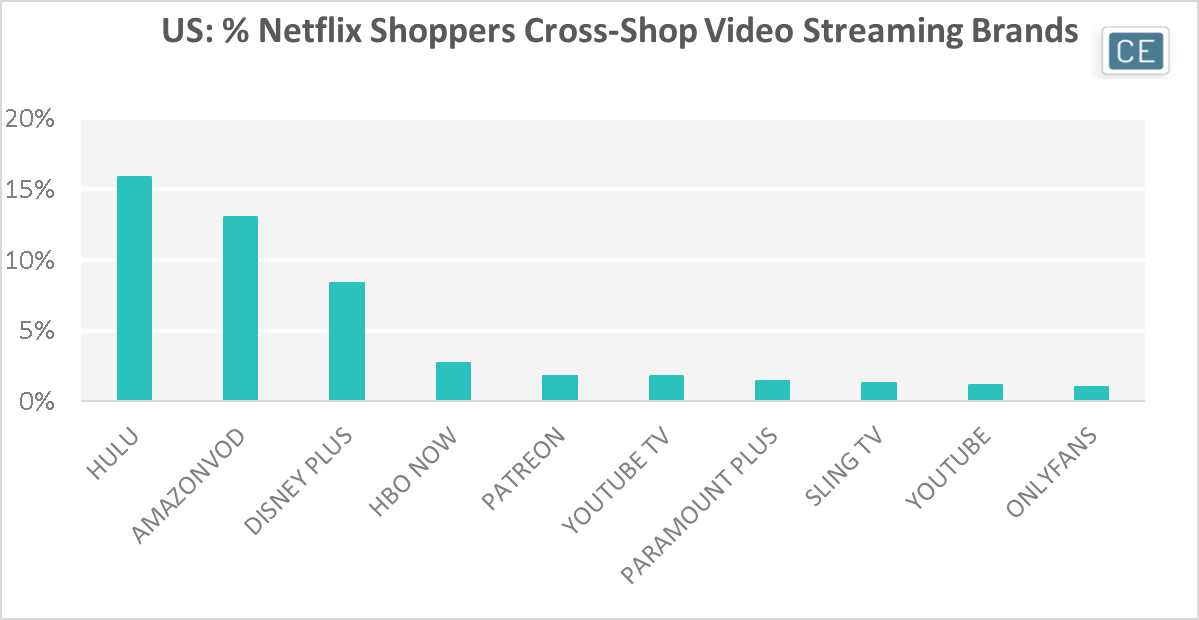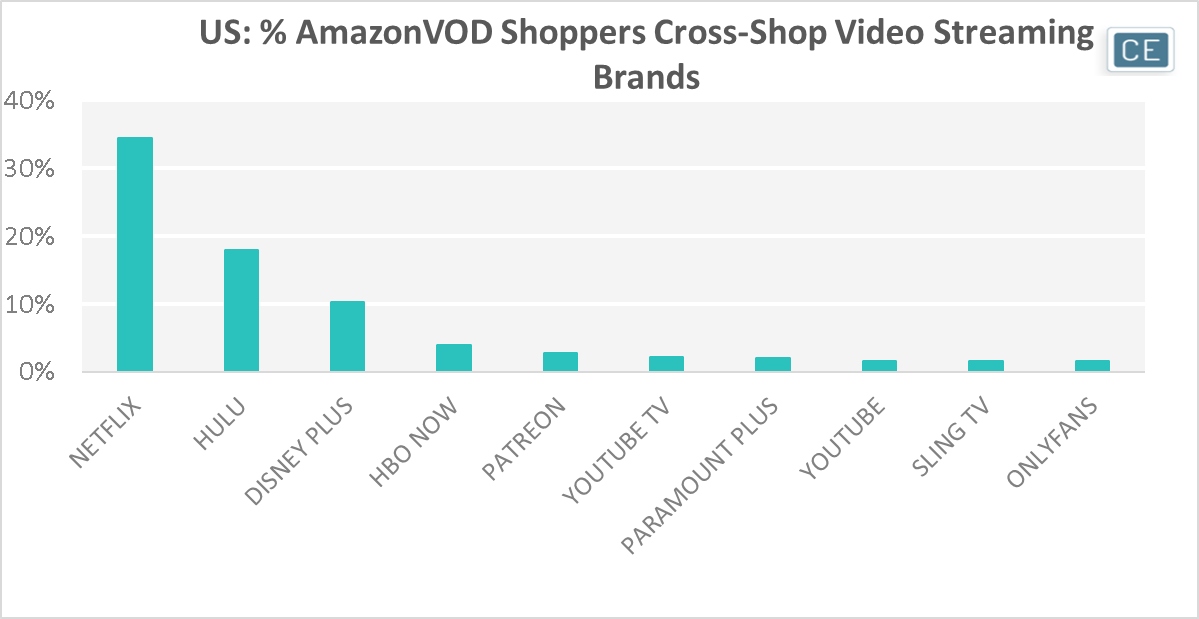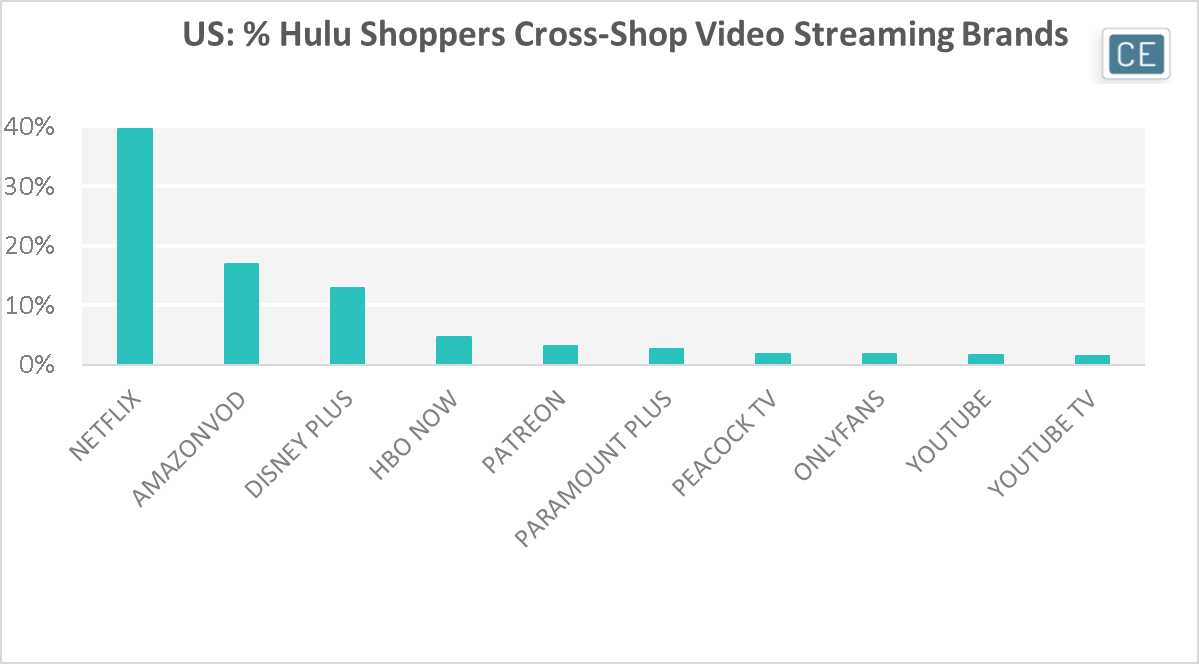 Note: 35 days ending 4/18/2021; data reflects individuals making at least one payment at given brand
To learn more about the data behind this article and what Consumer Edge Research has to offer, visit www.consumer-edge.com.