Vaccine Campaign Ads: How Pfizer, Moderna, and Johnson & Johnson are Advertising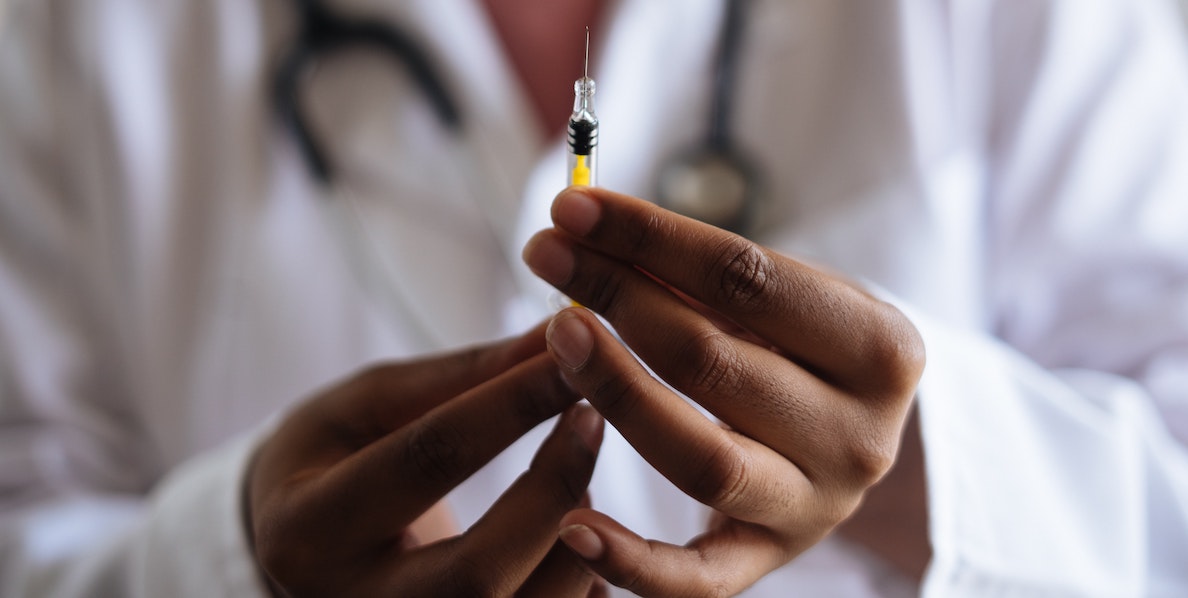 As of April 19, all US adults are now eligible for the COVID-19 vaccine. This marks a huge milestone in the vaccination effort, and comes ahead of the May 1 deadline President Biden had originally set.
We know from CDC data that 134.4 million Americans have received at least one dose of either the Pfizer, Moderna, or Johnson & Johnson jab. We already looked at how health insurance providers have taken to digital advertising to get the word out about the vaccine, so let's take a closer look at how the vaccine companies themselves have used digital advertising to spread awareness of their vaccine offerings.
The pharma giants: Johnson & Johnson and Pfizer
Johnson & Johnson and Pfizer are two of the largest pharmaceutical companies in the world.
While both companies have spent millions on digital advertising, it's interesting to note how much Johnson & Johnson is outspending Pfizer. So far this year, J&J has spent $29.1 million (57%) on digital advertising, while Pfizer has spent $21.5 million (42%). This makes sense given that Johnson & Johnson is significantly larger than Pfizer in terms of revenue and has a much larger portfolio of products. In addition to its pharmaceuticals, the J&J family of brands also includes Neutrogena, Tylenol, and Band-Aid, to name a few.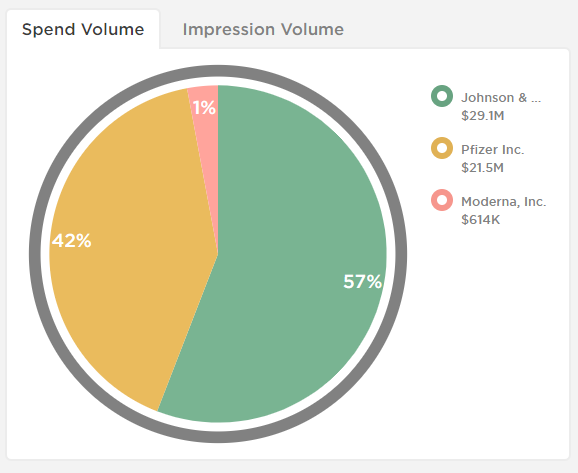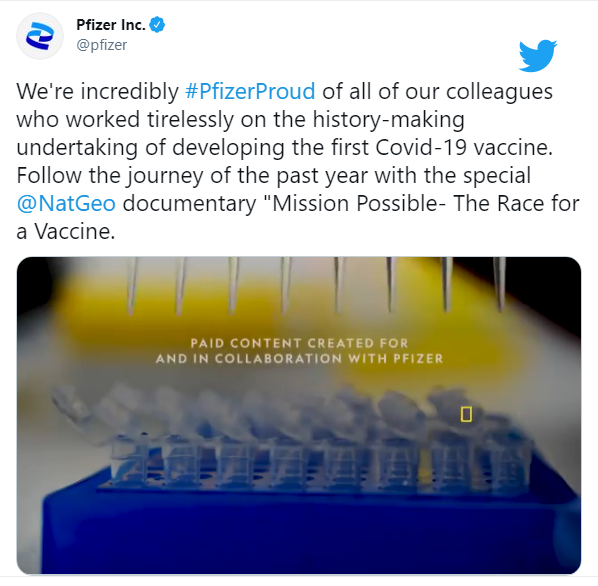 However, Pfizer beat Johnson & Johnson to market with its mRNA vaccine, which was the first COVID-19 shot to be authorized in the U.S. on December 11, 2020.
Despite having bragging rights, Pfizer didn't promote any of its COVID vaccine creatives with enough budget to land in its top ten. Instead it continued to promote drugs like Eucrisa, Xeljanz, and Ibrance as it had prior to the pandemic.
Pathmatics Explorer picked up a few ads about the vaccine, mainly promoting "Mission Possible," a branded documentary created in collaboration with National Geographic.
Johnson & Johnson, on the other hand, took a more outspoken approach to promoting its vaccine. In June of last year, J&J spent $681K promoting an ad about its vaccine development efforts. Then it stayed relatively quiet until its trials successfully ended and it looked like the vaccine would be approved.
This ad first appeared on February 24 — just three days before the FDA authorized Johnson & Johnson's single-shot vaccine for emergency use in the US. The ad ran primarily on the Hearst family of brands, including Delish, Good Housekeeping, Prevention, Country Living, and House Beautiful. It received $859K in spend and generated 31.9 million impressions in just over a month.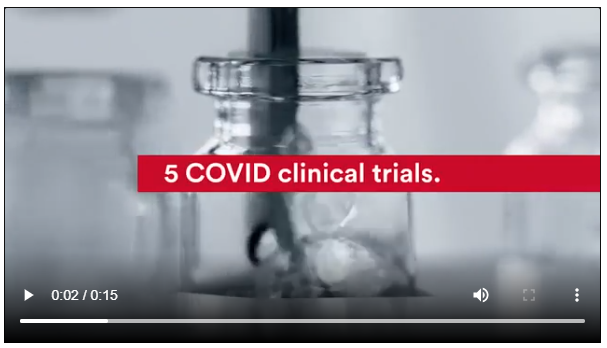 The newcomer: Moderna
Unlike Pfizer and Johnson & Johnson, Massachusetts-based Moderna, Inc. was a relative unknown two years ago. We know from data in Pathmatics Explorer that Moderna went from spending $13K on digital ads in 2020 to $285K in January 2021 alone.
High spending continued into February ($290K) and tapered off in March ($29K). The timing of Moderna's spending coincides with the rollout of its mRNA vaccine, which began on December 20, 2020.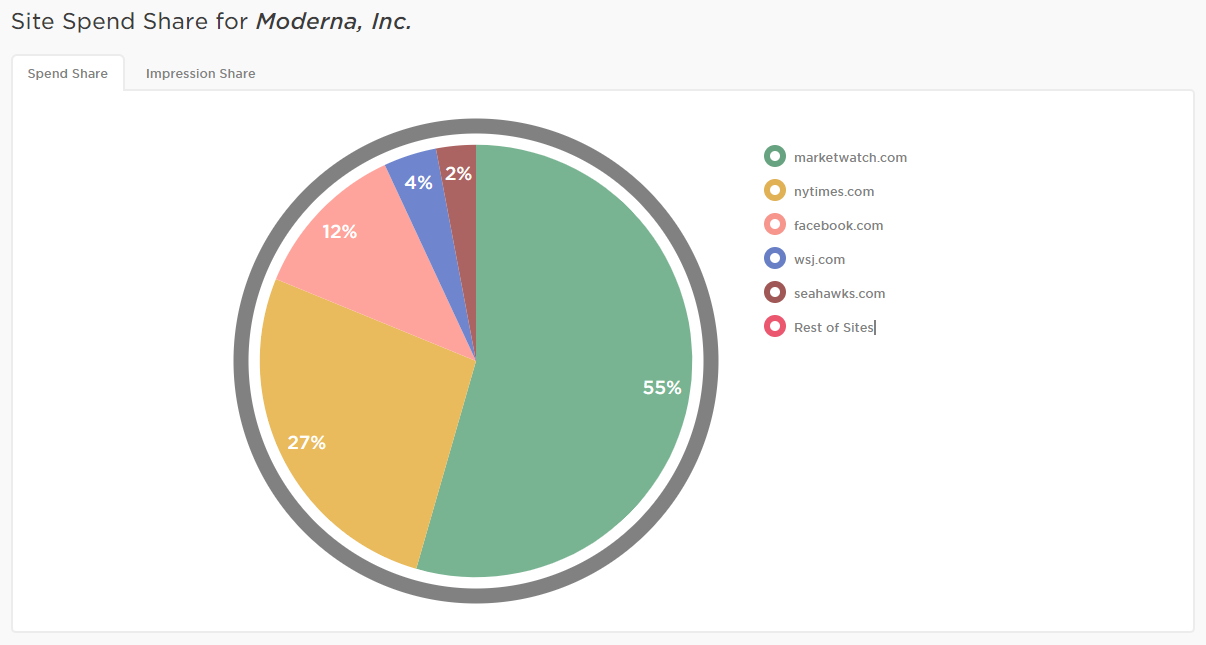 What's interesting about Moderna's spending is that more than half (55%) of its budget was spent on MarketWatch. It would seem that Moderna is targeting investors, not consumers, with its digital advertising.

Eight of Moderna's top ten creatives use the same copy: "We've been at this for ten years. Our mRNA platform is a modern approach to medicine. But it's just the beginning." Clearly Moderna sees establishing investor trust as a significant priority for its digital advertising.
Moderna also purchased considerable advertising real estate on Facebook, The New York Times, The Wall Street Journal, and seahawks.com — the official website of the Seattle Seahawks.
(That last one left us scratching our heads until we learned that the Moderna trial was conducted in Seattle, the epicenter of the country's first coronavirus outbreak. More recently, Seattle Seahawks quarterback Russell Wilson and his wife Ciara hosted an hour long COVID-19 vaccination special on April 18.)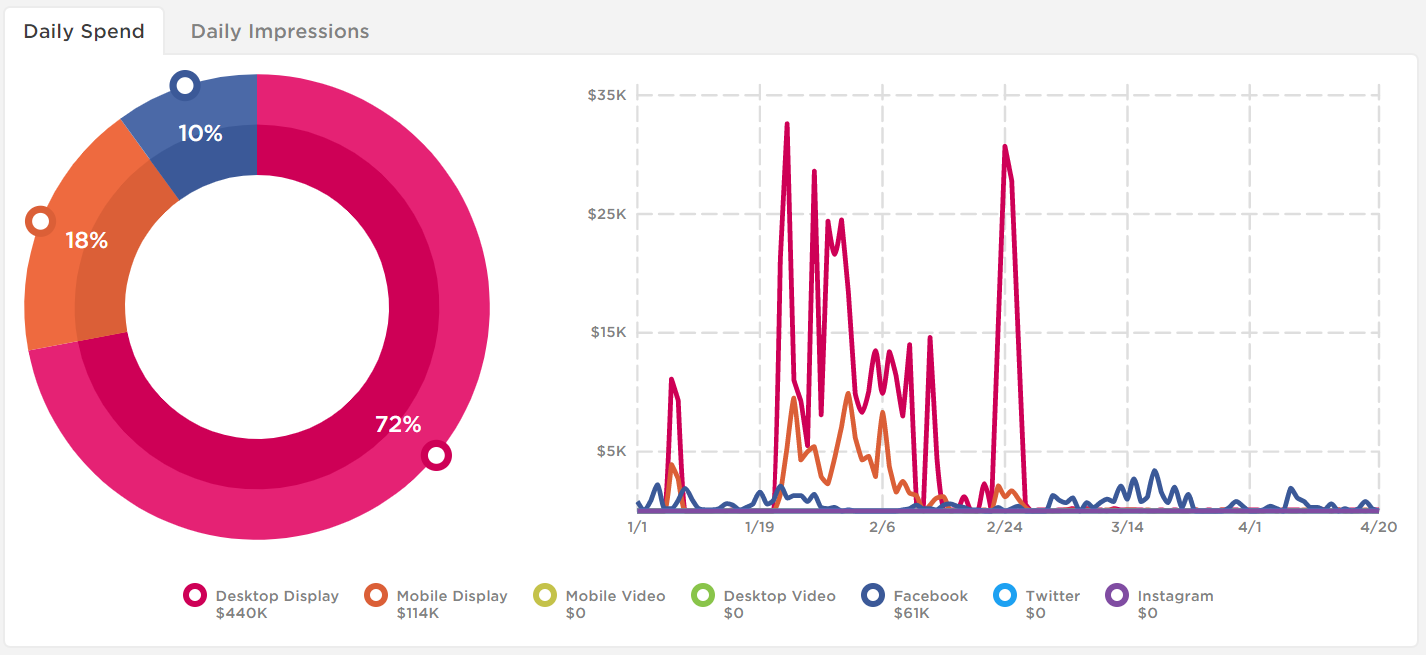 We also looked at Moderna's spending trends to see if things changed in the days leading up to the approval of the Johnson & Johnson vaccine. Indeed, Moderna's spending spiked on February 24 — the same day the FDA announced that J&J's vaccine met the requirements needed for emergency use authorization. Moderna's outlays suggest an eleventh-hour push to attract investor attention before the launch of the competing vaccine.
What about pharmacy partners?
We also examined data from several pharmacies participating in the federal COVID-19 vaccination program. CVS Pharmacy's creatives highlighted vaccine availability for specific groups, such as teachers, childcare workers, and long-term care facilities. With all the confusion around who can get a vaccine and where, CVS' creatives provide a welcome dose of clarity. This particular ad links to a landing page on CVS' website where people can locate a vaccine and schedule an appointment.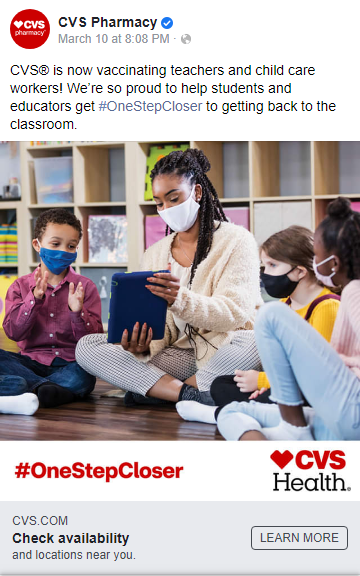 Rite Aid has also been providing vaccines at its stores, but its ads are primarily focused on attracting qualified individuals to help administer the vaccine. Several of its top creatives feature some variation of this messaging:
Walgreens doesn't seem to be advertising the vaccine at all. Instead, it opted to promote other COVID-19 related supplies like hand sanitizer, face masks, and pulse oximeters, as well as no-cost drive-thru testing.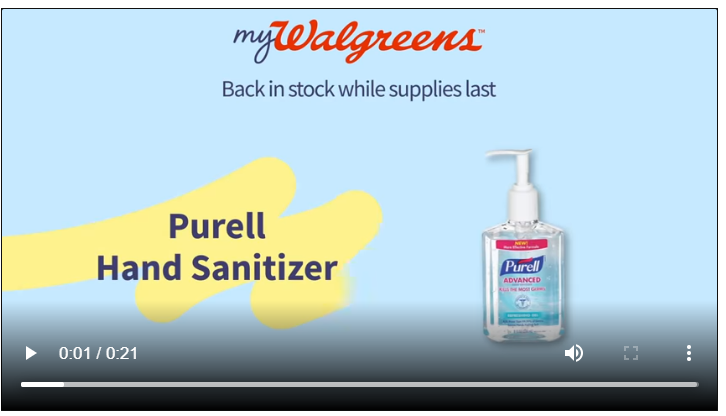 As the vaccine rollout efforts continue, we'll be watching to see how both vaccine makers and pharmacy partners are advertising. In the meantime, let us know if you've come across any of these ads in your feed!
To learn more about the data behind this article and what Pathmatics has to offer, visit www.pathmatics.com.