2021 Inflation in Packaged Foods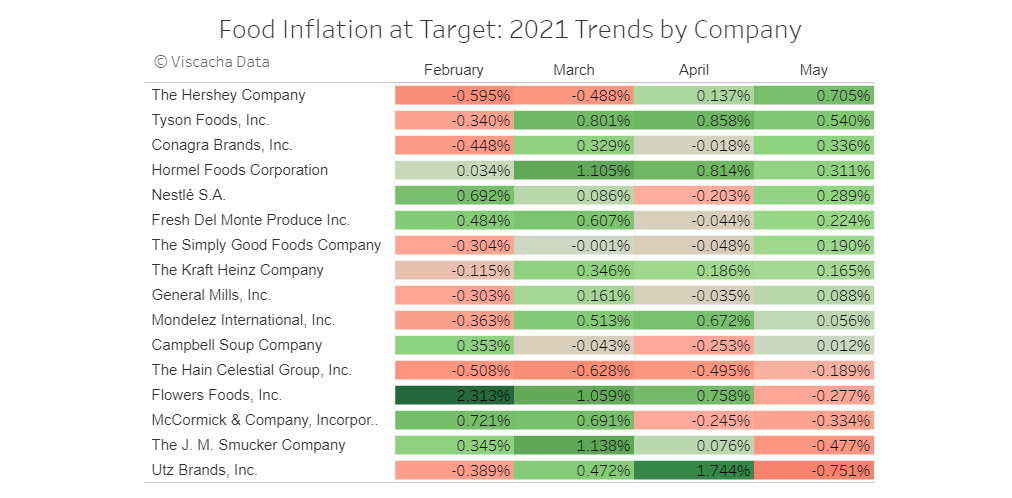 Over the last several weeks, inflation concerns have been a hot topic, as the combination of increased demand as the country reopens, supply chain constraints and high commodity prices has pushed up prices across categories. Although categories like used cars and gas saw the most dramatic increases last month, CPG companies have felt the impact as well. For example, a number of publicly traded food and beverage companies have announced planned or already implemented price hikes. In order to shed light on the timeline and magnitude of these price hikes, as well as which companies and sub-categories are most affected, we analyze changes in median price level across Target stores over the first five months of this year.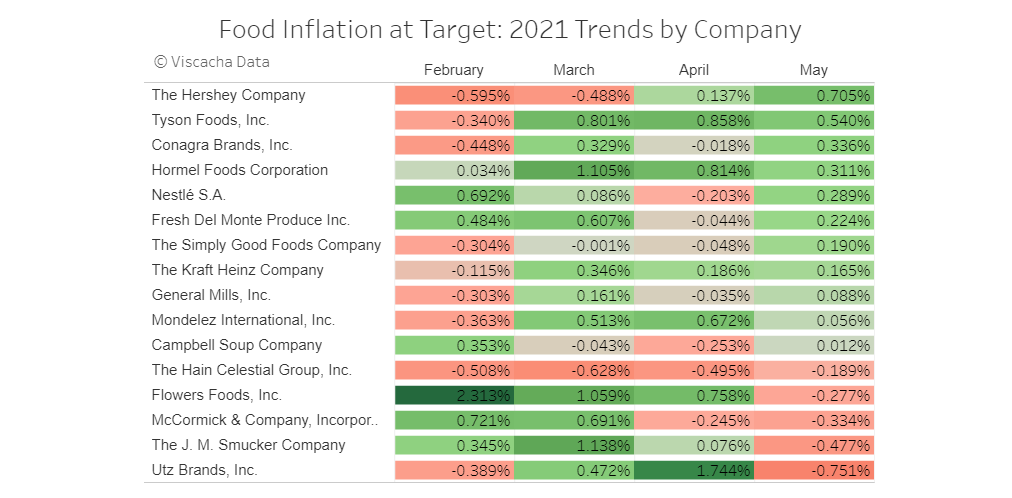 The table above shows monthly changes in the median price level for food companies with at least 50 SKUs present every day this year at Target. Evidently, a number of these players have seen relatively significant month-over-month increases in price levels recently. Two notable examples are Tyson and Hormel, which both increased prices every month as early as March. This suggests meat and poultry might be an area with particularly high inflation risk, consistent with what consumers have been noticing. Furthermore, for the majority of companies, it appears price hikes in the last month or two are part of a larger trend that began as early as March. On top of that, of the few companies that decreased prices in May, nearly every one had hiked prices in the prior months.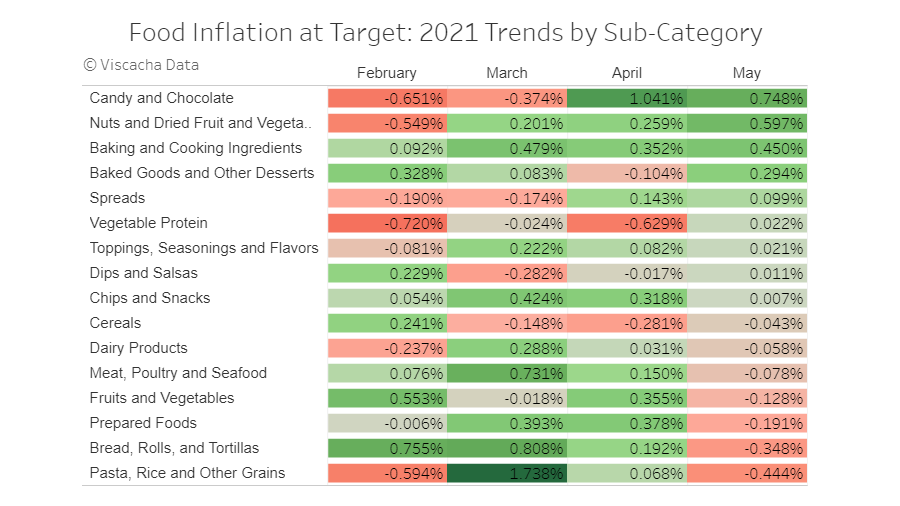 Finally, we look at the same data broken down by sub-category instead of parent company to identify any other salient trends. Categories with particularly strong inflation trends in the last several months include pantry staples like nuts, dried fruit, and baking/cooking ingredients. Furthermore, just as Hershey hiked prices the most this month, candy and chocolate saw the most significant May price increases among the sub-categories.
Viscacha Data's granular price and inventory data can reveal inflationary trends, even ahead of announced price hikes. Although we aren't seeing off-the-charts inflation in the packaged food industry yet, this is a snapshot of the companies and sub-categories we'll be watching closely over the next few months as cost pressures tick up.
To learn more about the data behind this article and what Viscacha Data has to offer, please reach out to at loften@viscachadata.com.