China's Logistics Sector: Survival of the Adaptable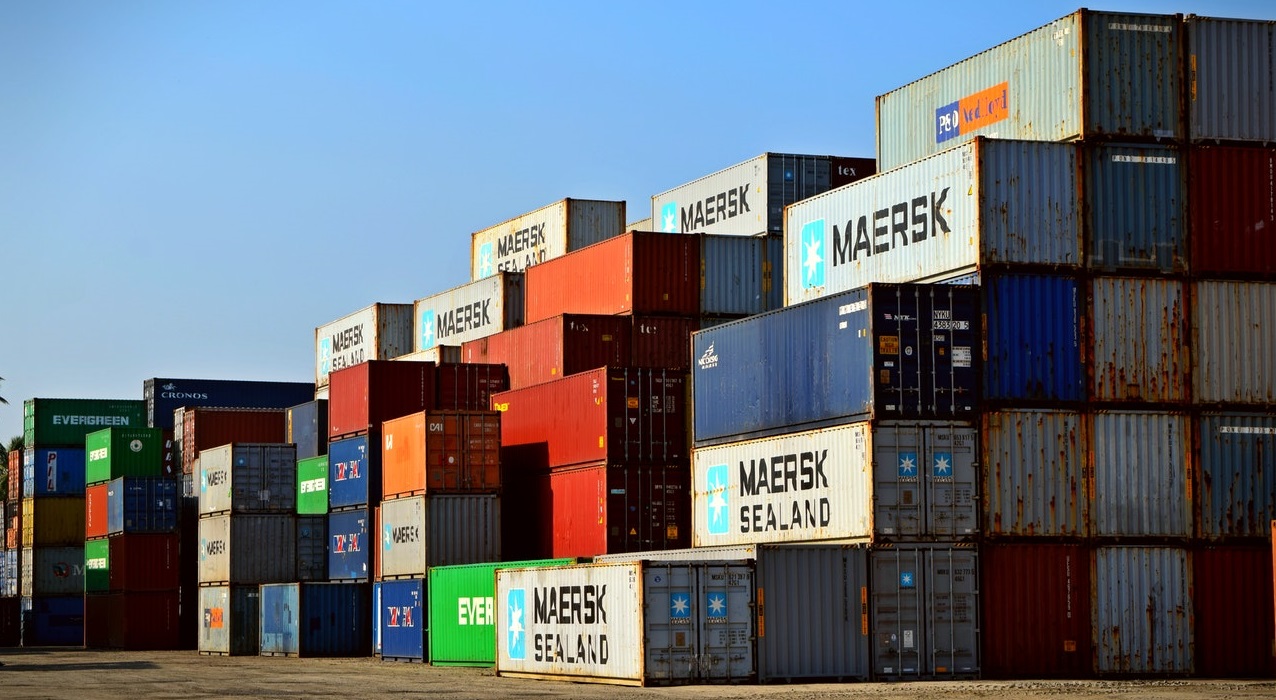 Logistics plays a substantial role in Chinese people's daily life, and the industry is fundamental to maintaining stable supply chains. Although the pandemic suppressed the overall domestic demand especially during the onset of the outbreak in 2020, the growth in online consumption has surged since then — and has spurred an already competitive logistics industry to heights of fierce competition.
What was once dominated by top players like ZTO, YTO, STO, Best Express, Yunda Holding collectively accounting for about 70% of market share — SF Express, J&T Express, and JD Logistics have also entered the game and are driving the limits of what competition means, most notably until placed under control by regulators was a radical price war started by newcomer J&T Express in April.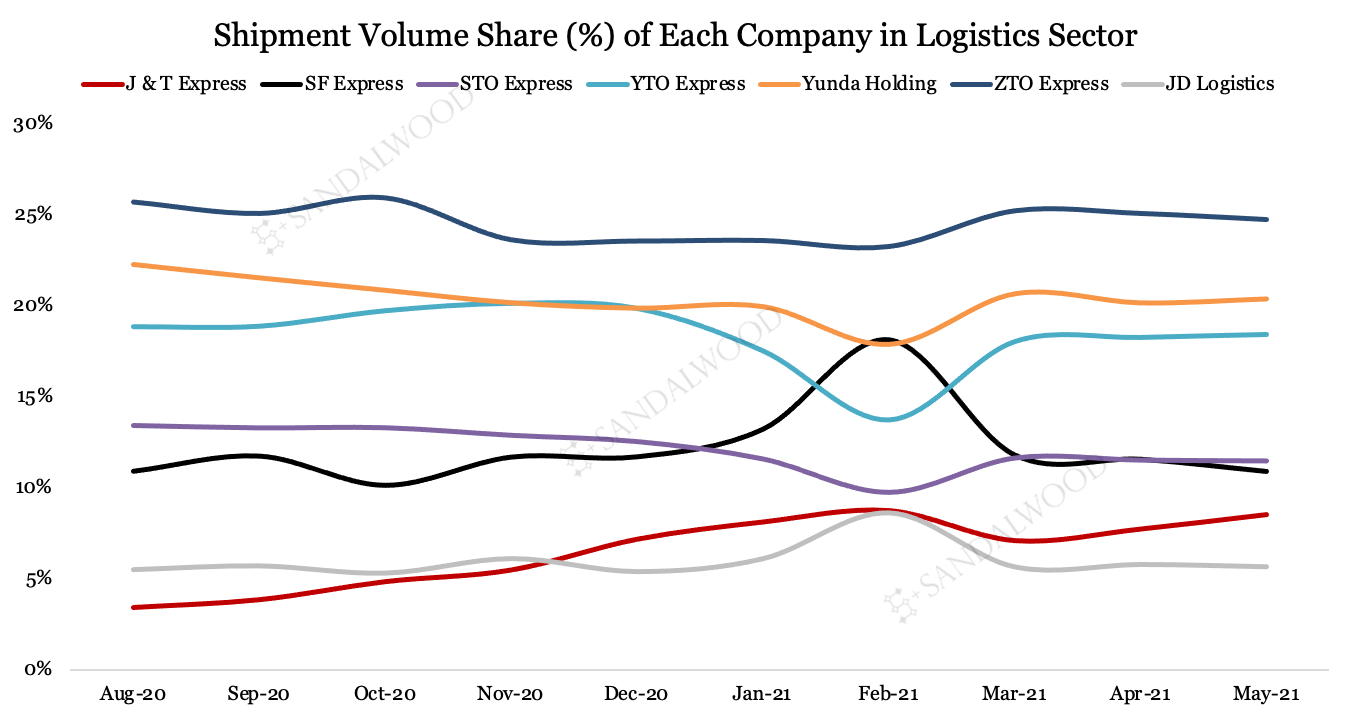 A dominant trend among the rivals in the industry is the growing focus on safeguarding their market share, versus expansion. The low price strategy by J&T was a classic example. By driving the cost of each regular parcel to less than 1 RMB (15 US cents), the company quickly amassed a large chunk of the market share. SF Express, wanting the same big chunk of a share, used empty spaces on its fleet of planes for "time-definite express" to deliver "economy products" resulting in lower cost and faster delivery than its competitors. Sandalwood data observed that as of February, 2021, SF Express' shipment volume for Economy Product has surpassed Time-Definite Express.
[
](http://www.sandalwoodadvisors.com/wp-content/uploads/2021/07/2-2.png)![](/uploads/210707-sandalwoodadvisors2.png)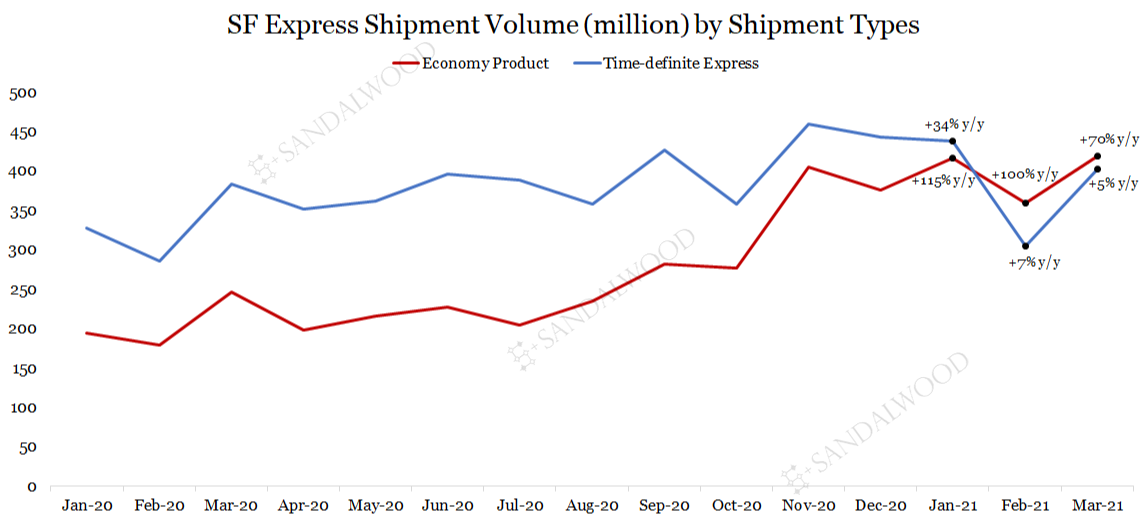 Perhaps the most notable of all when it comes to safeguarding a solid market share is what we have observed about J&T and how it is heavily reliant on Zhejiang Province because it's centered around Yiwu (the city is famous for light industry commodity trade). Surely, J&T Express has erected hard-to-beat competitive advantages to make sure it continues to dominate the Zhejiang province market share. But for how long? With rivals breathing down its neck and continuing to employ strategies, it won't be a surprise if J&T has not been sleeping sound lately.
[](http://www.sandalwoodadvisors.com/wp-content/uploads/2021/07/4-1.png)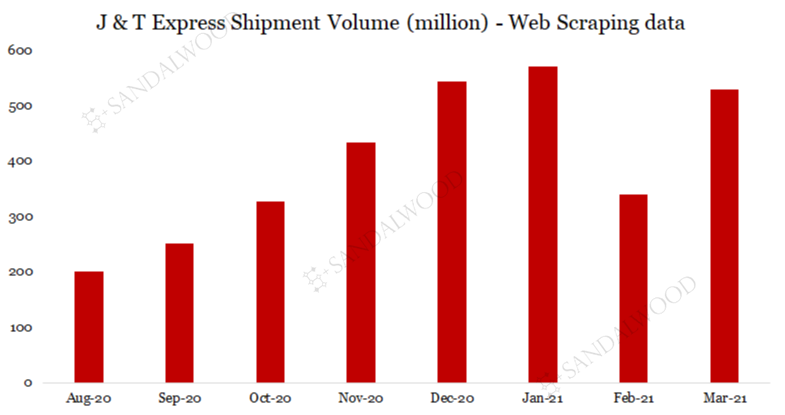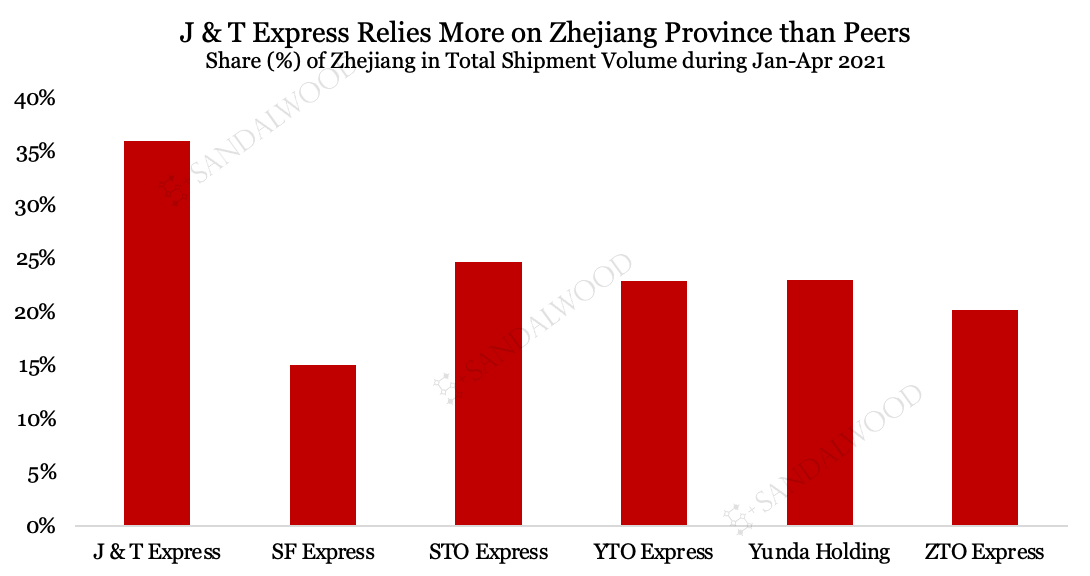 Of all the players in the industry, newcomer JD Logistics boasts of a natural competitive advantage — it is the only one with an e-commerce platform — giving it an automatic captured market. Additionally, unlike its rivals who use a franchised model, JD employs an integrated supply chain strategy.
[
](http://www.sandalwoodadvisors.com/wp-content/uploads/2021/07/6-1.png)![](/uploads/210707-sandalwoodadvisors6.png)
As competitive and cut-throat as it is, China's logistics industry is expected to flourish and continue its upward trajectory. Other than the unstoppable growing appetite for domestic online consumption, there have been two significant external support mechanisms developing lately that will surely benefit the industry — one of them is the development of a modern distribution and logistics system announced by the Chinese government, and the other a general trend of regional economic cooperation agreed between ASEAN countries. Both of these major developments will all the more bolster consumption, demand and supply — the very pulse of the logistics industry. With such a rosy trajectory, it makes sense that the rivals continue to make bold moves to capture market share. As an example, JD Logistics has already ramped up efforts to adopt innovative automation technologies, enhancing its logistics capacity and efficiency.
To learn more about the data behind this article and what Sandalwood has to offer, visit http://www.sandalwoodadvisors.com.