China Hotel Performance Update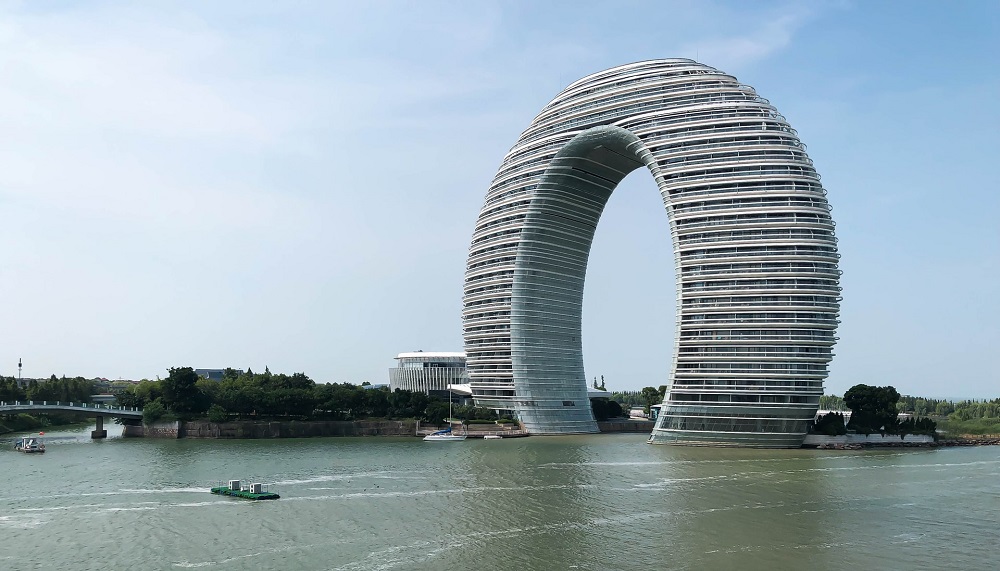 All key markets in China showed June 2021 increases in hotel occupancy and average daily rate (ADR) compared to the same period last year, except for Guangzhou and Shenzhen.
Guangzhou occupancy dropped to 27.6%, which was the market's lowest level of the last 15 months. Thus, RevPAR dropped 50.5% year over year, which was 71.1% lower compared with June 2019. Because of the severe pandemic impact on performance data, STR is using 2019 as the industry's recovery benchmark.
Occupancy exceeded 65% in markets such as Shanghai, Chendu, Xi'an and Sanya.
Wuhan showed the highest RevPAR increase – from CNY77.6 in June 2019 to CNY223 in June 2021.
Beijing ranked second, as occupancy doubled from last June and hit 61.8%. That brought RevPAR up 136.7% from June 2020, which recovered was 80% of the comparable level from 2019.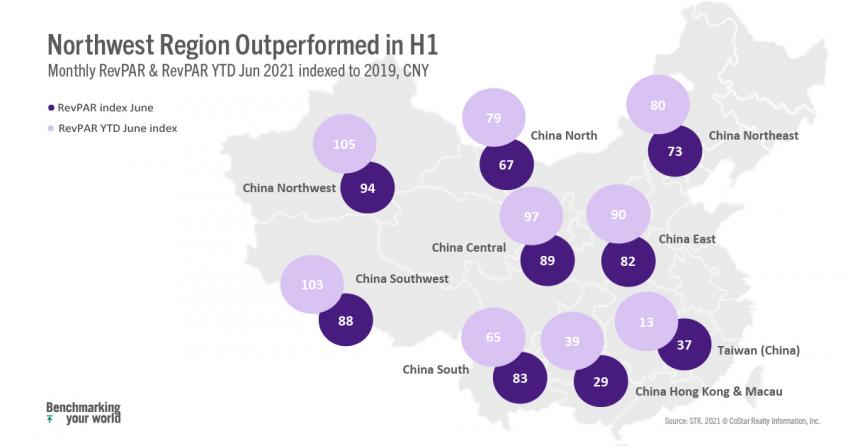 The Northwest region outperformed the rest of the regions in both June and the first half of 2021, which shows its dominance as the top long trip destination as well as leisure travel driving China's recovery.
Due to the negative influence of COVID-19 breakouts and seasonality, the North and Northeast regions ranked last. The East, Central, Southwest, and South regions were steady and reached 80% of 2019 levels.
Occupancy exceeded 65% in just one market, Sanya (69%), which doubled its level from the first half of 2020. The lowest occupancy levels were recorded in Dalian and Shenyang, 43% and 44%, respectively.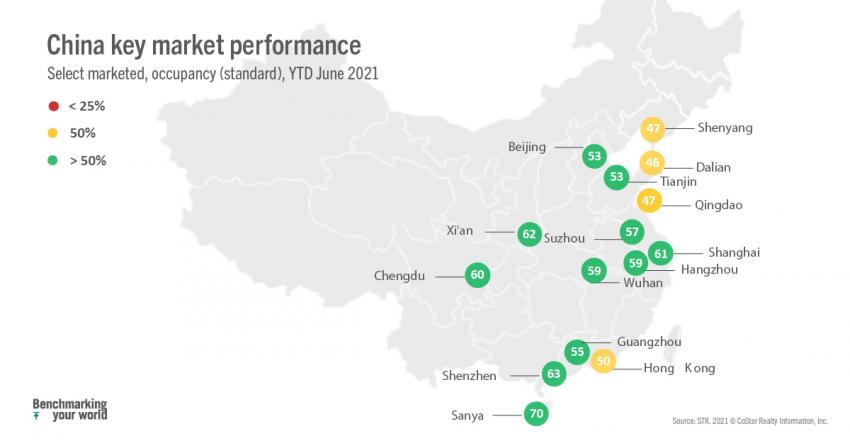 Although occupancy in Mainland China is not as high, the gap from 2019 was reduced to 10%.
ADR recovery is further along, as levels are approaching their 2019 comparables. Five markets even outperformed their 2019 ADR: Hangzhou, Shenyang, Xi'an, Sanya and Chengdu.
Driven by both ADR and occupancy, there are several markets that have shown significant RevPAR increases from the first half of last year: Shanghai, Qingdao, Chengdu, Suzhou, Wuhan, Xi'an, and Beijing. Sanya ranked first with a 164% year-over-year increase, due to higher occupancy as well as a strong ADR increase.
Hong Kong is the only market that showed an ADR decrease for the first half, which contributed to the lowest RevPAR growth. However, the market's demand has shown sustained and steady growth. In June 2021, Hong Kong's occupancy rate reached 57.6%, the highest in 18 months.
To learn more about the data behind this article and what STR has to offer, visit https://str.com/.