Travel Advertising: Airbnb & VRBO are outspending top hotel chains as holidays approach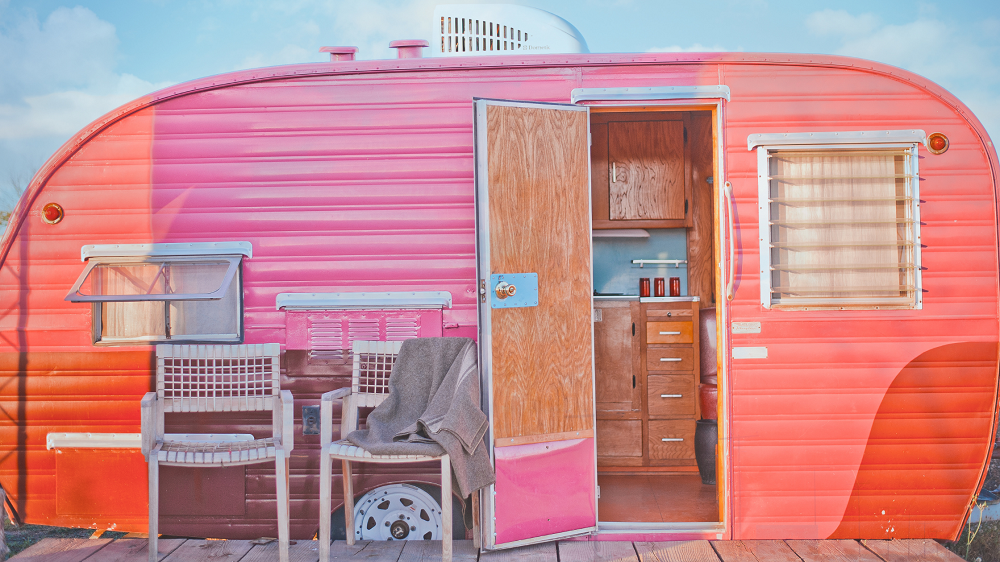 If hotel prices are any indication, COVID-19 surges aren't going to keep travelers home this holiday season. The average daily rate for a hotel room in the US is $143.30— up 6% from 2019. In popular destinations like Hawaii, average daily rates are as high as $258.65, according to data from hospitality analytics firm STR.
Which leaves many eager travelers (myself included) looking for alternative accommodations for family get-togethers or tropical getaways.
Enter vacation rental sites. Just this week, an email from VRBO landed in my inbox encouraging me to book a home for the holidays and "celebrate together again".
It's just one example of how vacation rental sites like AirBnb and VRBO are shifting their marketing strategies in preparation for the holiday travel season.
Top advertisers in Accommodations & Lodging
Looking at ad spending trends over the last 30 days, what stands out most is how much VRBO and Airbnb are outspending top hotel chains.
VRBO was the #1 advertiser for this time period. The short term rental giant, which has been around since 1995, spent $9.3 million and generated 705.9 million impressions.

Airbnb was the second-biggest spender at $6.9M, followed by Marriott Bonvoy ($5.3M), Hilton Hotel ($2M), and Best Western ($1.7M).
Together, VRBO and Airbnb accounted for nearly 40% of ad spend in the accommodations and lodging category (part of our enhanced taxonomy), underscoring just how much vacation rental sites are spending to convince holiday travelers to click the "Book Now" button.
We also looked at pre-pandemic spending trends to see how things have changed. VRBO, Airbnb, Marriott, and Best Western are all spending significantly more than they did during the same time frame in 2019. For comparison, Airbnb only spent $1.5M during this time in 2019 — less than a quarter of what it is spending today. Only Hilton is spending less than it did pre-pandemic.
VRBO and Airbnb shift their messaging from 'getting away' to 'getting together'
Our data also shows how advertisers are evolving their messaging as the vaccine rollout continues and more travelers hit the road.
Throughout most of 2020 and early 2021, Airbnb and VRBO were focused on positioning vacation rentals as a safe and socially distant way to travel during the pandemic. Ads ranged from video spots featuring families working and doing online school at their "home away from home", to promoting driving vacations and flexible cancellation policies as areas of the country reopened and then closed again.

While both VRBO and Airbnb still offer flexible cancellation policies, they chose not to focus on these in their advertising. Only two of VRBO's top ten creatives in the past month mentioned its cancellation policy. Airbnb, on the other hand, didn't mention cancellations at all in its top creatives.
Perhaps Airbnb and VRBO don't want to remind travelers of last year's disappointing holiday season. After all, it's hard not to sound like a Grinch when talking about cancelling travel plans for a second year in a row.
Likewise, all mentions of social distancing and staying apart are gone. In their place, vacation rental sites are urging travelers to get together with loved ones again and make up for lost time.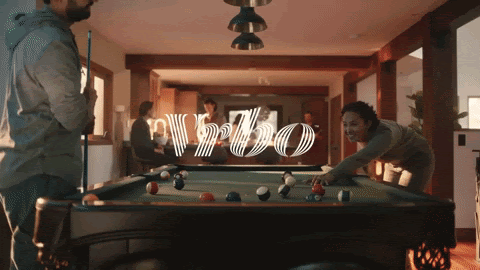 VRBO mainly promoted Youtube ads, which showed reunions at cozy mountain cabins or resort-like villas with room for the whole family. Likewise, Airbnb emphasized family getaways — particularly off-the-beaten path accommodations like farms and dome homes: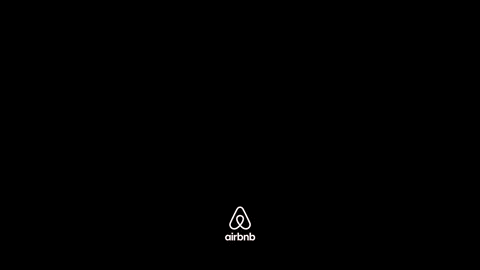 Hotels emphasize hygiene as delta variant threatens holiday plans
Hotel chains, on the other hand, are still messaging the safety and cleaning protocols they developed during the pandemic.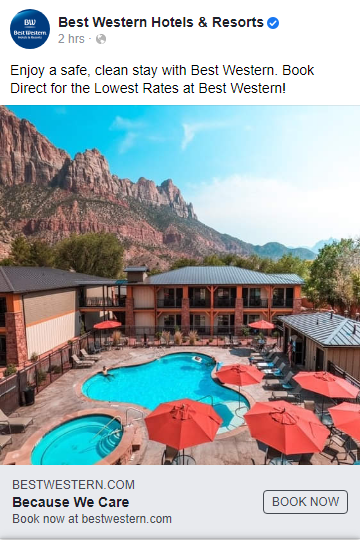 Take Best Western, for instance, which mentioned its "We Care Clean" program in five of its top ten creatives.
Likewise, Hilton continued to advertise options like contactless arrival and digital keys. However, the hotel chain was much more subtle in its messaging. Instead of mentioning the safety aspect specifically, Hilton positioned these options as a way to keep from waking up a sleeping toddler when checking in, or interrupting a romantic evening to search for a room key.
It could be that hotels see their cleaning protocols as a competitive advantage over rental sites, which can (ahem) vary widely in their cleaning practices.
Of the three hotel brands we looked at, only Marriott chose not to mention pandemic protocols. There's not a single reference to the brand's cleaning protocols in its top ten creatives. Instead, Marriott celebrated the return to travel with its "30 hotel brands, endless experiences" campaign and its rewards program.
What's next for holiday travel ads?
While hotel chains may have had a leg up on vacation rentals during the pandemic when it comes to cleaning protocols, the data shows that more and more travelers are seeking out short-term rentals. During summer 2021, short-term rental demand was up — particularly in rural, drive-to destinations.
Our hunch is that holiday travel will follow a similar route, with families seeking out vacation rental homes for their privacy, spaciousness, and one-of-a-kind experiences. And based on how much VRBO and Airbnb are outspending top hotel chains, it seems we're not alone in that prediction.
To learn more about the data behind this article and what Pathmatics has to offer, visit www.pathmatics.com.