Holiday Retail 2021 Data Shows More Visits, More Online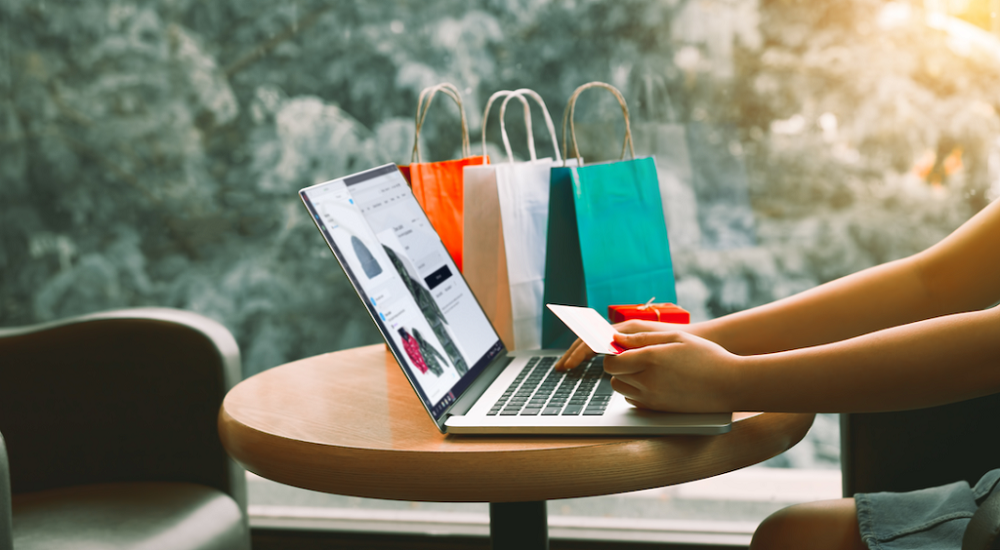 Key takeaways for early holiday retail season in 2021
Earnest Research tracked a 9% YoY growth in total spend activity in the first 10 days of the holiday shopping season
Visits to stores were higher than pre-pandemic levels
Home spending slowed as consumers pivoted from quarantine centric buying to spending on apparel, fitness, and luggage
Holiday retail sales grew
Holiday retail is up 9% YoY so far according to the Earnest Research Spend Index (ERSI*), a measure of sales growth for 2,500+ U.S. consumer discretionary and staples businesses. Preliminary data reflects sales during the early holiday retail season starting Nov. 1 as defined by the National Retail Federation, to Nov. 10. Growth decelerated from October and remains slightly below the 2020's holiday retail season levels. ERSI consumer spending growth peaked in early 2021 on a YoY basis as the data lapped Covid-19 related closures.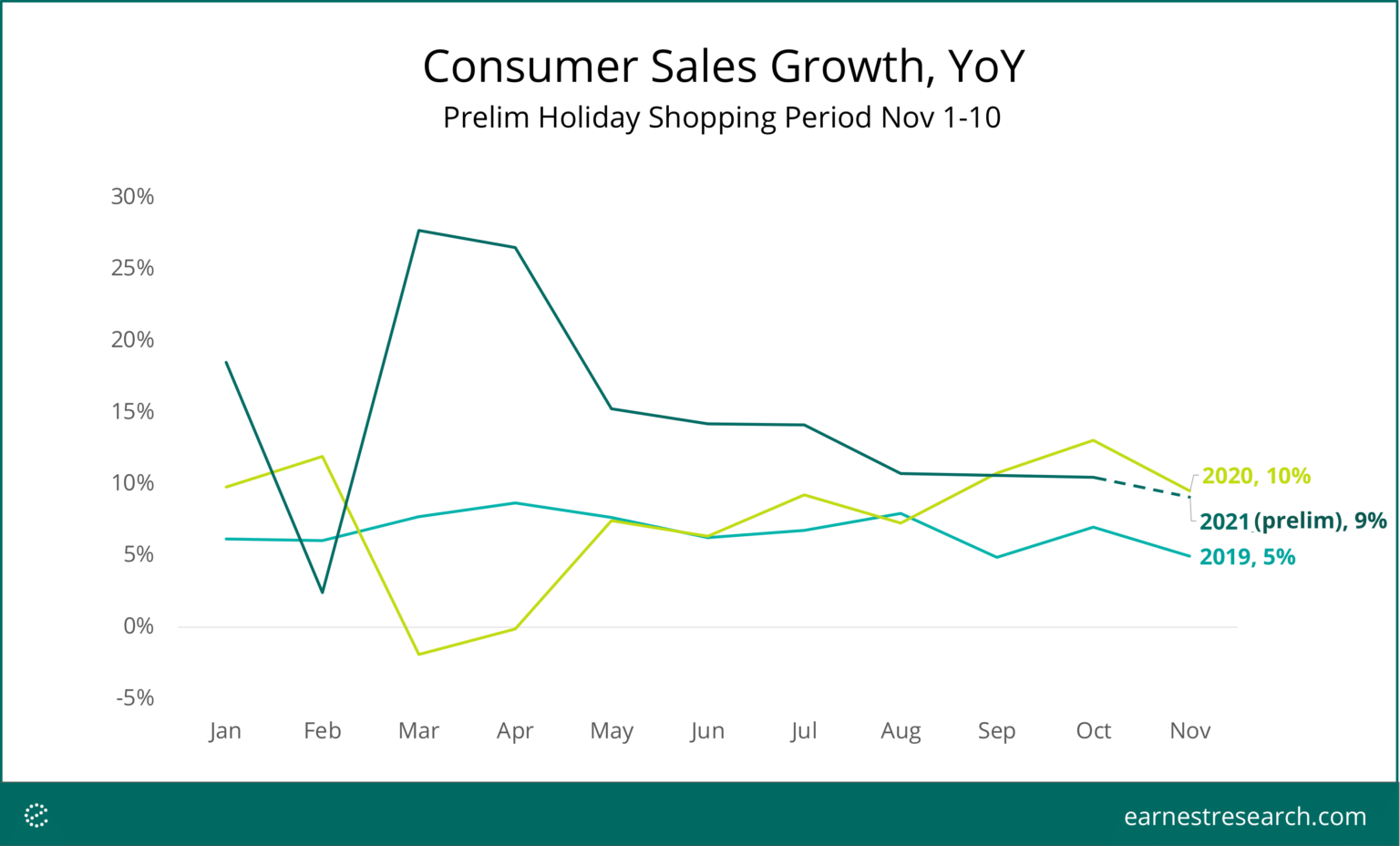 Foot traffic data showed more store visits than pre-pandemic
Holiday shoppers' visits to stores exceeded pre-pandemic levels during the first 13 days of November, despite growth decelerating slightly from October. This is great news for brick-and-mortar retailers, especially given Earnest data found that other areas like central business districts had yet to recover foot traffic to anywhere near pre-pandemic levels.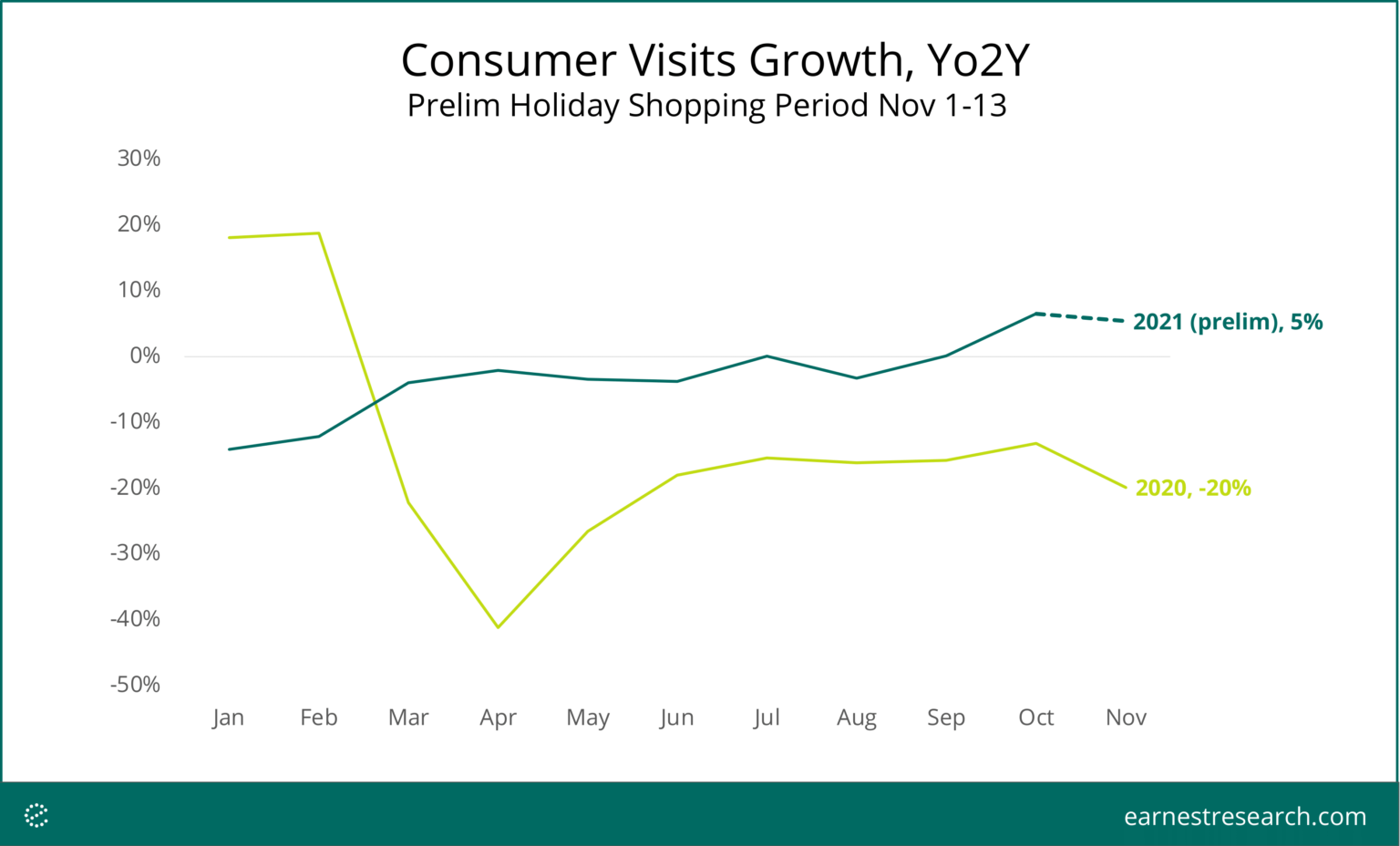 Online share retreated for some industries, surged for others
In keeping with higher foot traffic overall, some categories' customers returned to stores in the first week and a half of November, shifting the online vs in-store sales mix from 2020, especially Electronics, Grocers, and Health & Beauty retailers. However most large categories either sustained or grew their share of sales online in the preliminary period. Share of online sales at General Merchandise (which includes Walmart and Amazon) grew from 24% in 2019, to 35% in 2020, inching to 36% in the 2021 prelim period. Home, Occasion and Gifts, and Pets also saw historic online sales highs with 29%, 66%, and 45% of sales made online in the 2021 preliminary holiday period, respectively.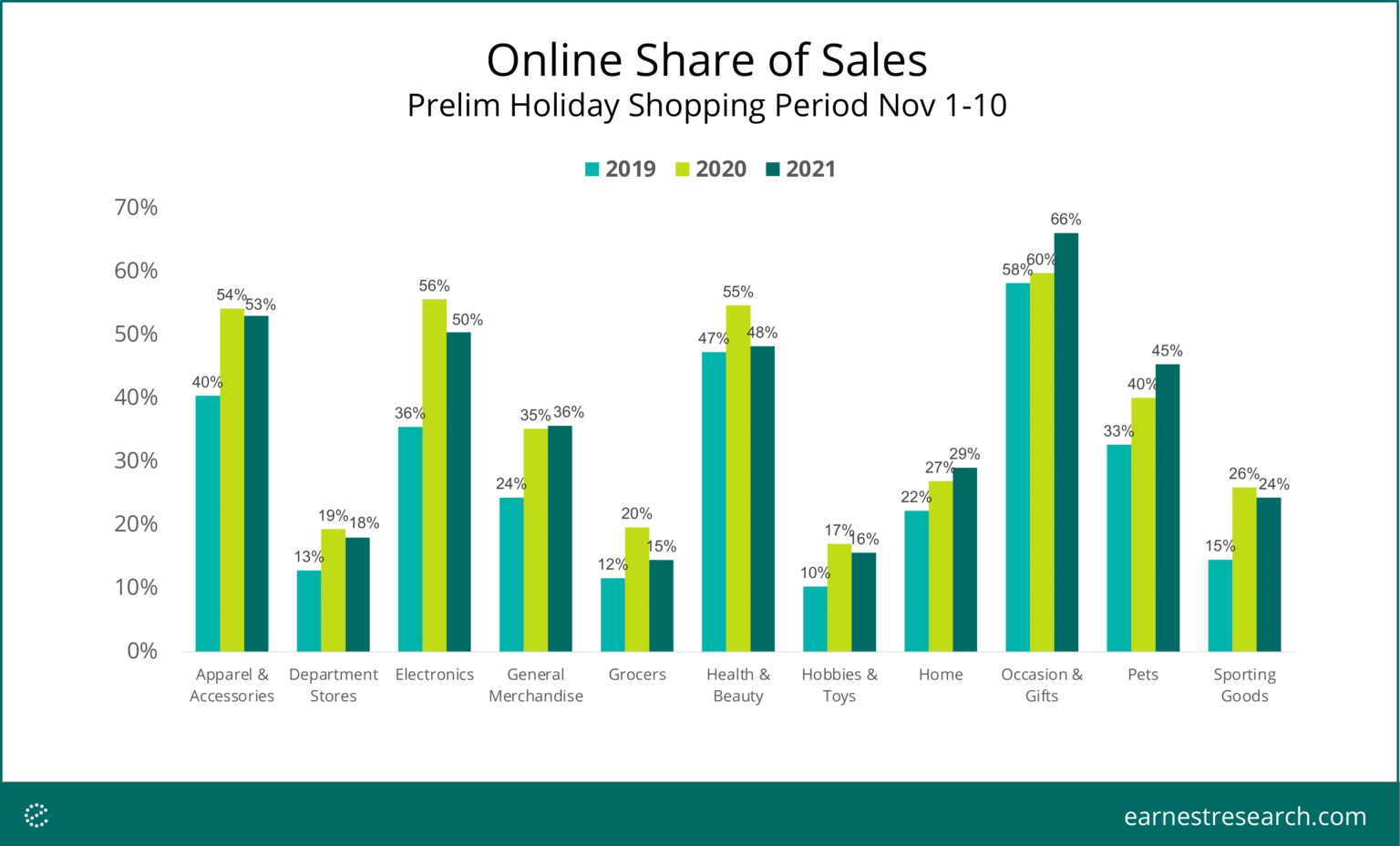 Apparel and Resale stood out, home spending faltered
Fashion Resale (which includes RealReal and Poshmark), Footwear, Sports Gear, Off-Price Department Stores, and Mid Tier Department stores stood out during the first 10 days of the holiday retail season compared to 2020. Hunting & Fishing, Home Fitness, Home Improvement, and Home Furnishings saw some of the biggest slowdowns in spend as consumers likely pivoted away from quarantine-centric buying.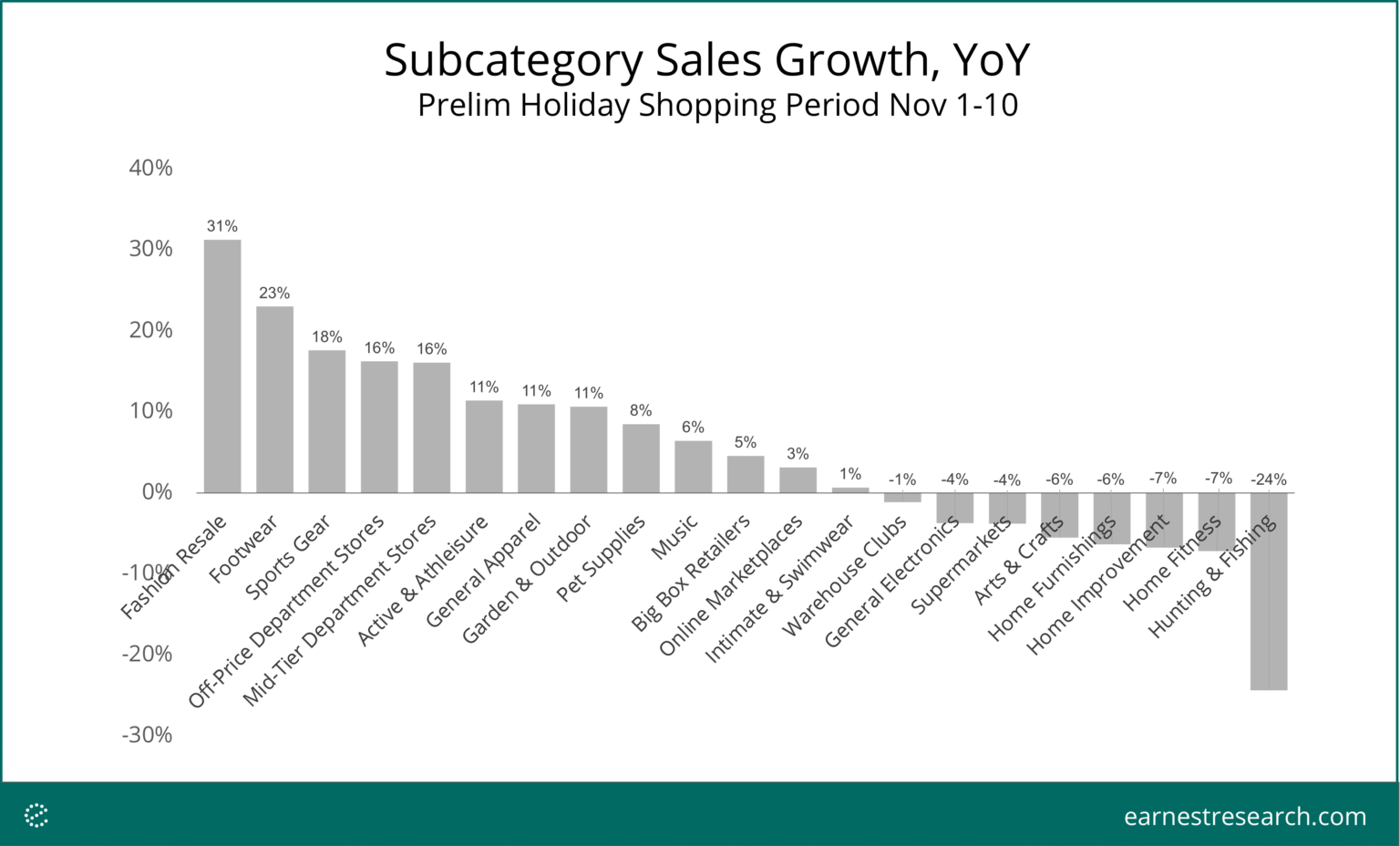 Shein continued to shine
Fast Fashion and Fashion Resale were standouts as well, with Shein notching 149% YoY growth, Stockx up 24% YoY, and the RealReal growing 63% YoY. Mid tier and discount apparel brands Backstage, Kohl's, and Nordstrom Rack (Off Price) accelerated from 2020 lows, but Dillard's outperformed with high double digit growth in the week. Sales growth at ULTA Beauty pulled ahead of DTC darling Glossier in the Health & Beauty category.
Best Buy and Wayfair sales fell in the prelim period as Home spending cooled off compared to 2020 levels. In-home fitness equipment maker Tonal, Dick's Sporting Goods, Nike, and athletic shoe brand On Running saw some of the biggest gains in the prelim period while Peloton sales slowed significantly. Triple-digit sales growth for Away came on the heels of a weak 2020 holiday season due to travel restrictions.
General Merchandise mass retailers Walmart, Target, and Sam's Club all posted mid-single digit sales gains in a category defined by higher online sales penetration in 2021 vs 2020.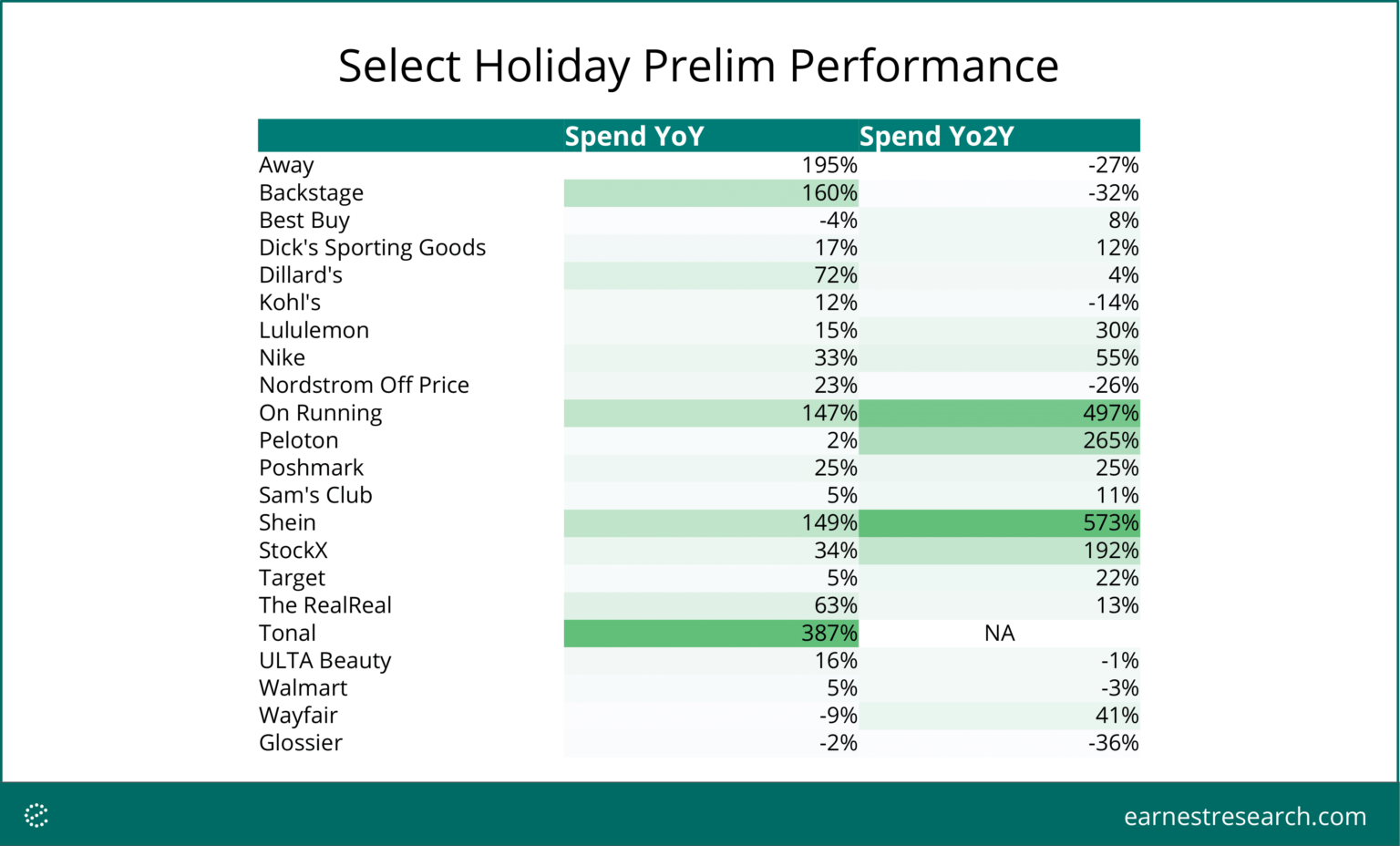 To learn more about the data behind this article and what Earnest Research has to offer, visit https://www.earnestresearch.com/.