CarPlay integration drives engagement for Dunkin'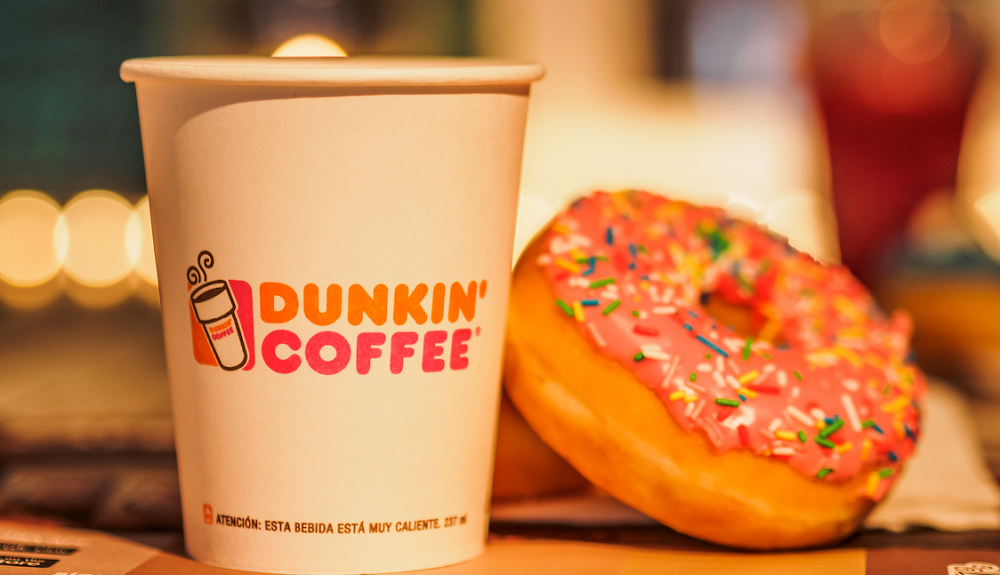 Apptopia CEO Jonathan Kay recently gave a keynote speech at Airship's Elevate conference, showcasing the need for brands to invest into their mobile apps due to consumers' shifting behavioral patterns. The below is an excerpt from that presentation. To watch the whole presentation, scroll to the bottom of this post.
The Dunkin' mobile app has been growing engagement since August, when it was announced the app was available via Apple CarPlay. Apptopia's X-Ray dataset indicates it is the only top 36 quick-service restaurant app in the United States with this integration.
Looking at iOS estimates (CarPlay is only available on iOS) of user sessions to compare Dunkin' to other top coffee chains, we see Dunkin's app go from below market average to opening up an 18.5 percent gap above it, once CarPlay became available.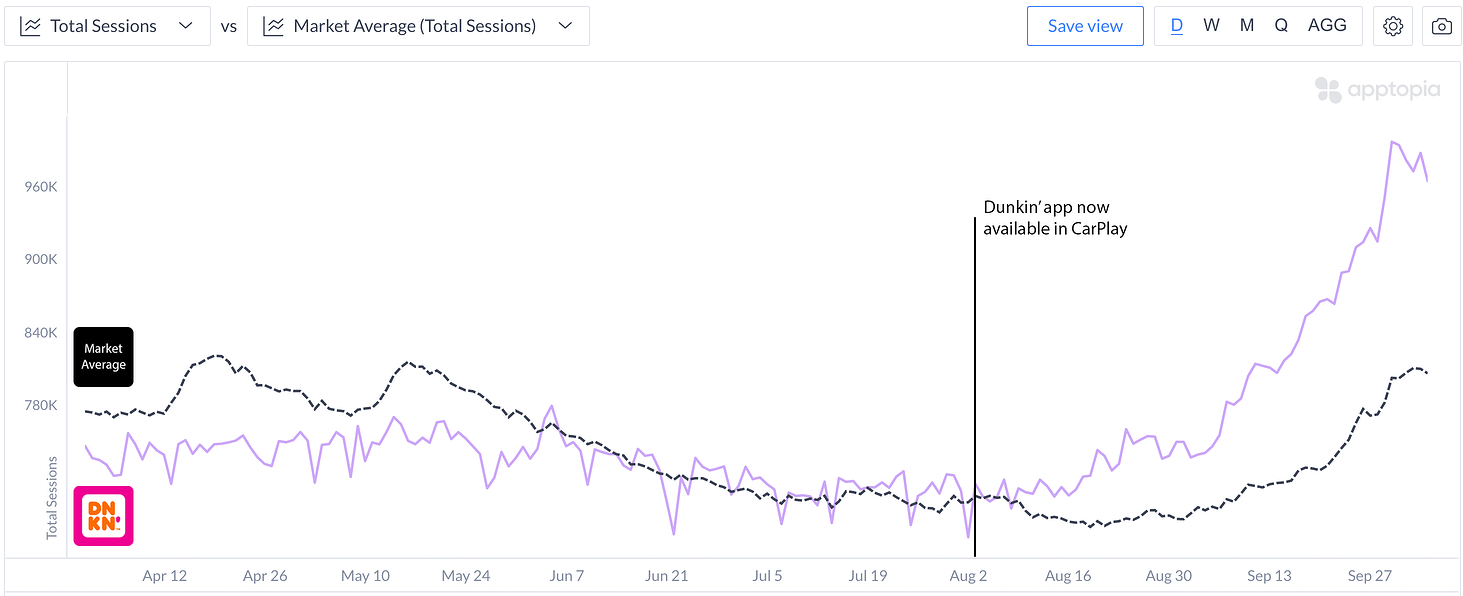 Let's take a step backward to look at why CarPlay and Android Auto are such a big opportunity for brands, especially QSR brands. Apptopia data indicates usage of car marketplace apps (Carfax, Carvana), parking apps (ParkMobile, SpotHero), and car rental apps (Hertz, Turo) are all above 2019 levels. The pandemic has spurred this move away from public transit. As vehicle demand has increased and we're spending more time in cars, the use case for a quick-service app to be available safely in-car is seemingly obvious. Who wouldn't want to order their regular coffee and breakfast sandwich with ease on the way to work?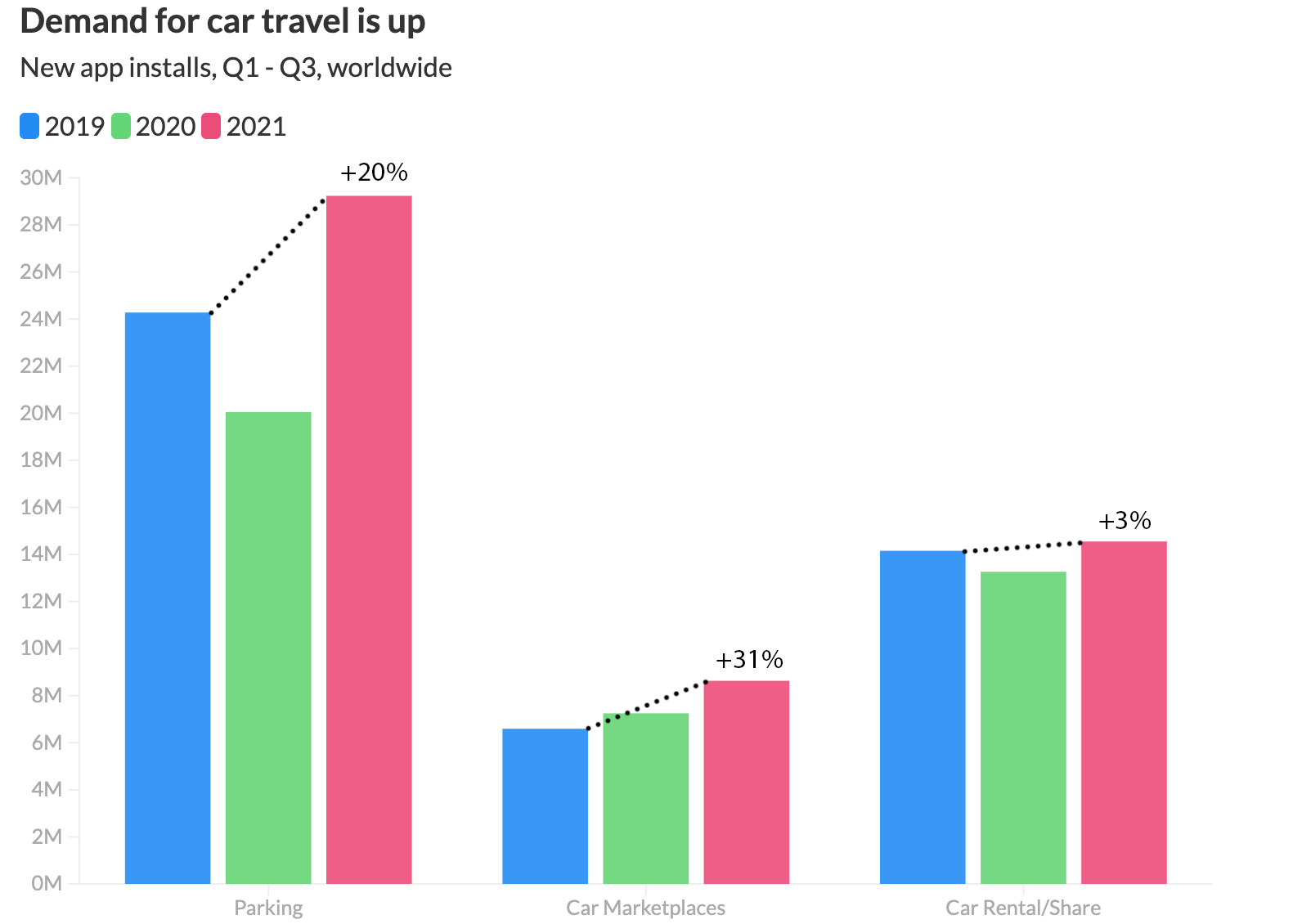 Not only did these apps rebound, they actually grew their total addressable market. Digging deeper into the CarPlay and Android Auto tags found within Apptopia's X-Ray dataset, we found that when transportation apps implemented these features, user sessions grew compared to their competitors the month of integration. To find out just how much they grew and a whole lot more, watch Jonathan's presentation by clicking the button below.
To learn more about the data behind this article and what Apptopia has to offer, please reach out to Connor Emmel at cemmel@apptopia.com.