Holiday Retail 2021 Data Shows Slowing Spend, Earlier Shopping So Far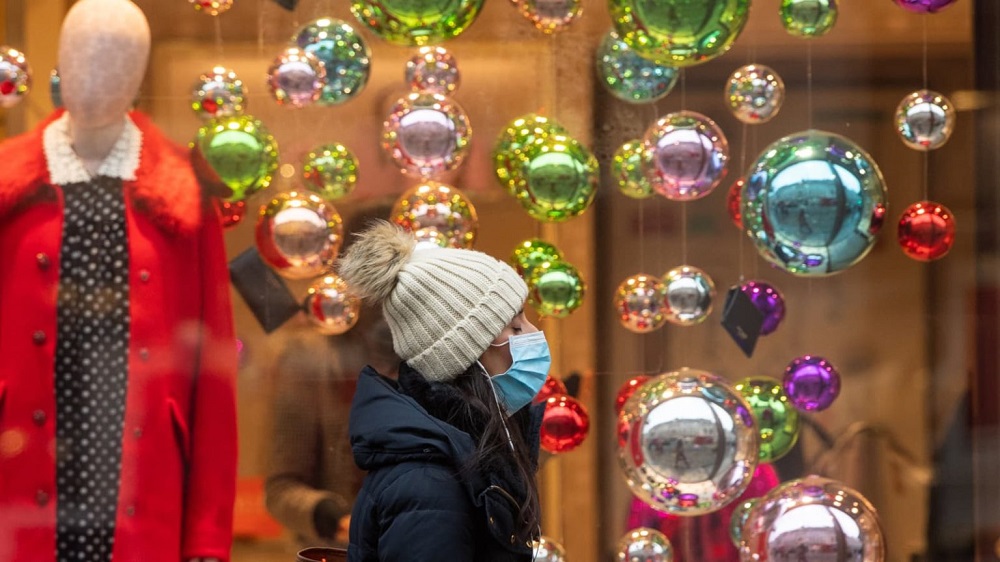 Key takeaways for holiday retail season 2021
Consumer spending decelerated, while visits exceeded pre-pandemic levels so far this holiday retail season
Pre-Black Friday sales at Walmart, Target, Amazon, and others outperformed Cyber-5 as consumers began shopping earlier this year
Online sales growth stalled for most retailers, except Walmart, but remained historically high
Full holiday performance could improve if there remain online orders that have been placed but not yet shipped due to supply chain constraints
Spending decelerated while foot traffic surpassed pre-pandemic levels this holiday retail season
Total aggregate consumer spending grew 3% YoY in the week ending Dec 7th according to the Earnest Research Spend Index (ERSI*), a measure of sales growth for 2,500+ U.S. consumer discretionary and staples businesses. This was a deceleration from the 9% YoY growth during the first 10 days of the preliminary holiday season (Nov 1 to 10th). Strong average transaction size growth, possibly due to inflation or reduced discounting, was partially offset by fewer transactions (-1% YoY), a deceleration from the 6% YoY transaction growth in October.
Foot traffic visits to stores diverged from lower transaction counts, growing 25% YoY the week after Thanksgiving, while lapping a muted 2020. Notably, visits to physical stores exceeded pre-pandemic levels to date this holiday season, growing roughly 7% Yo2Y from November into early December.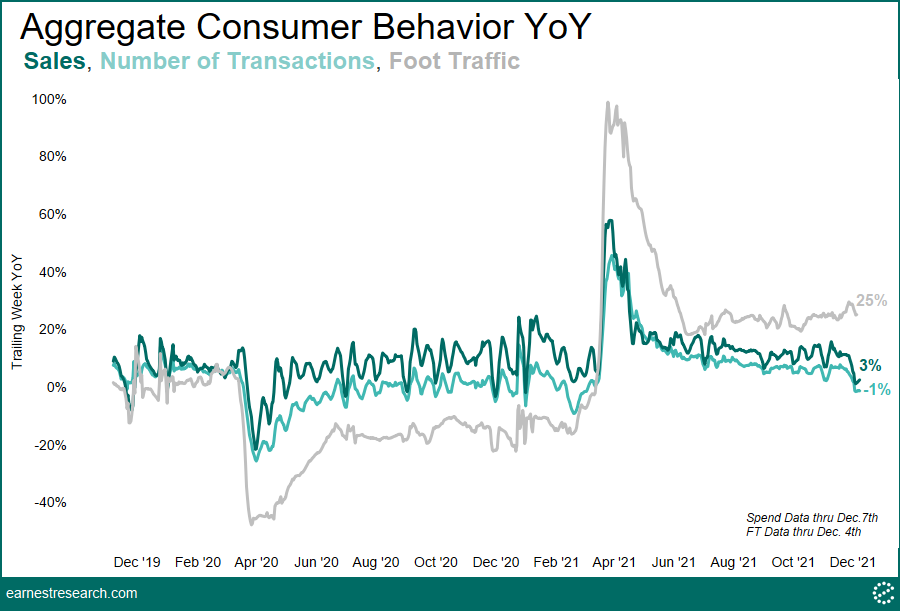 Holiday sales in 2021 happened earlier than years past
Sales growth during the 23-day lead up to Thanksgiving outgrew Cyber-5 sales this year across major retailers, continuing the shift to earlier holiday shopping that began in 2020. Walmart growth stood out during both the lead up and Cyber-5 periods, partially on lapping weak prior year sales. Target, Amazon, and Kohl's sales also grew notably during the lead up, while declining YoY in the Cyber-5 period despite consolidating their share of wallet during the five day period.
The Home Depot and Lowe's sales were flat to down YoY as they lapped the bump from work from home related purchasing surges in 2020 despite data suggesting workers are still staying home. Best Buy sales were slightly down in the lead up to Thanksgiving on tough Covid comps, with Cyber-5 declining significantly more than other major big box stores YoY. Sales growth during the lead up period for 60 other major holiday retailers also outgrew the Cyber-5 period.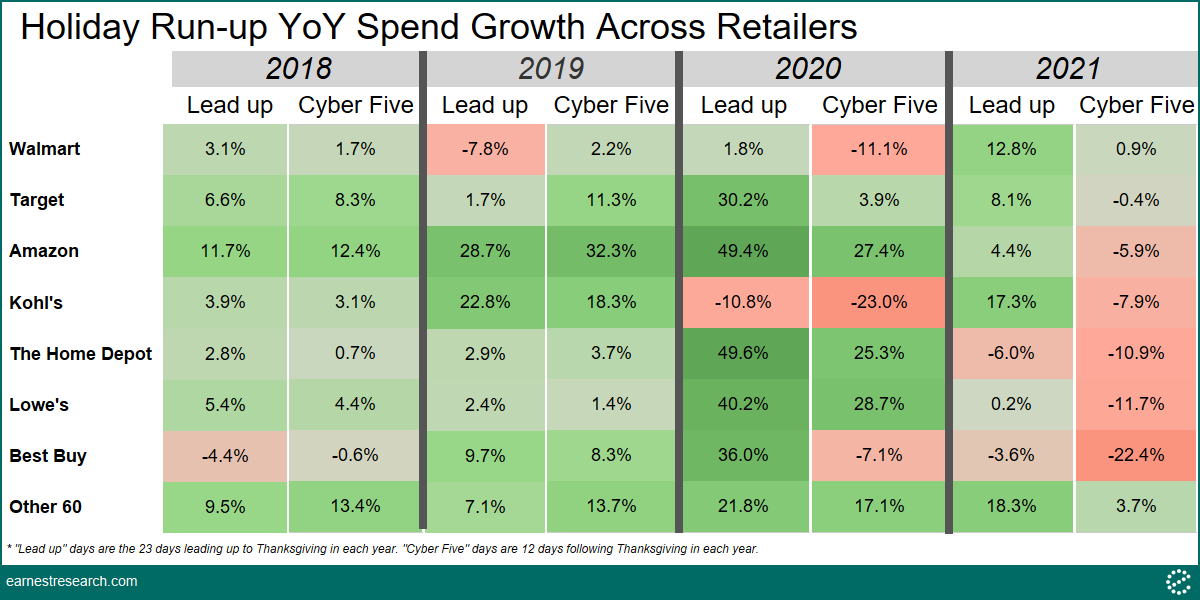 Foot traffic data shows that shoppers returned to brick-and-mortar stores
Foot traffic to Walmart, Target, Kohl's, and Best Buy grew YoY, marking a clear improvement in in-store spending between 2020 and 2021. Walmart online sales continued to grow in the mid double digits, bucking a broader trend across retailers in which online spend growth decelerated compared to 2020 highs. Home brand Lowe's and The Home Depot bucked the broader trend of recovering in-store visits and spending as they lapped very strong 2020 sales due to work from home related shopping.
Other online spend does not include the travel category, which showed a strong consumer spending on car rentals and lodging in advance of the holiday season.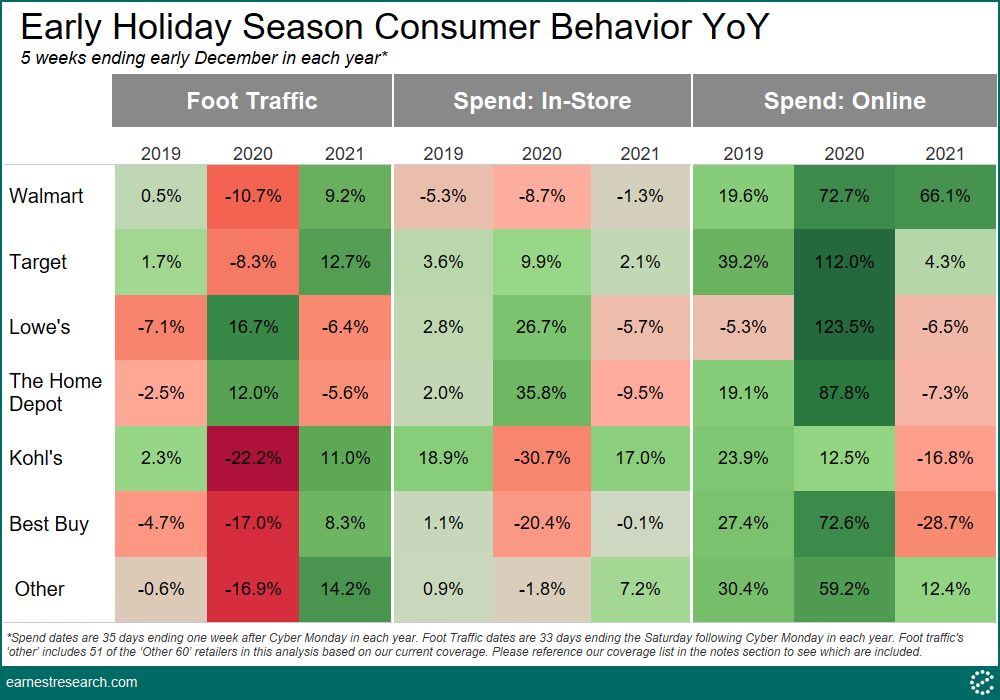 The holidays are the biggest online shopping period of the year… and growing
A higher percentage of total sales occured online during the holiday period than during the rest of year for most categories. That difference between holiday and rest-of-year online sales penetration is particularly pronounced for General Merchandise, Apparel & Accessories, Electronics, Sporting Goods, and Departments Stores, while more consistent for Home and Hobbies & Toys. Among those holiday shopping categories, Apparel & Accessories, Electronics, and General Merchandise stood out, with 50% or more of sales occurring online this holiday season, on par with and even slightly surpassing 2020's online penetration. Online sales share for all major categories was higher than pre-pandemic.
Online spend data reflects orders that have shipped. Online share of sales and overall growth could improve if orders placed but not yet delivered during the period due to supply chain constraints are fulfilled later in the holiday shopping period.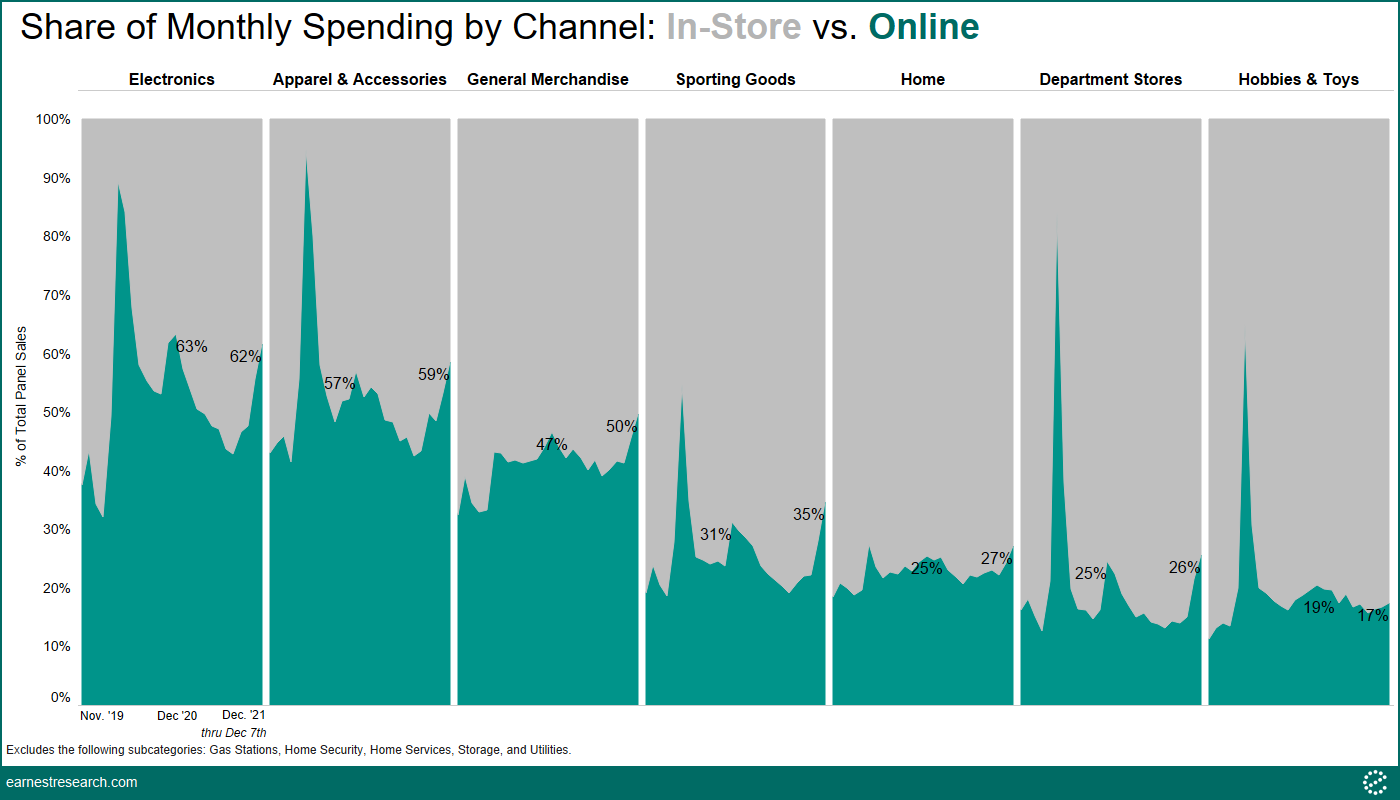 To learn more about the data behind this article and what Earnest Research has to offer, visit https://www.earnestresearch.com/.