Worldwide and US Download Leaders 2021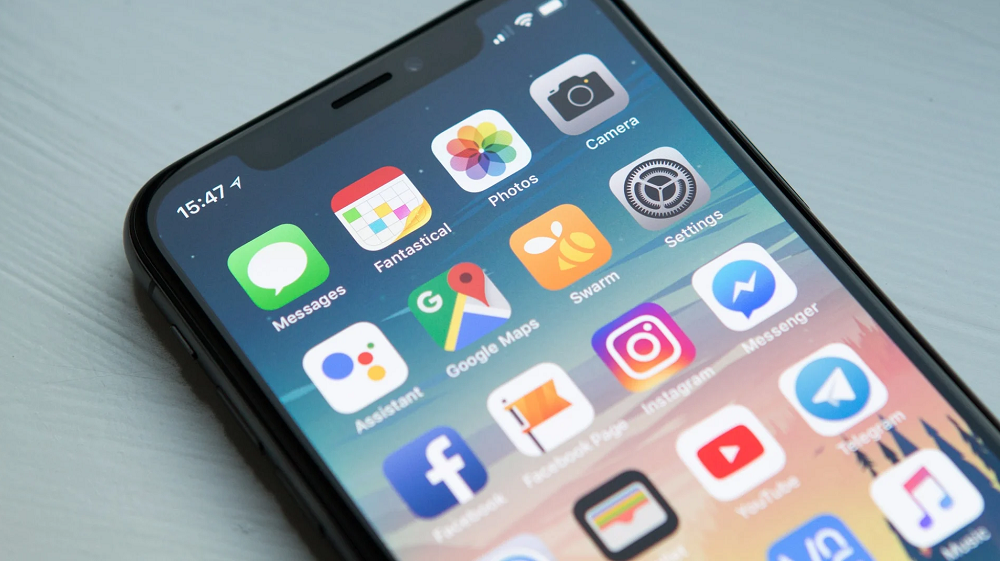 Congratulations, if you're reading this it means you have made it through the year! 2021 is over and as our gift to you, Apptopia has our annual download leader charts ready to go. Below are 30 top charts across a plethora of high interest industries.
Let's set the ground rules:
All data is iOS + Google Play combined, except for data from China which is iOS only.
If an app has a "lite" version, that data is included in the respective app's data.
We created these categories ourselves and had to make decisions on distinctions. In general, we tried to group apps with the same primary function together.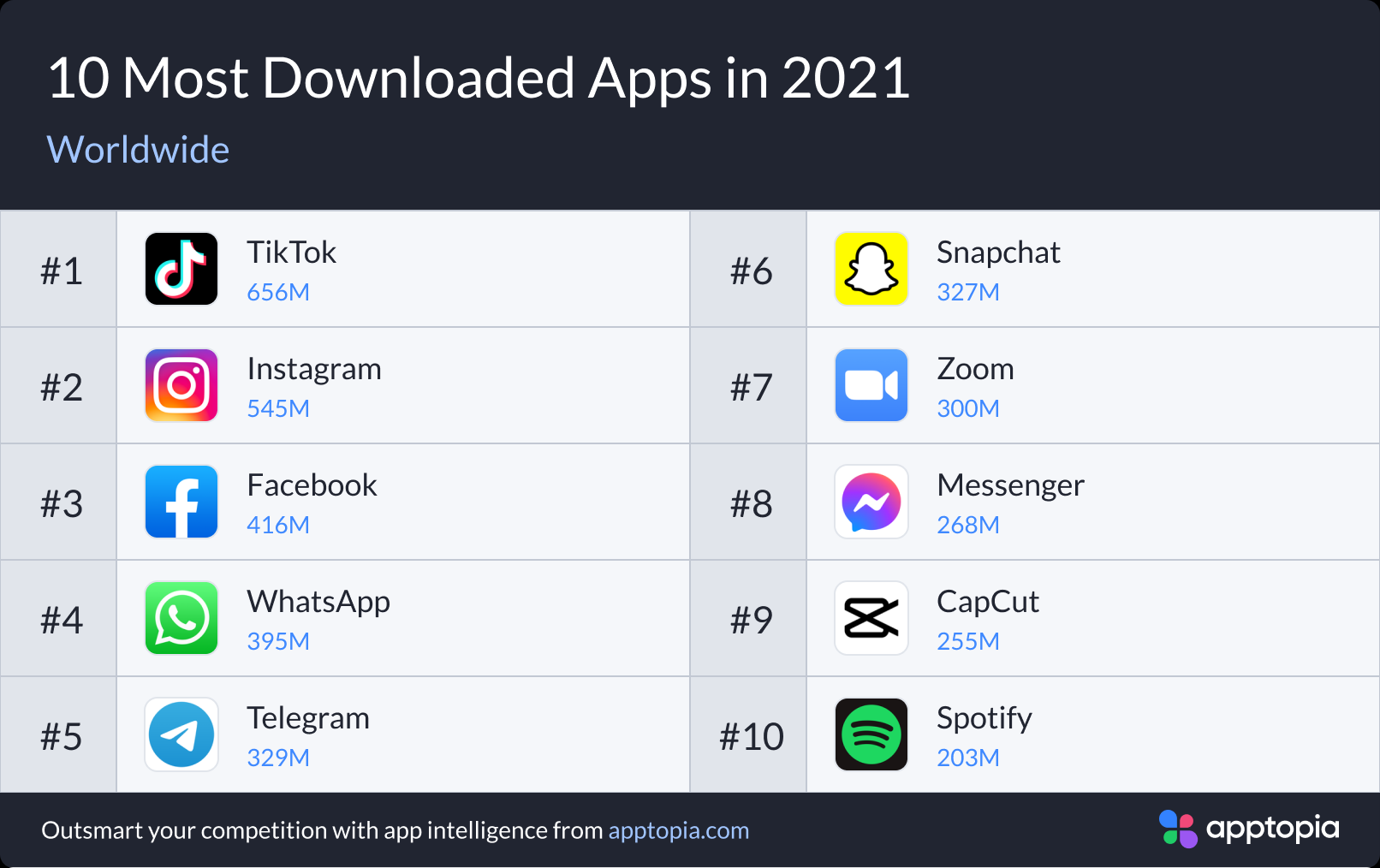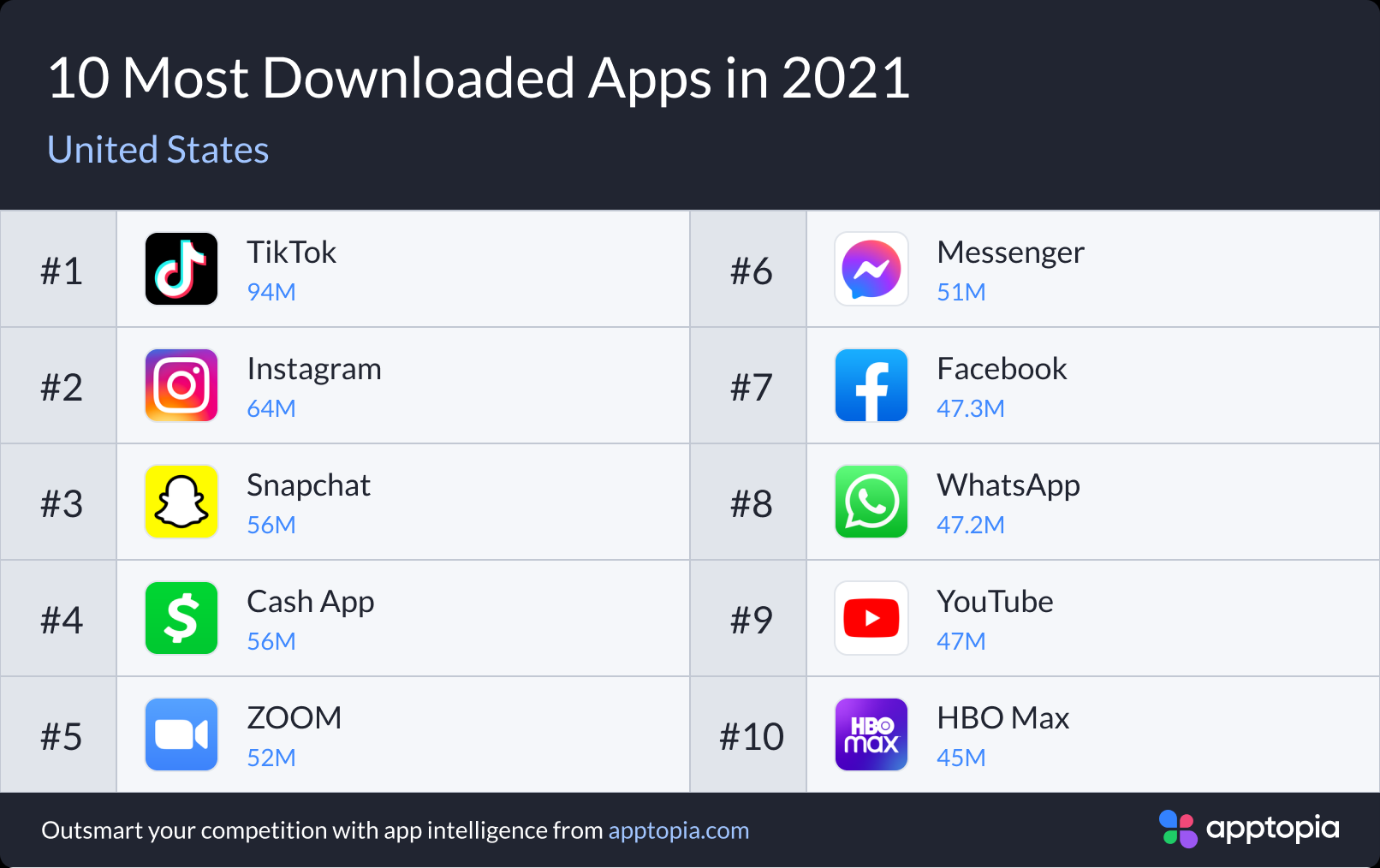 A lot of these apps are the same every year, with Facebook Meta owning four of the top 10 spots and most of it being devoted to social networking apps. This year Bytedance has secured two spots, one for TikTok and one for its video editing app, Capcut. Many times the most downloaded apps are those with a network effect. Looking at the US market, it's a similar set of apps but what's different this year is that HBO Max is the only video streaming subscription app making the cut. Last year both Netflix and Disney+ were on the board.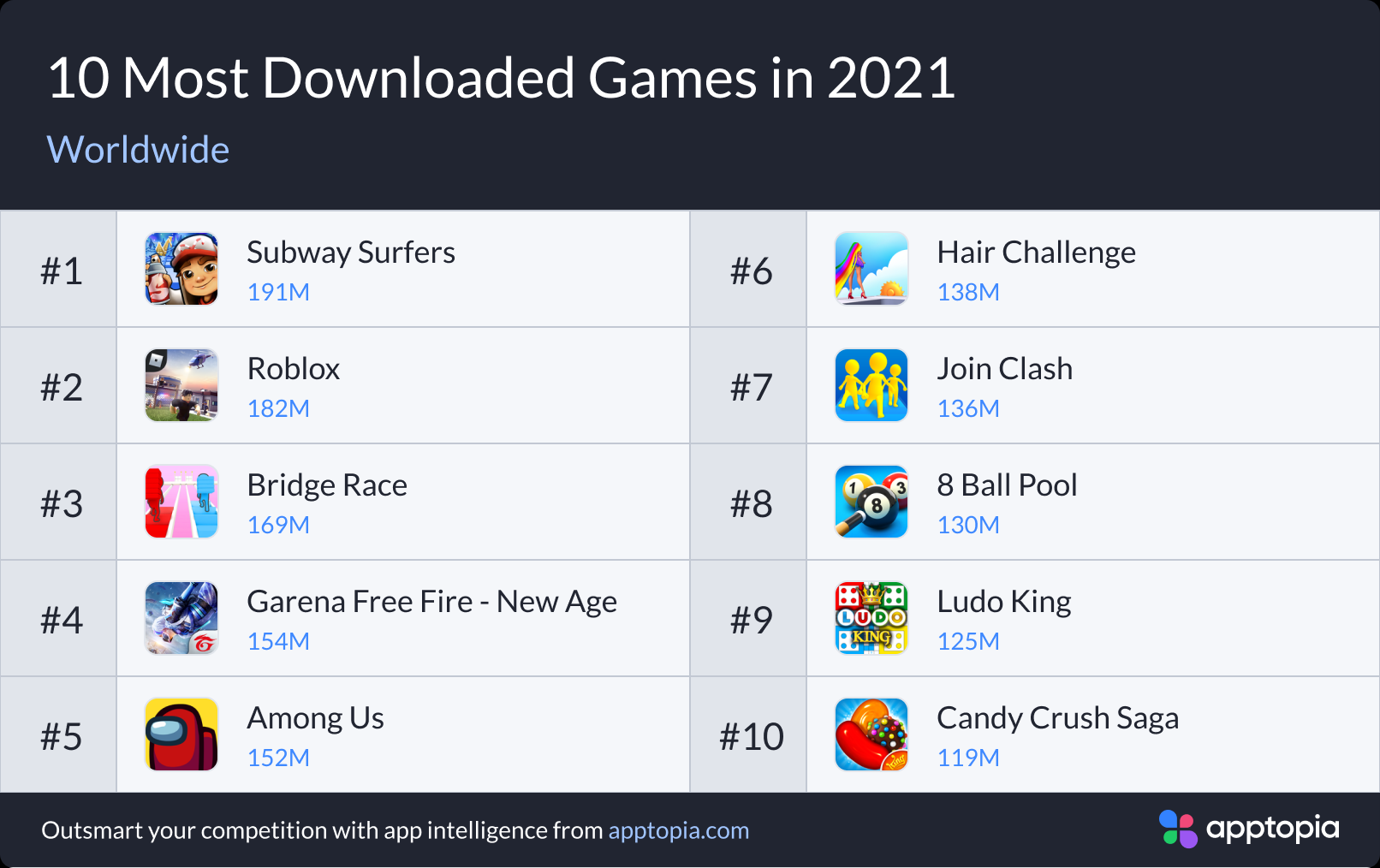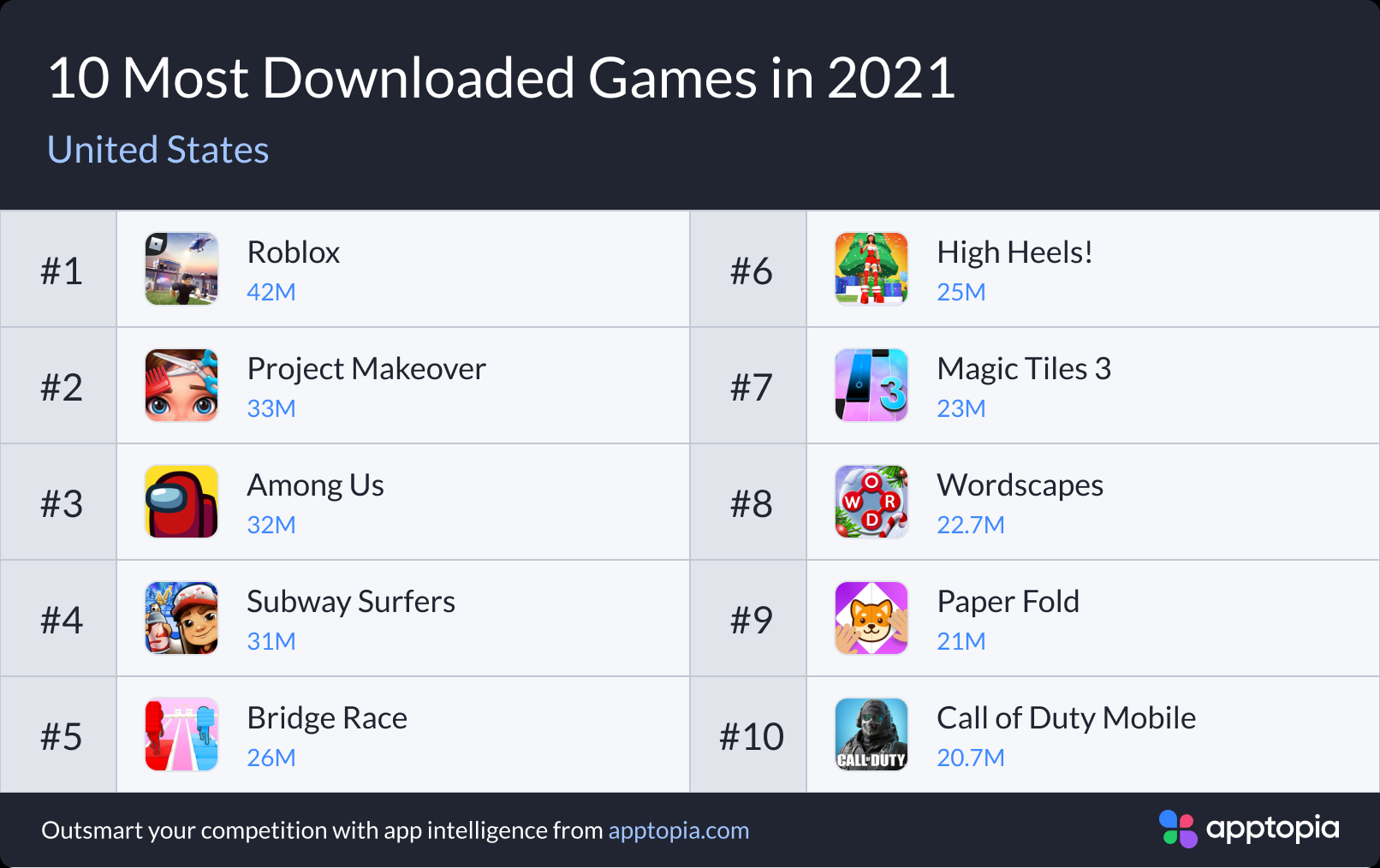 Subway Surfers has won a lot of awards but maybe it needs a few more. Having launched in 2012, it's been a top two most downloaded games for the past five years running. Among Us, which was the top downloaded game last year, is still hanging around the elite. Many thought it was a pandemic game of the moment but it appears to be holding strong, recently building in localized language.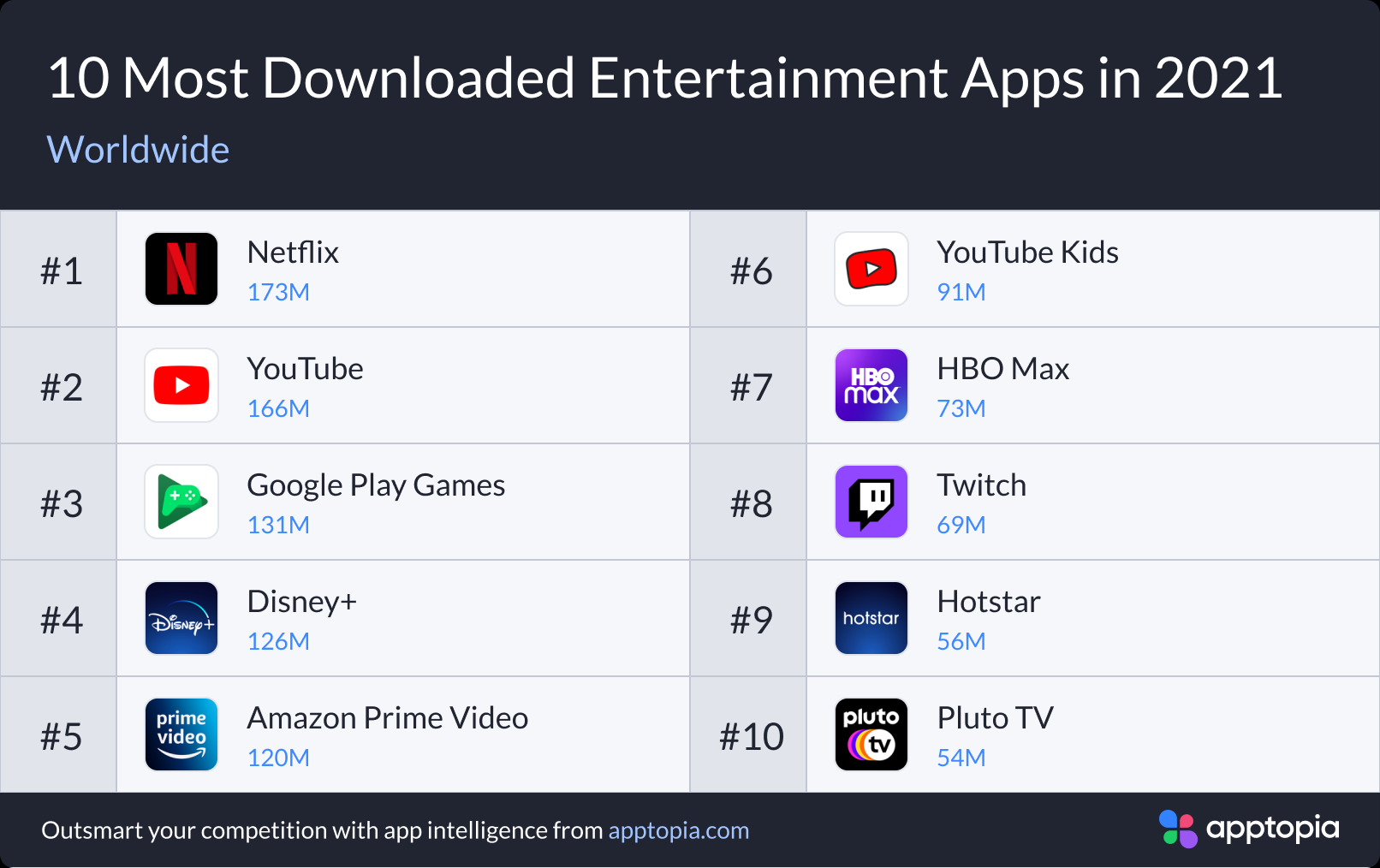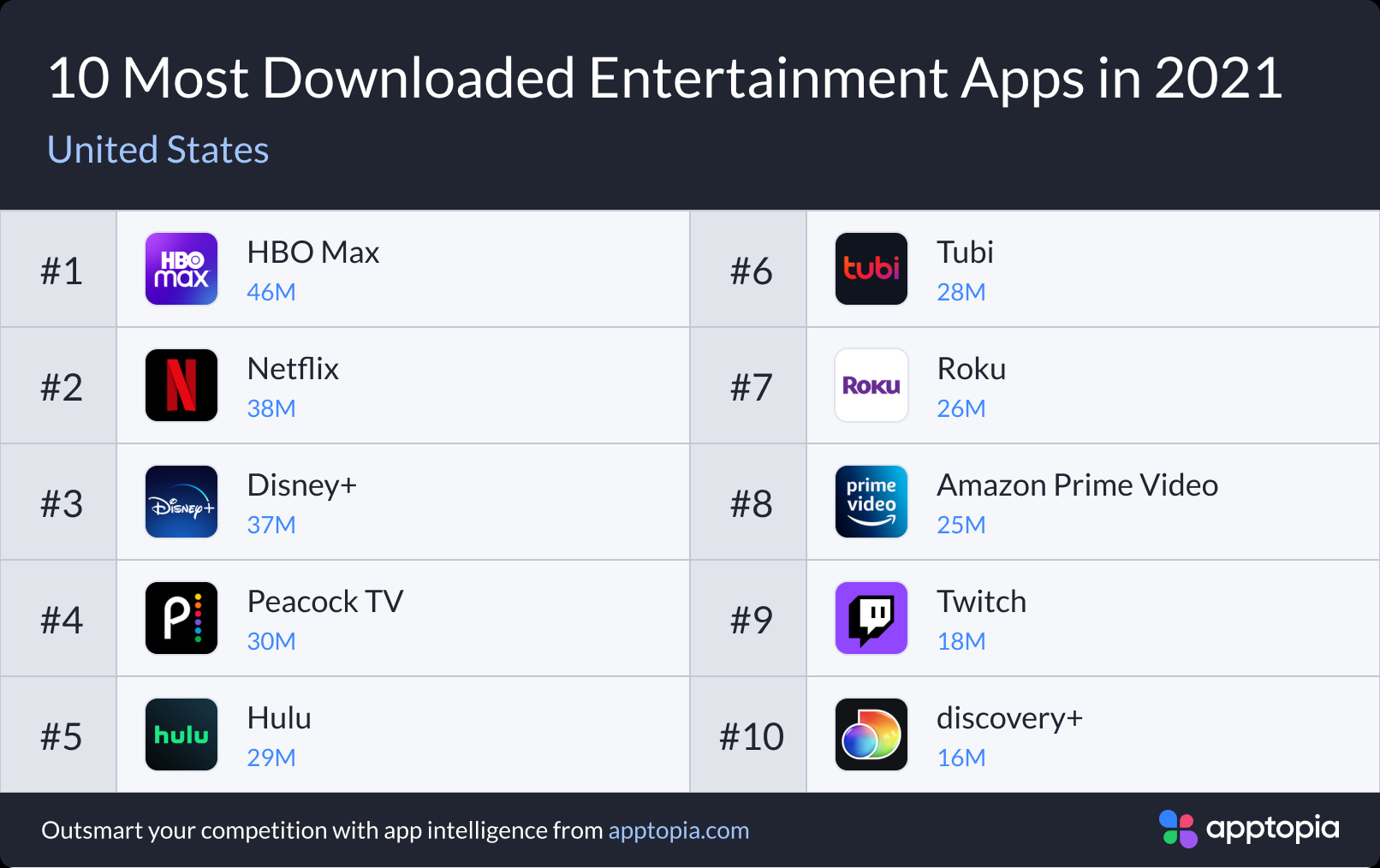 Between launching in Latin America and providing same day theatrical releases, HBO Max has taken over for Disney+ as the fastest growing streaming subscription service.
The top list for the US includes Tubi, an advertising supported video service (AVOD) bought by Fox in May 2020. This year has been the best year for AVOD apps in the US by measure of downloads. As judged by US monthly active users, Tubi is leading the way.
I asked Tubi's Chief Content Officer, Adam Lewinson what has led to its success. He explained that "Free streaming has never mattered more than over the last year. We're thrilled to be a part of this list, due in part to Tubi Originals debuting earlier in the year and experiencing tremendous success with these popular titles, including animated series THE FREAK BROTHERS, starring Woody Harrelson, John Goodman, Tiffany Haddish and Pete Davidson; SWIM, starring Joey Lawrence; and TALES OF A FIFTH GRADE ROBIN HOOD, starring Jon Lovitz. Tubi's original titles complement our growing library of 35,000 premium movies and television series across Black Cinema, Spanish language, kids and family, LGBTQ+, thriller, horror, sci-fi, romance and Western genres, making it a streaming destination that has something for everyone."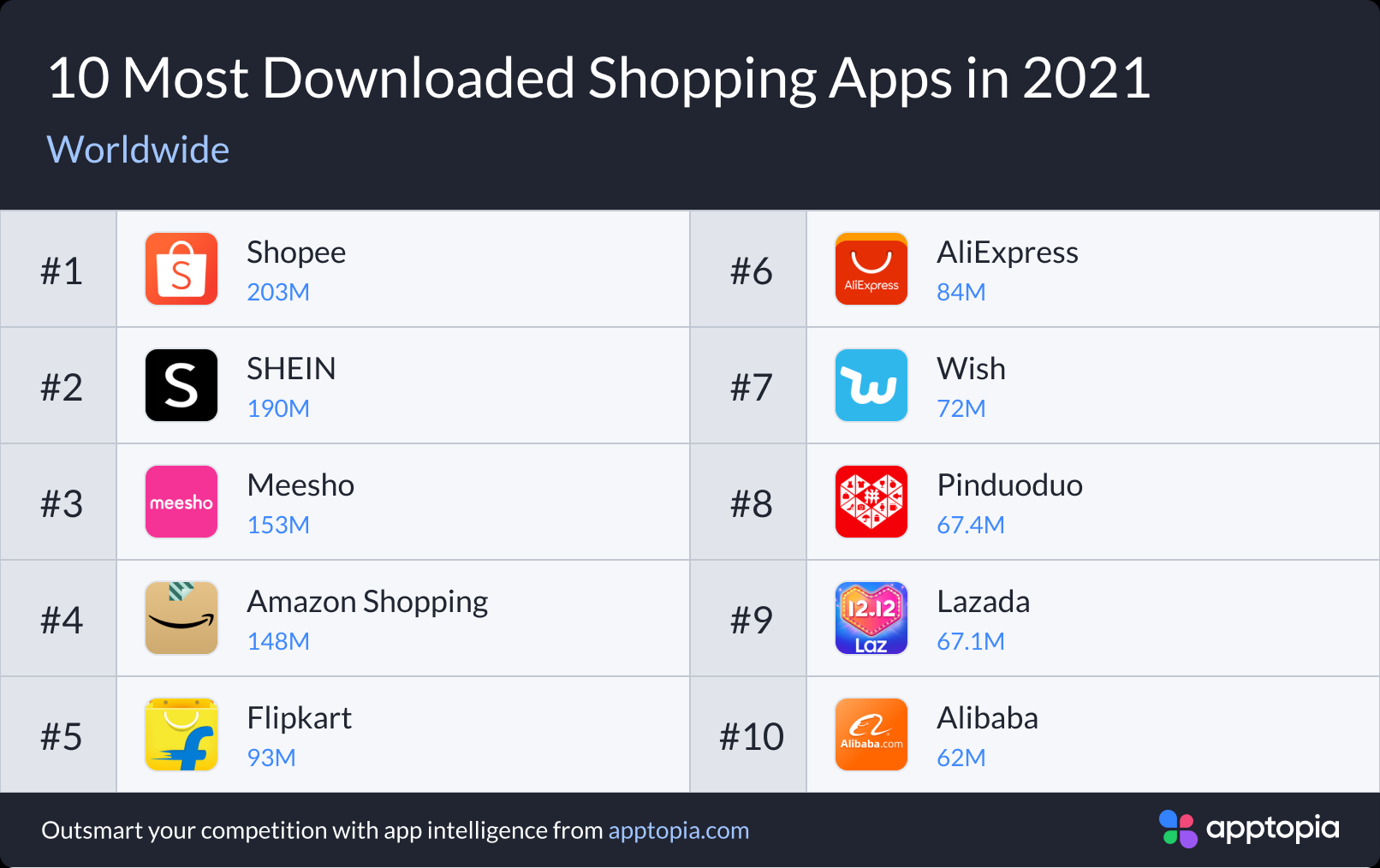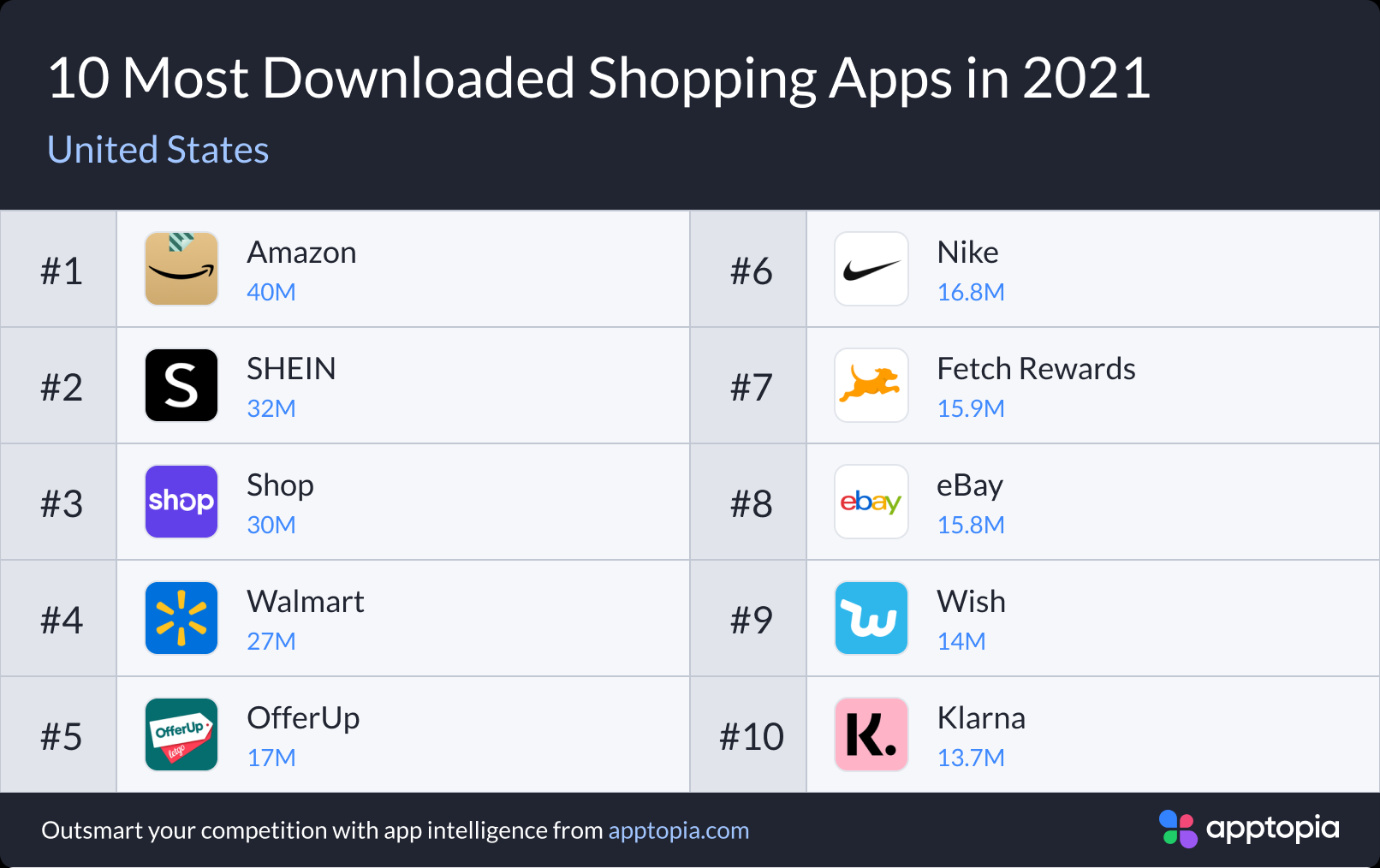 This year, Amazon moved from #1 all the way down to #4 in order to make room for Shopee, SHEIN and Meesho. Meesho is a reseller and marketplace platform combined, specializing in social commerce (similar to Pinduoduo which is at #8). The company raised $300M earlier this year in April at a valuation of $2.1B. It became the first ecommerce company in the country of India to introduce zero percent commission for its sellers. Shopee, which originally competed with Alibaba's Lazada in Southeast Asia, has extended into Latin America where it's successfully taking on Mercado Libre.
Klarna, a 'buy now, pay later' app, made the top 10 list in the US for the first time this year. Klarna is interesting because it is viewed as a fintech app as well as a shopping app. Buy now, pay later is and has been a major trend in ecommerce, hitting its biggest holiday season in 2021. I asked Klarna's Chief Marketing Officer, David Sandstrom, about this milestone. He said "The Klarna app elevates the end to end shopping experience with smart tools to help consumers save time, money and giving them more control over their finances. The fact that Klarna has become one of the most downloaded shopping apps in the US this year illustrates how much this is truly resonating with consumers and equally driving engagement and loyalty for retailers - a trend we expect to continue next year."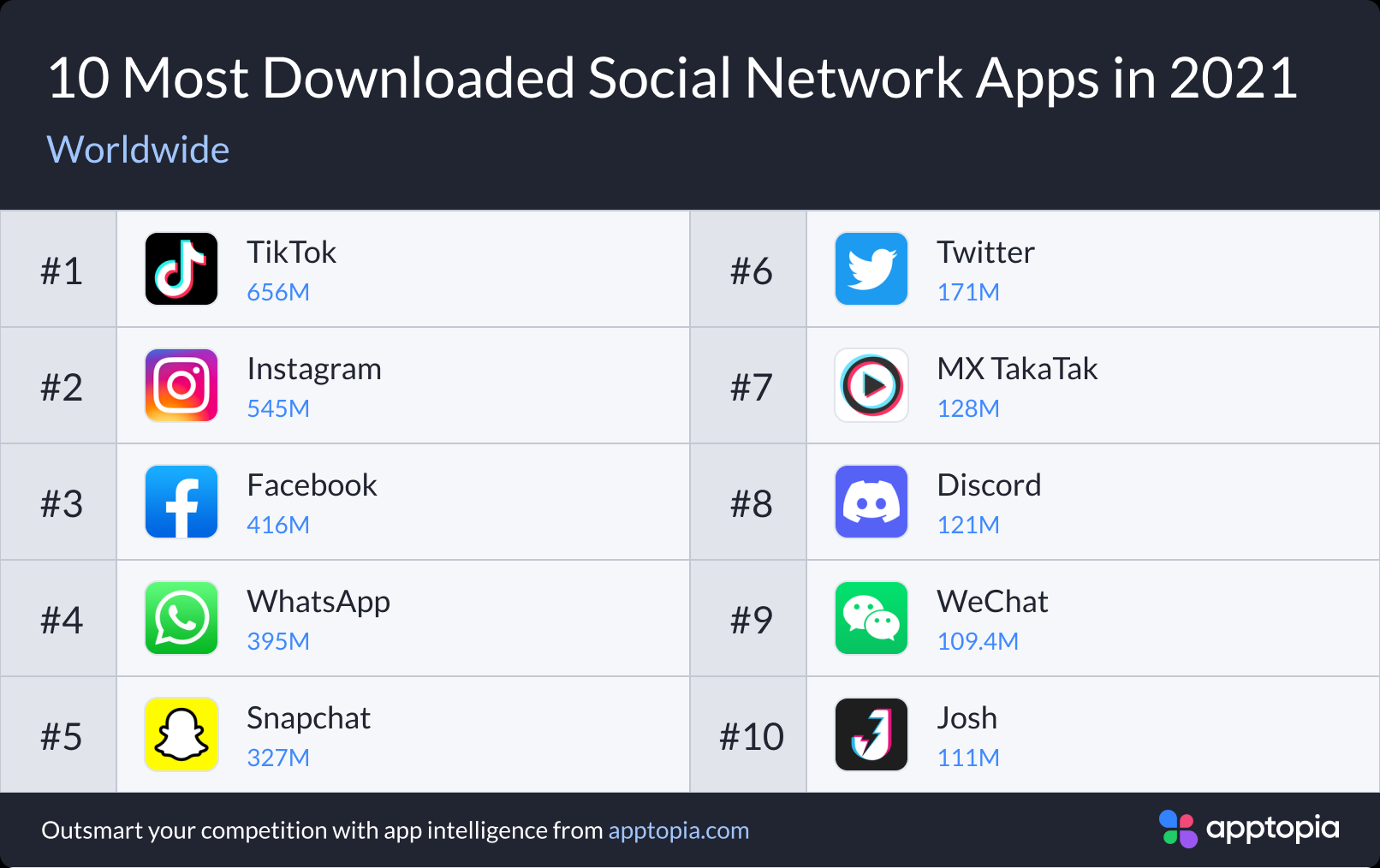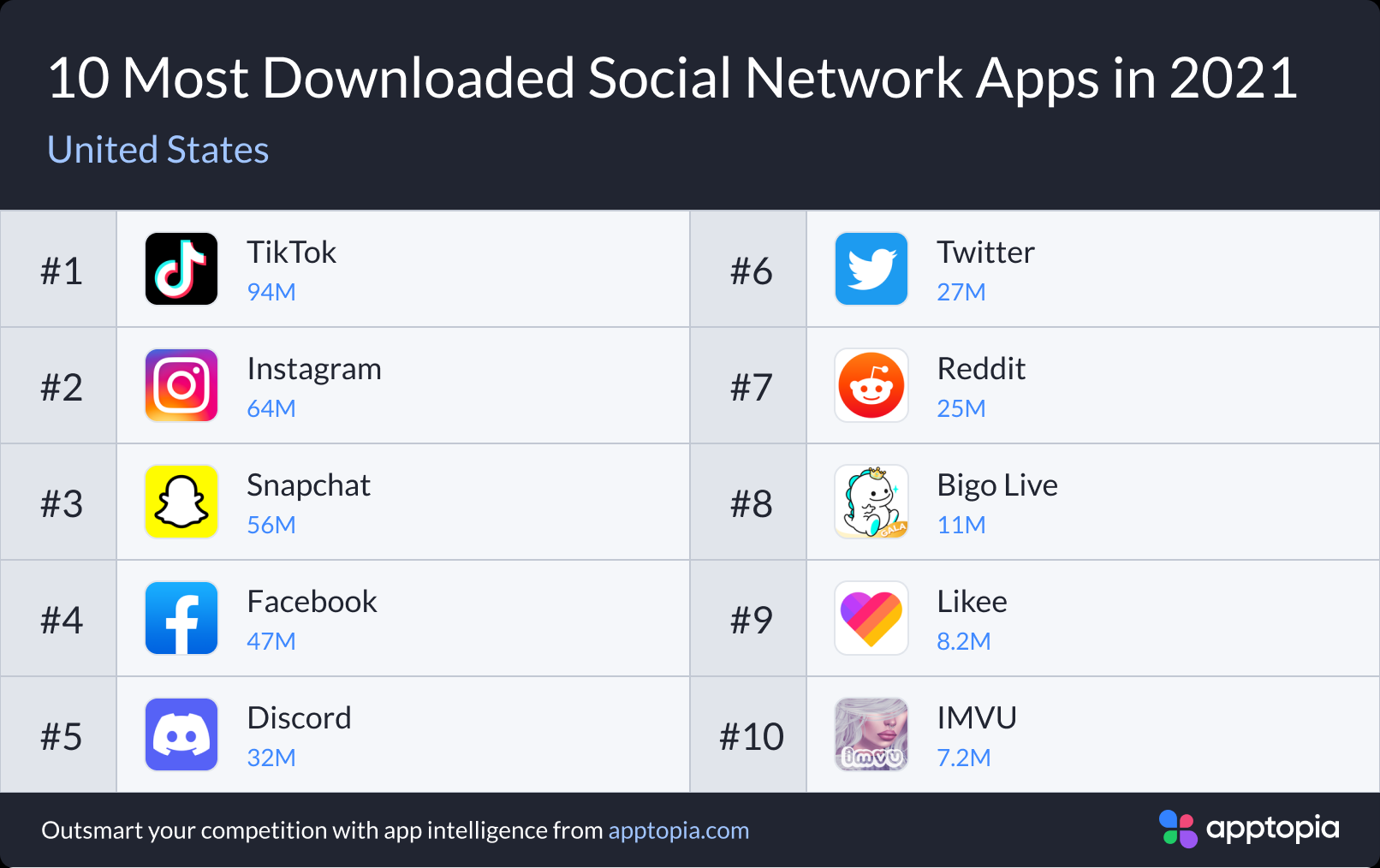 Because of TikTok being banned in India and the country's large population, apps like MX TakaTak and Josh have sprung up to fill the short-form social video app void. They soared onto the top charts last year and have stayed for 2021. In the US, we're seeing social apps from Asia continue to grow, such as JOYY's Bigo Live and Likee.
A newcomer to the US list is IMVU, an avatar-based social network. I reached out to Lomit Patel, SVP Growth for Together Labs to find out what led to the app's big year:
"IMVU is proud to be at #10 in the Social Network category for the United States. The biggest drivers to our success have been to leverage AI and automation to cost-effectively and significantly grow our thriving community of users and creators and to innovate the product with new features and experiences that drive retention and engagement."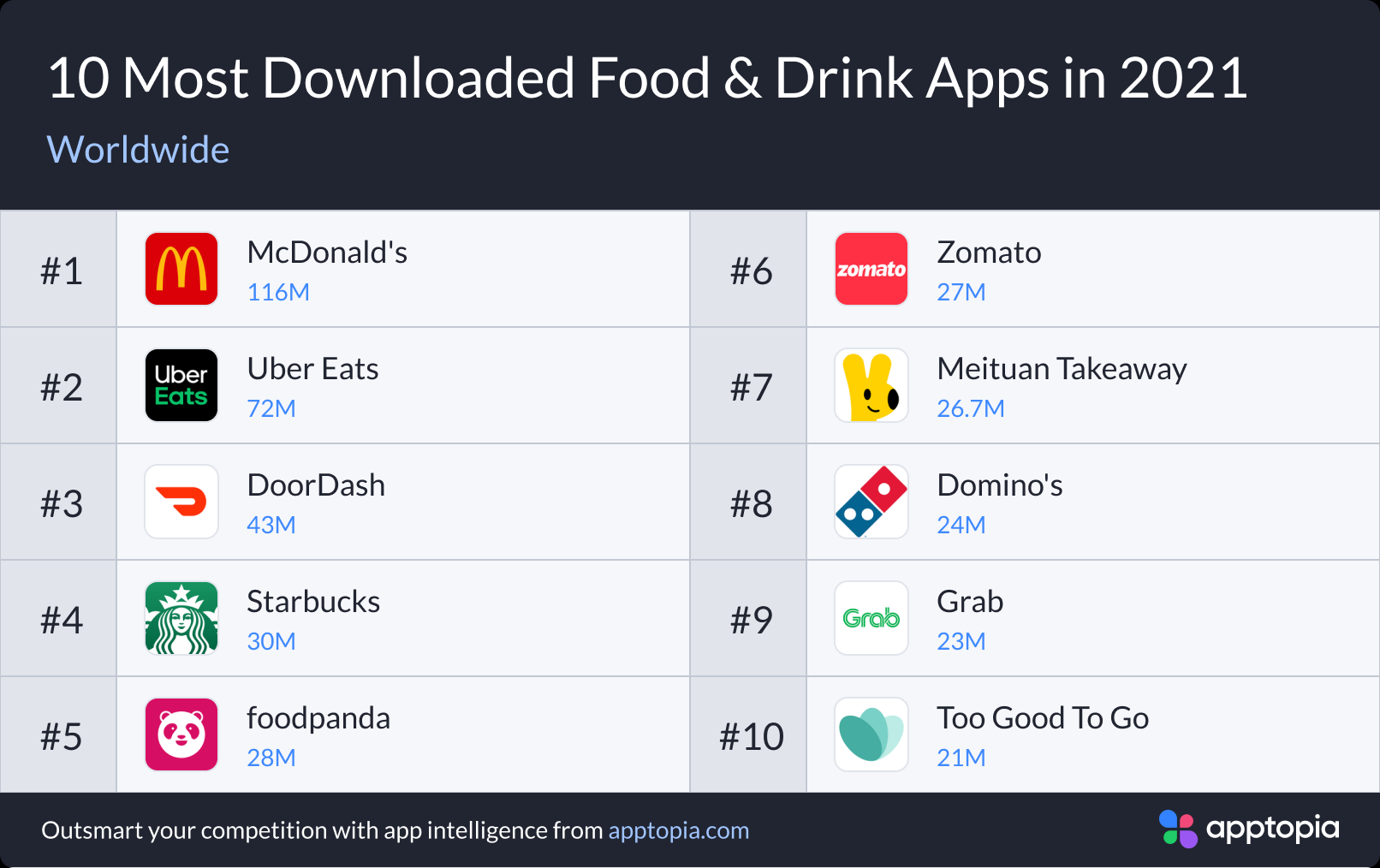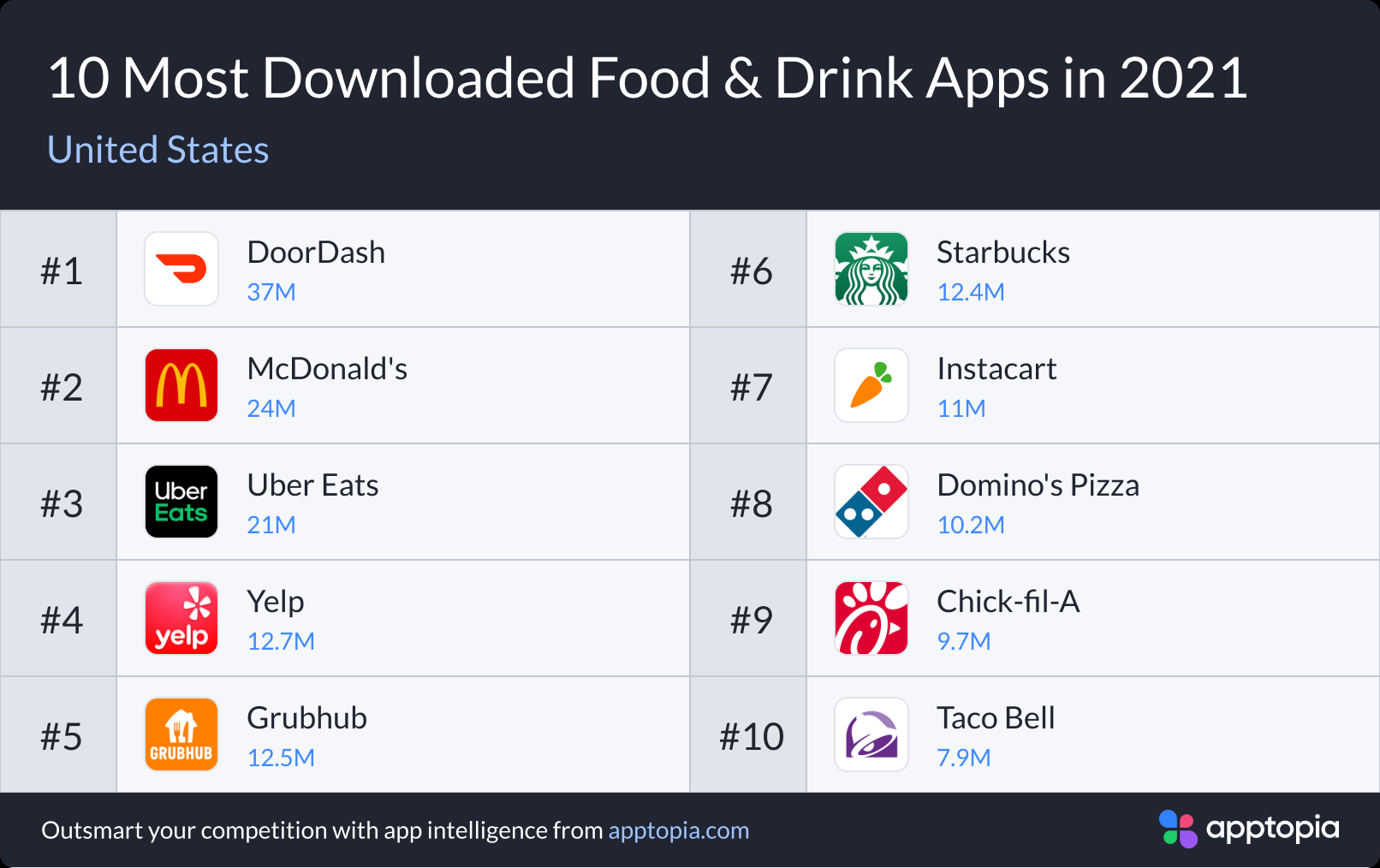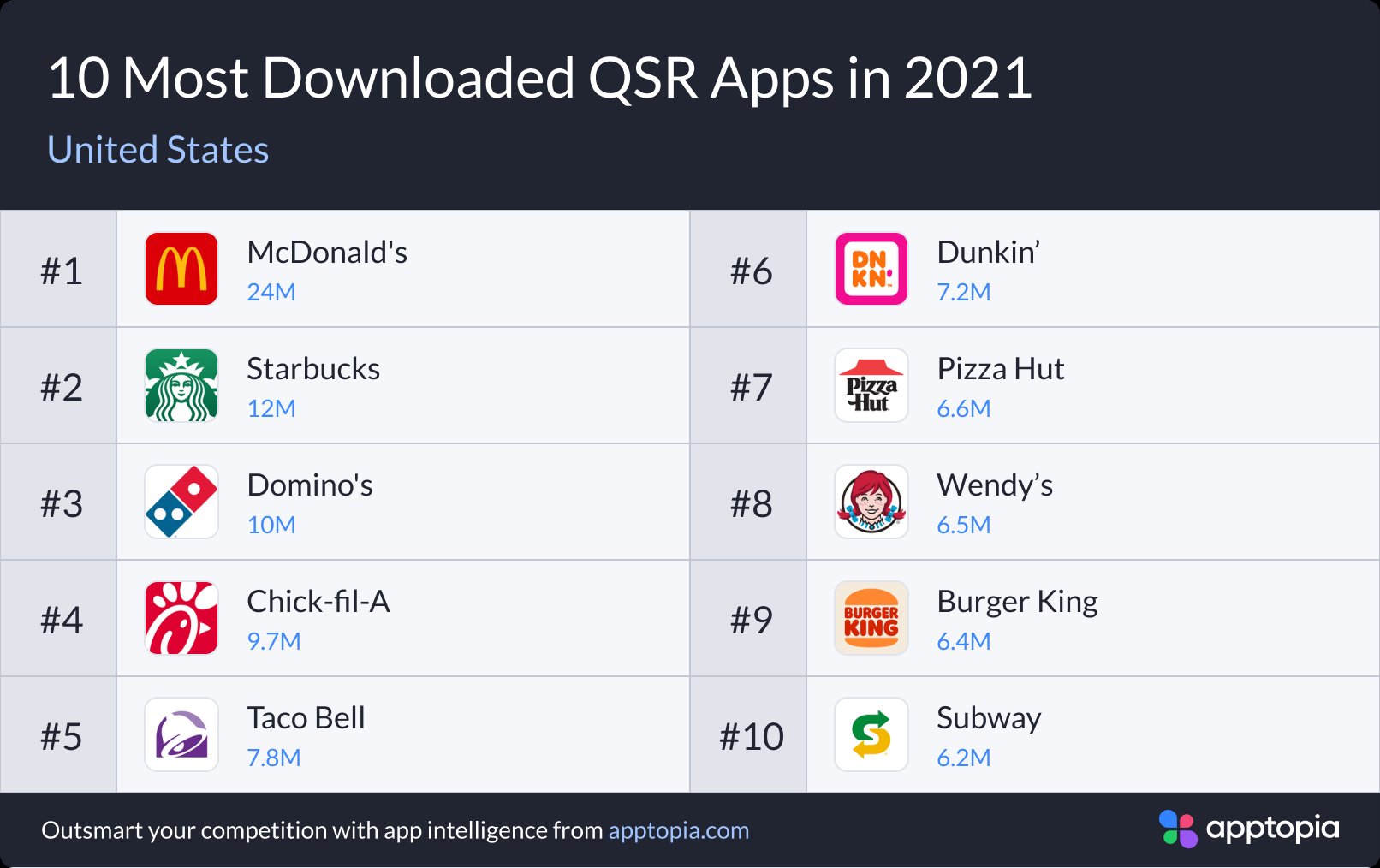 There's a lot we could talk about here but that's what I have my QSR column for. The most surprising (and happily so) thing to me this year is Too Good To Go's arrival on the top global chart. The app enables users to get food from local restaurants that would otherwise be thrown out at the end of the day, for a fraction of the cost it normally would. Launching in new US cities this year has been a big boost for the app.
"The United States has really embraced our super simple concept for saving surplus food, to the point where we've never seen this amount of impact and growth in a new market this quickly. In just one year since launching in the U.S., consumers and food businesses have saved over 1.2 million meals," said Lucie Basch, Co-founder of Too Good To Go. "We're so excited to bring our solution to even more U.S. cities in 2022 and can't wait to see what next year holds."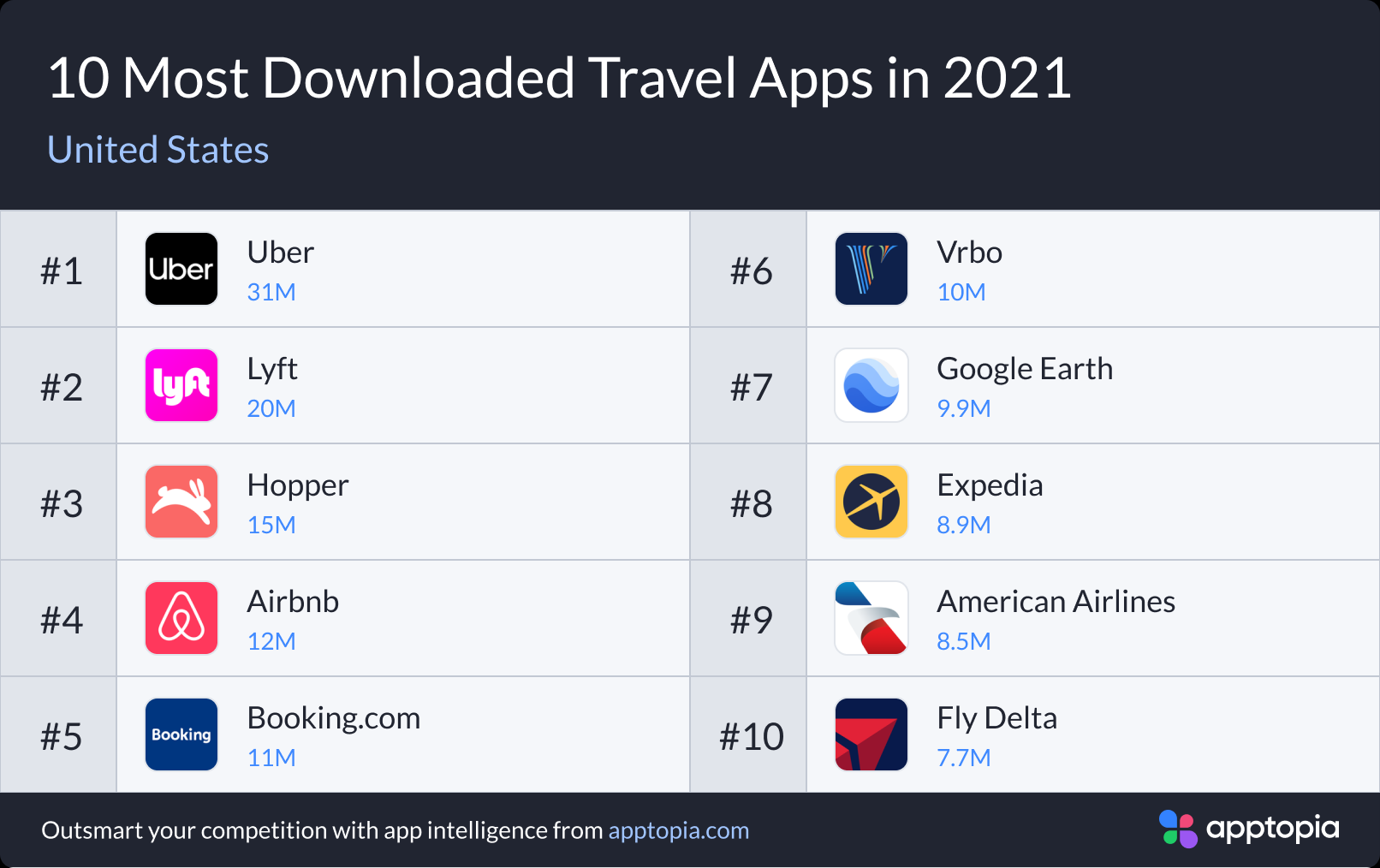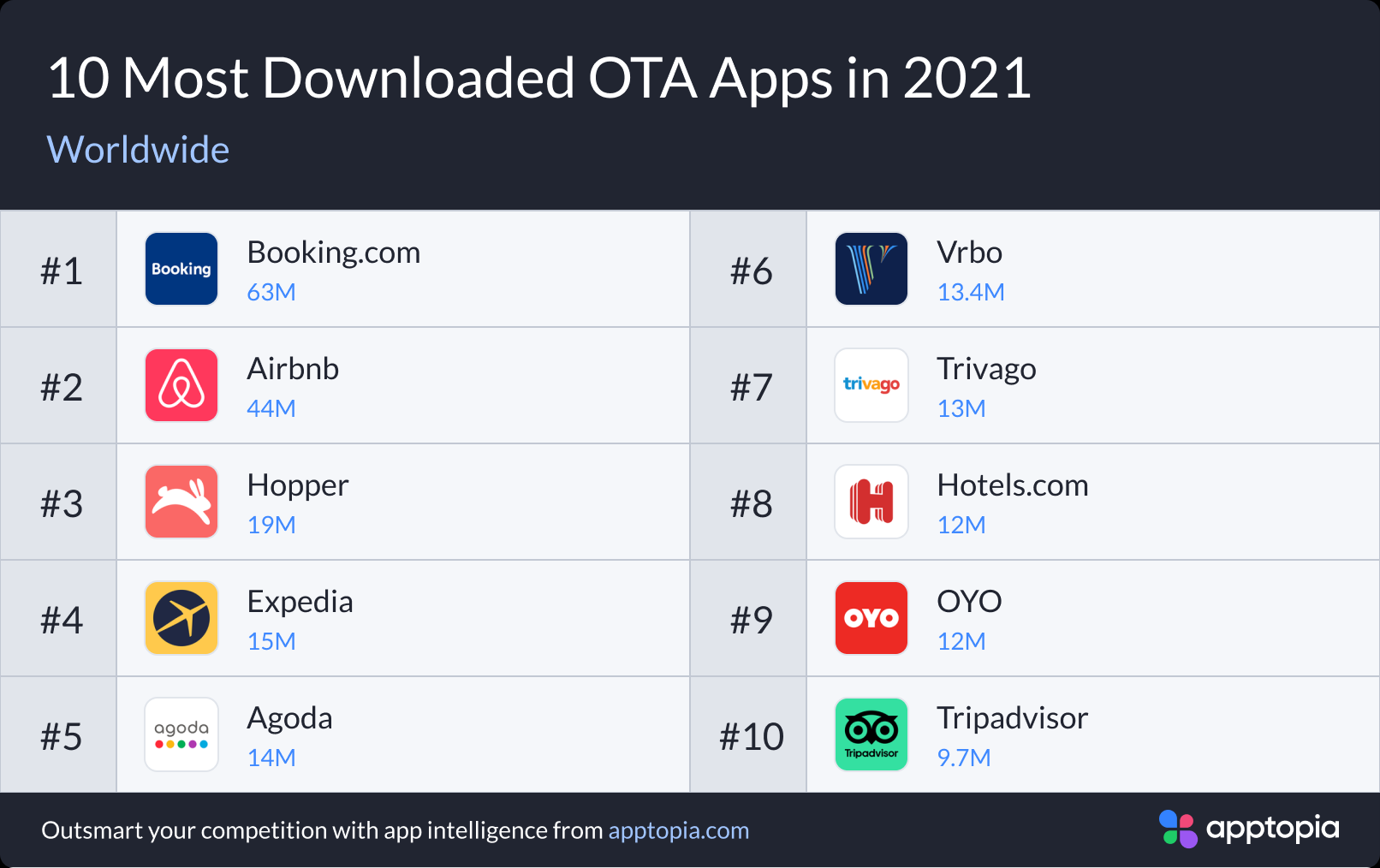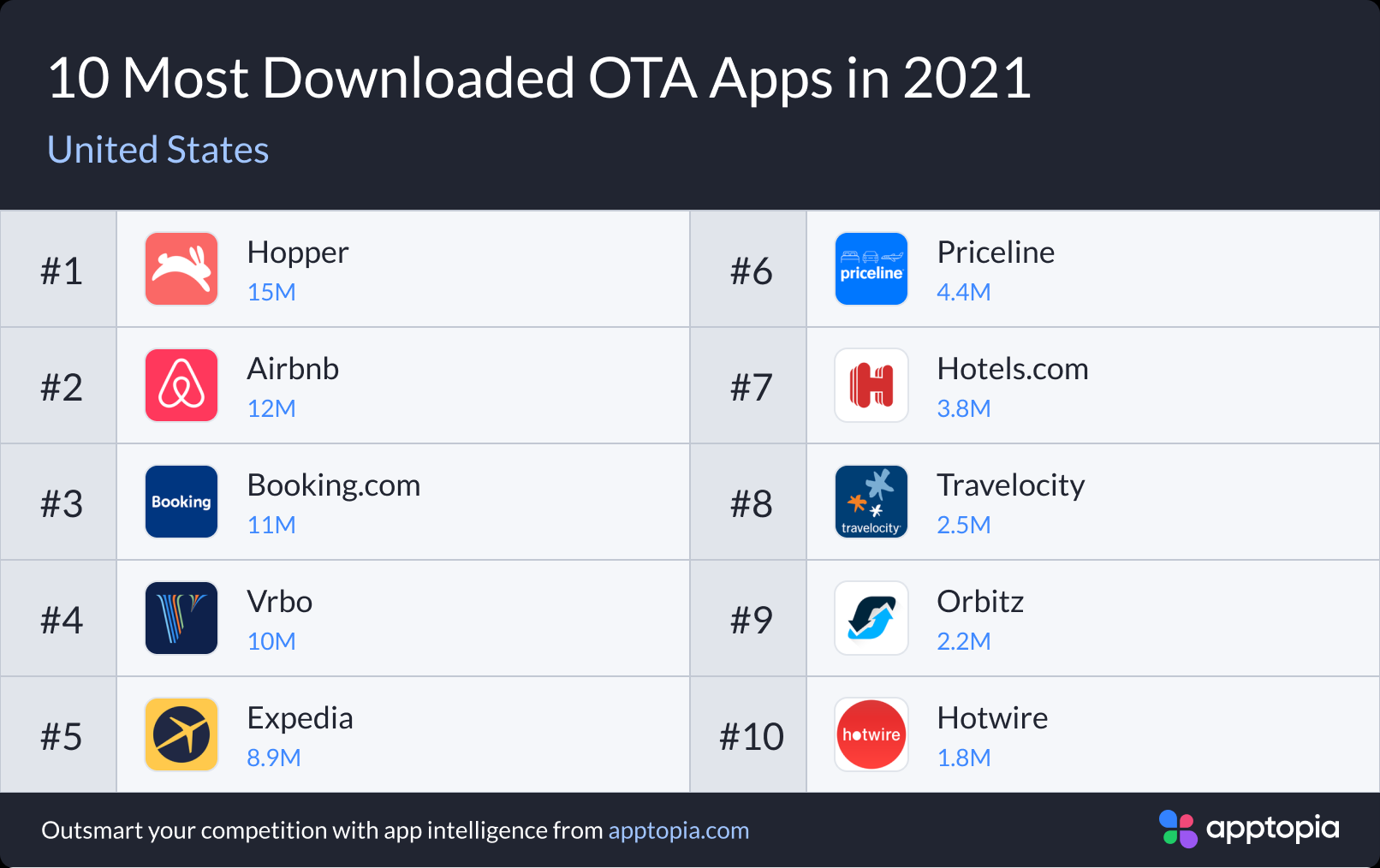 Online travel agency apps have bounced back very nicely after 2020. Pent up demand has led to new highs in downloads for many apps, most noticeably, Hopper. Hopper had 5.3 million US downloads last year and now leads our list this year with 15 million. It also was the third most downloaded app on our global chart with 19 million. We had to know how the app created such a surge — so we asked:
"The pandemic has fueled a widespread appetite among travel bookers for flexibility and the ability to reduce financial risk. In late 2019, Hopper introduced a suite of travel fintech products, including Price Freeze, Cancel for Any Reason, Flight Disruption Guarantee and more, and in the past year we've seen the adoption of these products skyrocket. Today, around 50% of our revenue comes from these fintech products, and on average, customers are buying around two fintech products on every trip they book. With the volatility we are seeing in today's travel industry, leisure travelers want to ensure that their money and experiences are protected."
Dakota Smith, Chief Strategy Officer at Hopper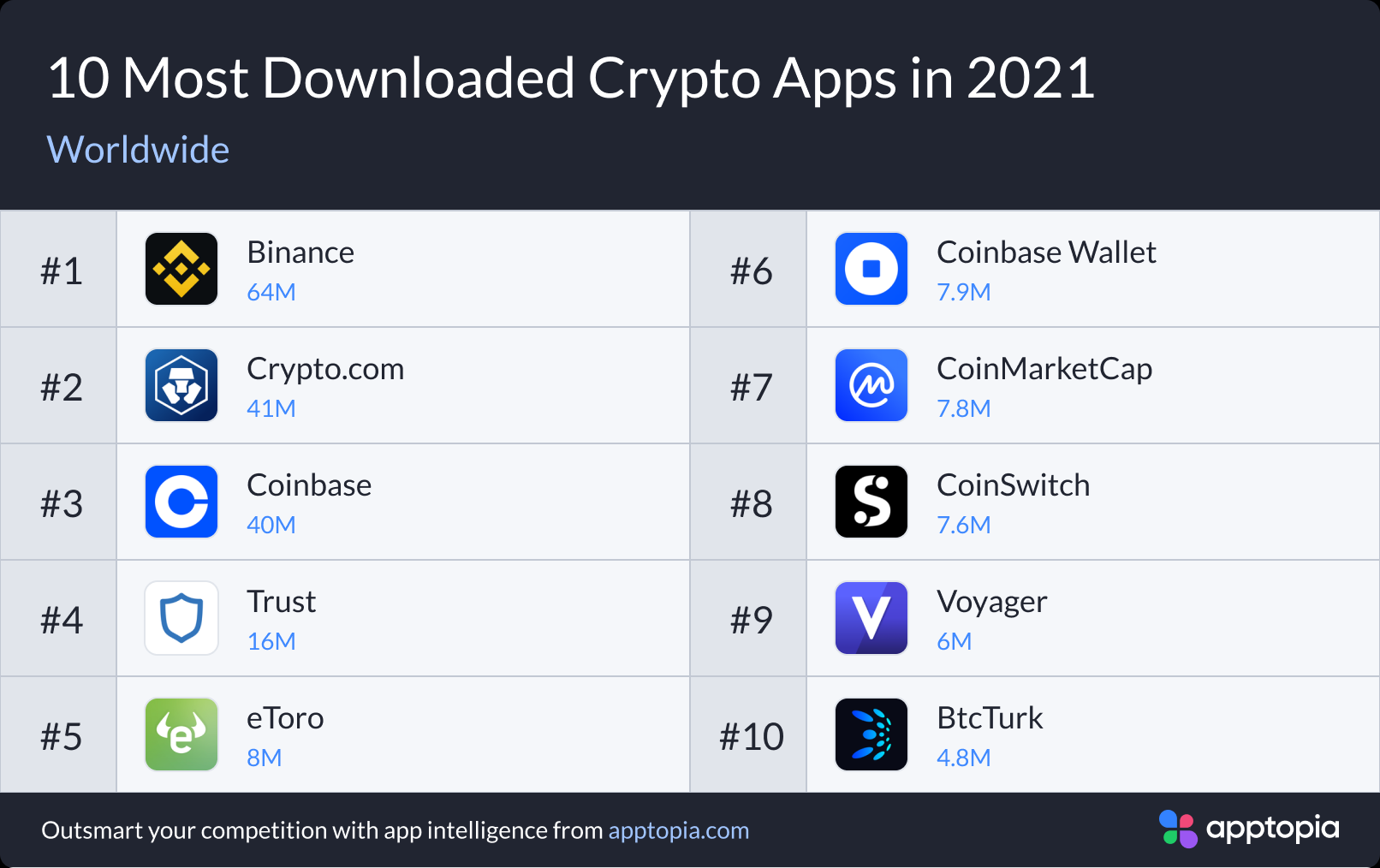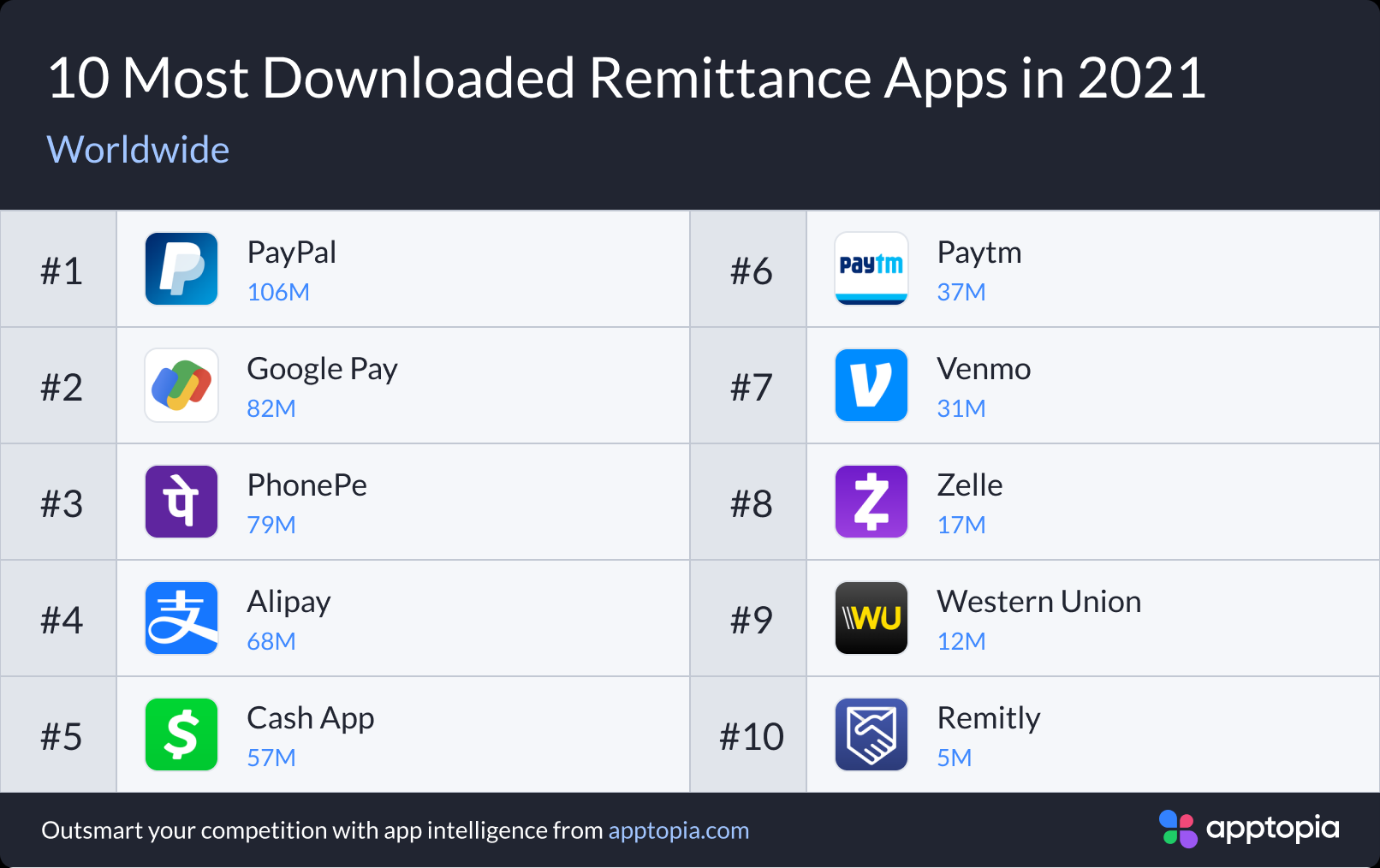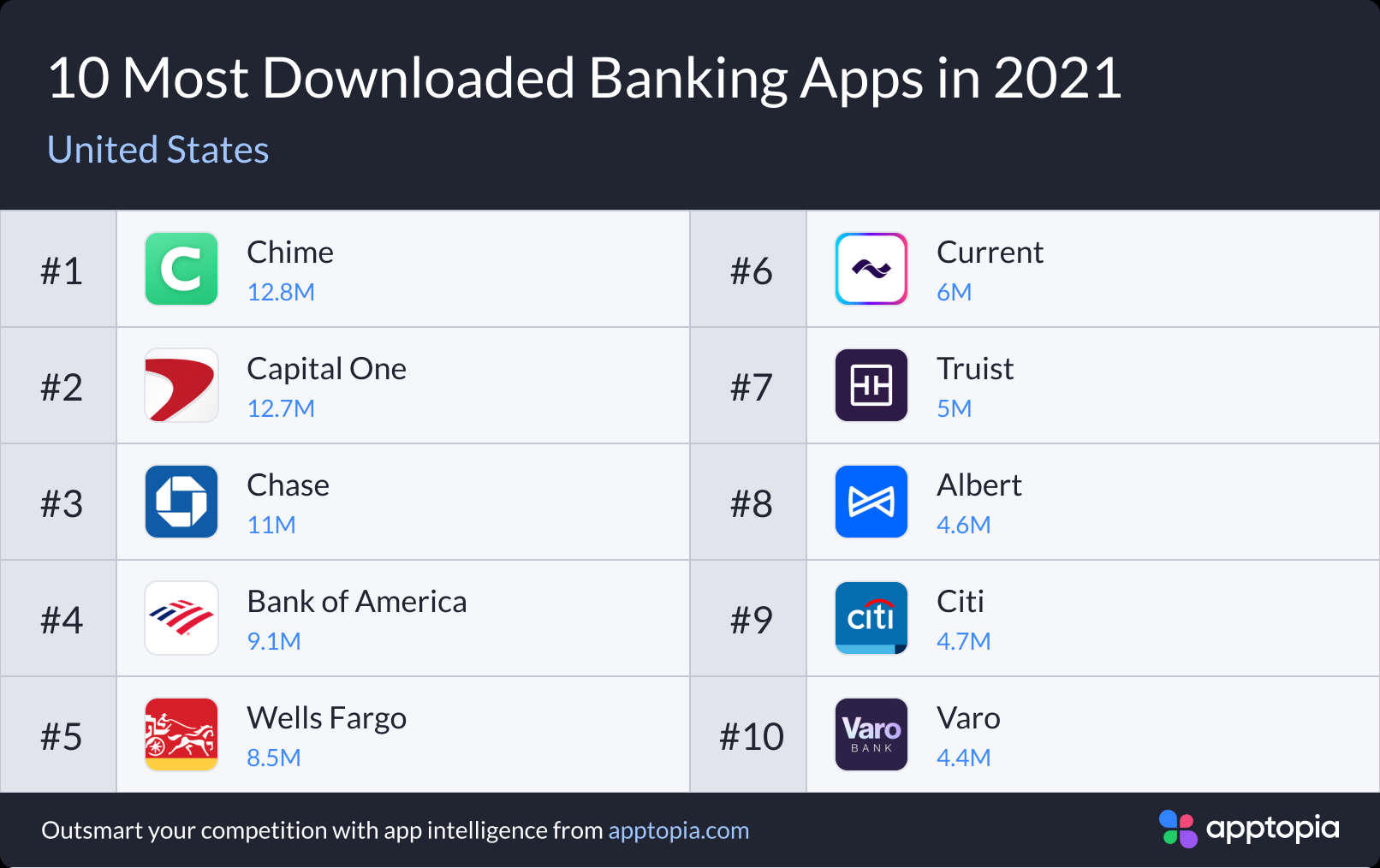 Crypto apps have absolutely exploded. Last year the top three apps combined for 18 million downloads and this year they combined for 145 million. As it pertains to US banking apps, there is a good mix of mobile-first banks on the list with Chime leading all apps for the second year in a row. You'll notice we did not include Robinhood or Cash App on this list. This is because we focused on primary function for the apps and Robinhood is not what we would call "crypto-centric."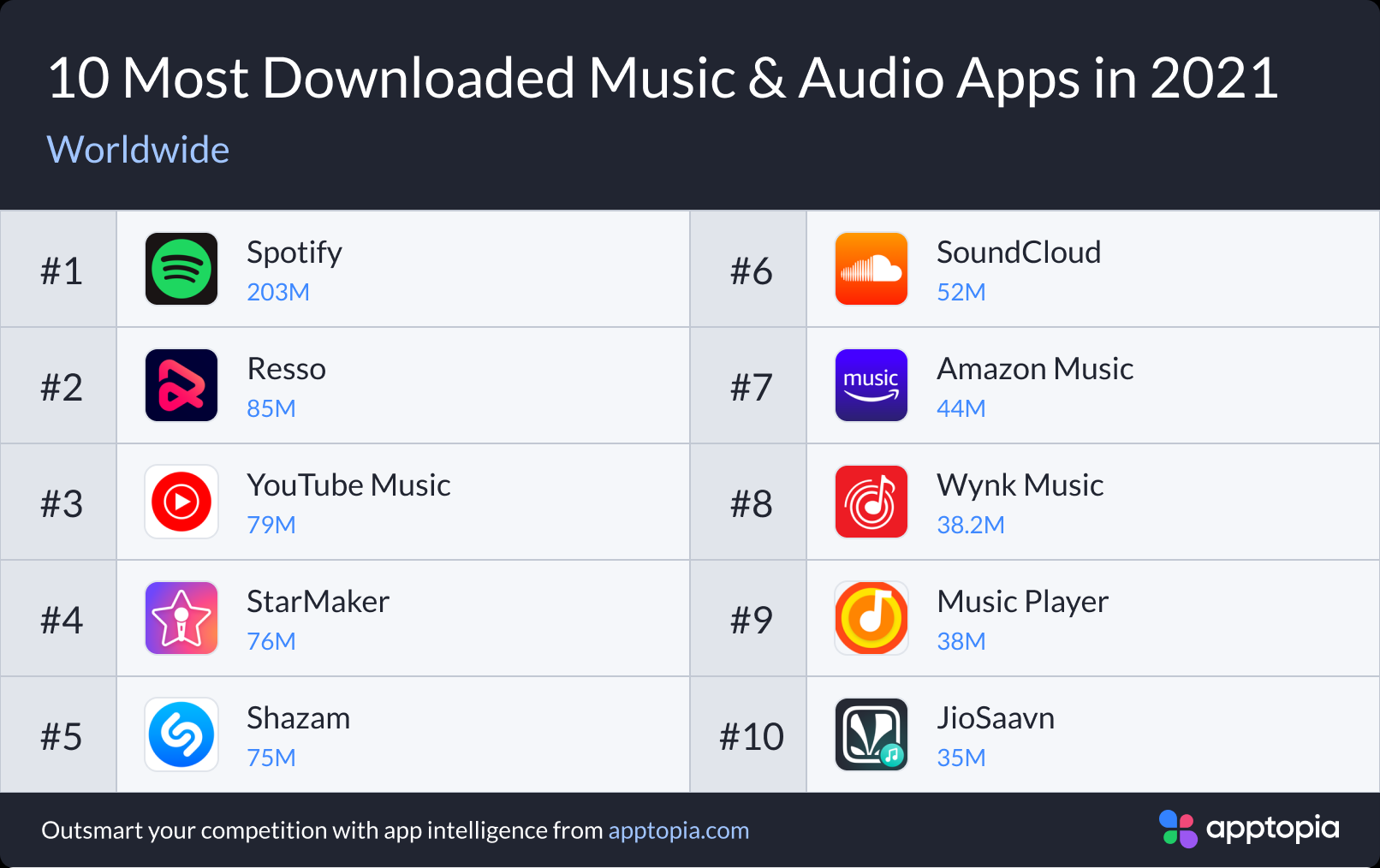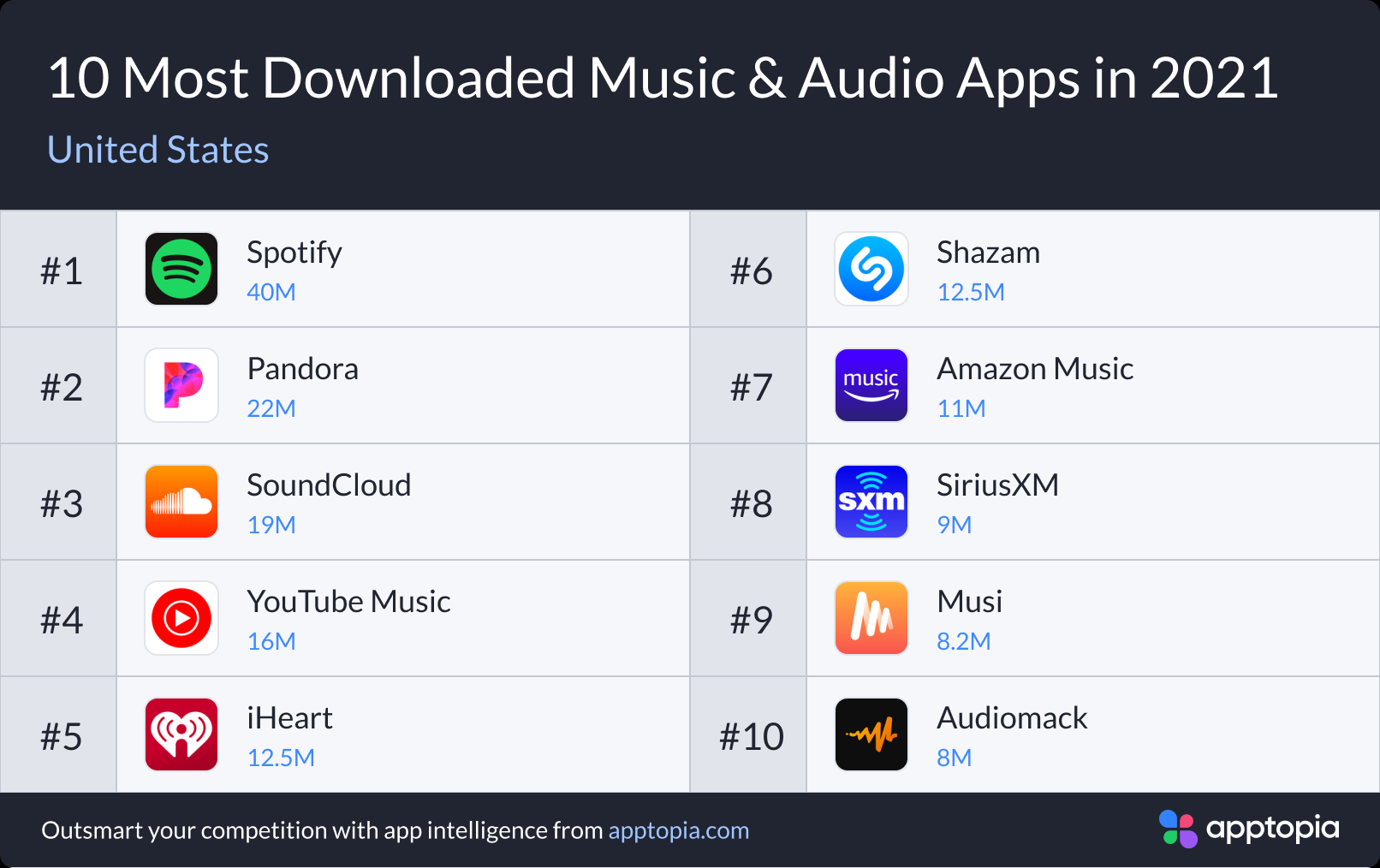 While Spotify continues to blow all competitors out of the water, a newcomer has gone from not on the top charts at all last year, to all the way to the second most downloaded music streaming app in the world. That app is Resso, which is owned by Bytedance, maker of TikTok. Resso launched in May 2019. The app is live in Brazil, Indonesia and India.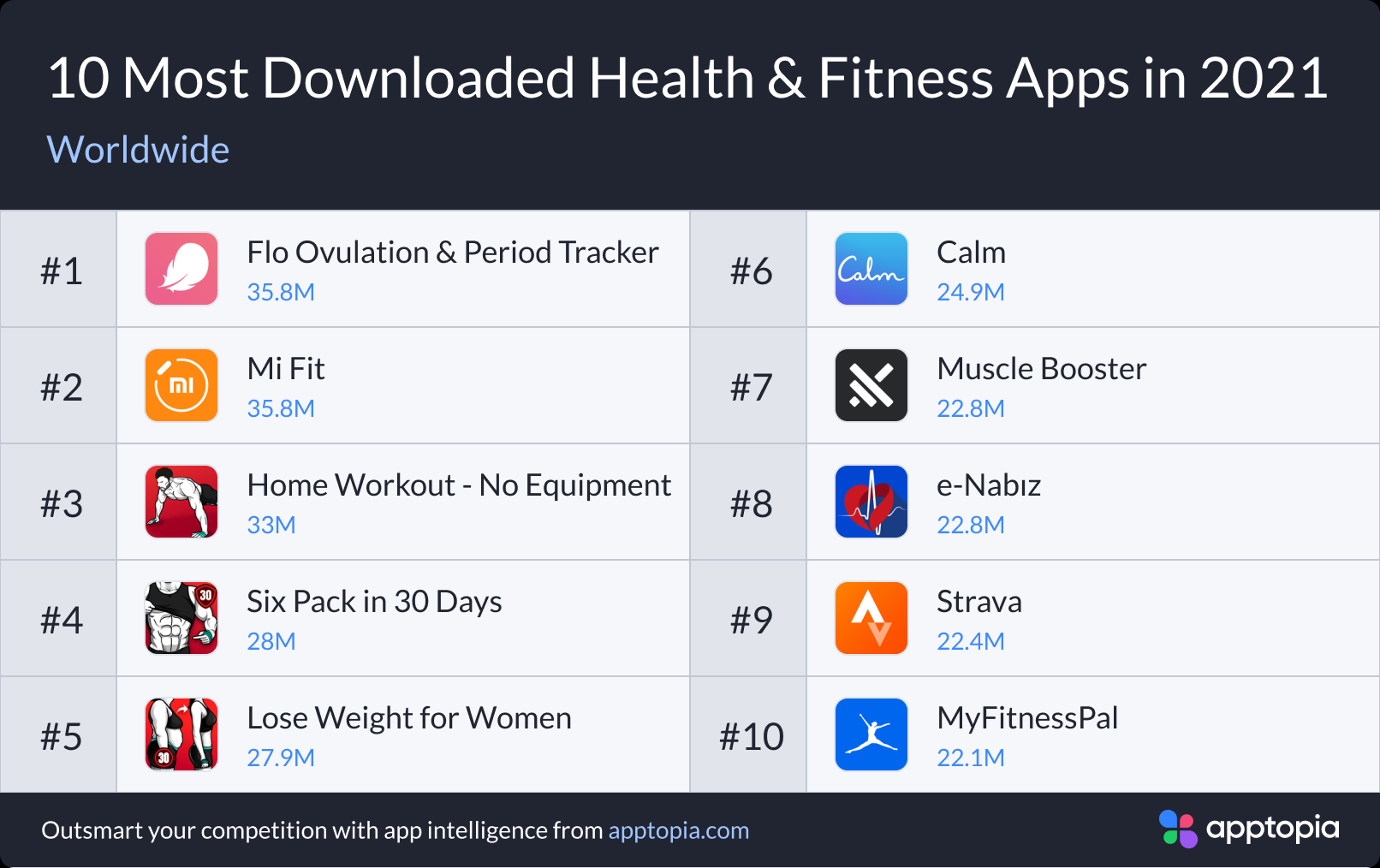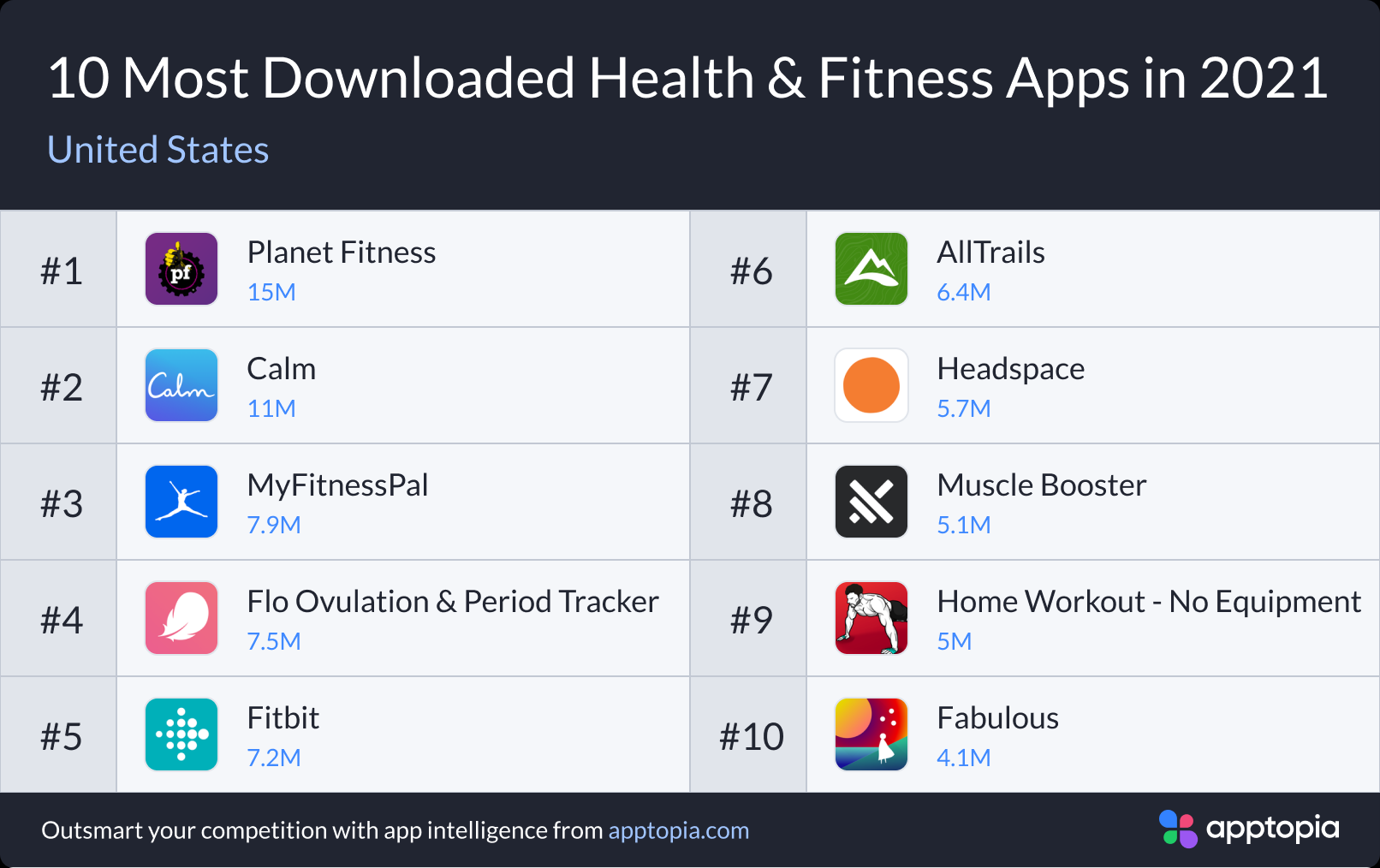 Flo jumps up from #5 to #1 on the global chart this year, having launched the ability to be used with Android smartwatches. In the US, Planet Fitness, which is a gym, dethroned meditation app, Calm for the #1 spot. Planet Fitness began offering video workouts through its mobile app in the early days of the pandemic as gyms shut down. The gym now requires the app to gain access to its physical locations.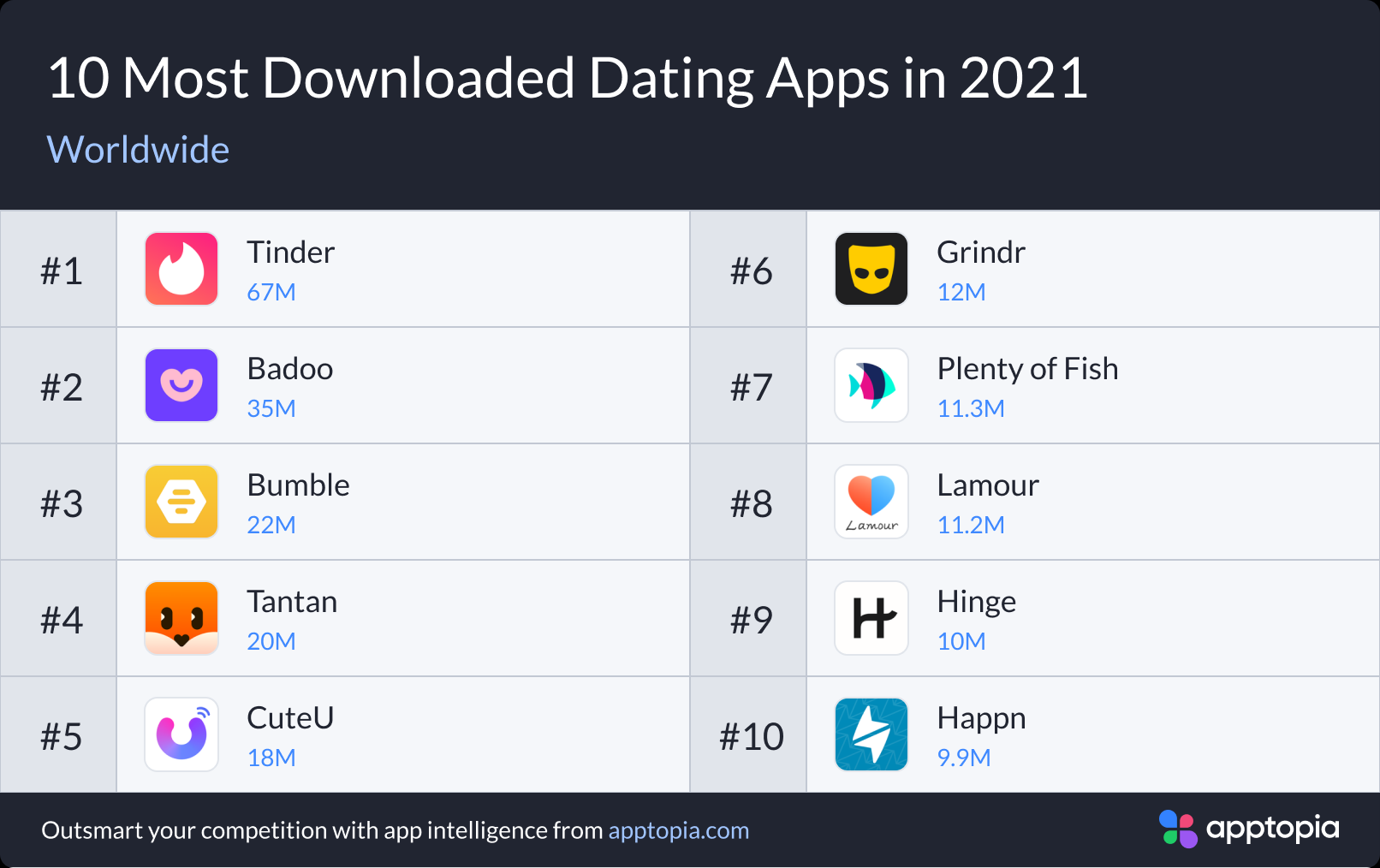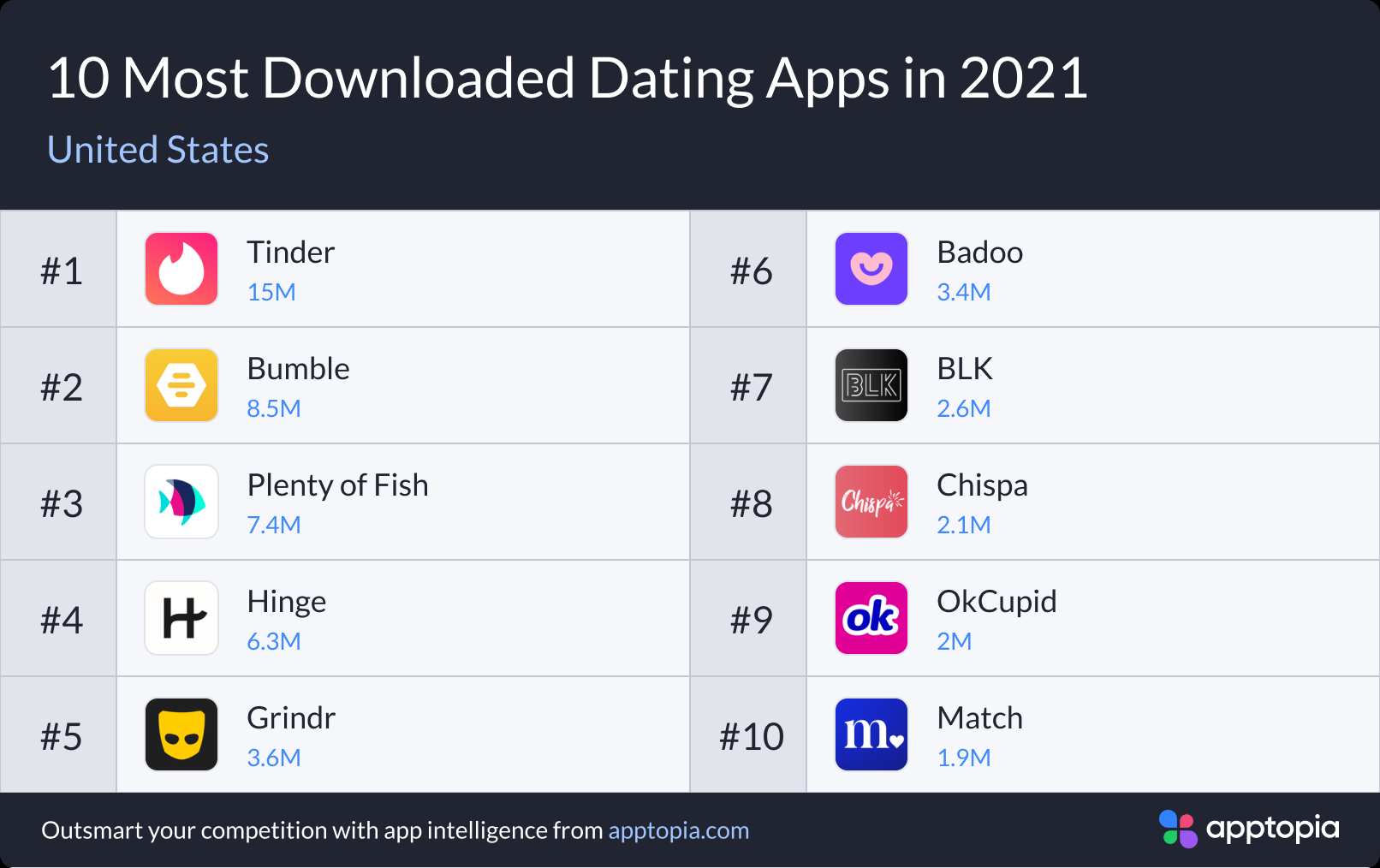 Match Group owns three of the most downloaded dating apps globally and seven of the most downloaded dating apps in the US. Badoo and Bumble, which appear on both charts are owned by the same parent company, MagicLab.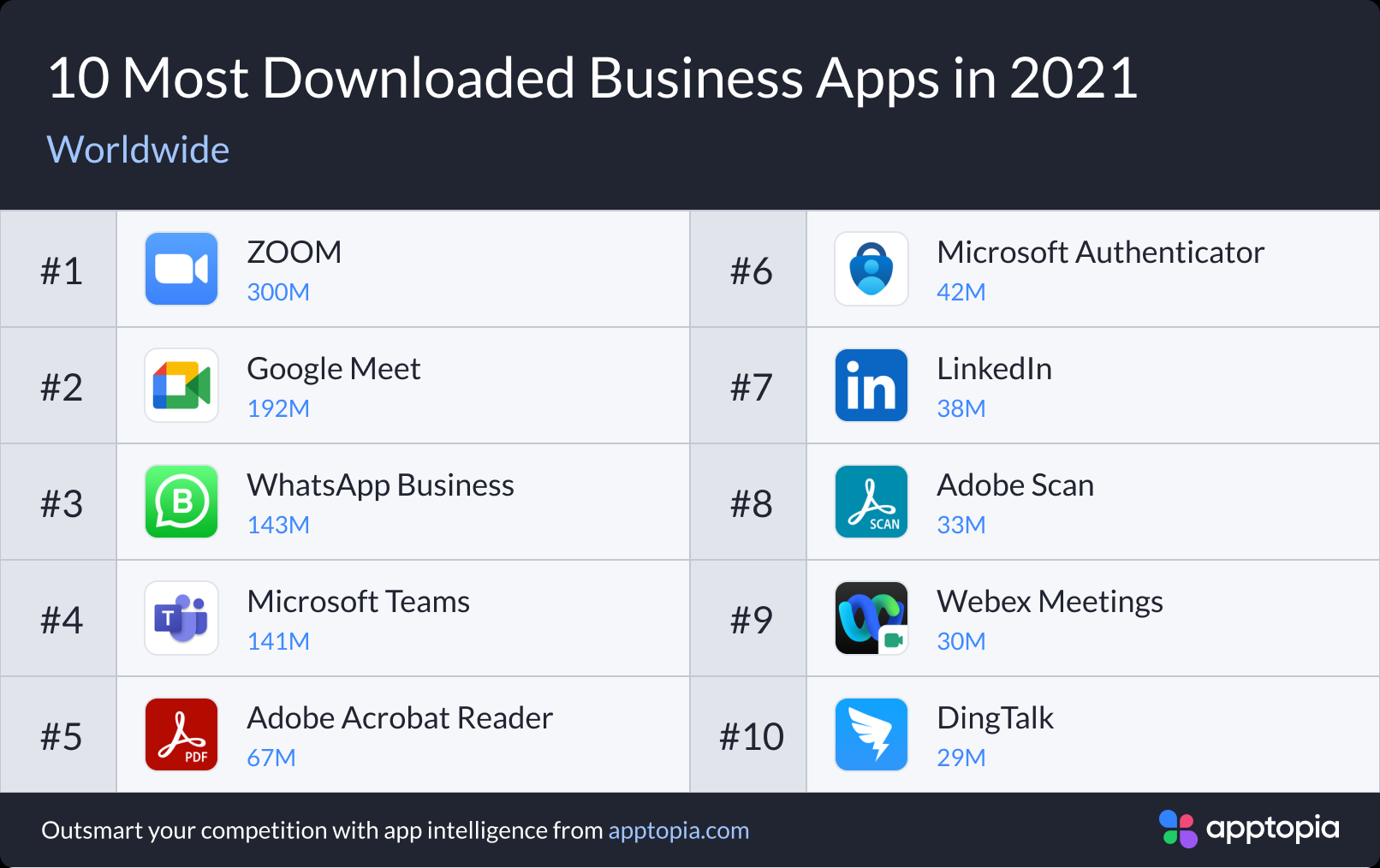 While it's not as popular of a download as last year, Zoom is still the most downloaded business app globally and in the US. Google Meet is the second most downloaded app globally, showing that many people are likely still working remotely. Microsoft owns three of the most downloaded business apps globally and in the US. One of them is workplace chat app, Microsoft Teams but its competitor Slack did not land on our list. In the US, we see the gig economy getting plenty of use with DoorDash's Dasher app and Uber's Driver app both landing in the top 10.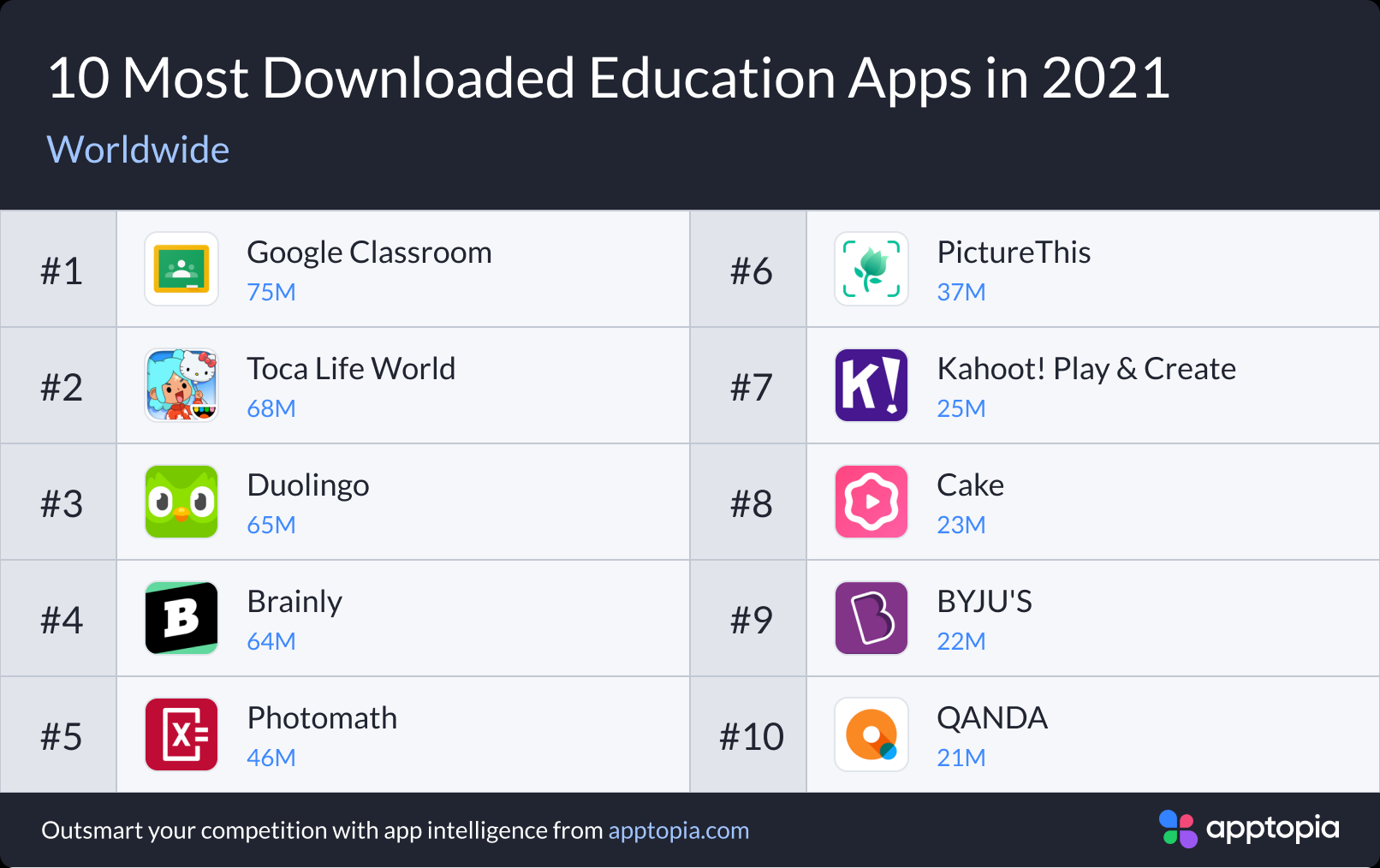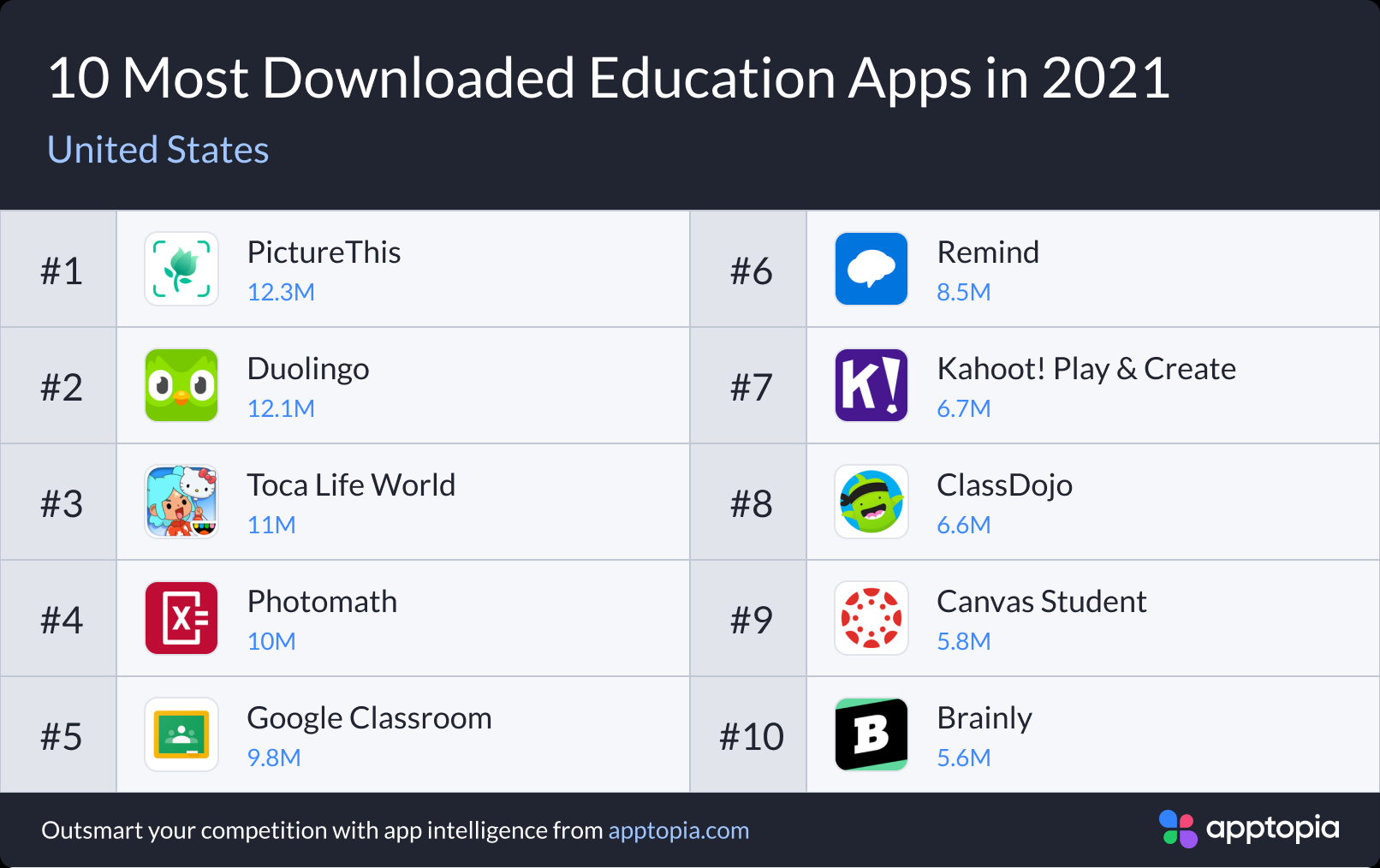 With remote learning not as prevalent as it was last year, we see download numbers for Google Classroom fall significantly but still stay strong.
To learn more about the data behind this article and what Apptopia has to offer, please reach out to Connor Emmel at cemmel@apptopia.com.