Reddit IPO: Here's What the Data Reveals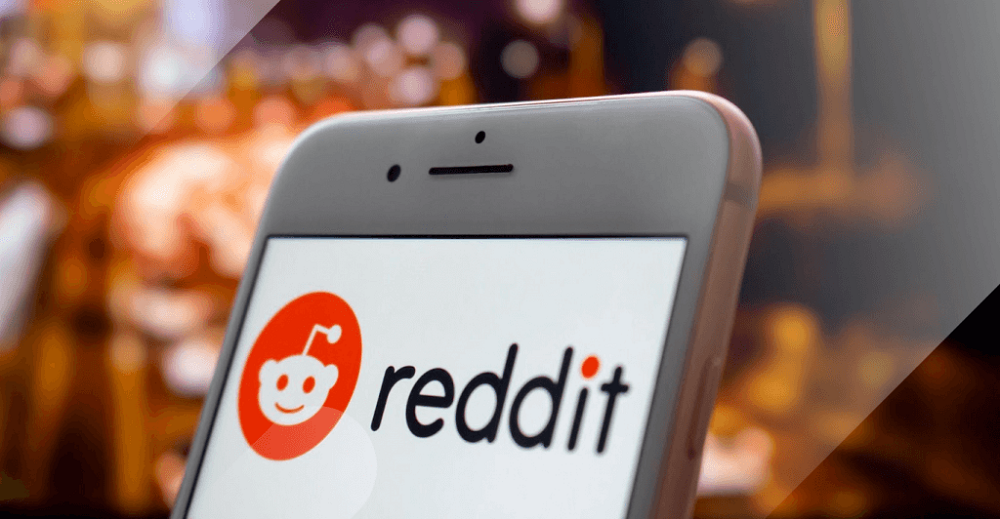 Reddit is on track to join other publicly traded social media companies in its Wall Street debut.
Famous for its message boards and network of niche communities, the San Francisco-based platform filed confidentially with the U.S. Securities and Exchange Commission (SEC) on Dec. 15, writing on its website that "the number of shares to be offered and the price range for the proposed offering have not yet been determined."
According to Reuter's Sept. 13 report, Reddit hoped for a valuation of more than $15 billion.
Before the initial public offering (IPO) buzz, the company was making headlines in mid-January 2021 when Reddit users drove 'meme stock' rallies. That led to a whopping 1,600% rise in GameStop's (GME) stock price and a rapid increase in unique visitors to reddit.com before the stock price and traffic returned back to earth. Unique visitors are climbing once again.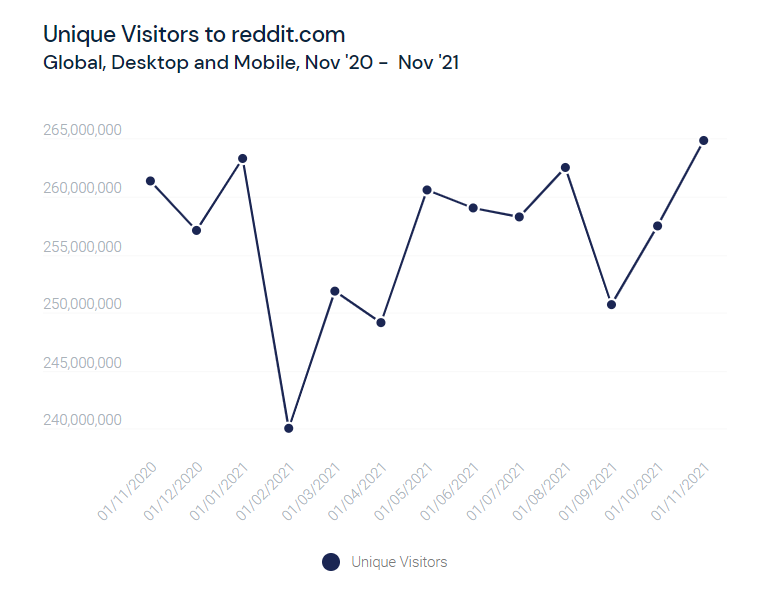 If you're wondering what to expect when Reddit hits markets, you're not alone.
We tapped into the power of alternative data to unpack what you can expect ahead.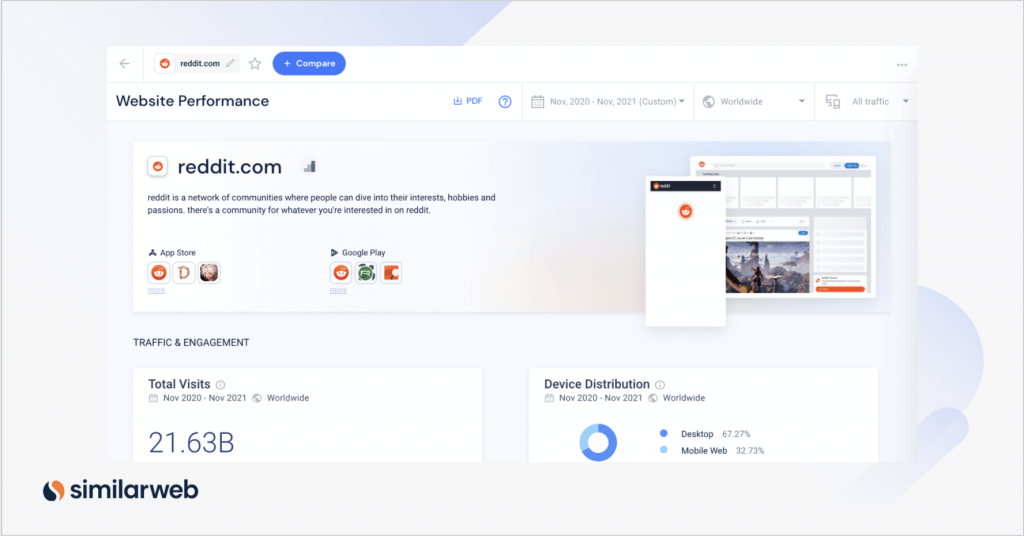 The competitive social media landscape
Reddit came onto the social media scene in 2005. With a loyal and highly engaged audience, reddit.com ranked fifth in the social network and online community industry from September 2021 – November 2021, beating tiktok.com, discord.com, and even pinterest.com.
In terms of traffic share, facebook.com, twitter.com, instagram.com, and whatsapp.com came ahead sweeping 38%, 12%, 11%, and 5% respectively.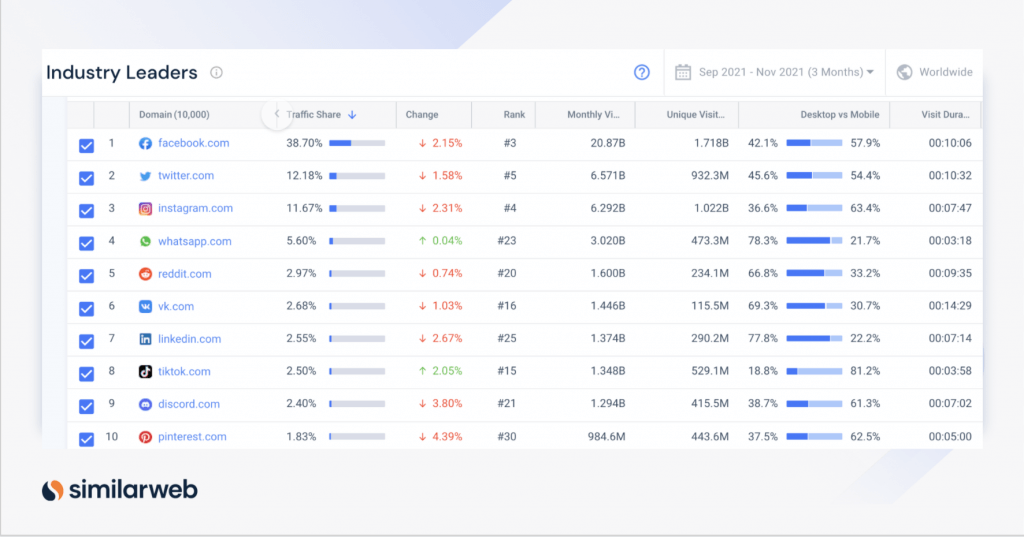 Reddit.com holds an impressive 3% of the traffic share and came in third place for visit duration at 9 minutes and 35 seconds on average, right behind twitter.com (10 minutes and 32 seconds), and facebook.com (10 minutes and 6 seconds). This high engagement is a positive indicator for the platform, which depends on ads for revenue. But is there opportunity for more growth ahead?
Plans for global expansion
The content aggregating behemoth has already taken action to expand its presence in the international market. In 2020, the company announced its plans to grow its U.K. community and advertising business launched a London operation. In 2021, Reddit set up shop in Australia, Canada, and Berlin.
From November 2020 – November 2021, the U.S. makes up 48% of its traffic share, followed by the U.K. (7.6%), Canada (7.5%), Australia (4.01%), and Germany (3.19%). You can track how successful these expansion efforts are in real-time by monitoring the site's top countries.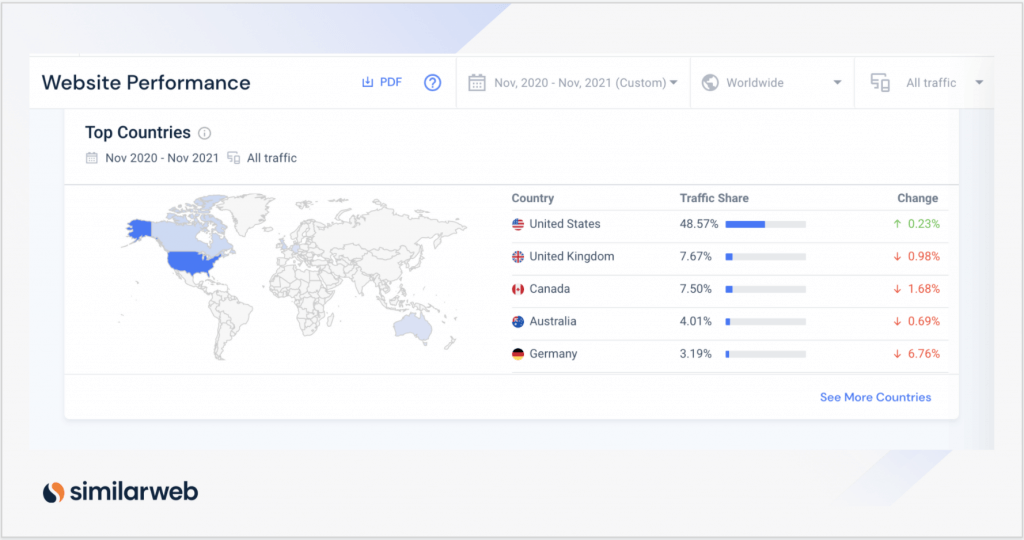 All eyes on international ads
While Reddit has room to run in terms of the expansion of users, its revenue is already rapidly expanding. CEO Steve Huffman reported to the New York Times that "Reddit surpassed $100 million in quarterly revenue for the first time in the second quarter this year, up 192 percent from the same period in 2020."
Its ads subdomain – a directional indicator of advertising revenue – continues to show international growth.
When we zoom out and examine Reddit's ads subdomain, ads.reddit.com, worldwide we see that traffic has been on an upward trend, jumping 86% November 2021 YoY.
In the U.S. market, on the other hand, visits to ads.reddit.com have been less steady. From November 2020 – November 2021, traffic to ad.reddit.com from the U.S. peaked in August 2021 at 138,523 visits but has since declined, although it remains elevated YoY.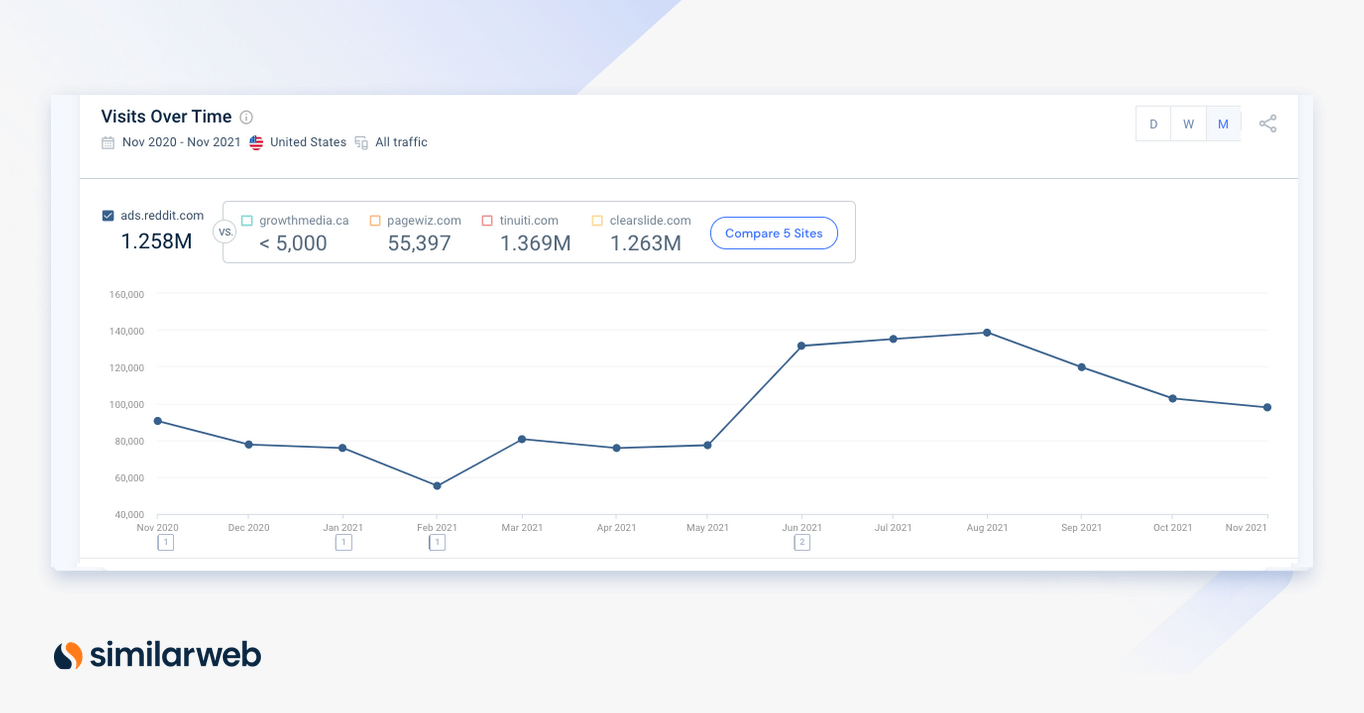 To learn more about the data behind this article and what Similarweb has to offer, visit https://www.similarweb.com/.