Grocery Opportunities Amidst Rising Prices and Shifting Preferences
In our most recent white paper, we took a closer look at the grocery sector. We examined how the recent economic shifts are impacting the industry and how consumer attitudes are changing two years into the pandemic.
2021 Grocery Boom Followed by a More Challenging First Quarter in 2022
The grocery sector was widely considered one of the most resilient retail segments during the pandemic's early period, and the strength continued in 2021. Year-over-year (YoY) and year-over-three-year (Yo3Y) foot traffic remained strong throughout much of last year, with Yo3Y performance peaking in July 2021 at 12.5%. The industry capitalized on its pandemic success by expanding, with a reported 200% increase in new grocery store leases in 2021 as compared to the number of new leases in 2019.
But the impressive two-year streak that buoyed the industry seems to be waning. Like for many other sectors, Yo3Y grocery visits have decreased in recent months. While some of the drop can be attributed to the rise of the Omicron variant, the main culprit seems to be inflation and rising gas prices.
February 2022 brought on the highest rate of inflation recorded in the United States in the past 40 years, with the consumer price index rising 7.9% in just one year. That same month also saw the first Yo3Y drop in monthly visits after 10 straight months of rising visits.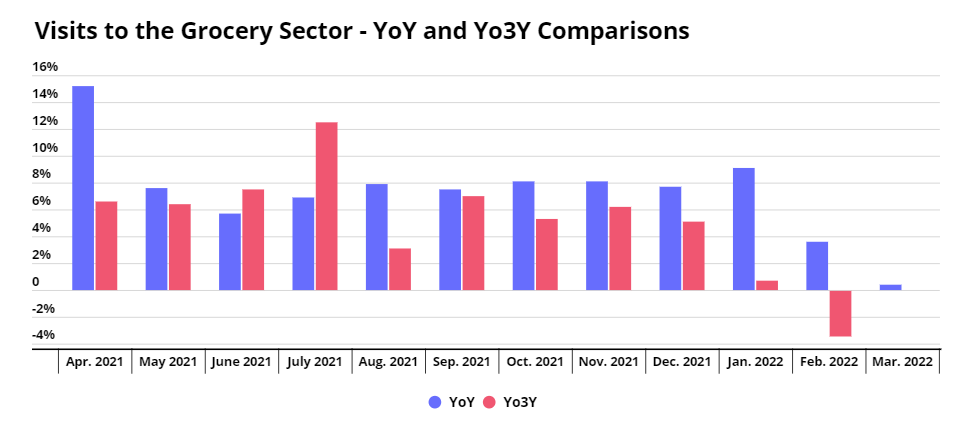 Rising gas prices are also having an impact. Albertsons, a large supermarket chain, reported that higher prices at the pump are affecting how consumers shop. The grocer noticed that customers are now beginning to return to mission-driven shopping habits of making fewer grocery trips while filling bigger baskets during each visit – likely in an effort to cut down on driving.
Mid April Rebound
Despite all the challenges, recent foot traffic data shows that grocery visits are already beginning to rebound. Following a difficult couple of weeks, all grocery chains analyzed saw visits come close to matching or exceeding 2019 levels for the week of April 4th 2022, and grow relative to the equivalent week pre-pandemic for the week of April 11th 2019. And while grocery visits may not see a growth streak any time soon, foot traffic remained at 2019 levels the following week as well (the week of April 18th 2022).
This may indicate that the initial shock has faded and consumers are beginning to come to terms with the current economic situation. It marks the latest sign of the unique power of grocery, even in the face of a seemingly endless wave of challenges.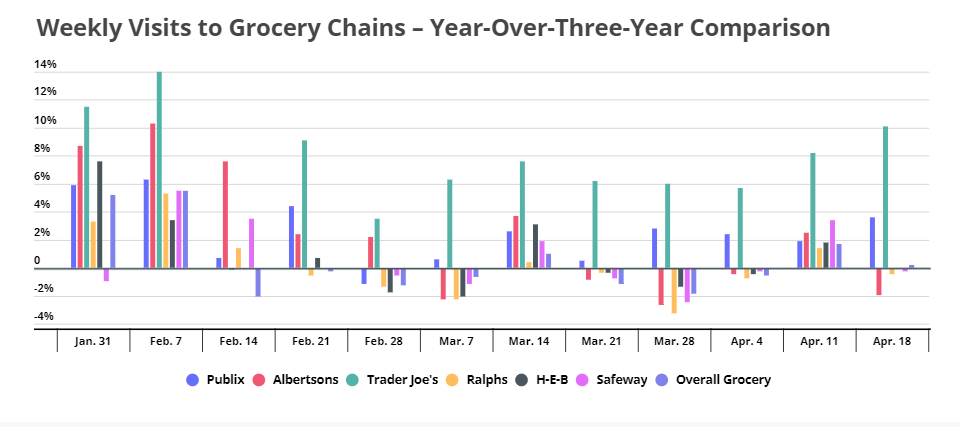 Final Thoughts
With the grocery sector feeling the impact of challenges it previously seemed impervious to, there are still many reasons for optimism. New initiatives are steering the sector through these newly choppy waters, low-cost retailers are thriving, and ghost kitchens are drawing customers into stores.
To learn more about the data behind this article and what Placer has to offer, visit https://www.placer.ai/.