Mental health app installs decline more than 30% since January 2021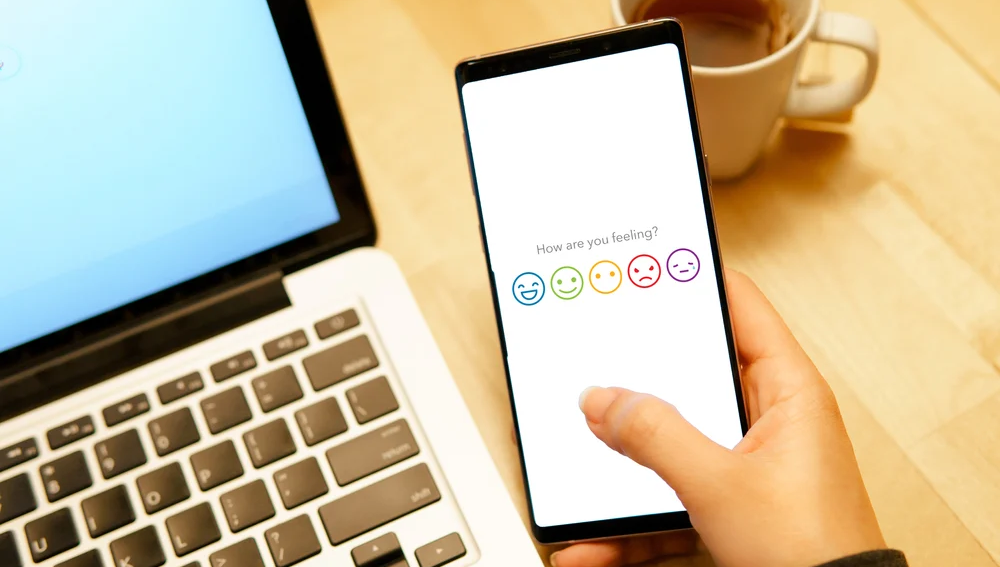 First-time downloads of 'pandemic-winning' mental wellness apps in the U.S were 15% lower this April than in April 2019. By contrast, downloads in April 2020 were up 21% YoY from April 2019, which kicked off investor interest in the category.
From June 2020 to May 2021, Calm, Headspace, Noom and Talkspace raised $963M in private equity and venture funding. BetterHelp, which we also included in this market, has been privately held by Teladoc since 2016. After the 2021 New Year's seasonal spike, however, user acquisition and engagement steadily declined for the group. To date, downloads are down 33% and monthly active users (MAUs) are down 23% for the group of top mental health apps.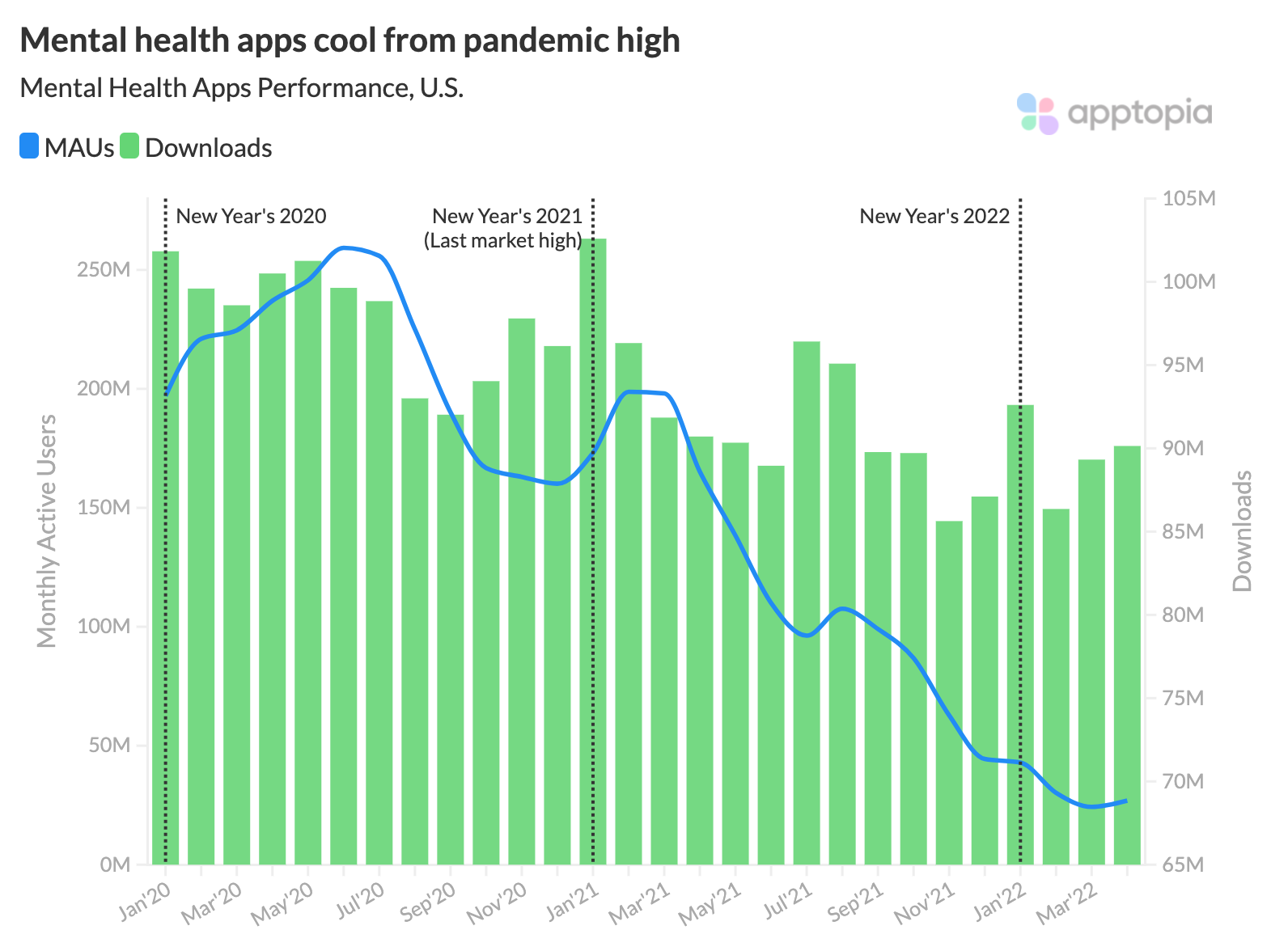 The mobile performance trend lines for the market resemble that of Peloton: after an uplift in downloads and engagement over 2020, it had its last hurrah in January 2021 before declining.
More money, more problems?
Curiously, BetterHelp is bucking the trend and has been growing on an upward trajectory since January 2020. Meanwhile the mobile-first mental health companies that received funding during the pandemic are largely showings declining downloads since receiving the capital.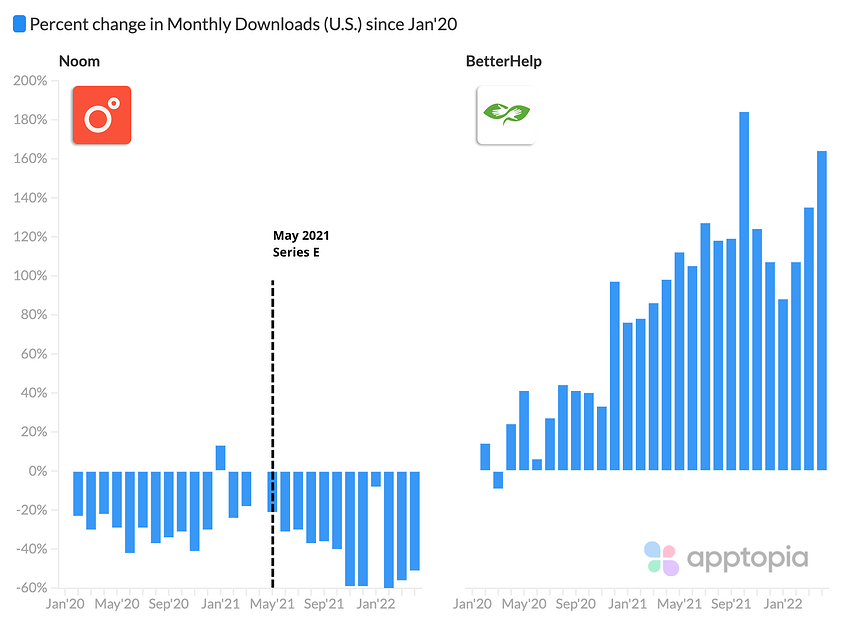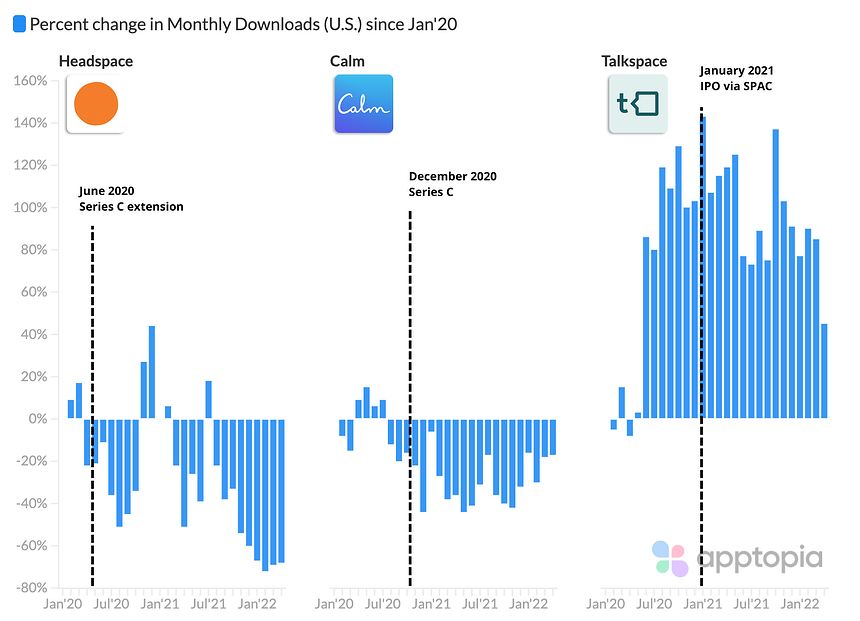 Headspace and Noom have the steepest declines in the cohort. Last month's download totals for Headspace and Noom were at their lowest since 2016 and 2018, respectively. The low demand has not gone unnoticed by Noom, who laid off hundreds of coaches in the past couple weeks. No other company has reported business impact as a result of mobile performance.
To learn more about the data behind this article and what Apptopia has to offer, please reach out to Connor Emmel at cemmel@apptopia.com.