Where Next for US Commercial Mortgage Rates?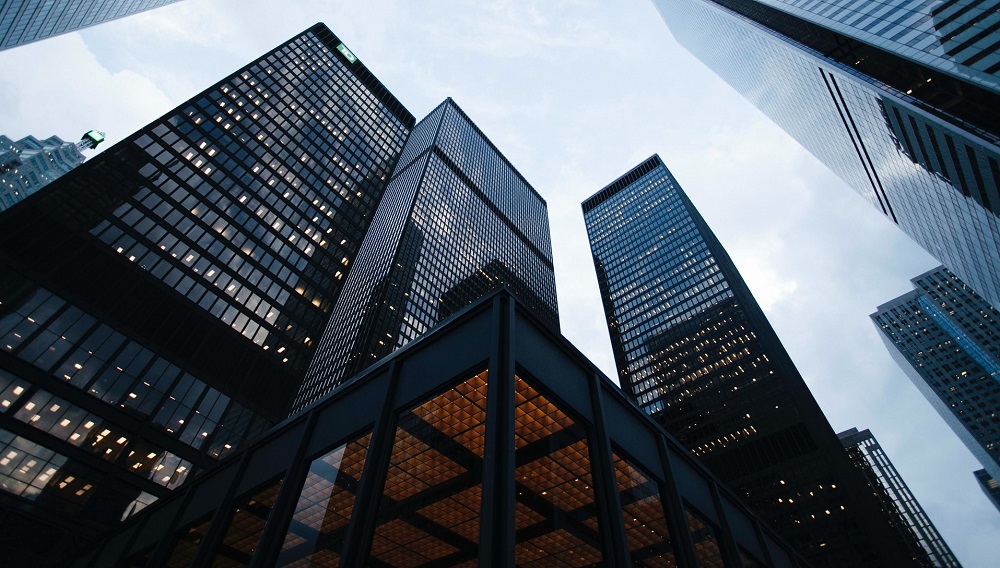 Inflation poses a challenge for the financing of commercial real estate. As inflationary pressure pushes up interest rates, the cost to finance commercial real estate investments can increase as well.
U.S. commercial mortgages originated in 2021 had an average 3.7% coupon rate for 7/10-year fixed rate products. Into March of this year, this rate had climbed to 4.3%, an extra 60 basis points. Increases in other rate instruments could foretell further commercial rate increases if traditional relationships hold moving forward.
The residential mortgage market is deeper and more liquid than that for commercial mortgages and this market is showing stress from inflationary trends. The 30-year fixed rate residential average from Freddie Mac climbed to 5.0% in April, up from an average of 3.0% in 2021. Sure, the Freddie average fell much more than commercial rates during the worst parts of the pandemic, so it is not clear that commercial mortgage rates will jump up to the same extent in the months ahead.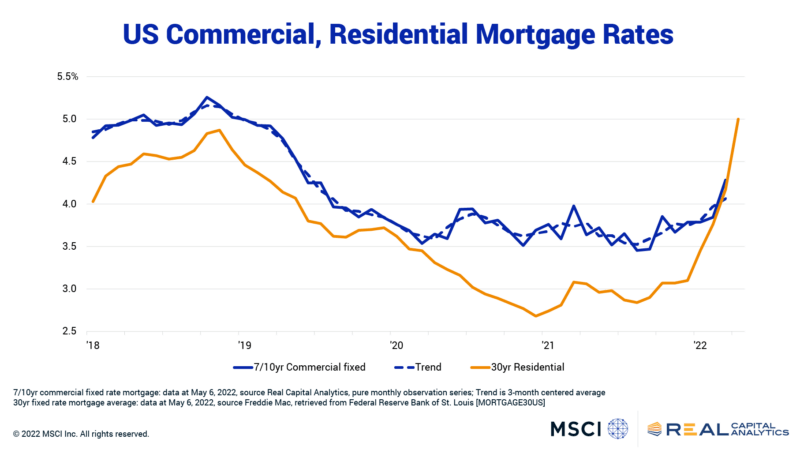 This said, over the years commercial mortgage rates have averaged 55 bps higher than this residential mortgage rate. If this relationship simply returned to normal trends, the 5.0% read for April would imply commercial mortgage rates jumping to 5.5% or 5.6%. Again, not enough data is available yet to make that call, but conversations with industry professionals in recent weeks suggest that commercial debt costs are going up, particularly for the riskiest product.
If mortgage rates go up because of inflation, property values would face challenges. Suppose one bought a logistics asset at a 4% cap rate with short-term debt in 2021 at a 3.7% coupon rate. That 30 bps of spread between the cap rate and the mortgage rate does leave some room for free cash flow outside of debt service. Into 2023 as such a short-term loan reaches maturity, what happens when that 3.7% coupon rate is pushed up to 5.5%? Will there be a next buyer willing to pay at the same low cap rates when mortgage rates are higher?
If property income did not grow enough in the interim to compensate for the higher debt service faced as loans mature, someone would take a loss. Yes, many investors have been underwriting strong income growth assumptions, thinking that either the rebounding economic environment will continue to grow rapidly or that inflationary pressure itself will push up income. The relative aggressiveness and dependence on those income growth assumptions will be a key point to survival in the face of higher mortgage costs.
To learn more about the data behind this article and what Real Capital Analytics has to offer, visit https://www.rcanalytics.com/.