U.S. Advertisers Spent More Than $250 Million on Snapchat in April 2022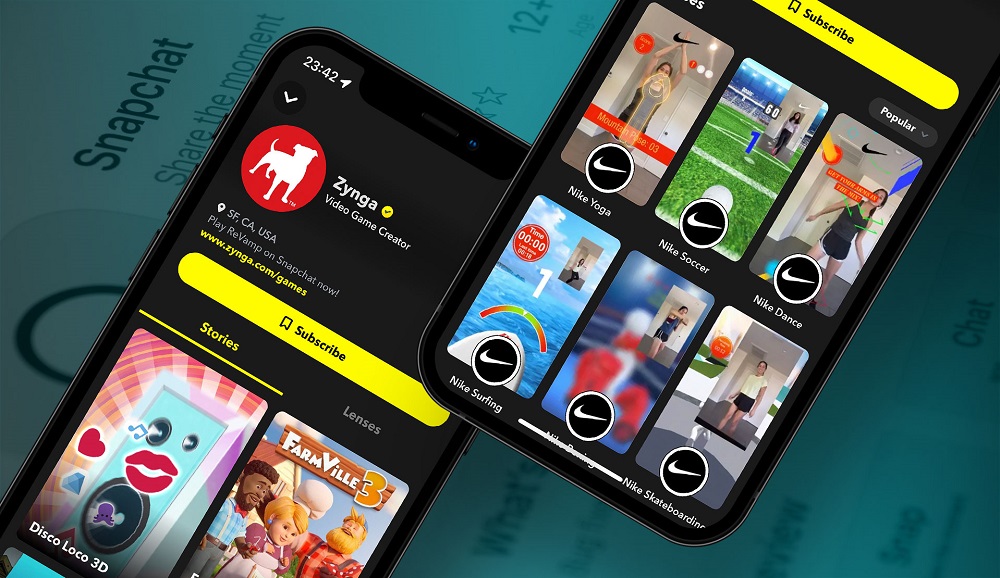 Snapchat started as a messaging app for close friends and has since evolved into a hub for users to stay up to date on the latest news and discover brands. Pathmatics now tracks and breaks out Snapchat advertising insights, which reveals that advertisers in the United States spent more than $250 million on the app in April 2022—and an average of $238 million each month between January and April. In our latest report, The State of Snapchat Advertising in the U.S., we analyzed Snapchat's top 10 advertisers by digital ad spend and examined the Telecom, Food & Drinks Services, Sportswear, and Gaming categories.
Uber Eats Spend Spikes on Valentine's Day
According to Pathmatics data, the Food & Drink Services category was the No. 3 category by digital ad spend on Snapchat between January and April 2022. Food delivery services such as DoorDash, GrubHub, and Uber were among the top 10 Food & Drink advertisers during this period. In February, Uber (Uber Eats and Postmates) increased its food delivery ad spend on Snapchat and Instagram the week prior to Super Bowl 2022. And on Valentine's Day, Uber Eats allocated more than 60 percent of its social ad budget to Snapchat, reaching $100,000 on that day. Uber Eats' social ad spend helped increase the app's downloads by 17 percent on Valentine's Day compared to the Monday a week before.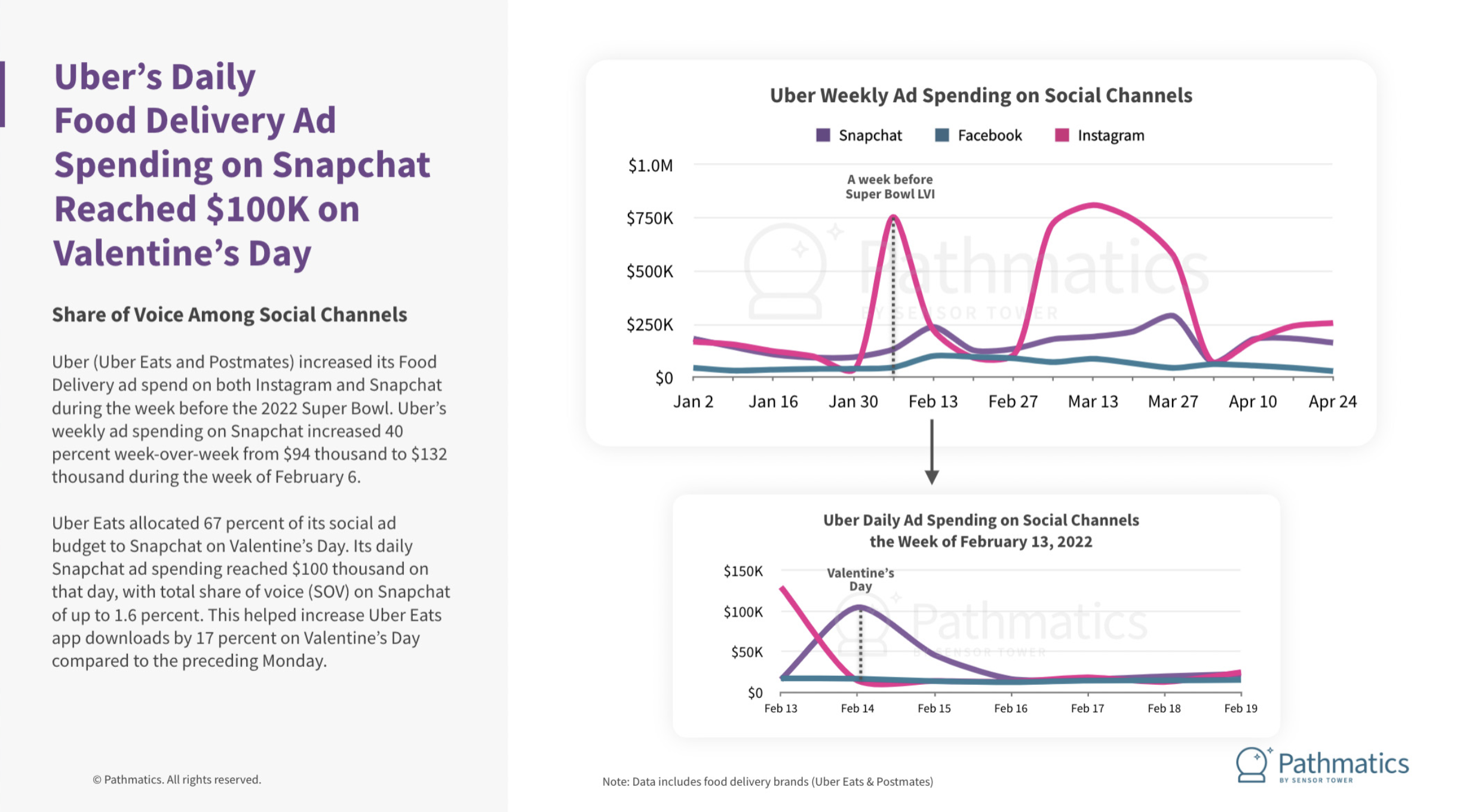 Nike Appeals to Younger Audiences with Snapchat
Sportswear company Nike tends to market themselves towards a younger audience. Since Snapchat reaches 75 percent of millennials and Gen Z, the company allocates roughly 44 percent of its digital ad spend on the platform. Nike primarily focused on advertising its training and sportswear items on Facebook and its basketball-themed creatives on Instagram.
On Snapchat, Nike frequently promoted its mobile app using keywords such as "Download App" and "Install," accounting for 35 percent of Nike's Snapchat ad spend. Nike also utilized well-known names among Gen Z audiences in its creative text, featuring Megan Thee Stallion, Janelle Wellons, and Dashawn Jordan.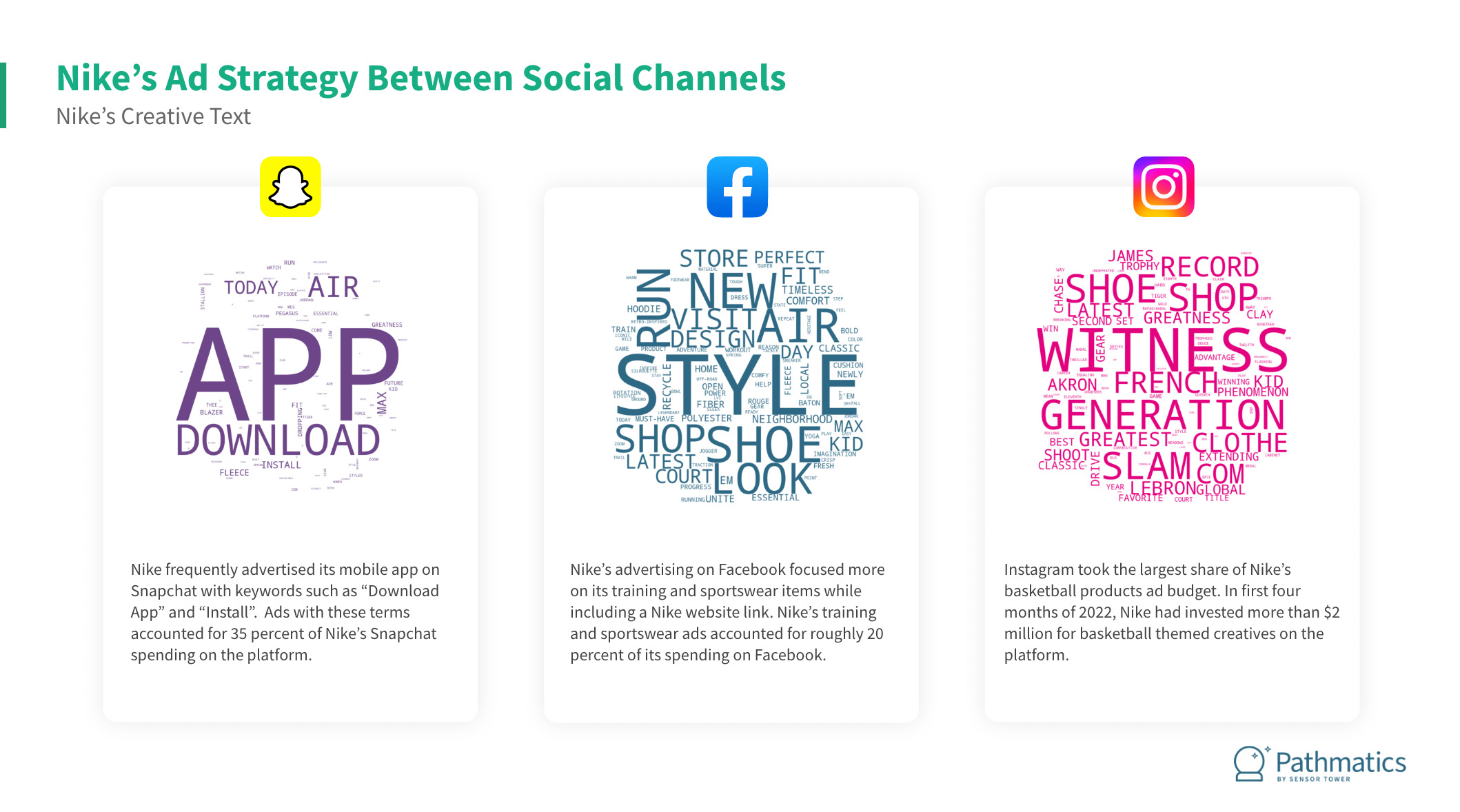 To learn more about the data behind this article and what Pathmatics has to offer, visit www.pathmatics.com.