Booking Sites Ride The Streaming Wave As Summer Travel Season Heats Up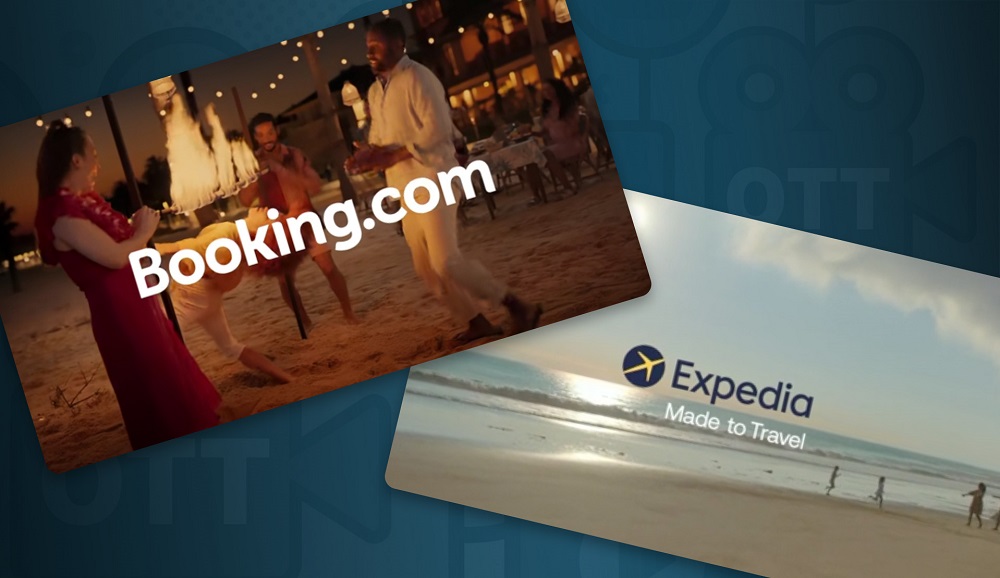 Even with gas prices skyrocketing and COVID-19 cases surging once again, this year's summer travel season is poised to be one of the busiest on record. AirDNA reports that the booking pace for travel this spring was 49 percent higher than the same time last year, and 26 percent higher than 2019's pre-pandemic levels.
Ads for booking sites reflect this, with the top brands in the Travel Booking Services & Travel Agencies category unleashing a tidal wave of ads on streaming services like Hulu, Pluto TV, Tubi, and Peacock. Let's take a closer look at how three of the top booking sites — Expedia, Booking.com, and Hotels.com — are shifting their ad spend to get consumers booking their travel ahead of the boom*.
*Data gathered from Pathmatics Explorer from October 1, 2021 to June 8, 2022.
Expedia Dangles Summer Travel Deals
Pathmatics Explorer has been tracking OTT data for Expedia since October 2021, and since then the travel site has been increasing its ad spend on streaming platforms. Expedia's OTT spend peaked in March at roughly $2 million, followed by higher-than-average spend of more than $681,000 in April and roughly $646,000 in May. This mirrors Expedia's spending trends on other devices including desktop video and Instagram. Expedia advertises on a range of streaming services, but favors Hulu with 25 percent of spend.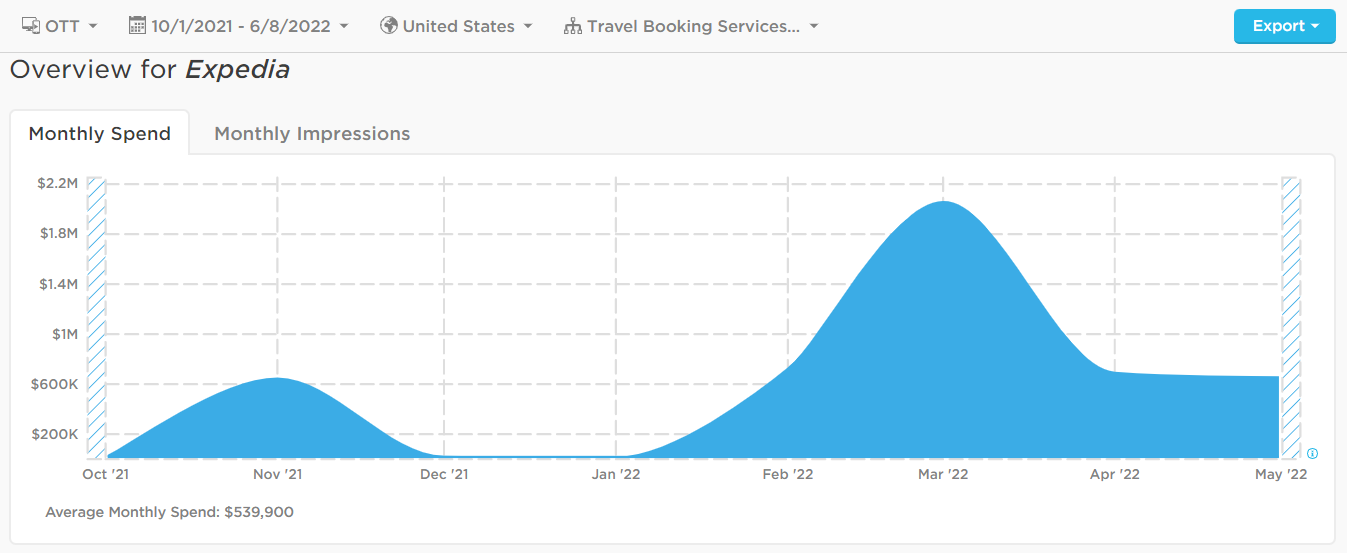 Expedia's most-promoted OTT ads feature Ewan McGregor reminding viewers that experiences matter more than stuff. "Do you think any of us will look back on our lives and regret the things we didn't buy… or the places we didn't go?" McGregor asks. The ad first ran during the 2022 Super Bowl and has dominated Expedia's top creatives since February. Then in May, the company introduced a summery citrus-themed campaign featuring special discounts for Expedia members. The ads, which are also voiced by McGregor, invite lemon lovers to "go and see all those lovely, lemony lemons" — or whatever they want to travel to see — "and never wonder if you got a good deal". The ads are overlaid with the text, "Sign up for free. Save with member pricing."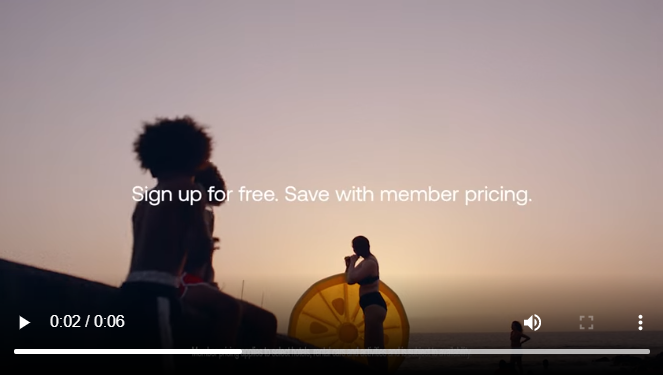 Booking.com Jumps Ship On Flights, Rental Cars
Like Expedia, Booking.com employed celebrity endorsements in its OTT ad campaigns. All 10 of its top OTT creatives since October feature Idris Elba. In one ad, People's 'Sexiest Man Alive' pokes fun at Booking.com's unsexy but reliable business model. "We have never been accused of being flashy, sexy, or lit," says Idris. "We're just here to help you make the best of your vacation." The spot aired during the 2022 Super Bowl and has remained one of Booking.com's top creatives since then. Other spots show Elba using Booking.com's app to find the perfect place, and feature creative text like "Book what you want" and "Book with free cancellation for peace of mind".
Interestingly, all of Booking.com's streaming ads focus on accommodations — no flights or rental cars. Is this a byproduct of sky-high fuel and flight prices? Or is Booking.com trying to position itself against vacation rental sites like Airbnb and VRBO? We can't say for sure, but we do know that Booking.com first started running streaming ads in January 2022, pivoting some of its spending away from Facebook, Instagram, and desktop video. Since then, Booking.com has spent around 26 percent of its budget on OTT ads, with an average monthly spend of $1.05 million between January and May 2022. Pathmatics Explorer shows a dramatic increase in March, with OTT spending reaching over $400,000 in a single day on March 20.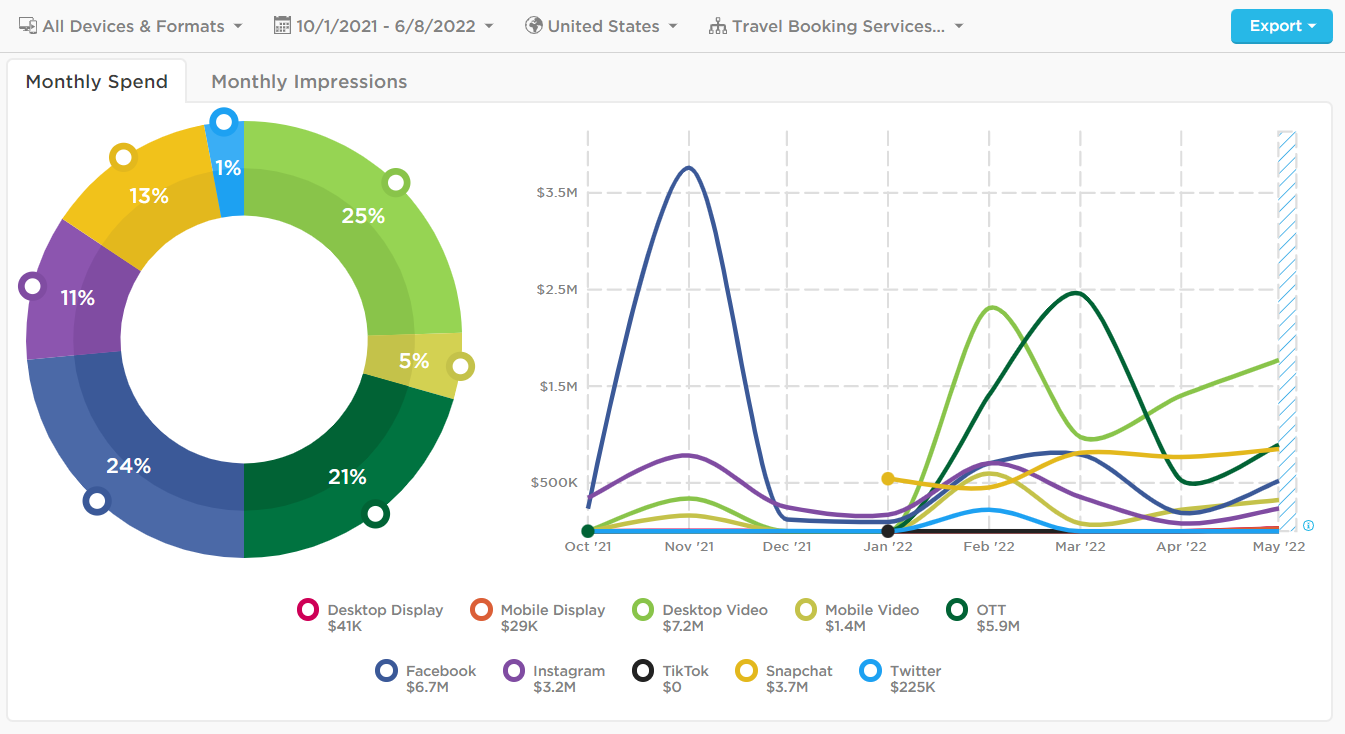 Hotels.com Plays Hotel Matchmaker
Of the three booking sites we looked at, Hotels.com was the last to jump in on streaming. From October 2021 to April 2022, Pathmatics Explorer shows that Hotels.com wasn't running OTT ads at all. Ads first appeared on April 25, which coincides with the NBA playoffs. Hotels.com is the official travel partner of the league, so it makes sense that the booking site timed its ads this way. This could also explain why Hotels.com advertised exclusively on Hulu: subscribers can stream all of the NBA Finals games live on Hulu + Live TV.
Like Booking.com, Hotels.com's ads focus on helping travelers find the perfect place to stay. In a trio of streaming ads, the booking site imagines itself as a matchmaker for hotels. Each hotel introduces itself and describes its perfect guest. "So, I'm a beachside hotel," one says. "As you can see, I'm pretty relaxed. I'm looking for someone who likes sand and sun. If you have kids, I'm great with kids." The ads end with an invitation to "find your perfect somewhere".
While Booking.com and Hotels.com battle it out to help travelers find the perfect accommodations for their summer vacation, Expedia is dangling members-only discounts to lure travelers during one of the most expensive travel seasons in recent memory. Summer travel is heating up, so we'll see if booking sites continue to ride the streaming wave or if the tides turn for OTT.
To learn more about the data behind this article and what Pathmatics has to offer, visit www.pathmatics.com.