Premium brands win as inflation hits low-income back to school shoppers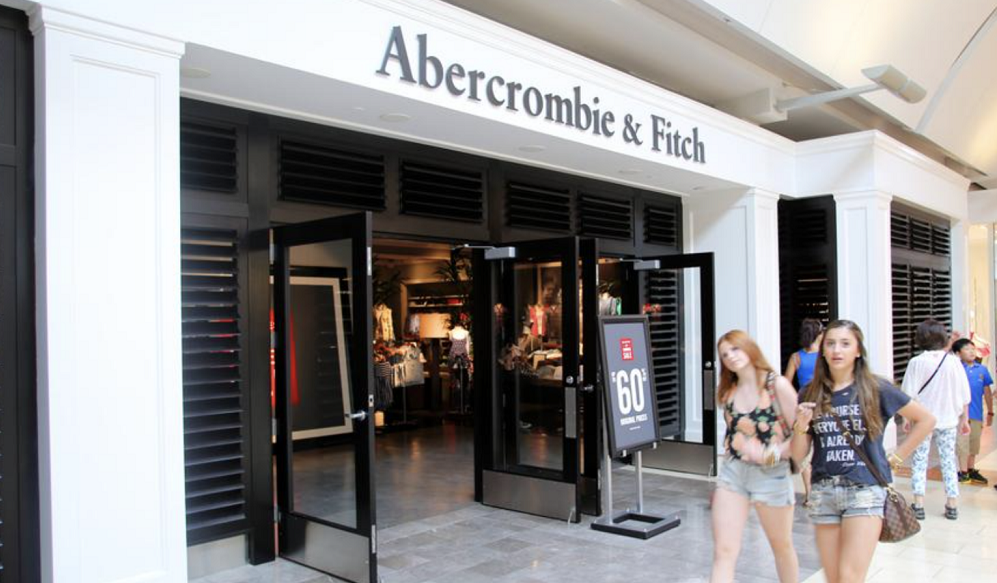 Key takeaways:
Back to school spending fell in 2022 compared to both 2021 and 2019 levels
Athleisure, bags, and resellers posted some of the only gains
Abercrombie outperformed lower income focused Hollister as inflation drove more aggressive discounting at the latter
Back to School Spending Below YoY and Pre-Pandemic Levels
Back to school spending fell 8.6% YoY at key retailers* for the 8 weeks ended September 14, 2022. This is an improvement from the 10.0% YoY decline at the start of the season (four weeks ending August 17th) in states where class had begun. Most notably, spending was materially slower than the largely flat growth during the pre-pandemic 2019 season.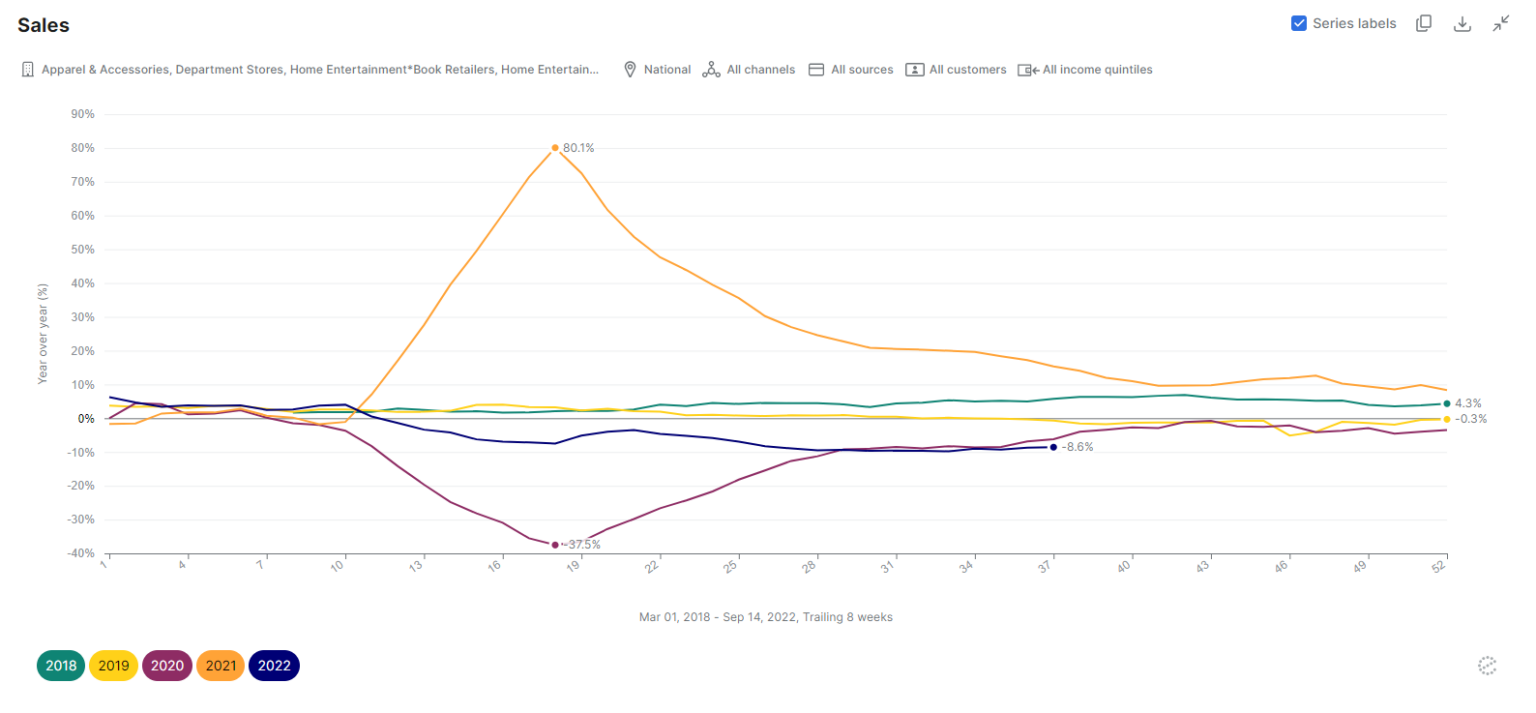 Online Share Larger than Pre Pandemic Despite YoY Spend Declines
Unlike past years of diverging channel behavior, the current season appears to be more impacted by inflation and the weakening consumer, as both online and in-store spending declined by equal amounts (8.7% and 8.6% respectively). However, the share of online sales accounted for 39% of spend vs. its pre-pandemic level of 31%.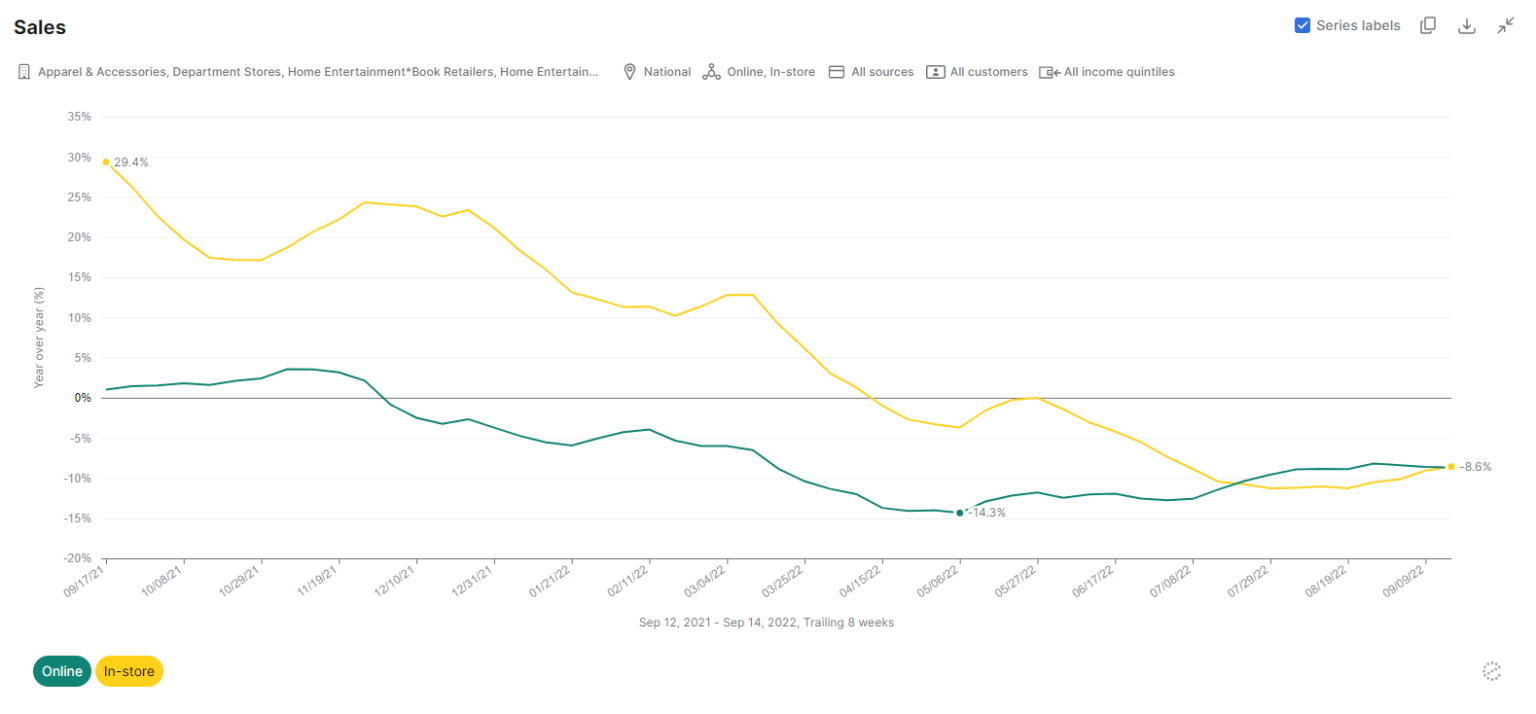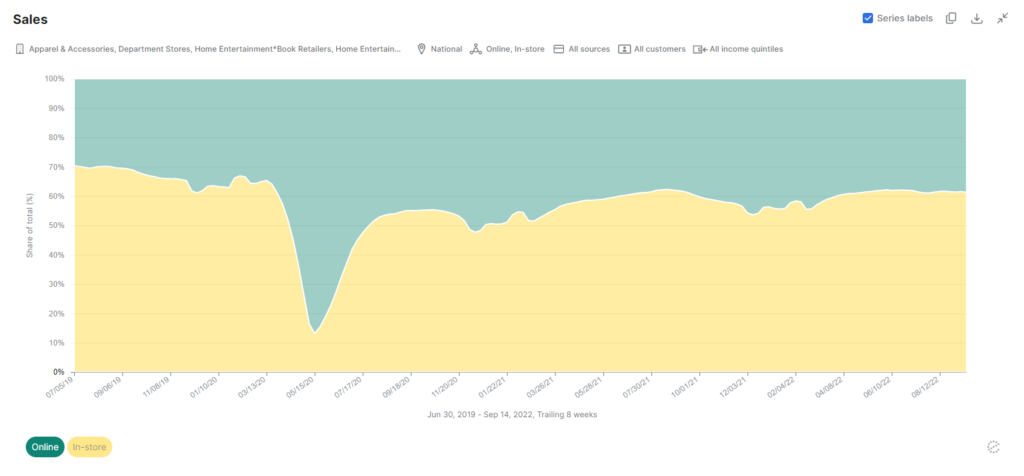 Bags, Resale, E-Books, and Athleisure Outperformed
Retailers entered a challenging macroeconomic landscape and a highly competitive promotional environment in the 2022 back to school season. As a result, most categories saw YoY declines during the season with few notable exceptions. The only categories to post positive YoY growth were Luggage & Bags, Fashion Resale, E-Books, Active & Athleisure. Luggage & Bags stood out with 24% YoY growth, likely benefiting from increased overall travel spend.
In contrast, many back to school categories saw significant YoY declines. Children's Apparel fell 23%; Apparel Subscriptions and Teen Apparel followed at -22% and -14%, respectively. General Electronics and Computers & Tablets also saw high teens declines after pandemic-driven outperformance.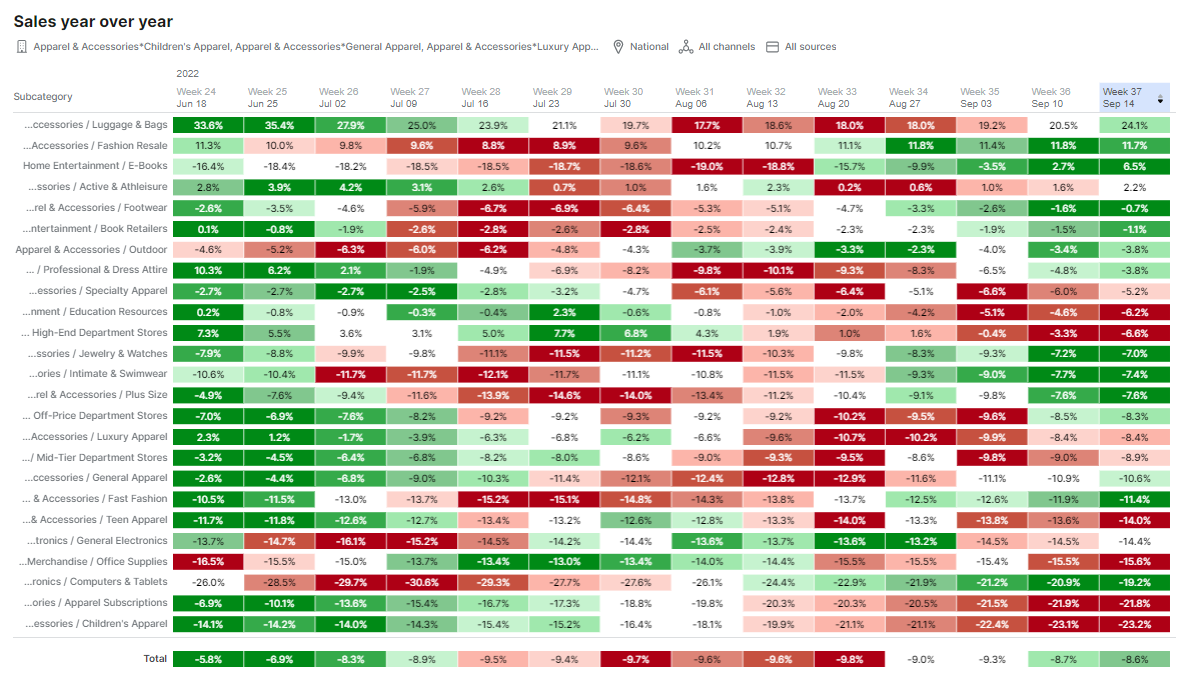 The RealReal and Lululemon Soared, Gap and Old Navy Struggled
Fashion resellers The RealReal and Poshmark topped retailers at 32% and 9%, respectively, while Activewear and Footwear rounded out the other top performers: Adidas, Lululemon, Foot Locker, and Nike all showed ~5 to 15% YoY growth.
Gap, Old Navy, Hollister, Under Armour, American Eagle, and Victoria's Secret posted sharp declines of over 15%. Other notable laggards included big department stores Burlington, J.C.Penney, and Ross with declines of 22%, 15%, and 12%, respectively, as well as electronic giants Best Buy and Apple with similar 15% declines.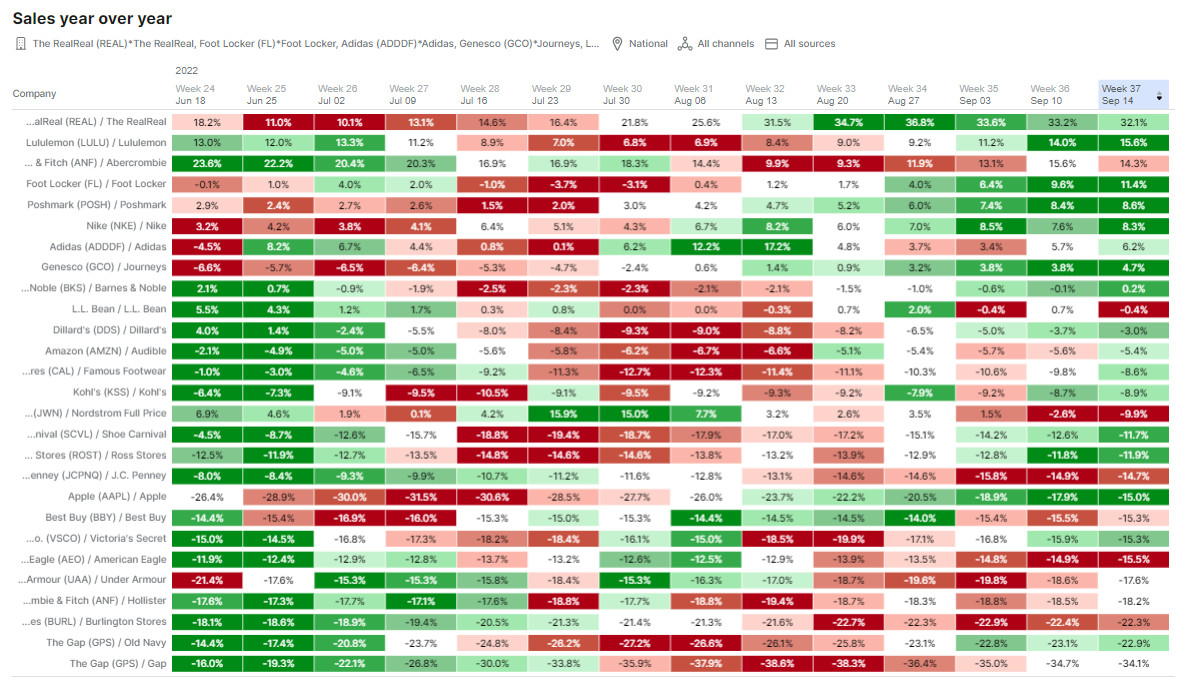 Abercrombie's Discounts Fall to Historic Lows, while Hollister's Grew
With inflation warranting a highly competitive promotional environment, we dove into our Retail Pricing dataset and looked at popular back to school retailer Abercrombie.
Beginning May and into September, the total percentage of merchandise value sold at a discount at Hollister began to diverge from Abercrombie, reaching a high of 34%. This kept Hollister's ASPs down to just $27.30 while Abercrombie's ASPs increased to a record high of $54.55. Abercrombie management talked about the divergence in sales and margins among its two largest brands on their most recent earnings call:
When analyzing the Q2 spending behaviors, it has truly been a tale of 2 worlds. Challenges at Hollister, whose customer base tilts lower on the income scale compared to the Abercrombie adults brand, was the primary driver of our total company sales and operating margin miss relative to the outlook we provided on our Q1 call… During the second quarter, our Abercrombie adult customer was actively shopping for their weekend trips, weddings and going back to the office. Sales and conversion remained consistent month-to-month, and our promotions and markdowns were in line with plan, leading adults to achieve its best Q2 sales since 2015 and its highest Q2 AUR since 2005.
2Q22 Abercrombie Earnings Call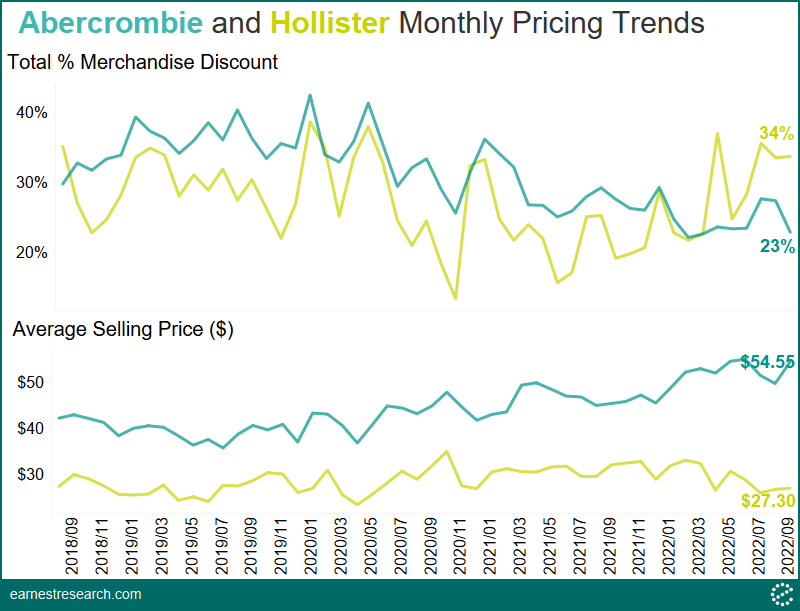 To learn more about the data behind this article and what Earnest Research has to offer, visit https://www.earnestresearch.com/.