These are the Mobile Games Defying Economic Headwinds — and Why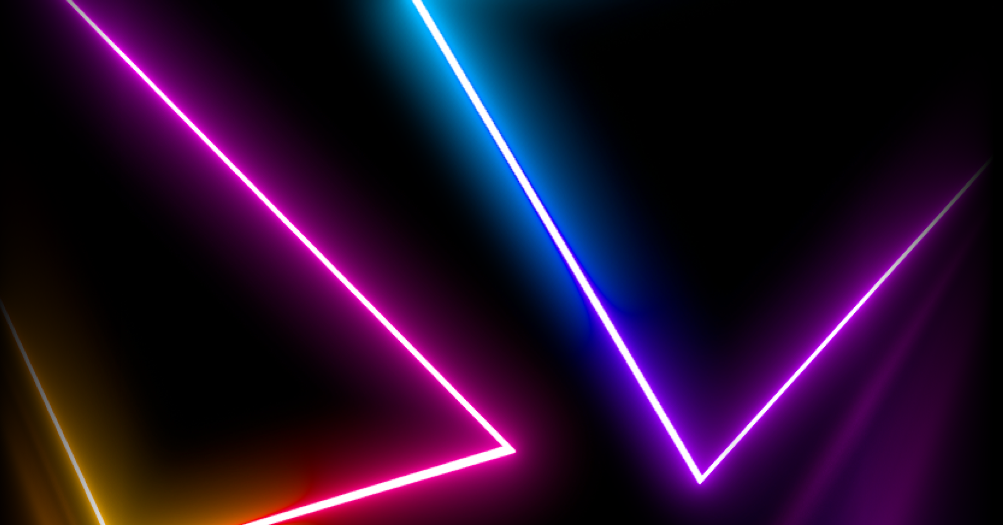 After soaring to new heights in 2020 amid a surge in consumer demand for entertainment and escapism, the mobile gaming space was hit by platform privacy changes and an overall decrease in engagement as real-world experiences became viable once more. Nevertheless, the category still represents an impressive 61% of all consumer spending in apps, a figure that would be even larger if accounting for in-app ad revenue.
Bucking the Economic Slowdown
In Q3 2022, consumers spent more than $6.7 billion per month and downloaded nearly 5 billion new titles every month. While impressive, both totals represented a slight decrease on the year-ago quarter, but were still a comfortable 25% higher than pre-pandemic levels in Q3 2019.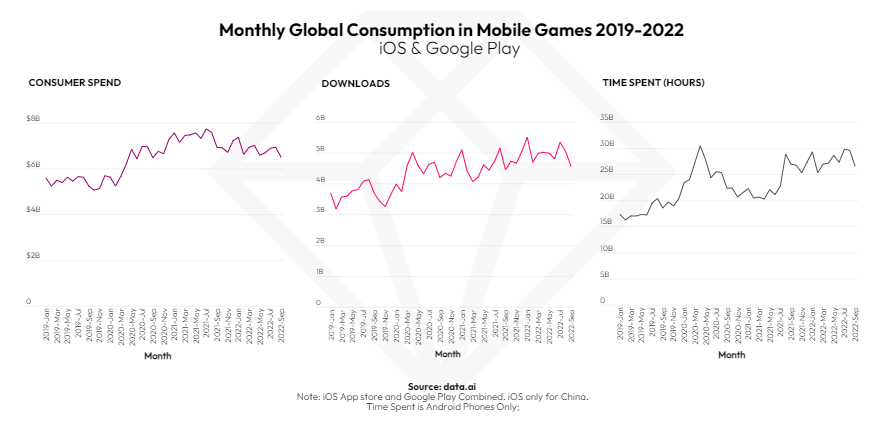 What continues to make mobile games an appealing market is their unrivaled player base, established distribution platforms, and performance marketing which enables titles to scale. These three factors have traditionally made mobile gaming venture capital (VC) friendly, which brings in the funding that keeps the flywheel turning. That said, as the market has matured and experienced considerable privacy restrictions, VCs have needed to be much more strategic and data-driven in their investments.
During the past year, mobile gaming has encountered headwinds for the first time since microtransactions were enabled on handheld devices. The major challenge is, of course, privacy changes that have made it much more difficult to scale games on iOS. These changes are expected to hit Google Play in some capacity in the near future. Another challenge looming in the perhaps more distant future is cloud gaming. As mobile device specifications and internet bandwidth continue improving, it might only be a matter of time before certain mobile gaming genres are in direct competition against the PC and console platforms that offer outsized value through their various subscription services, such as Xbox Game Pass and PlayStation Plus.
The Mobile Gaming Market Is Mature Yet Constantly Evolving
Over the intervening months since Apple's deprecation of IDFA and launch of ATT for advertising targeting , we've seen Google Play becoming the preferred platform for testing and launching new titles due to the fact that it hasn't implemented similarly strict privacy changes.
Privacy enhancements have also contributed to vertical integration, as mobile game publishers have acquired advertising technology to gain more ownership over their data. Overall, consolidation has been the name of the game during the bear market as several top mobile publishers were acquired by larger gaming companies, which in turn will lead to more PC- and console-born IPs (intellectual properties) entering the mobile space.
Other evolutions impacting the mobile gaming market are court rulings around the world that are opening up the doors to alternative payment systems. And, of course, restrictions in China have nearly blocked new game launches in that market, forcing companies there to look for opportunities outside their home market.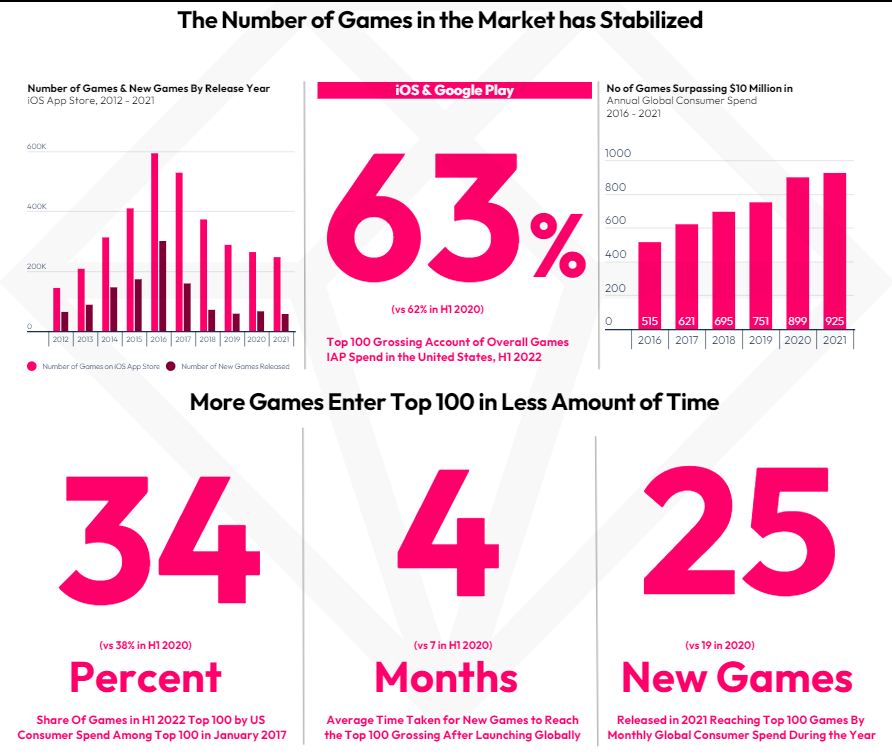 The maturity of the mobile games market can be underlined in the graphs above. Firstly the number of games launched and an overall number of games in the marketplace has been decreasing for six years straight. And while the number of games that can generate healthy business by making over $10 million in annual in-app purchase sales has steadily increased, the fact remains that the top 150 grossing games make more in total revenue than the "bottom" 247,000.
On the upside, 25 new games reached the top-grossing chart in 2021 compared to 19 in 2020. And the time it's taken for breakout games to enter the top 100 list after launching has decreased every year. In 2021 it took only four months on average for a new game to reach the top 100. This may be due in part to titles that had ever larger than typical launch budgets than and strong IPs to support the increased spending.
Genre Trends and Who's Defying Them
During the first half of 2022, most core genres of mobile games in Western markets saw declines in revenue while downloads continued to mount up. The decrease in spending can be attributed to factors such as limited targeting capabilities and the slowdown of the global economy. The continued increase in downloads can, to some extent, be attributed to publishers finding confidence in the post-ATT performance marketing environment and the increased investment to scale on Android.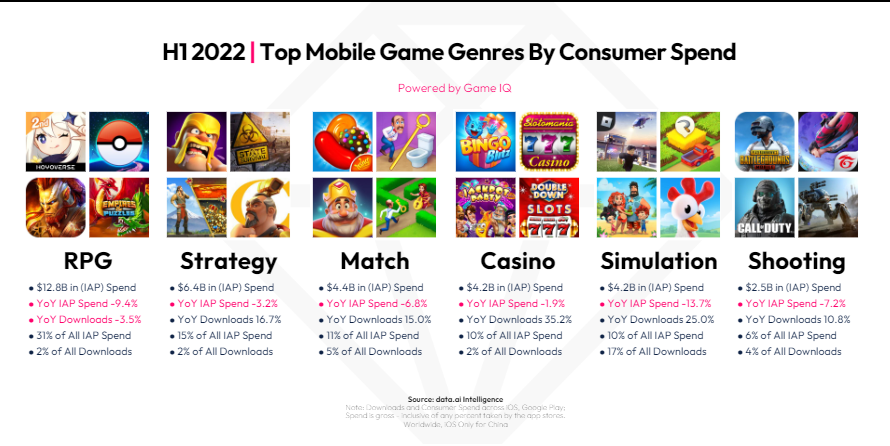 Casual Games
In casual games, the initial drop in downloads following privacy changes on iOS was quite steep. Yet, the genre rapidly recovered and is back on the growth curve. What didn't recover is revenue, which still trails behind.
Who's bucking the trend:
Merge Game genre downloads continue to decline as scaling up for these titles became very difficult, due to the seemingly unlimited amount of new genre entrants and privacy changes. Yet Merge Mansion from Metacore is going against the trend. What's noteworthy in Merge Mansion's case is the investment into its narrative in both game design and creatives.
Idle Games have seen renewed growth with IP-driven titles like The Office and RuPaul's Drag Race, which are both maintaining their revenue up despite a decline in downloads. Overall, East Side Games, the publisher behind these titles, has showcased impressive capabilities in not only implementing these IPs but also driving a healthy long-term monetization outside the U.S. and iOS.
Hypercasual Games
Hypercasual game downloads have managed to continuously reach new heights each year. The number of new games that hit the top 100 download charts decreased compared to 2021, while older games continued scaling. In two years, downloads on iPhone have halved while Android installs have grown by nearly 50%. Google Play's policy on banning intrusive ads will likely negatively impact the genre. Overall, the trend toward hybrid monetization is visible as IAP revenue is up by 30% since the beginning of the year.
Who's bucking the trend:
SuperSonic and Crazy Labs (Embracer) have shown strong growth among Hypercasual publishers racing to take leadership spots in H1 2022 from Voodoo and Lion Studios (AppLovin), the two top Hypercasual publishers by downloads globally in 2022.
Mid-Core Games
Mid-Core games are a very diverse category. It comprises both high userbase games with low unit economics, such as shooters, as well as titles with niche audiences and whale monetization, such as RPGs and strategy games.
Despite this very diverse group of games, launching and scaling a Mid-Core game has become equally difficult for all of them post-privacy changes. This has led to a broader monetization strategy instead of focusing purely on targetable big spenders. We've also seen the launch of PC clients for cross-platform play as well as websites enabling players to top up their in-app purchases with better-valued deals off-platform.
But perhaps the most impactful change has been around collaboration with IPs, as it has helped to expand the top of the player acquisition funnel. We've also seen sequels and brand extensions finding success in the market.
Who's bucking the trend:
Apex Legends from Electronic Arts and Diablo Immortal from Activision Blizzard both launched successfully, breaking into the top 100 grossing titles. These, along with other examples, show the power of a traditional gaming IP when adapted to mobile. This is also a testament to console and PC publishers' ability to finally, successfully expand onto mobile with their household-name franchises. Consequently, it means that the quality bar for Mid-Core mobile games is continuing to increase by leaps and bounds.
Riot's Teamfight Tactics and League of Legends: Wild Rift had somewhat lackluster launches in Western markets, but both games were launched in China and instantly multiplied their run rates going from possible failures to successes in a matter of weeks.
Genshin Impact from MiHoYo bucked the trend by launching cross-platform and in all key markets on day one. Since then, the title has largely redefined cross-platform as well as set a new standard for what a mobile game can look like.
Casino Games
Casino games were the biggest winners during public health lockdowns. As real-life casinos closed, new players flocked to mobile Casino games, growing the audience of this very niche yet incredibly well-monetized category.
Given the high level of competition and whale monetization that relies on extremely accurate user targeting, we were sure that the category would be among the biggest losers of the post-privacy-changes era. After all, the return on ad spend in this genre is counted in years.
Who's bucking the trend:
We'd say the whole genre. Not because it's growing, but because it hasn't declined as rapidly as we had expected. Nevertheless, the long-term effects of privacy changes are being felt already with downloads climbing while revenue declines. Some of the largest social casino games, such as Coin Master from Moon Active, have also declined after record-breaking years during the height of the pandemic.
Opportunities
While the mobile games market as a whole is declining, there are titles that continue to buck the trend and not only win market share, but also increase their revenue despite the shrinking pie. The winners in the current market employ three main strategies: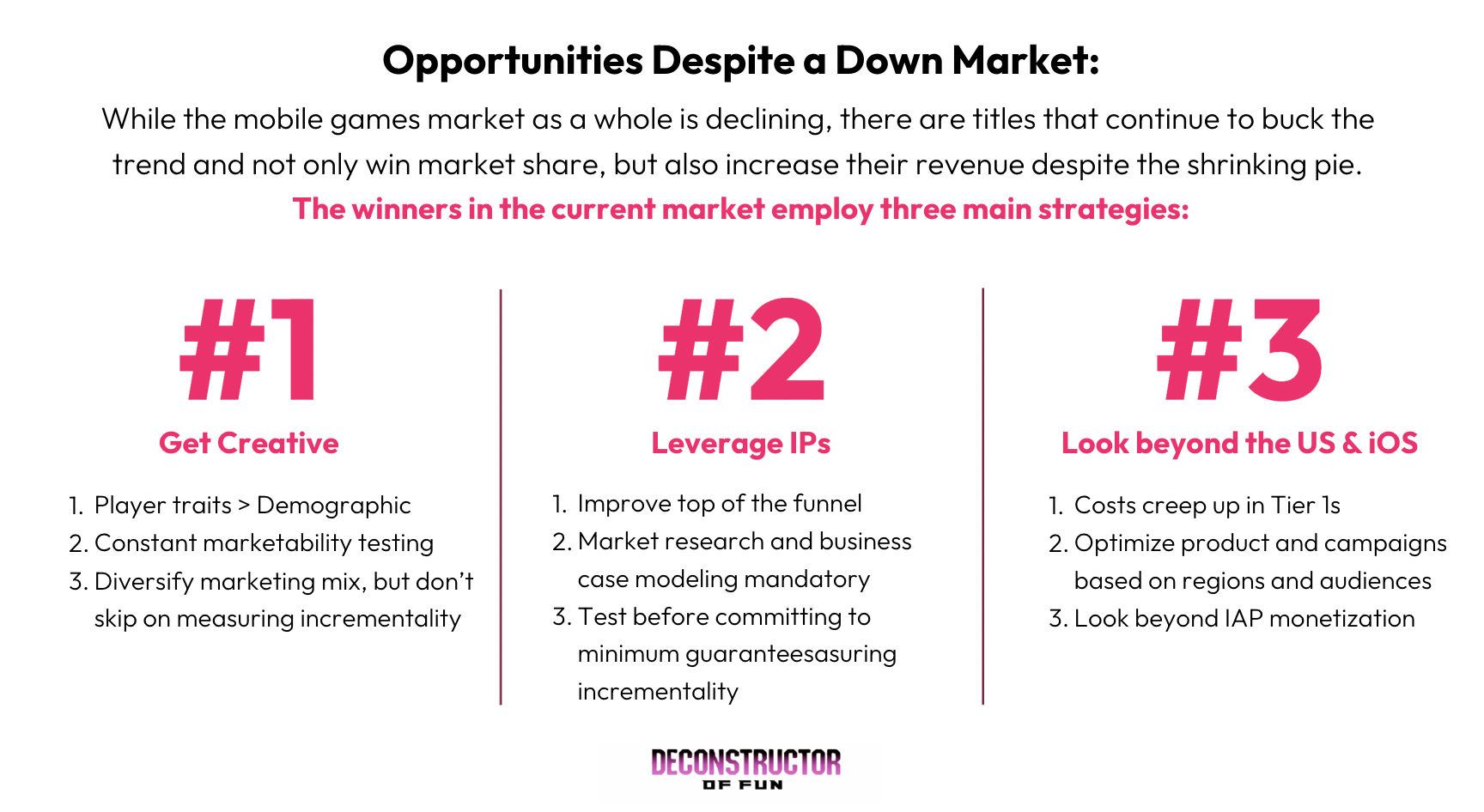 Strategy #1: Get Creative
For years, publishers were able to allow adaptive algorithms to do a part of the heavy lifting for user acquisition. Following privacy changes, the focus has started to shift towards a deeper understanding of the target audience, relentless marketability testing, and utilizing a diverse marketing mix.
In practice, this means making creatives that tap into players' traits over demographics and then testing those through existing marketability platforms to ensure high IPM (install per thousand impressions).
Strategy #2: Leverage IPs
In short, IPs are back in demand on mobile after a lengthy break. Where before their benefit was outweighed by effective user acquisition, now an IP that fits with the title's gameplay can significantly broaden the top of the funnel. The right IP is thus a great tool for a game that has a broader marketing mix to reach its large addressable audience.
But before signing off on minimum guarantees, publishers should still be analytical in their approach. Proper market research and meticulous business case modeling are necessary. And to be even more sure, publishers should test the IP's marketability through their chosen platforms before committing to it.
Strategy #3: Look Beyond the United States and iOS
English-speaking markets are typically the most valuable in terms of the lifetime value of a player, but they're also usually the most expensive. As such, it's a fine balance between these high costs and also a higher return on ad spend.
Companies that succeed outside the U.S. and iOS don't think about international markets as the "rest of the world" but instead focus on growth pockets, making sure to localize and sometimes even culturalize their approach when entering and winning in these regions.
To learn more about the data behind this article and what AppAnnie has to offer, visit www.appannie.com.