Latin America hotel performance was mostly recovered in 2022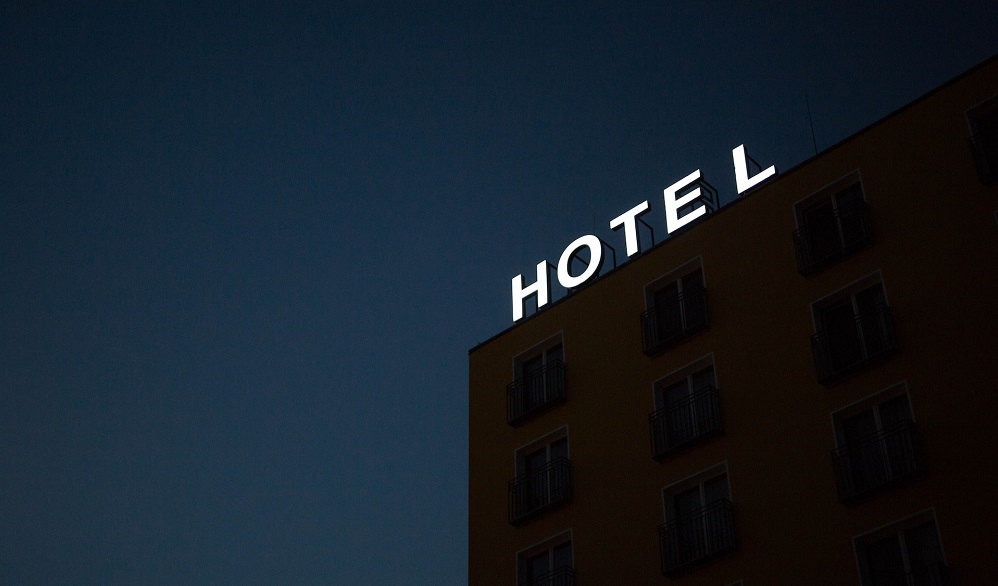 Performance recovery was substantial for most of Latin America's hotel industry in 2022, with Mexico, Central America and South America easily surpassing their pre-pandemic comparables in revenue per available room (RevPAR). While all three experienced substantial growth in room rates, Central America came closest to 2019 level in occupancy.
__South America*__
Occupancy: 57.0% (-3.2%)
ADR: US$87.57 (+30.3%)
RevPAR: US$49.93 (+26.2%)
Central America
Occupancy: 55.3% (-1.4%)
ADR: US$148.36 (+24.3%)
RevPAR: US$82.07 (+22.6%)
Mexico
Occupancy: 60.1% (-1.8%)
ADR: US$144.04 (+34.4%)
RevPAR: US$86.53 (+31.9%)
*ADR and RevPAR figures presented in U.S dollar constant currency. Venezuela was excluded due to the significant impact of the country's currency fluctuation.
South America
South America's recovery started a bit earlier than the rest of the Americas, due to seasonality (Q4 and Q1 summer months), an earlier reopening and healthy domestic/intraregional travel. The domestic demand that lifted South America's performance was heavily skewed toward leisure sources, but pent-up demand started to slow toward the end of 2022. Such a slowing was more visible in Colombia, Brazil and Peru, whereas Chile and Argentina saw acceleration later in the year.
Part of Brazil's slowing came amid elections in November. Peru continues to struggle with political instability and social unrest, which led to a state of emergency in December.
Among key markets in the region, Rio de Janeiro led with a 63.9% occupancy, which was 6.1% above the 2019 comparable. Lima (31.8%) reported the lowest occupancy and was furthest away (-23.6%) from its pre-pandemic level. The aforementioned state of emergency was extended to Lima in mid-January 2023 following weeks of protest.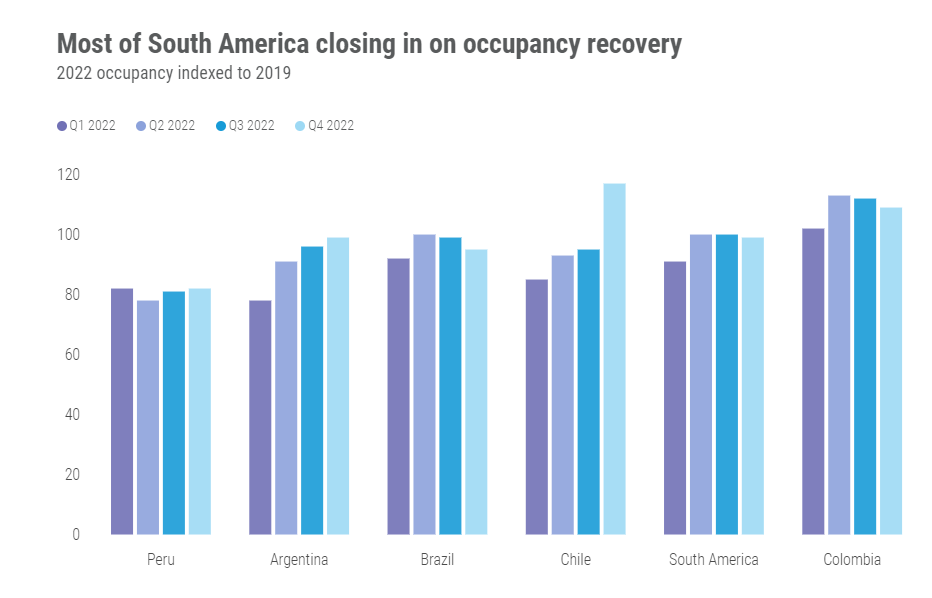 While the return of leisure travel was obvious and pronounced in South America, corporate demand was later to return. Over the closing months of the year, however, weekday (Monday-Wednesday) had returned to within a few percentage points of full recovery. Weekday occupancy is a key indicator for business travel. Additionally, shoulder days (Sunday and Thursday) were above or at least near 2019 occupancies over the last four months as well.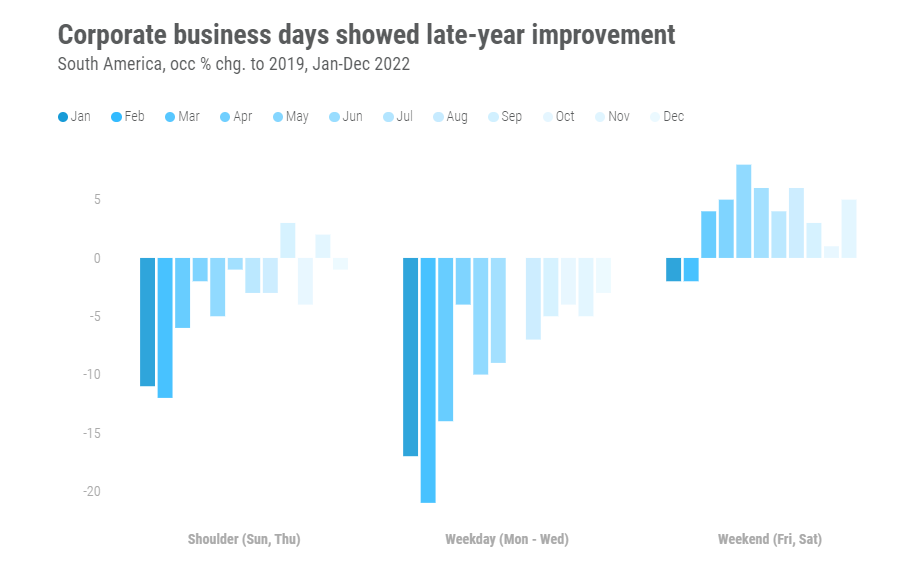 Interestingly in Brazil, there's been somewhat of a stalling of weekday occupancy recovery more recently. However, the high-end hotels—larger properties more reliant on MICE business—outperformed budget-friendly leisure-driven options. That's been true for high-end rates globally, but only select destinations have reported luxury and upper upscale occupancy better than the other classes.
That trend in Brazil was likely a combination of existing leisure and recovering corporate demand driving transient demand. Groups in Brazil showed a moderately more delayed return late in 2022, which helped bolster high-end hotel occupancy even as leisure demand slowed to a more normal pace. Resort hotels were also a big part of Brazil's 2022 success.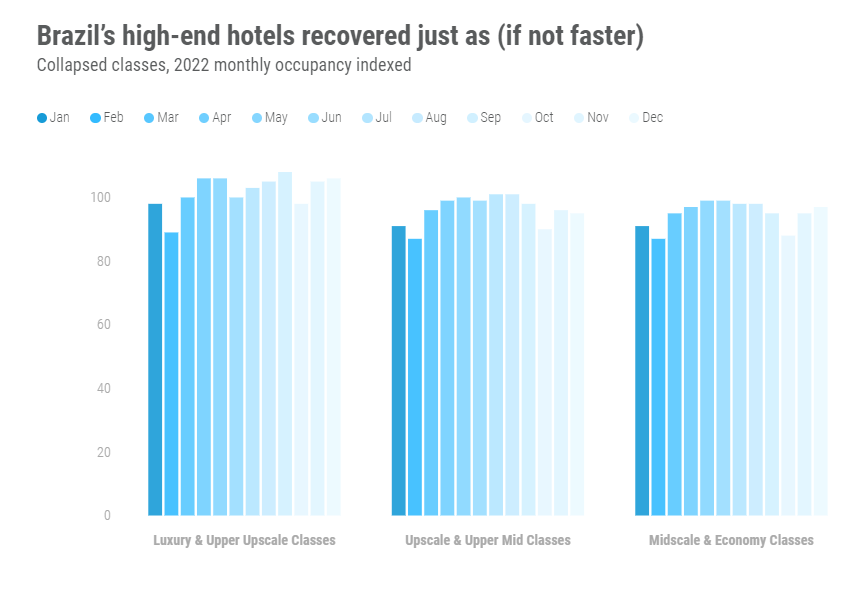 Another factor impacting performance around South America was inflation, which came in higher than the other regions such as the U.S. and Europe. However, inflation and ADR moderated later in the year in the region's major economies, with the exception of Argentina.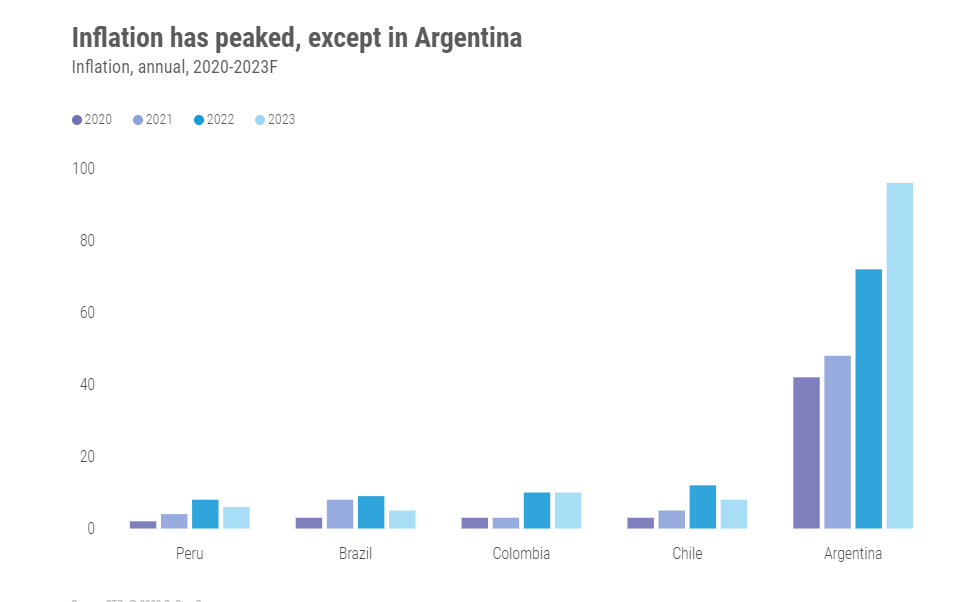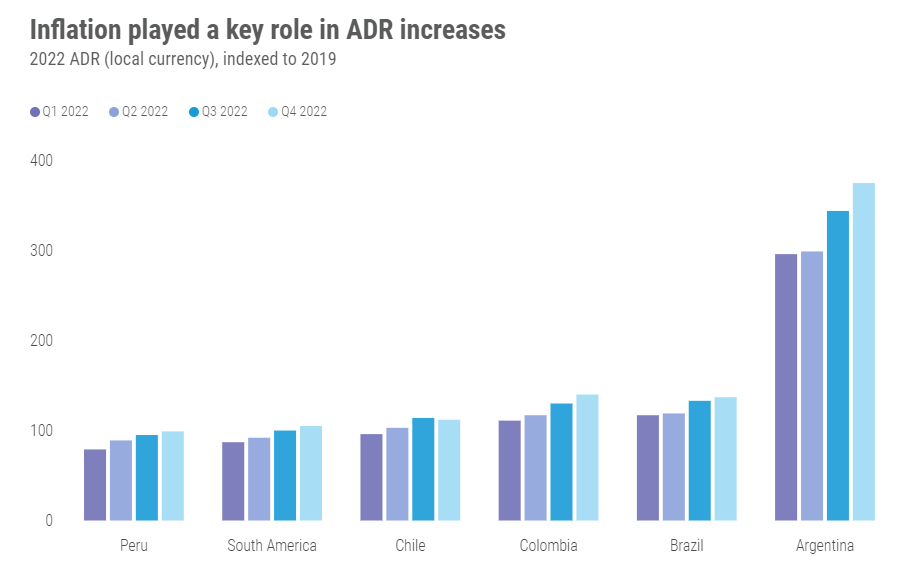 Central America
Although recovery was further ahead overall, similar movement played out in Central America with a bit of plateauing in occupancy and ADR growth moderating later in the year.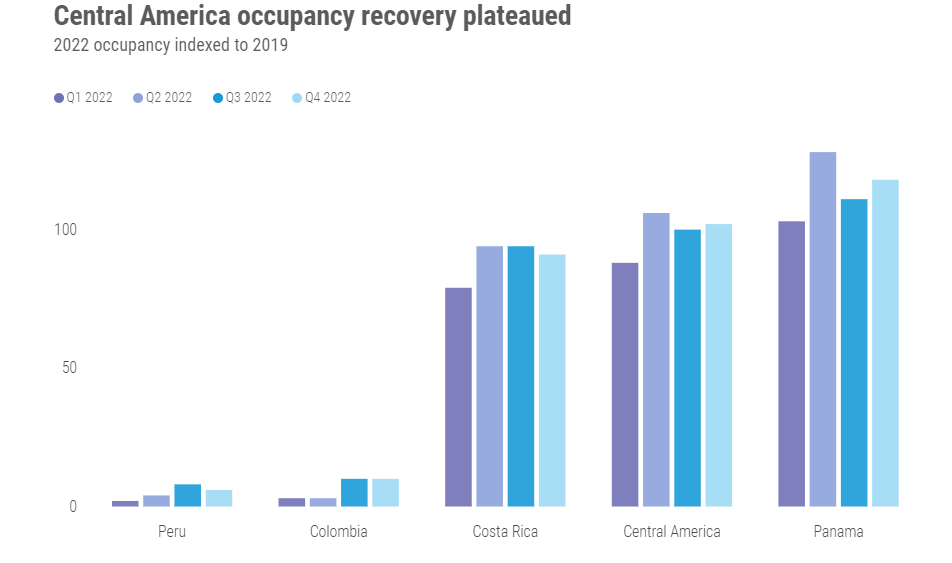 Among key markets, only Panama City surpassed its 2019 occupancy (+14.7% to 53.8%), although markets in neighboring countries came in with higher absolute levels. Panama City is still absorbing a significant volume of new supply that has entered the market past 10 years, although ADR continued to grow above inflation. New projects are continuing to enter the pipeline in Panama, but unlike previous years, that new supply is more diverse with a different focus on leisure destinations.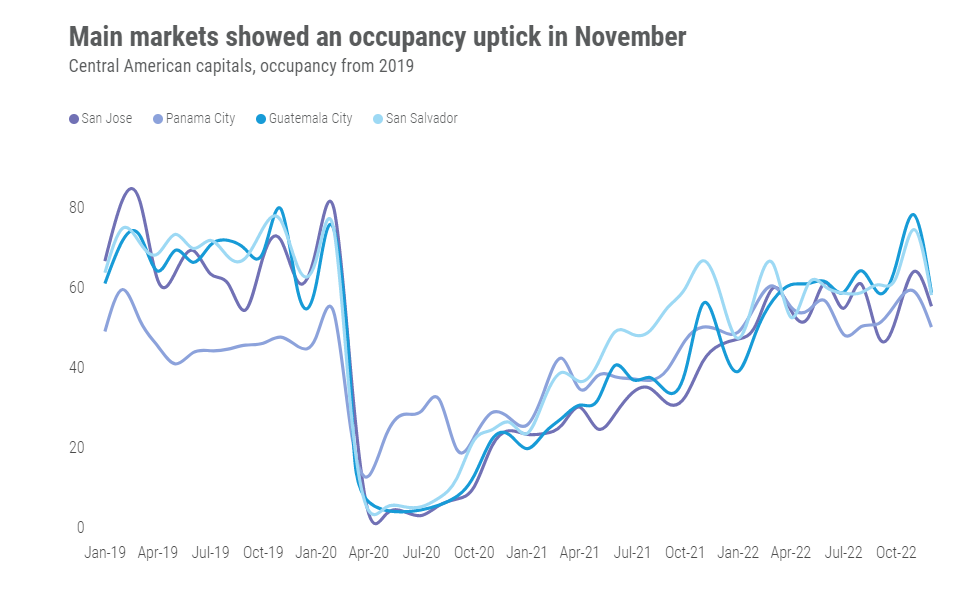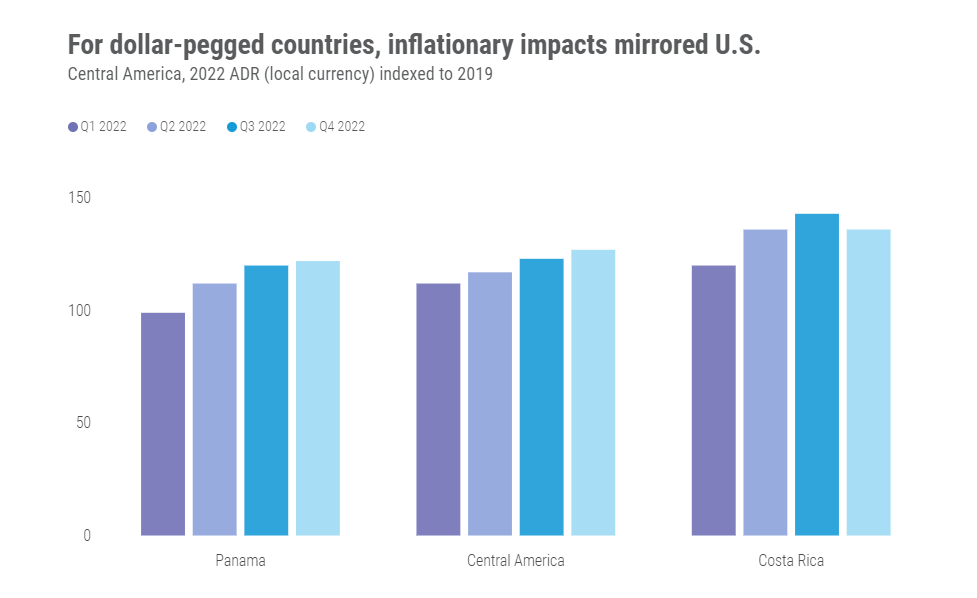 Costa Rica has positioned itself as a sustainability leader in the region. Therefore, it is no surprise that the regional areas of the country, particularly the Guanacaste region, boasts ADR above US$300. Overall, Costa Rica's ADR (US$213.04) was 31.2% above the 2019 comparable, even though the market's occupancy (58.7%) was still 11.1% lower than 2019.
Mexico
Mexico's performance growth has been well pronounced, although the mid-tier and economy market is lagging behind 2019 occupancies. Overall, leisure markets drove performance in 2022 with occupancies between 70-75% for the main destinations.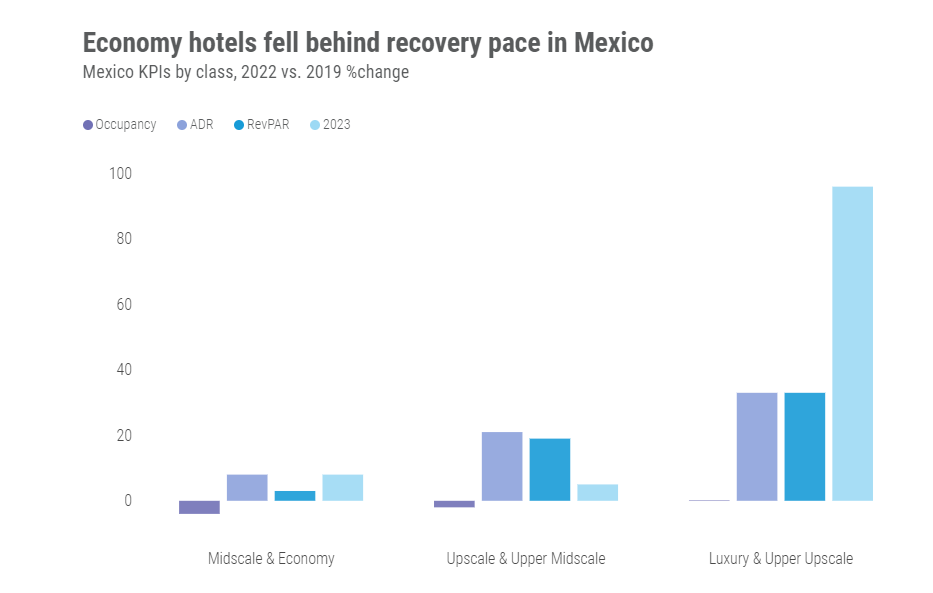 Los Cabos RevPAR stood out due to high ADR from the Luxury segment, but more domestic markets such as San Miguel de Allende, Cuernavaca and Acapulco are performing particularly well on weekends.
Even Mexico City is seeing the impact of leisure demand, reaching 93% occupancy during the "dia de los muertos " festivities in November. Weekdays are improving at a slower pace.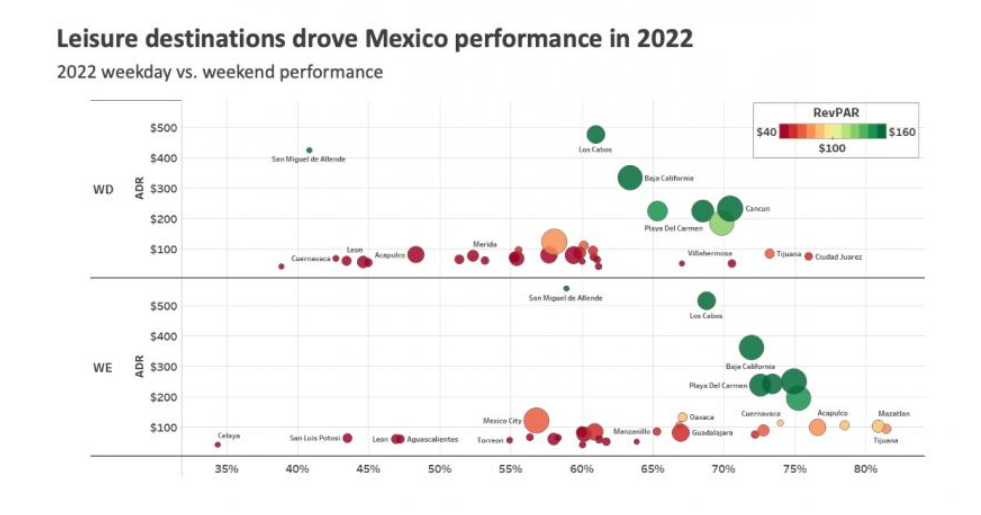 Cancun, a popular leisure and even "bleisure" spot, saw monthly occupancy peak at 80% in March with a minimum level of 63% the rest of the year. As shown via Forward STAR, that occupancy trend should continue in 2023 with seven out of 10 rooms already booked on average for February with even more uptick for the following months. Cancun appears to be especially popular around the Presidents' Day holiday in the U.S. in late February 2023.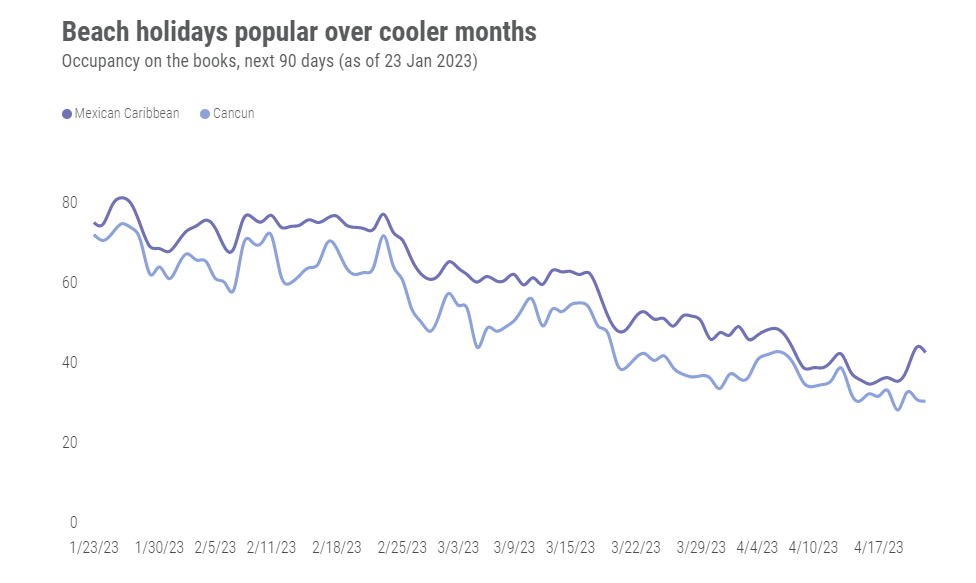 Conclusion
Moving forward, all eyes will be on international travel to Latin America, which was lacking overall in 2022 despite a nice bounce back in certain markets. The same caveat can be applied to group/business demand as these segments were yet to show full recovery throughout the year. Despite economic headwinds, much of the industry is in a solid position moving into the new year.
To learn more about the data behind this article and what STR has to offer, visit https://str.com/.