Cautious optimism in India's hotel performance recovery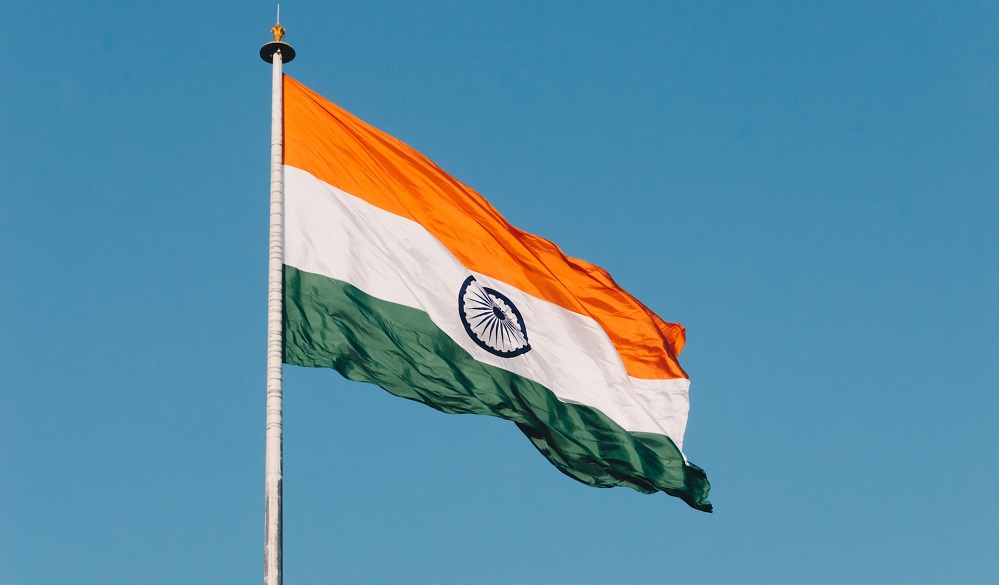 India's hotel industry turned in a stellar 2022 with revenue per available room (RevPAR) 100% recovered to pre-pandemic levels even with a devastating start to the year caused by a surge in the Omicron variant.
Steeper declines, sharper inclines
Recovery of RevPAR was more driven by average daily rate (ADR), which indexed at 108 when compared with 2019 levels. However, occupancy recovery was strong as well with an index of 93. Overall, the full recovery of RevPAR means indexing won't be needed much longer as year-over-year percentage changes become actionable again once the calendar is beyond the Omicron comparables.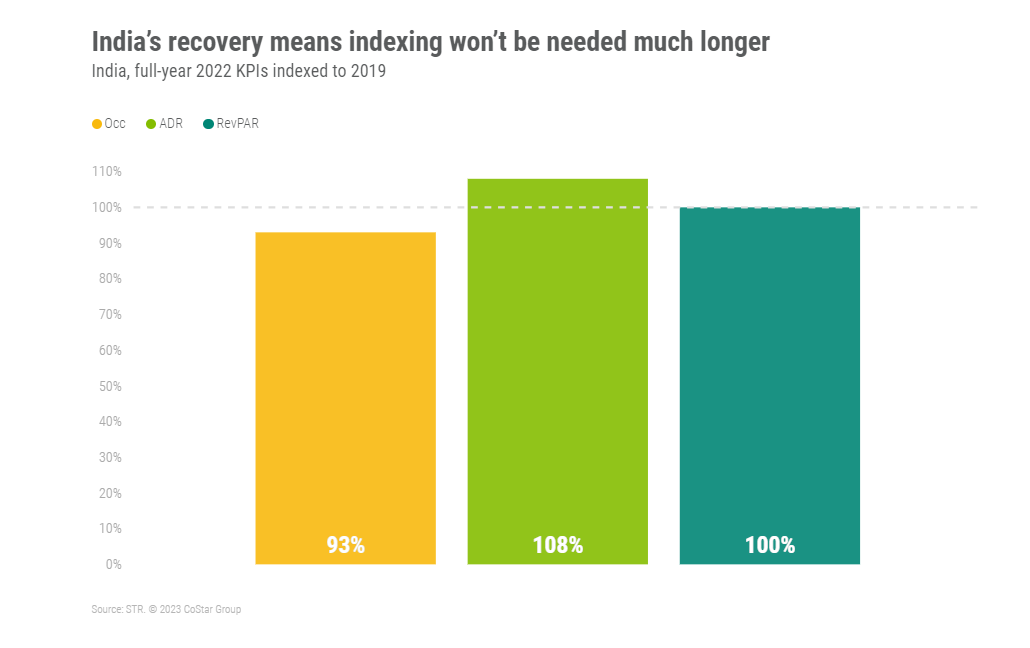 This fairly overdone RevPAR recovery chart included below becomes more interesting when comparing India to global performance and that of the entire Asia Pacific region and its many variances within.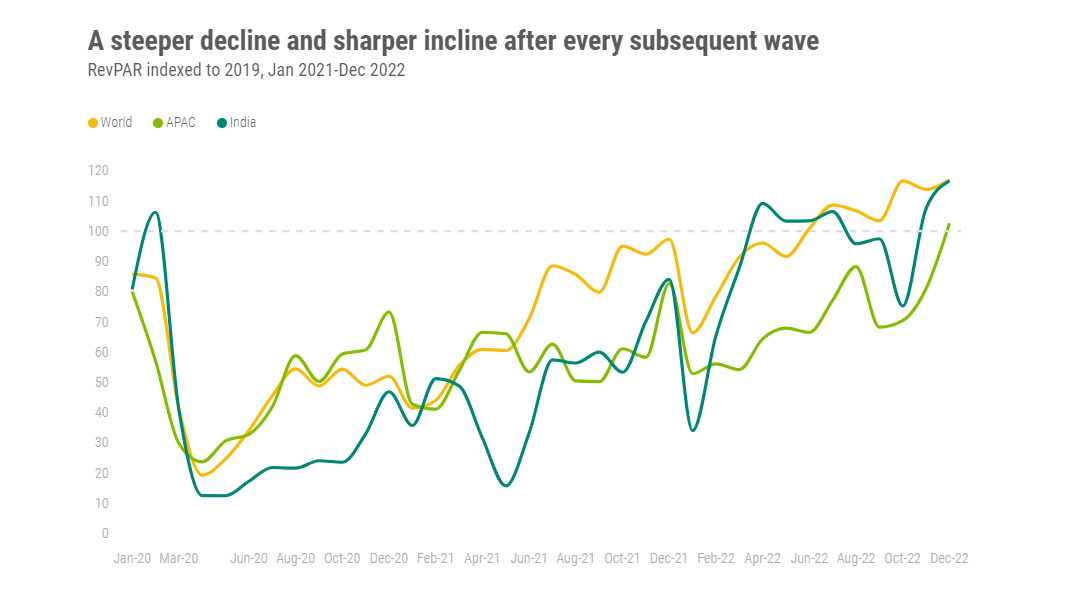 India witnessed steeper declines but sharper inclines in comparison after every subsequent wave of COVID-19. Specifically in 2022, India RevPAR indexed to 2019 rides past the global and regional comparables after the Omicron variant surge calmed down.
India hoteliers still have questions
Of course, while the industry's recovery line is undeniable, there are understandable concerns from leaders around the industry.
Is India's recovery sustainable?
Is the national recovery just being driven by a few standout markets?
Is India's rate growth inflation-driven?
Is leisure demand the only factor in recovery? What about business demand?
Having fielded these types of questions, STR's Karan Mahesh, Account Manager for Central & South Asia notes a few data-driven themes to answer these questions.
Highest year-end ADR since 2008
Firstly, 2022 performance broke a decade-long trend in occupancy and rates for the country. On the occupancy front, typical seasonality patterns were disrupted because of the Omicron impact on Q1. The months that followed produced a significant uptick in demand (both pent-up and otherwise), which brought along pricing confidence. The chart below represents ADR bandwidth for 2011 through 2021 with dots indicating monthly ADR for 2022.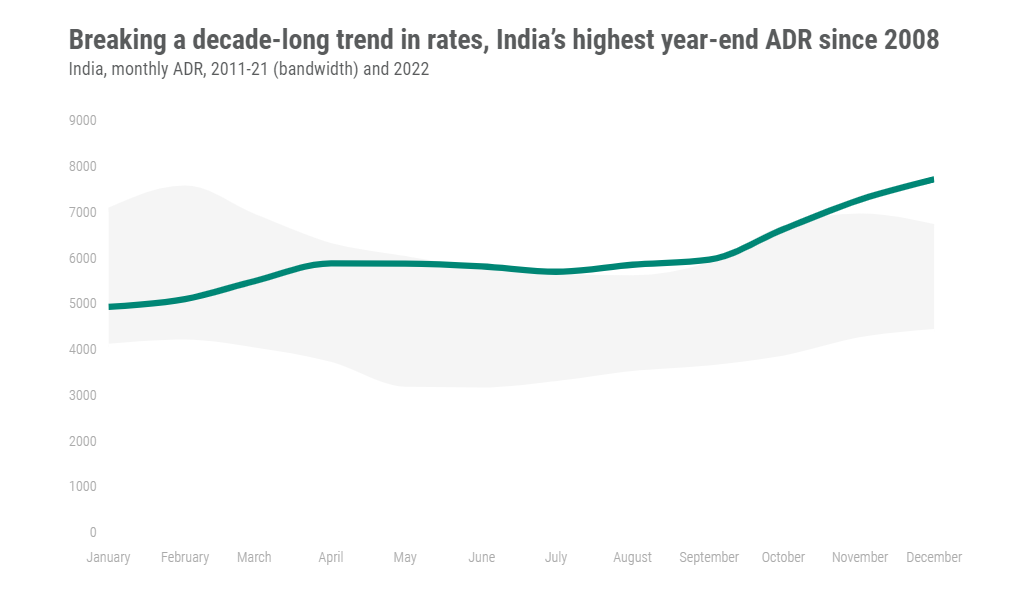 Class recovery
Although India's economy class was the laggard in terms of pace, all classes of hotels had recovered beyond 2019 RevPAR levels by the end of 2022.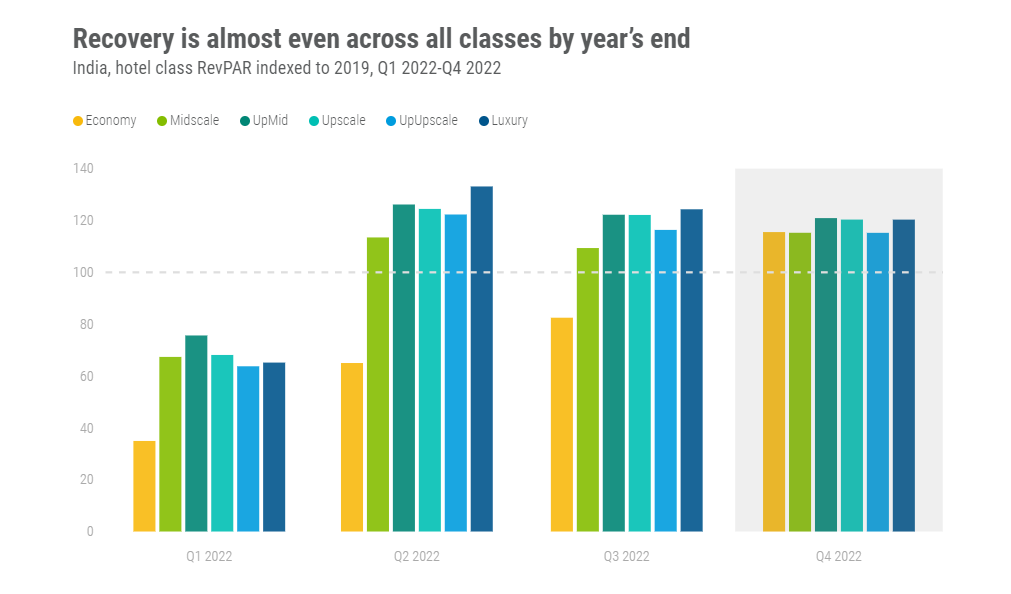 Weekdays, weekends, and shoulder days all showed a similar recovery pattern. Although leisure markets led the pack, business markets were above their pre-pandemic levels since April 2022. A study of select business hotels located amid business parks and in close vicinity to office spaces showed encouraging transient and group indices to 2019.
Record-high ADR for groups
Unlike other countries across the globe, where group business has some way to go to reach pre-pandemic levels, India has witnessed a rapid surge in group demand since April 2022.
Now, typically, group business comes in at lower rates. High group volume equals lower rates has been the norm. But not in 2022, especially for India.
The chart below displays transient (<10 rooms per day) vs. group (>= 10 rooms per day) ADR for 10 years leading up to 2019 on the left, with the monthly story for 2022 on the right. The results are undeniable.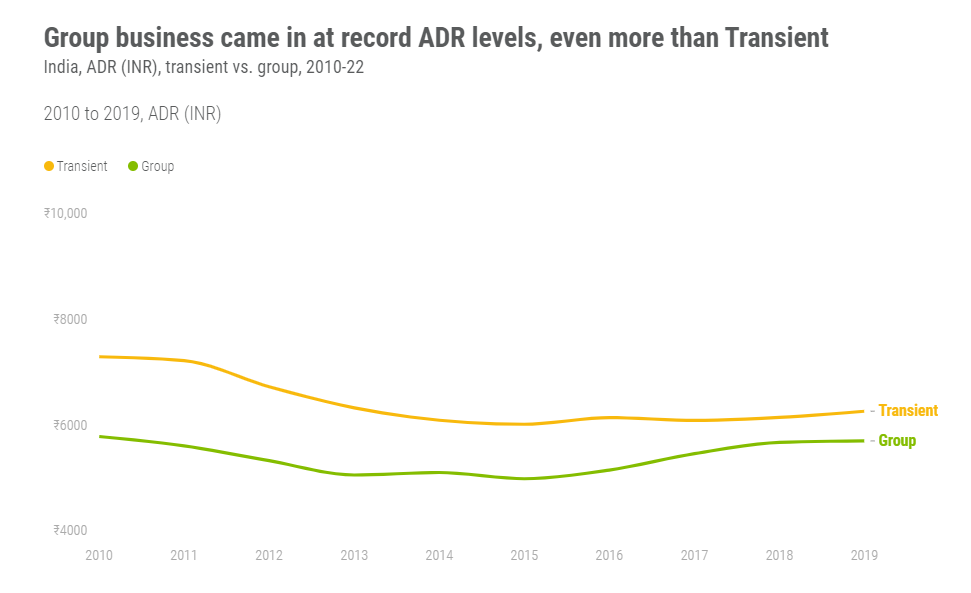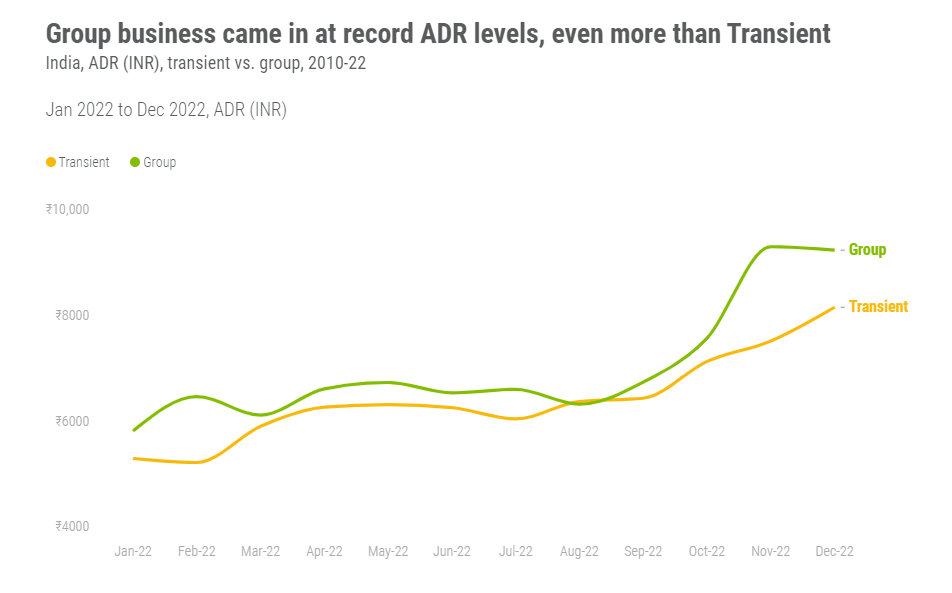 Weddings drove profit through rates
A large contributor to this ADR jump was of course weddings. However, classifying these weddings as "revenge" or "pent-up" is not the best description, as wedding dates across 2023 are almost sold out as well. There is little to no banquet space availability, and alternative options like halls and event spaces are seemingly becoming the norm. The chart below shows the way in which these events contributed to profitability through rates.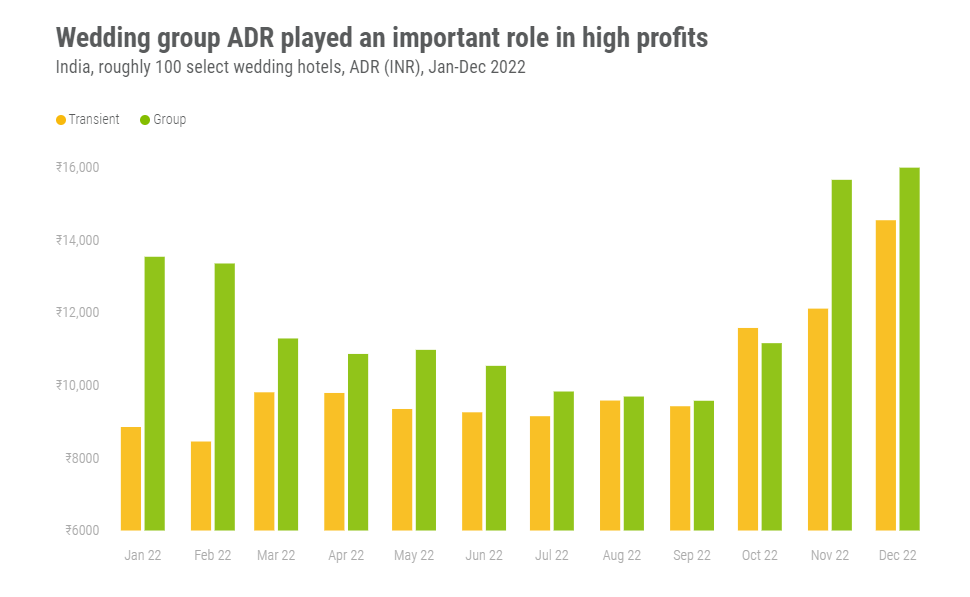 Recovery is widespread
Lastly, the most important aspect to sustainable recovery is scale. Luckily for India, there isn't one or two markets driving recovery for the country. Like the pandemic, recovery is widespread.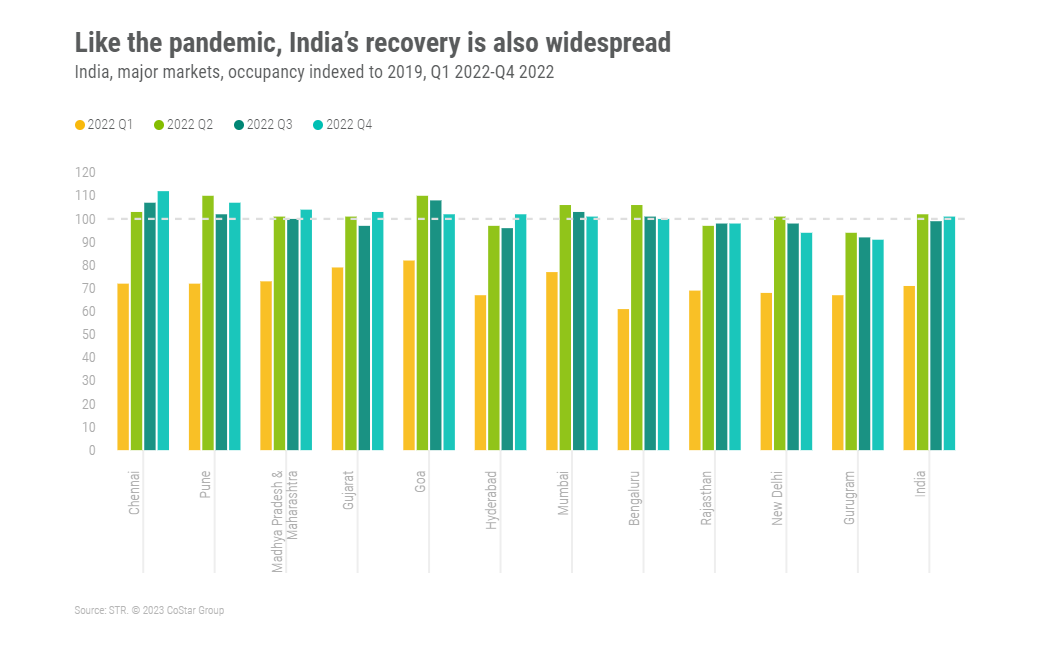 India's future bookings show demand remains
STR's Forward STAR is now available in 15-plus markets in India and shows that there is a good amount of demand into the future as well.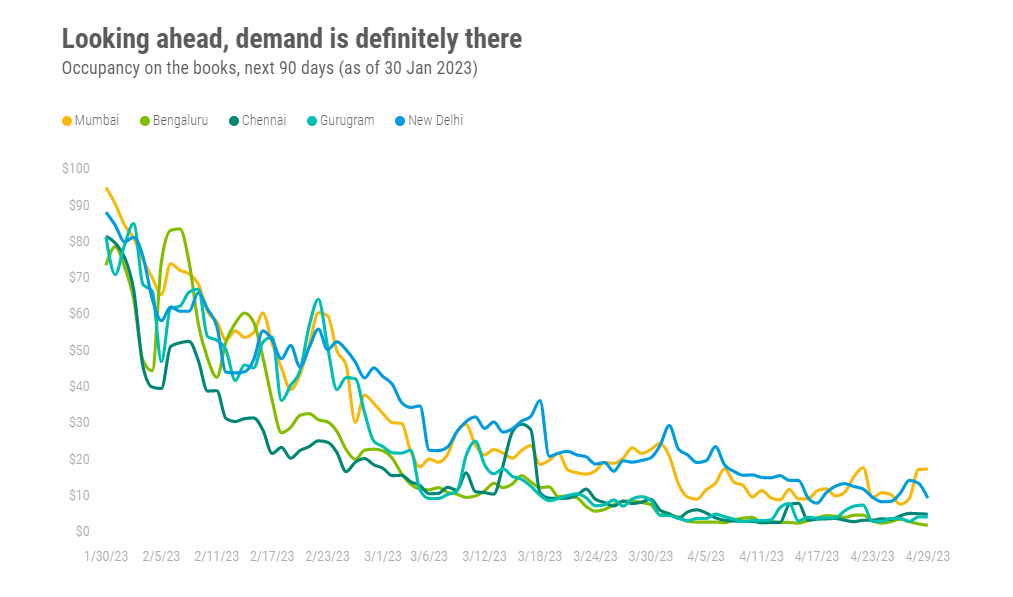 Although occupancy on the books is still relatively low for the medium-to-long term, pickup is also relatively short-term. So, whatever demand is missing for the future right now should get filled closer to stay date.
We can already see pickup windows starting to lengthen as there is much more confidence in travel now than what existed the same time last year.
Key factors for forecasts
To conclude, there are key factors to keep in mind while looking at India's hotel performance and forecasting:
Inflation & price: Real ADR (inflation-adjusted) has recovered, but slowing inflation coupled with possible recessionary headwinds from the west may put some pressure on rate growth.
International demand and leisure: While this works both ways, we can expect some normalcy in business mix start to return. Domestic leisure demand may not be as lustrous as it was in the past, but it will remain significant and important. Visa issues that exist for the country may help counterbalance the outflow of Indian travelers to countries abroad, especially to the likes of the U.S.
Supply incoming: While at a macro perspective, the incoming supply forecasted for 2023 (approx. 6% of existing supply) isn't out of the ordinary, there will be variances in its impact depending on which market you are located.
Growth vs. absolute metrics: Owners and operators need to align expectations on growth to the reality of how good the previous year has been. A similar result or mild growth isn't all that bad considering past performance and factors mentioned above.
To learn more about the data behind this article and what STR has to offer, visit https://str.com/.