Apartment List National Rent Report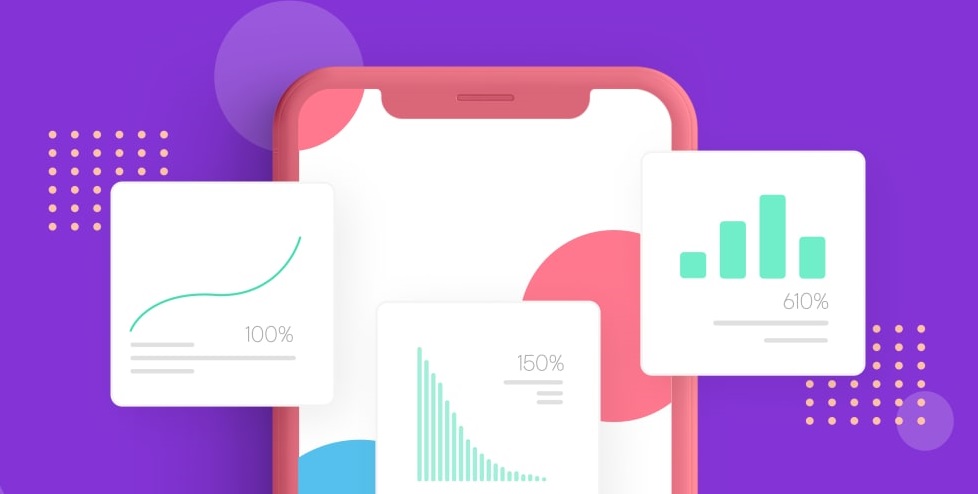 Introduction
Welcome to the October 2020 National Apartment List Rent Report. As summer transitions to fall, we exit what is traditionally peak moving season. But of course, nothing about this season has been traditional – from March through June of this year, our national rent index fell quickly during the months when rents generally rise fastest. Now, after two months of slight increases, our national index has again dipped, albeit only modestly. Renters are moving again, and rental markets have stabilized in many parts of the country, but the economic fallout from the COVID-19 pandemic continues to dampen rent growth and some of the nation's most expensive markets are continuing to see rapid price declines.
Rents dip in September as peak moving season comes to a close
In September, our national rent index dipped 0.1 percent. Normally, a September rent dip would be considered par for the course, and we saw similar declines in September of 2019 and 2018. But usually this dip follows a steady increase in rents through the summer peak season. In 2020, that peak season was severely disrupted by the shelter-in-place orders that defined the early stages of the pandemic, which caused a sharp dropoff in moving activity that put downward pressure on prices. Although the downward trajectory of our national index has since levelled off, rents are still down 1.4 percent compared to this time last year.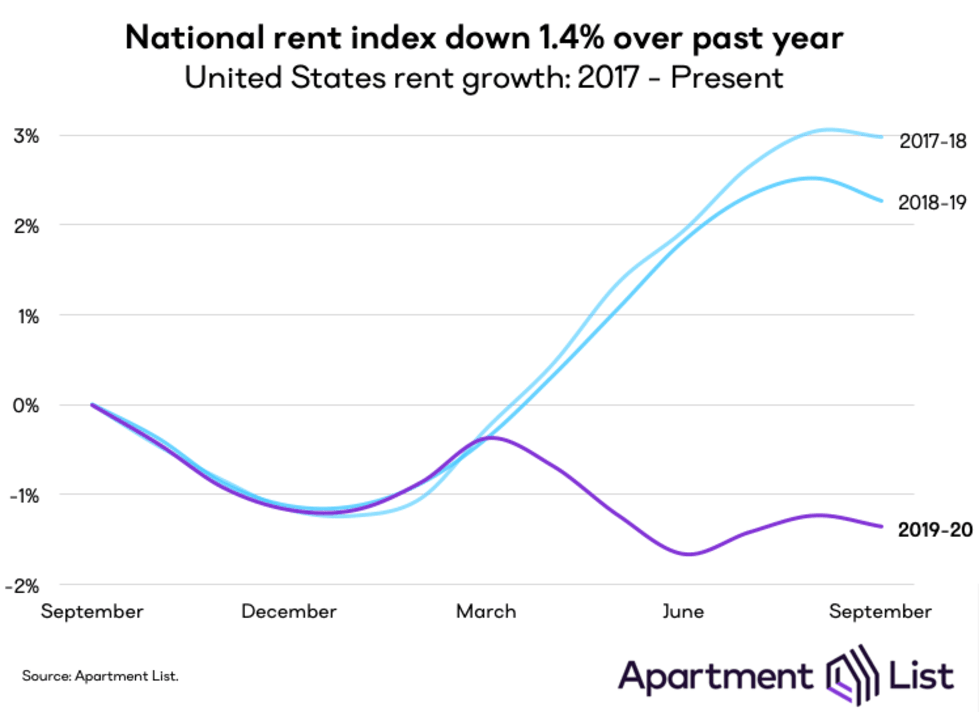 While rents are down nationally, the effects of the pandemic and its implications for the rental market have varied significantly by geography. Some smaller and more-affordable markets have seen rent growth quickly spring back to life after just a brief dip in the early months of the pandemic. Meanwhile rents in some of the nation's most expensive cities are continuing to plummet.
Since March, rents are down in 41 of the 100 largest cities in the U.S.
Of the 100 largest cities for which we have data, 41 have seen rents fall since the start of the pandemic in March. To put that in perspective, during the same months last year just four cities saw a drop in rent prices, and among them the average decline was only 0.8 percent. And even in the cities where rent growth has been positive through the pandemic, it has still been sluggish. 70 of the 100 largest cities are currently registering slower year-over-year rent growth than at this time last year.
A sample of the nation's 50 largest cities highlights the stark difference between Summer 2020 and Summer 2019. Just 26 of these 50 cities saw rent go up this summer, compared to 48 last year. And in some of the cities with the most extreme price declines, the rent growth of 2019 has been completely wiped out by the pandemic.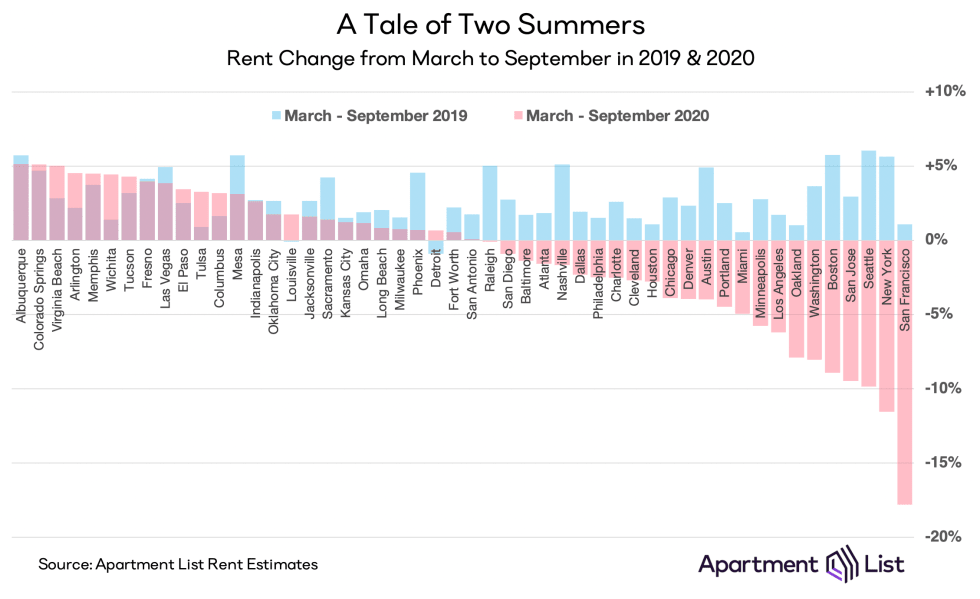 Despite the sluggishness compared to last year, many local rental markets appear to have stabilized fairly quickly after the dropoff in moving activity caused by the pandemic. More than half of the 100 largest cities have experienced positive rent growth since March. 59 of these cities had positive month-over-month rent growth from August to September, which is actually far more than the 36 cities that had positive month-over-month growth in September of 2019.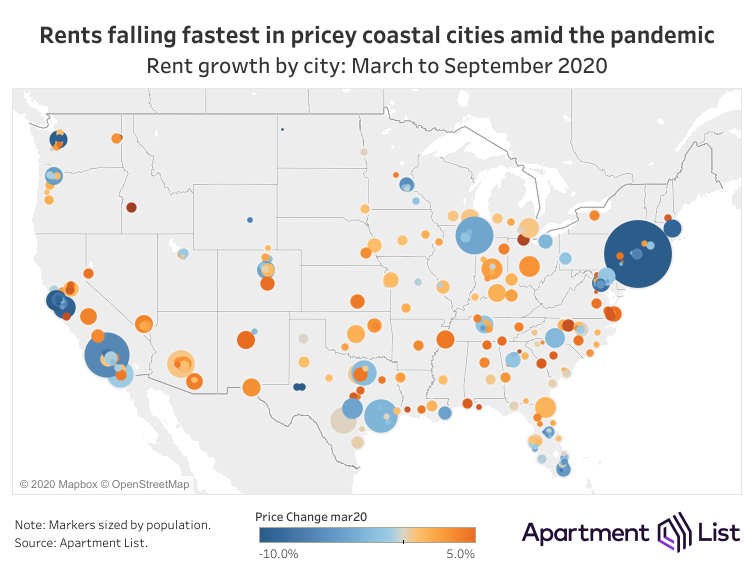 Continued declines in rent prices have generally been confined to the nation's largest and most expensive markets, while rent growth in many small and mid-sized cities is now back to following a more normal trend. In fact, as we discuss below, some affordable mid-sized cities appear to be seeing faster rent growth amid the pandemic.
In pricey coastal superstar cities, rents are still falling fast
While rent declines in most cities have been relatively modest, a handful of major cities are experiencing significant and rapid price reductions. San Francisco leads the pack with a decline of 17.8 percent since the start of the pandemic. The median 2-bedroom apartment in San Francisco now rents for $2,592, compared to $3,254 at this time last year. Though it remains the most expensive market in the country, San Francisco renters may now be able to find better deals than at any time in recent memory.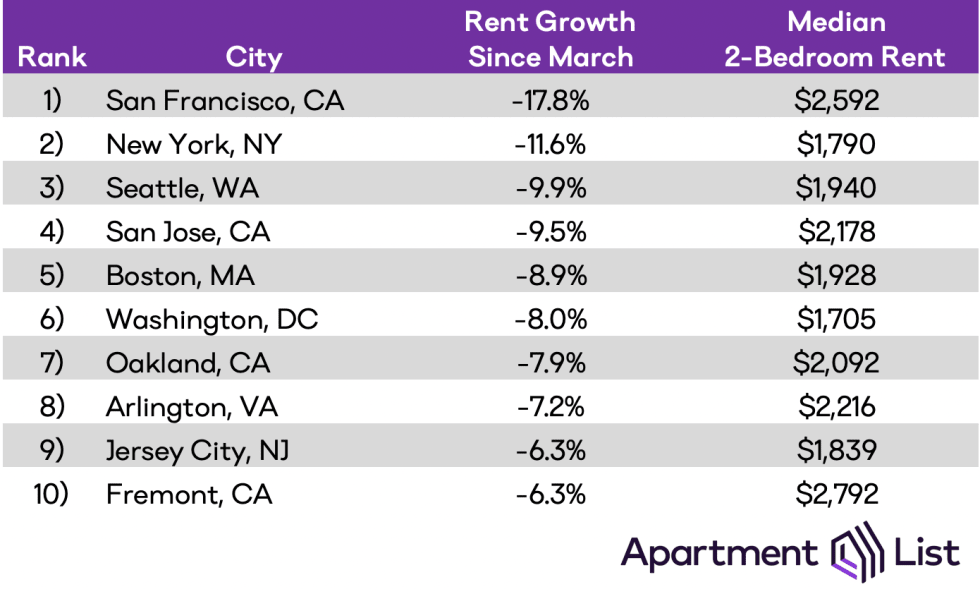 New York City ranks second with rents down 11.6 percent since March, and the top five is rounded out by Seattle, San Jose, and Boston, all of which have seen rents fall by more than 8 percent during the pandemic. Notably, these are all some of the most expensive markets in the country. These cities all have a high share of their workforces employed by the sorts of tech companies that have been quick to embrace remote work. No longer needing to be close to the office, and with many local amenities still closed, some of these workers may be questioning their choice of location.
Furthermore, workers who have been laid off or furloughed in these cities likely have little buffer to continue affording sky-high rents. These factors have led to a softening in demand that has caused some of the sharpest rent dips on record in these cities. And the downward trend in these markets has not yet slowed - rents in San Francisco are down by 5.2 percent over just the past month, while Boston, Seattle, New York City and Washington, DC all had month-over-month dips of 2.7 percent or more.
In affordable midsize cities, rent growth accelerates
While the pandemic and related economic uncertainty have generally caused a slowdown in rental activity, some cities have actually seen rent growth accelerate in recent months. In Boise, rents have increased by 9.7 percent since March, well above the 6.8 percent increase it experienced from March through September of 2019. Our rental price data is mirrored by evidence that Boise's for-sale market has also been heating up. As the priciest cities lose some of their allure, interest in more affordable mid-sized cities appears to be picking up, potentially driven in part by renters taking advantage of remote work arrangements. As many of us continue to spend the majority of our time at home, it is unsurprising that some are now seeking out new locations where they can afford more space.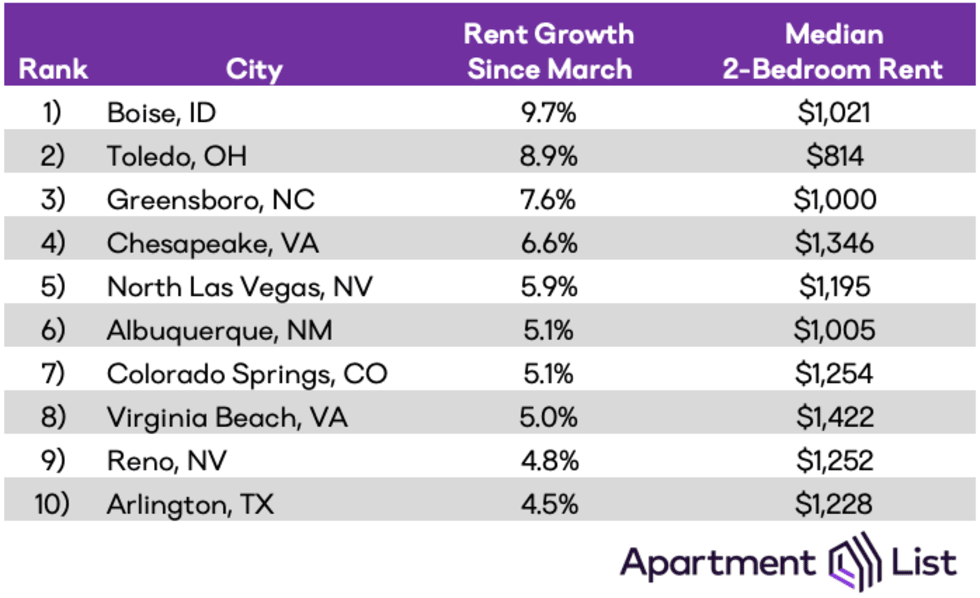 While we may be seeing the early signs of renters making housing choices independent of where their jobs are located, many of the cities with the fastest rent growth are still within commuting distance of larger job centers. For example, Greensboro, NC and Colorado Springs, CO are within 90 minute commutes of Charlotte and Denver, respectively. And though the drives are longer, it would also be feasible to make the occasional trip from Virginia Beach to Washington, DC or from Reno to the Bay Area. This trend may indicate that even workers who are planning for a permanent shift toward remote work still value the option to go into the office when needed.
Conclusion
Since the start of the COVID-19 pandemic, we have seen shelter-in-place ordinances put a halt to normal moving activity, combined with staggering job losses as huge segments of the economy were put on pause. Although some laid off and furloughed workers have been brought back, the unemployment rate remains startlingly high, and the economic recovery is likely to be slow and gradual. This heightened financial hardship has led to an increase in downgrade moves as many Americans are forced to look for more affordable housing options.
At the same, there is evidence that a growing embrace of remote work will outlast the pandemic, which could significantly alter the housing choices of workers in these flexible arrangements. Amid this backdrop, we're seeing a sharp dropoff in demand for expensive rental units in cities like San Francisco and New York, while more affordable mid-sized cities such as Boise are continuing to heat up.
To learn more about the data behind this article and what Apartment List has to offer, visit https://www.apartmentlist.com/.