Prime Day 2020: Crowning the Winners of Amazon's Biggest Shopping Event in History

Key Insights:
Prime Day purchases increased 51%, year-over-year (YoY)
Amazon's largest categories, Home & Kitchen and Electronics, grew purchases 62% and 27%, respectively
Handmade and Arts & Crafts were the categories with the highest growth rates
Half of the 50 best-selling products are Amazon-owned private label brands
Solimo, Amazon's Health & Household brand, grew 137%, YoY
Amazon Prime Day has become an annual summer event that helps boost online shopping at an otherwise slow time of year. The two-day celebration, which marks it's five-year anniversary, has lifted not only Amazon, but created a "halo effect" on other retailers, which hold parallel events (e.g. Target's Deal Days and Chewy's Blue Box Sale). As a result of COVID-19, Amazon was forced to push Prime Day 2020 from July to October, a decision that led many to wonder if the event would carry the same impact. The mammoth retail event's proximity to the start of the traditional holiday season, a precarious economic position for many shoppers and "discount fatigue," creates new challenges for the retail giant.
SimilarWeb is evaluating Prime Day from three angles:
Overview of amazon.com's performance
Impact on the broader retail sector
Deep dive into the top Amazon categories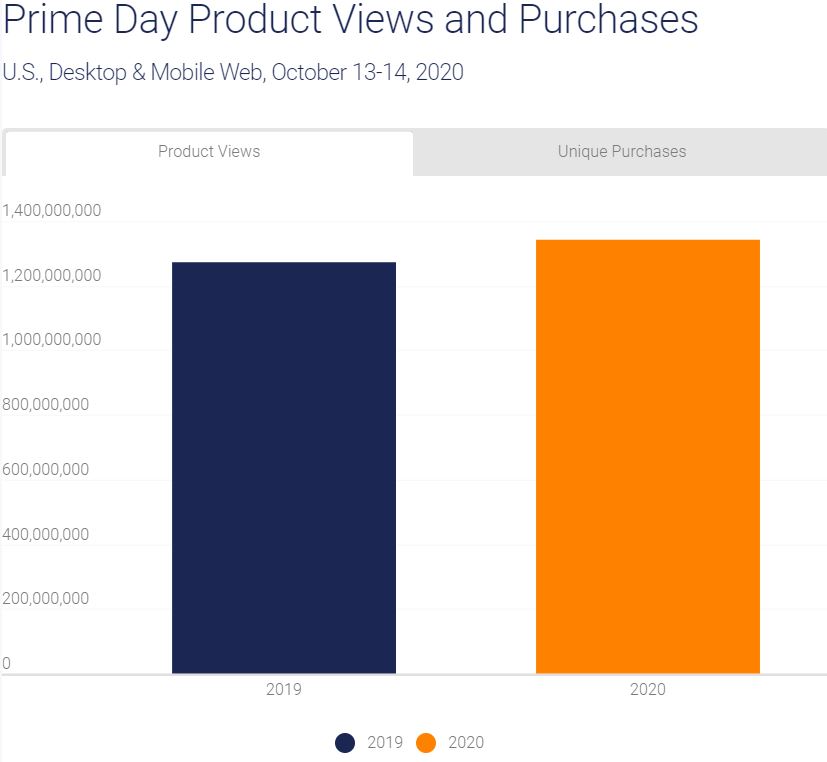 Overall, Prime Day 2020 outperformed 2019, with product views and unique purchases up 5% and 51%, respectively. In addition, the second day of 2020 performed slightly better than 2019, with only a 24% drop-off rate from day 1 in product views (compared to 26% in 2019), as consumers gravitated to lower-priced categories.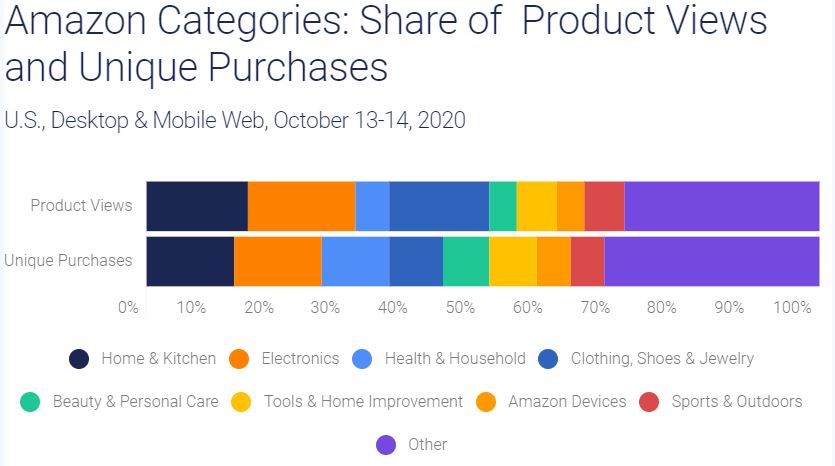 A major difference between 2019 and 2020 was the purchase activity in the days leading up to the event. In 2019, the top five categories averaged a 3x increase in the number of purchases from the days prior, while in 2020 that number was only 2.4x; however, absolute volume differences were offset by the growth in consumers' regular shopping habits on Amazon.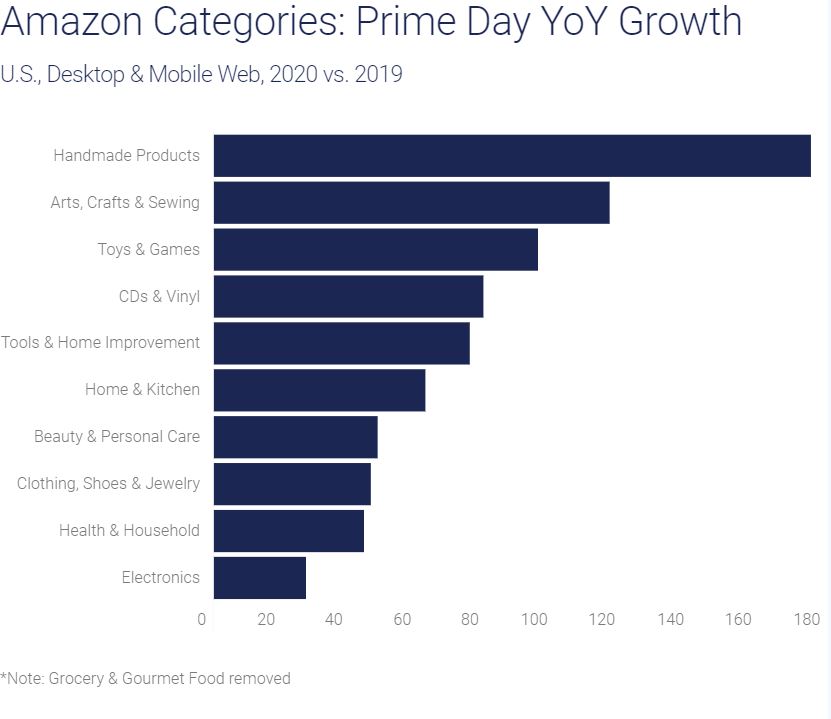 Prime Day mirrors regular behavior from Amazon shoppers with the top five categories by purchase volume unchanged (Home & Kitchen, Electronics, Health & Household, Clothing, Shoes & Jewelry, Beauty & Cosmetics). However, the highest growth categories reflect the realities of 2020, with Handmade (175%), Arts & Crafts (116%), Toys & Games (95%) and Tools & Home Improvement (75%) leading the way, as consumers seek activities to do around the house. The growth of the Handmade and Arts & Crafts category highlight areas where Amazon is promoting small and medium businesses; however, in regards to overall volume, they are still undersized categories.
Prime Day 2020: Top 10 Best-Selling Products On Amazon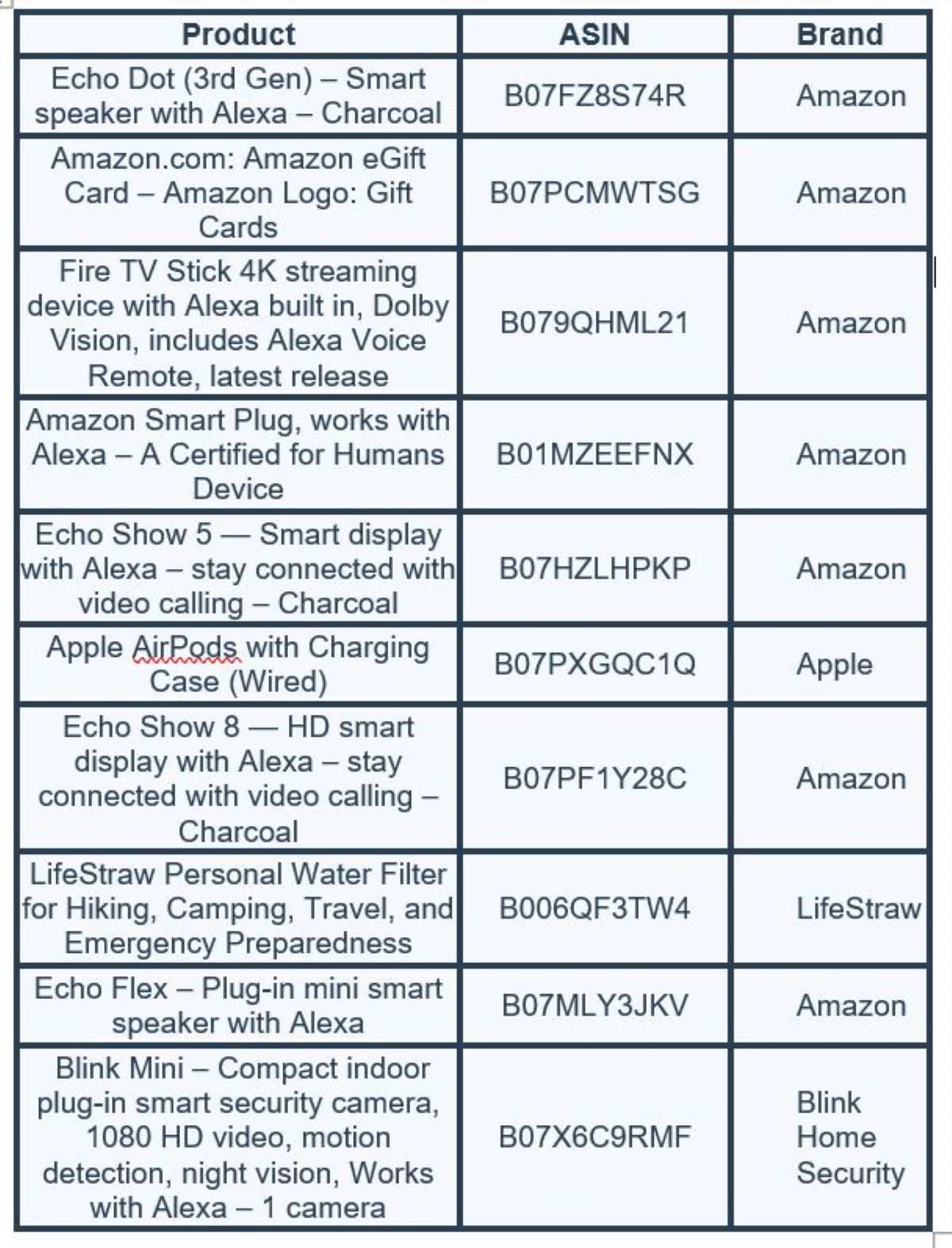 Consistency is another key theme, as half of the top twenty products purchased in 2020 have the identical Amazon Standard Identification Number (ASIN) to a top purchased product in 2019. That number is expanded to sixteen of twenty when you include product variations (e.g. color), highlighting Amazon's ability to continuously sell products with the perception of a price drop.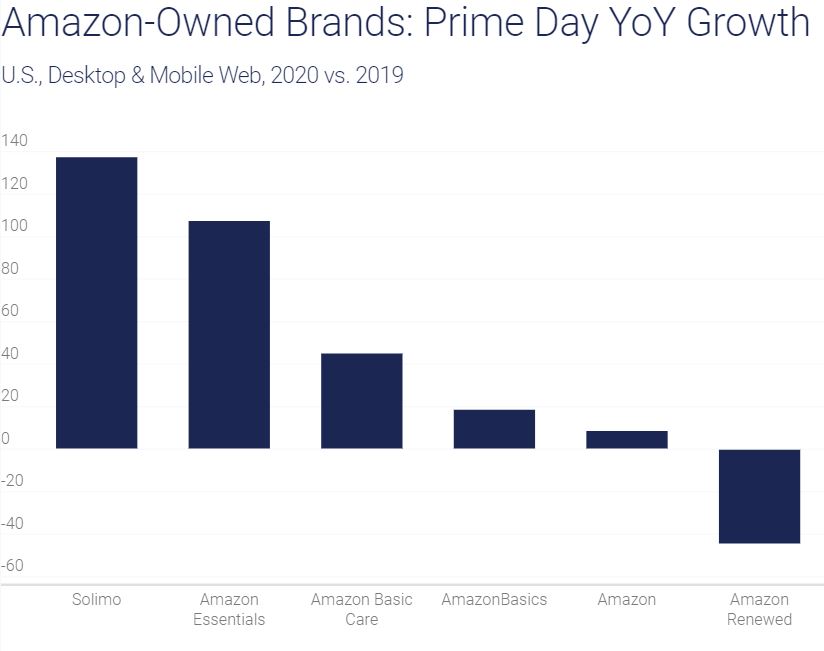 Within Amazon's largest categories the retailer continues to feature their first-party brands. Four of the five largest brands showed YoY purchase growth, led by Solimo (137%) and Amazon Essentials (107%). The strong showing of the retailer's low-cost line of everyday clothing products and accessories on Prime Day is representative of Q3 performance, when purchases expanded 20% YoY, most regularly competing with popular clothing brands like Hanes, Fruit of the Loom and Gildan.
Basic Care, Amazon's over-the-counter (OTC) medicine line, grew 45%, significantly less than Solimo; however, mirrors the behavior of 2019 when Amazon began to promote the brand within the Health & Household category.
To learn more about the data behind this article and what Similarweb has to offer, visit https://www.similarweb.com/.