Single-Family Rent Growth Strengthened for Second Consecutive Month in August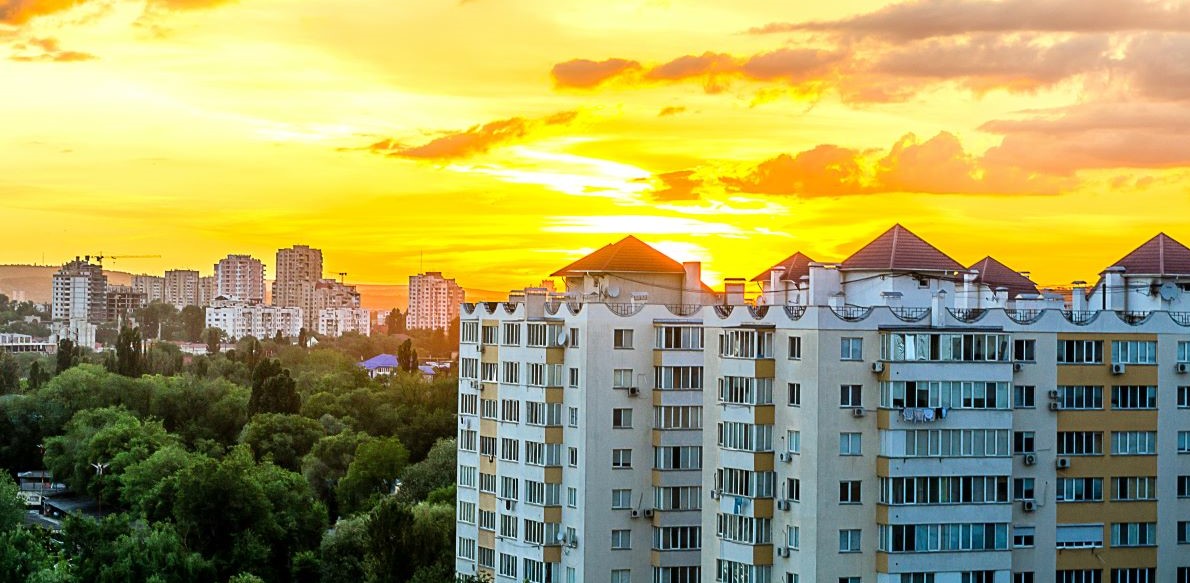 National single-family rent price growth was above 2% for the first time since April 2020
Boston saw the largest decrease in rent prices, falling 1.4% from a year earlier.
U.S. single-family rent growth strengthened in August, increasing 2.1% year over year, a bit higher than the 1.7% rate reported for July 2020, but a slowdown from the 2.9% rate recorded for August 2019, according to the CoreLogic Single-Family Rent Index (SFRI). The index measures rent changes among single-family rental homes, including condominiums, using a repeat-rent analysis to measure the same rental properties over time.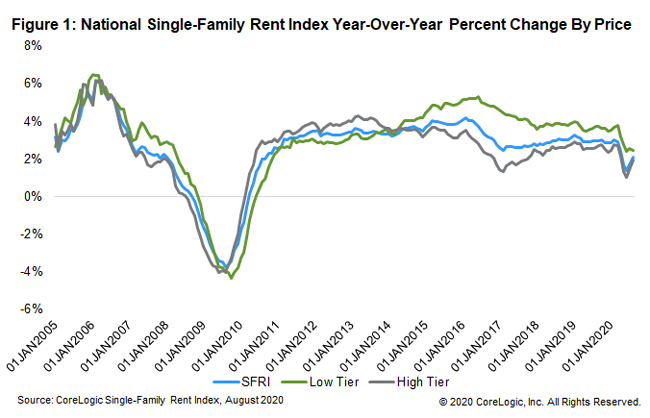 Lower-priced rentals continued to prop up national rent price growth, which has been an ongoing trend since April 2014 (Figure 1). However, year-over-year growth among both tiers slowed in August 2020 from a year earlier. Rent prices for the low-end tier, defined as properties with rent prices less than 75% of the regional median, increased 2.5% year over year in August 2020, down from 3.7% in August 2019. Meanwhile, higher-priced rentals, defined as properties with rent prices greater than 125% of a region's median rent, increased 2% in August 2020, down from a gain of 2.6% in August 2019.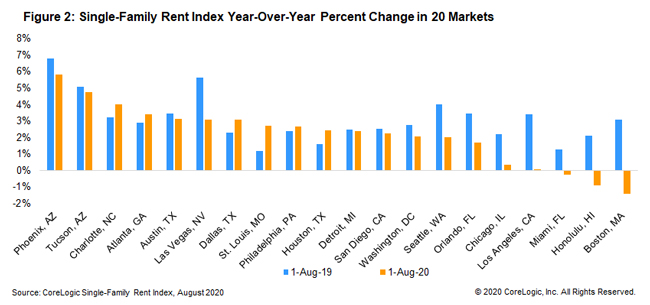 Figure 2 shows the year-over-year change in the rental index for 20 large metropolitan areas in August 2020. Among the 20 metro areas shown, Phoenix had the highest year-over-year rent growth this August as it has since late 2018, with an increase of 5.8%, followed by Tucson (+4.8%) and Charlotte (+4%). Three metro areas experienced annual declines in rent prices: Boston (-1.4%), Honolulu (-0.9%) and Miami (-0.3%).
Boston had the largest deceleration in rent growth in August, showing annual rent growth of 4.5 percentage points lower than in August 2019. The weakness might be attributed to a large number of students choosing to not return to Boston — a city that's home to 35 colleges and universities — but instead opting to continue virtual learning in their hometowns. U.S. unemployment rates remain elevated and the nation had 7% fewer jobs in August 2020 than a year earlier. However, some areas of the country are continuing to experience higher rates of job loss — adversely impacting rental demand and slowing rent price growth. For example, Honolulu posted an employment decrease of 14% year over year in August and ongoing rent declines. Meanwhile, employment declines in Phoenix (-3.5%) and Tucson (-3.4%) were relatively small amongst the 20 metros covered in the report. With the continued resurgence of COVID-19 cases across the country, we may expect to see further disruption of local rental markets.
To learn more about the data behind this article and what CoreLogic has to offer, visit https://www.corelogic.com/.