U.S. Case-Shiller Home Price Index Swiftly Accelerated in August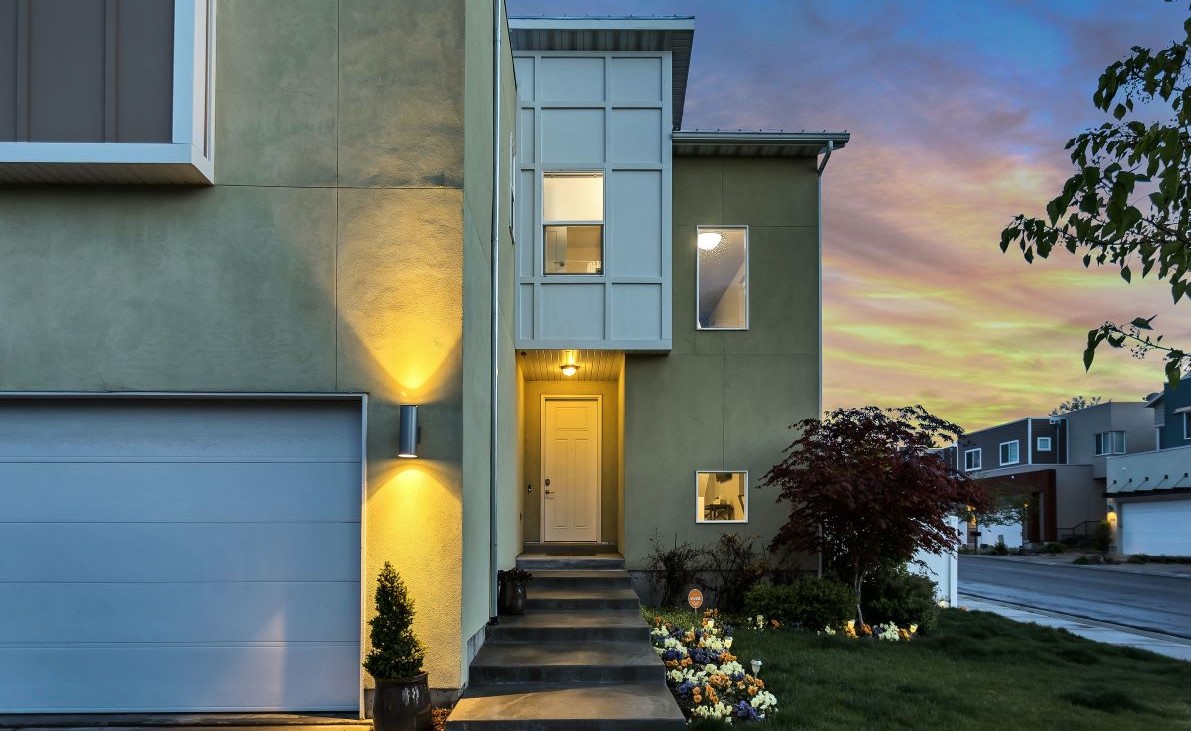 The forgone spring home-buying season appears to have fully shifted into summer months, leading to sales volumes that are picking up speed at a time when they would normally show signs of slowing. Not only was demand in August fueled by buyers planning on purchasing a home in the spring, but also by those motivated by record-low mortgage rates, desire for a larger home or desire for a vacation home as a result of the pandemic.
The national Case-Shiller Index jumped a strong 5.71% in August, reaching a new high and increasing at the fastest rate since July 2018. The index is now 21% above the last peak, reached during pre-Great Recession. Similarly, the month-to-month index also accelerated — increasing 1.06% from July —reaching the fastest growth pace since spring of 2017.
Since demand for homes hit high gear in mid-May, it has since remained at above last year's levels. If the likely trend continues into the rest of the autumn months, total 2020 home sales may beat 2019 levels, making 2020 the strongest year for home sales since 2006. Demographic trends at the start of 2020, such as the largest cohort of millennials coming of home-buying age, would have ensured strong demand this year. But, additional pandemic-induced demand spurred by a desire for more space and second or vacation homes, further fueled pressures. At the same time, 2020 had already started with for-sale inventories about 15% below last year's levels. The pandemic further depressed inventories to fall to 25% below 2019 levels, and in some regions of the country, to 50% below 2019 levels.
The 10- and 20-city composite indexes both increased considerably, up 4.66% and 5.18% year over year, respectively, both up over 150 points from June increases. The two indices have surged at the fastest pace in two years. Encouragingly, the 10-city index is marching solidly in line with the 20-city index, suggesting demand in the largest metro areas remains strong despite some being hard-hit but the pandemic and notions of urban outmigration.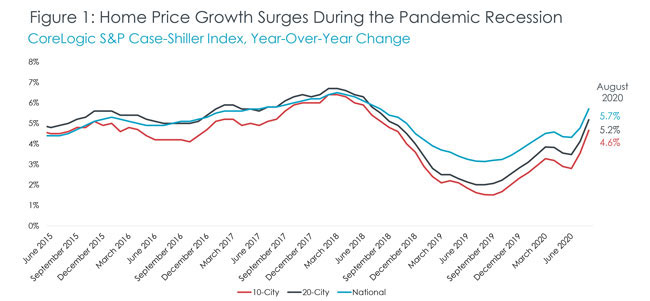 Of the cities on the 20-city Case-Shiller Index, Phoenix remains the strongest in home price acceleration for the 14 consecutive months, up 9.9% year over year in August. Seattle remained in second place, with an annual increase of 8.5%. San Diego (up 7.6%), Cleveland (up 6.9%) and Los Angeles (up 6.8%) — three cities that were not in the top five in the last few months — followed. Chicago (up 1.2%) and New York (up 2.8%) continue to experience relatively slower price gains, but still logged considerable acceleration in August.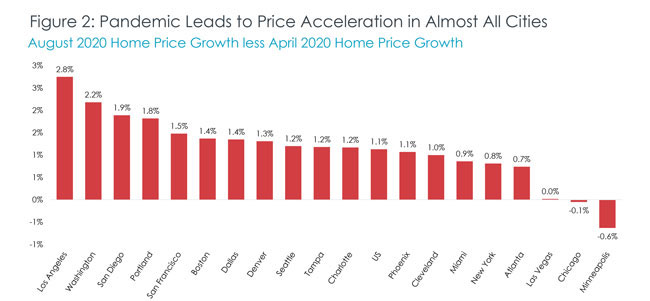 Compared to pre-pandemic price growth in April, August price growth jumped in most all cities, excepting Las Vegas, Chicago and Minneapolis, which is a change from July, when eight of the 20 metro areas showed slowing home price growth. Notably, Los Angeles home price growth almost doubled since April as the area's inventories remained almost 50% below last year and demand for luxury homes surged.
Nationally, home prices in August were 21% higher than the previous peak in the spring of 2006. And while home prices continue to reach new historical peaks, some metro areas have still not recovered to reach their pre-Great Recession peaks. In the 20-city Index, seven metro areas are still lagging, with Las Vegas showing the slowest catch-up to its previous peak.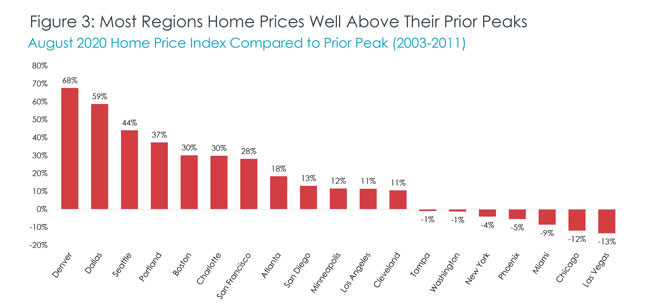 With millennials driving much of the current demand, homes in the lower one-third of the price distribution continue to experience greatest competition, pushing the average annual growth rate to 7.8% across the 20 cities. Phoenix, Seattle and Tampa, Florida, all experienced a jump of 10% or more in August for lower-tier home prices. The average growth among medium-tier priced homes was 6.6%, and highest-tier prices were up 5.1% on average.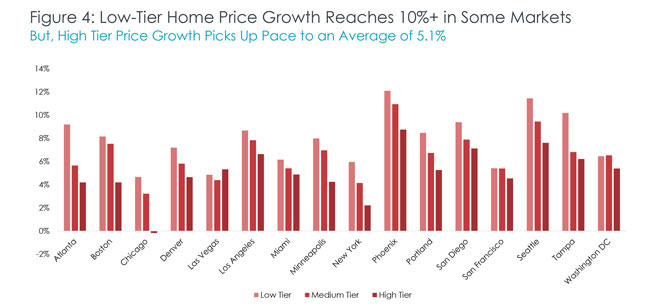 Amplified housing demand brought on by the pandemic shed light on the shortage of homes that has been plaguing the market. As a result, home prices are pushing at the highest pace we could have anticipated during recessionary times. Even with continued uncertainty over economic outcomes, expectations of further accommodative mortgage rates and barring no sudden surge in inventory, home prices are likely to continue marching higher through the autumn. Lastly, 2021 is likely to bring some slowing to home prices as affordability gains, thanks to low mortgage rates, start to dissipate, and more inventory from those who have been waiting out the pandemic come to market.
To learn more about the data behind this article and what CoreLogic has to offer, visit https://www.corelogic.com/.