Citi Bike rides: The patterns in New York City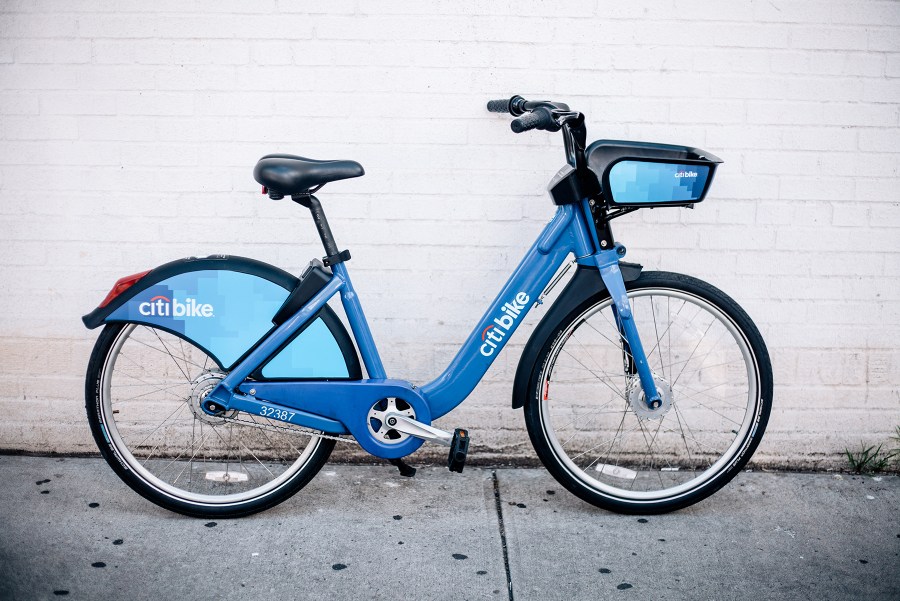 Data Synopsis:
The most popular area in for riders is along famous Broadway in Manhattan.
Daily pass riders take longer trips and are more likely to return to their start point
Annual pass riders take shorter trips and travel to different places around the city
Female riders travel three minutes longer on average than male riders
Dig Deeper:
Citi Bike is New York City's bike share system, and the largest in the United States. Citi Bike launched in May 2013 and has over 1,000 docking stations across Manhattan, Brooklyn, Queens and Jersey City. It currently has over 17,000 bikes in service.
Riders complete over 100,000 rides per day using day passes or annual passes which allow for unlimited 30-minute rides and 45-minute rides, respectively. More recently, nearly 30,000 critical workers on the frontlines of the COVID-19 crisis have been given free Citi Bike memberships.
The most popular starting point for Citi Bike rides in New York City is at 11th Avenue & West 20th Street, noted on the map below by the green dot on the West side of Manhattan. While the famous street of Broadway, which traverses Manhattan diagonally, North to South, hosts four of the top five most frequented docking stations. It is marked by the cluster of green dots in the middle of the map. Other popular locations for Citi Bike rides include Midtown Manhattan around Central Park and Lower Manhattan close to Tribeca and Wall Street.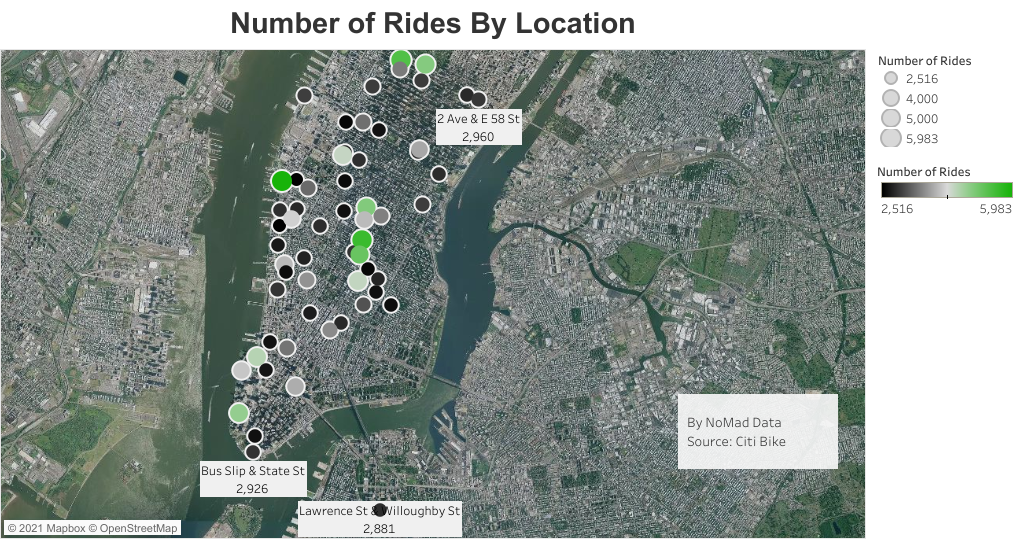 There are two categories of bike rides: rides with the same start and end points, and rides with different points. The former have an average duration of 22 minutes while the latter last an average of 15 minutes. One possible explanation for the difference is that rides which start and end at the same location are more likely to be attributed to tourists who are exploring the city with no predetermined destination and with more time to spare.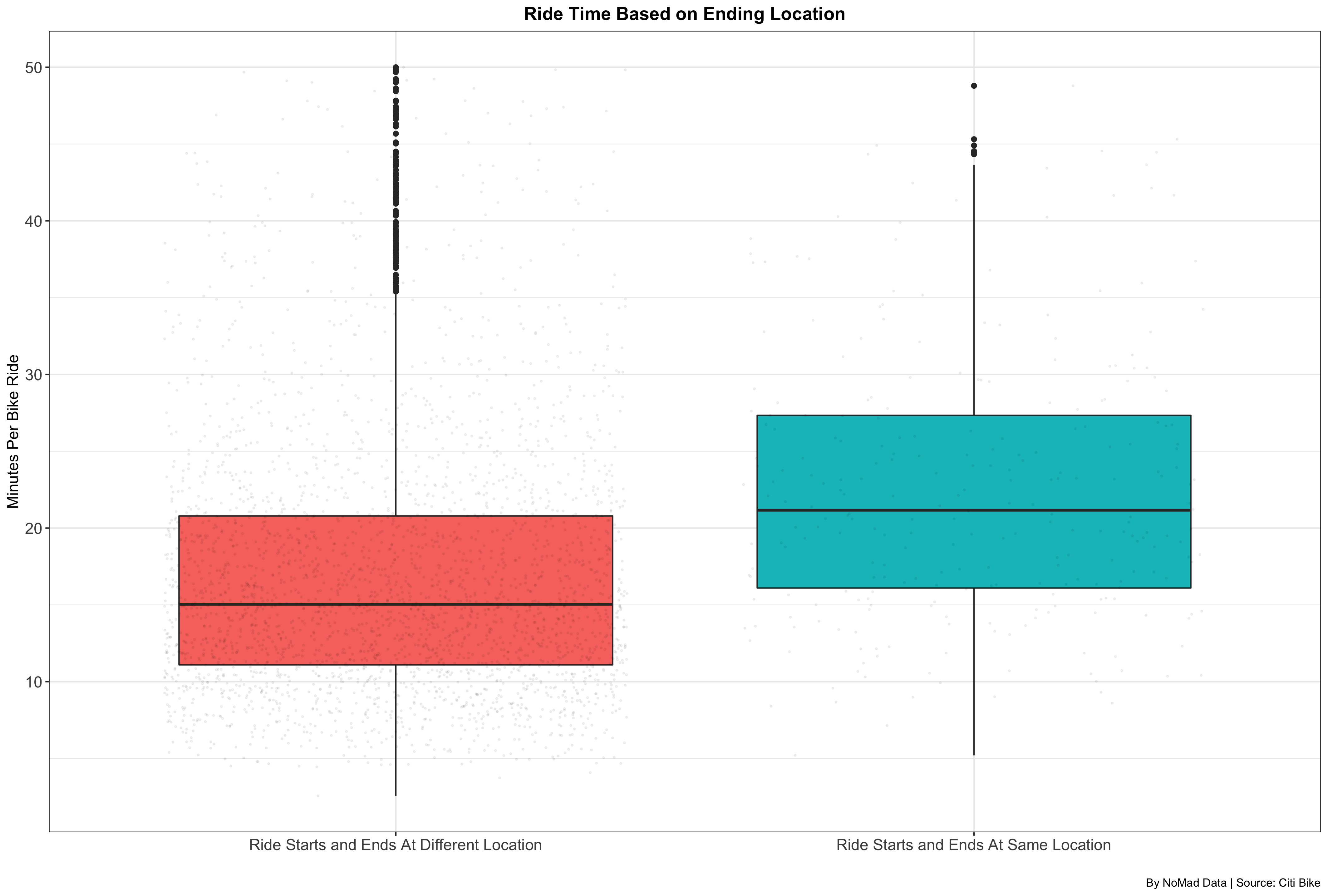 There is a similar difference in ride duration based on user type. Customers using daily passes complete rides averaging 17.5 minutes while subscribers with annual passes spend an average of 11 minutes per ride. The common assumption is that the annual subscribers are commuting to work or running errands while the daily customer is more likely a tourist or someone on a leisurely bike ride.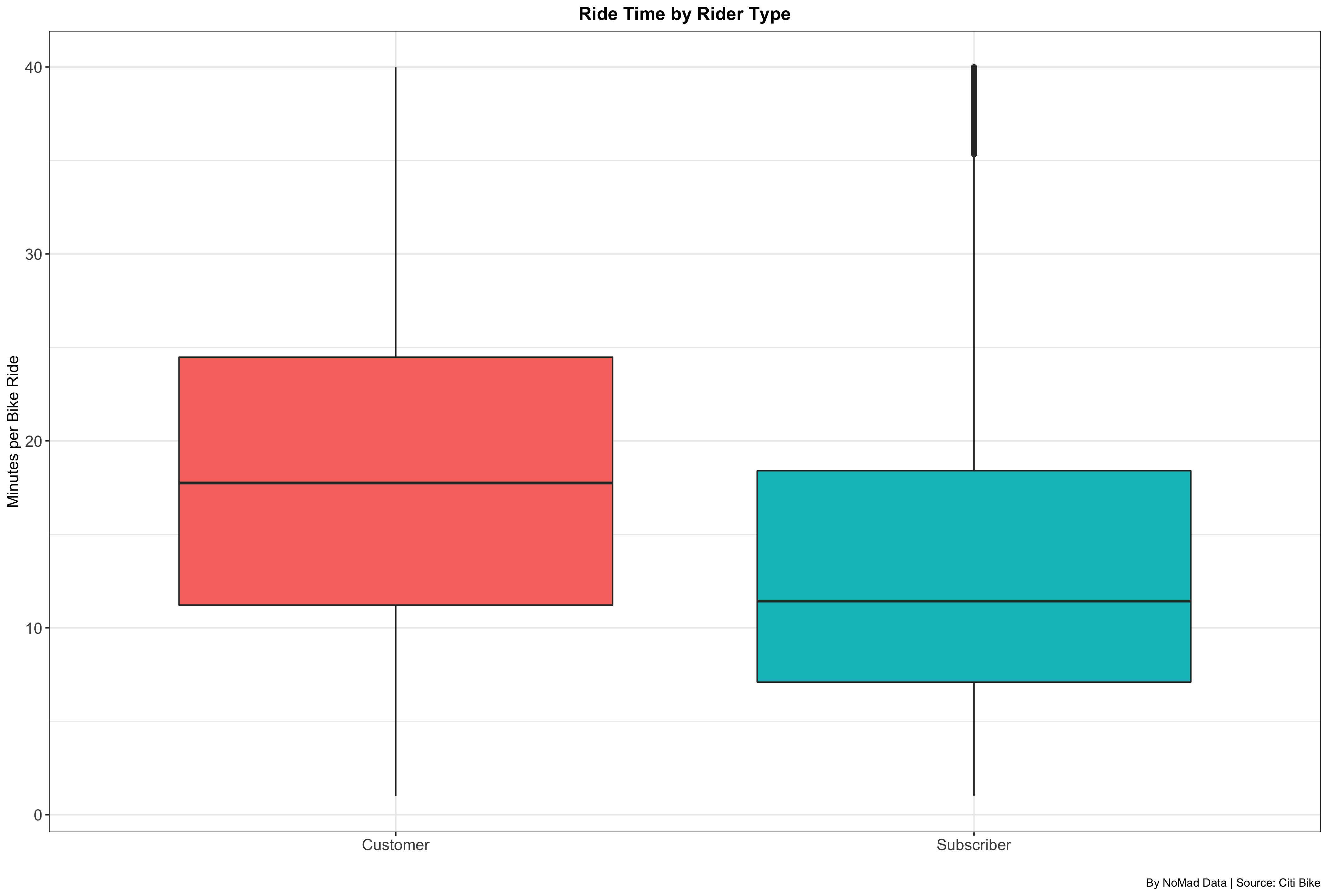 Looking at age, there is only a two-minute decline in ride duration across the range, from riders in their 20s to those in their 60s. However, from the graph below it can be seen that there are more riders above the age of 50 than under. Interestingly, there is more variation in ride duration in the 30 to 50 group.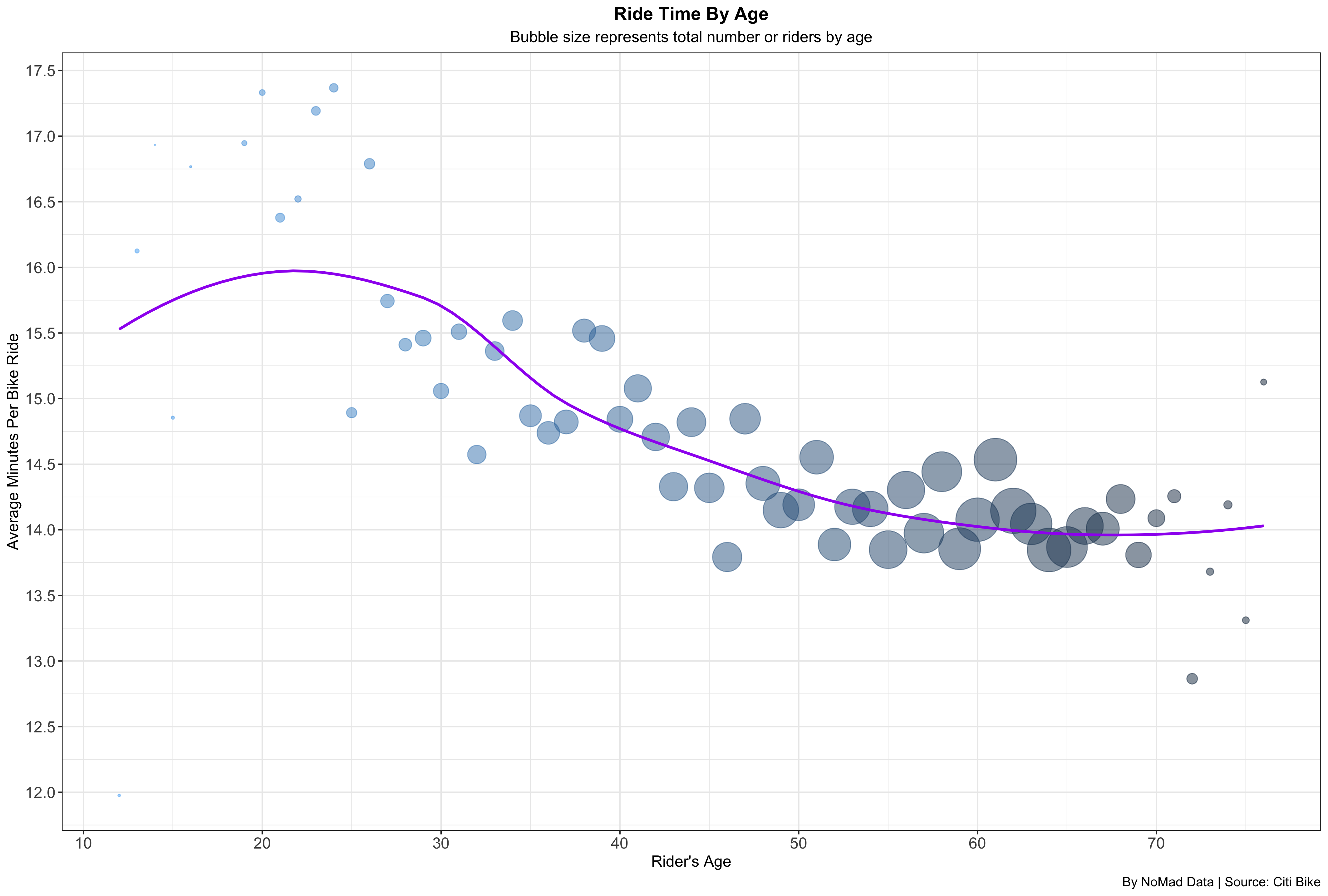 Lastly, when looking at gender, adult women on average complete bike rides that are three minutes longer than those of adult men. The opposite is true for teenagers; boys spend three minutes longer on average on a bike ride than girls. Despite the early disparity, as both genders advance in age their respective durations converge to a similar average.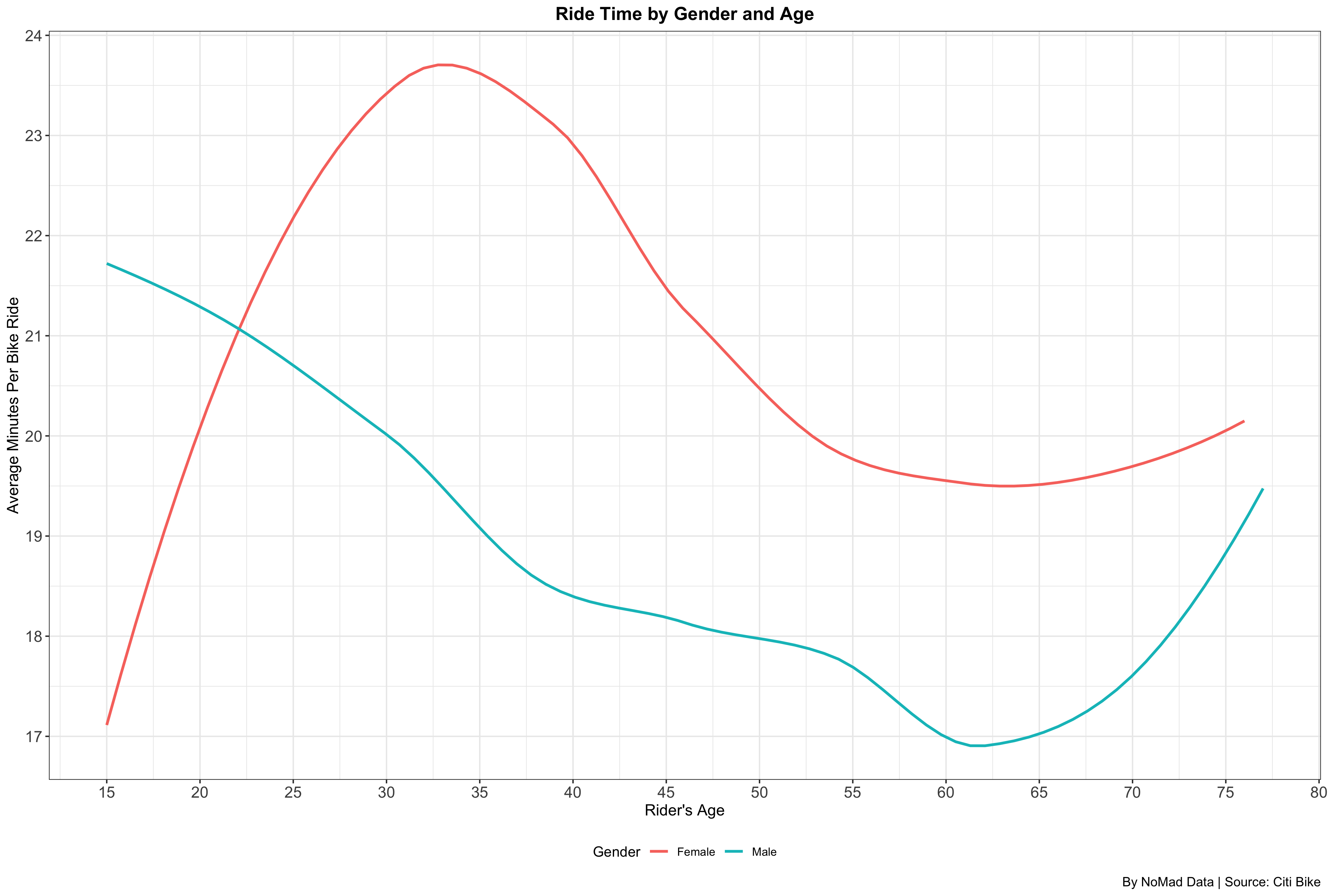 With the help of a $100 million investment from Lyft over the next 4 years, the number of bikes and miles serviced is expected to double to 40,000 and 35, respectively. While there are many different patterns across locals, tourist, age groups and genders one trend is clear, New York City has embraced Citi Bike and ridership is rising.