Home Prices Surged as Demand Remained Strong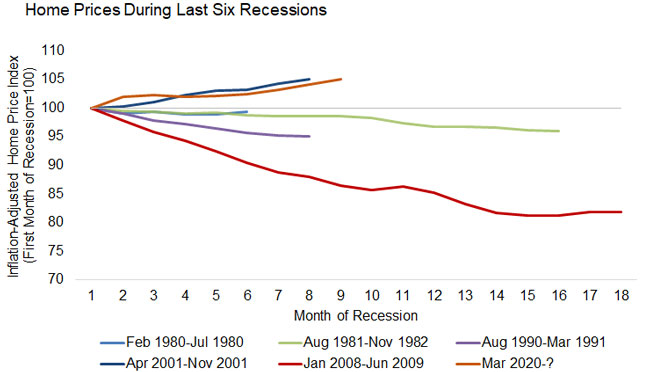 National home prices increased 8.2% year over year in November.
Home prices are forecast to slow to a 2.5% increase from November 2020 to November 2021.
National home prices increased 8.2% year over year in November 2020, according to the latest CoreLogic Home Price Index (HPI®) Report. The November 2020 HPI gain was up from the November 2019 gain of 3.7% and was the highest year-over-year gain since March 2014. Home sales for the year are expected to register above 2019 levels. Meanwhile, the availability of for-sale homes has dwindled as demand increased and coronavirus (COVID-19) outbreaks continued across the country, which delayed some sellers from putting their homes on the market.
Figure 1: Home Prices Typically Fall During Recessions, But Prices Up in 2020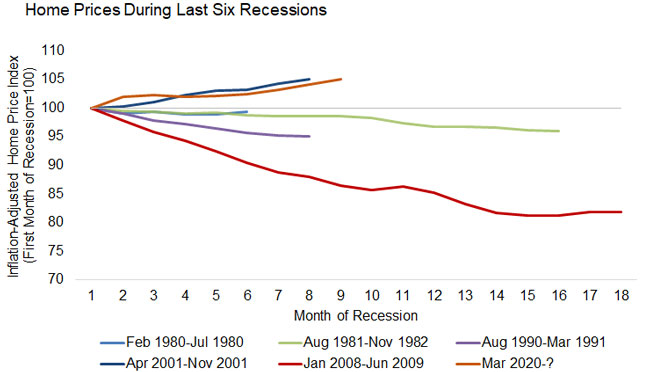 The economic downturn that started in March 2020 is predicted to slow the HPI increase to 2.5% by November 2021, which would be the lowest increase in annual home prices since March 2012. Figure 1 shows movements in the inflation-adjusted HPI for the six most recent recessions starting from the first month and through the end of each recession. Numbers below 100 indicate falling home prices, which has been a feature of four of the six recessions. However, at nine months in, the 2020 recession is following the path of the 2001 recession, which is the only other one of the six with increasing home prices. The worst of the six recessions was the Great Recession that started in 2008, which was characterized by excess supply of homes for sale, which is not the case in today's tight-supply housing market.
Figure 2: Home Prices Accelerate at All Price Levels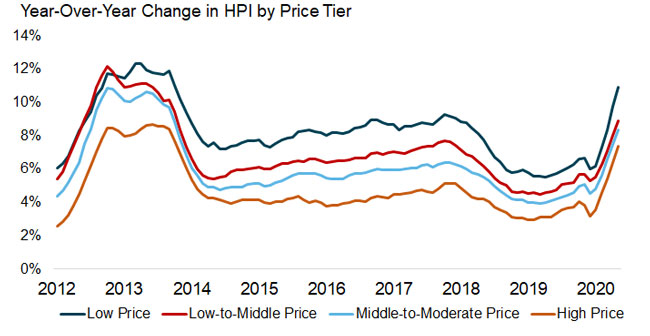 CoreLogic analyzes four individual home-price tiers that are calculated relative to the median national home sale price. Home price growth has accelerated for all four price tiers this year to the highest rates since late 2013 to early 2014. The lowest price tier increased 12% year over year in November 2020, compared with 10% for the low- to middle-price tier, 9.3% for the middle- to moderate-price tier, and 8.4% for the high-price tier.
Figure 3: All States Showed Annual Increases in HPI in November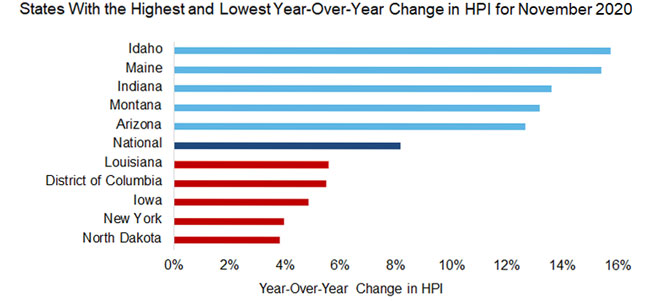 Figure 3 shows the year-over-year HPI growth in November 2020 for the 5 highest- and lowest-appreciating states. All states showed annual increases in HPI in November, and Idaho led the states in appreciation with annual appreciation of 15.7%. At the low end, North Dakota saw an increase in home prices of 3.8%.
To learn more about the data behind this article and what CoreLogic has to offer, visit https://www.corelogic.com/.