TPR Building a Tapestry of Luxury on Two Continents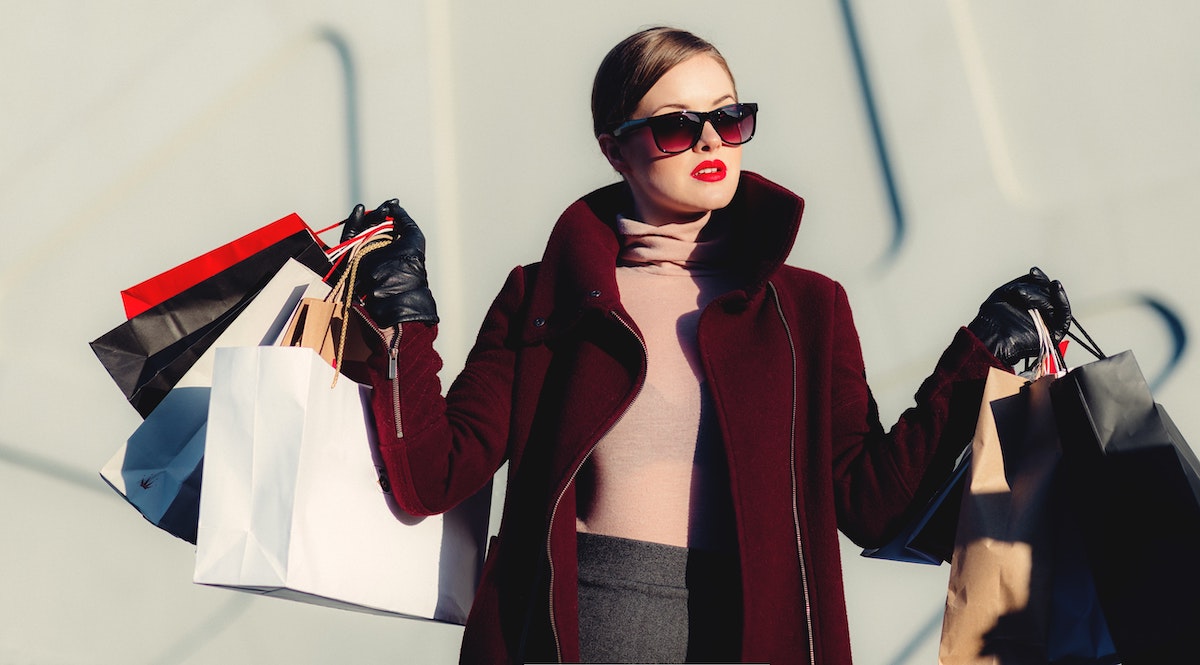 Luxury names have seen strong growth in the US as stimulus checks have gone towards splurge purchases like handbags. At the same time, new lockdowns and minimal tourism have put a strain on their European businesses. And while European retailers like LVMH have reported strong results, how will US-based companies like Tapestry fare? Today's Insight Flash takes advantage of strong correlations in our CE Transact data for Tapestry DTC sales in both the US and UK to examine trends across its brand portfolio in both countries, including spend by brand and average ticket differences.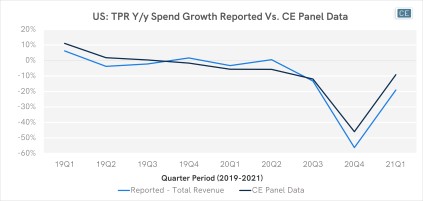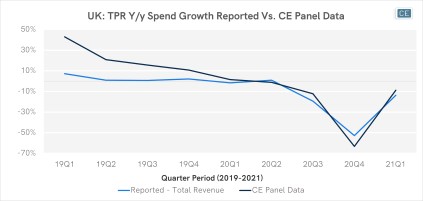 For almost all of 2019, Tapestry direct-to-consumer spend growth in the UK outpaced US direct-to-consumer growth, although it did decelerate from a peak of 38% y/y growth in March 2019 to a decline of -10% in November before popping back up to 7% in December. A surge of over 20% y/y growth in the UK in January 2020 quickly faded, while the US saw a similar pop of 14% y/y growth in February. Although both countries saw negative DTC spend for Tapestry due to the pandemic in the Spring of 2020, US growth picked up and turned positive to almost 25% y/y in October with positive growth in November and January trailing off to a flat rate in February 2021. Meanwhile UK trends have continued to decline, to a nine-month low of -55% y/y spend in February 2021.
Tapestry Sales by Market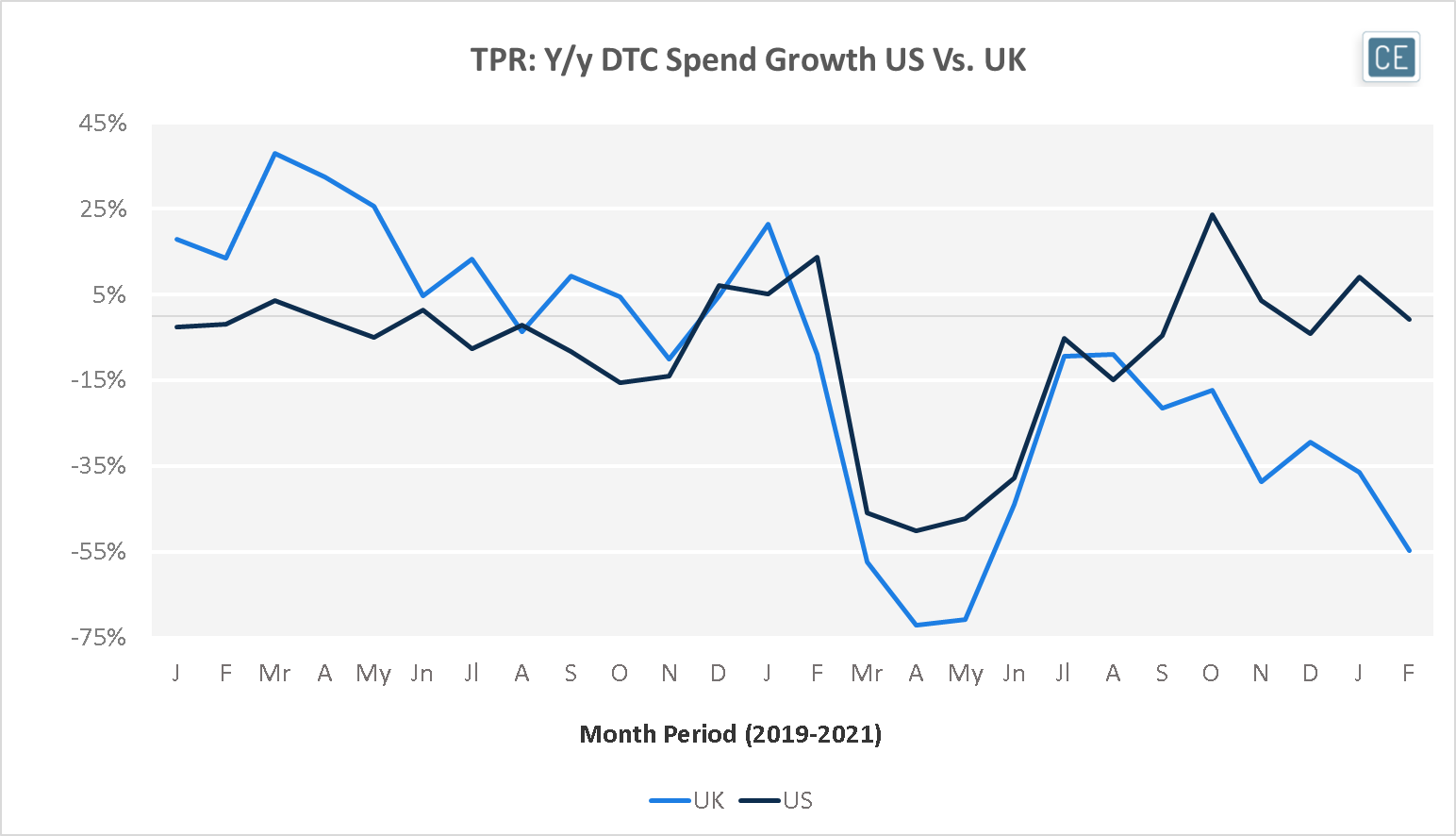 In the US, Kate Spade growth mostly outpaced Coach growth rates in their direct-to-consumer sales from February 2020 until back-to-school season in August. Since then, Coach growth has outperformed the Kate Spade brand. In the UK, although Kate Spade growth was at a similar rate to Coach growth at the beginning of 2020, Coach has since taken the lead – Coach even saw positive y/y spend growth in July and October while Kate Spade spend declines remained in double-digit negative territory. Stuart Weitzman sales have lagged in both geographies, with UK sales captured too small to measure y/y growth.
Brand Growth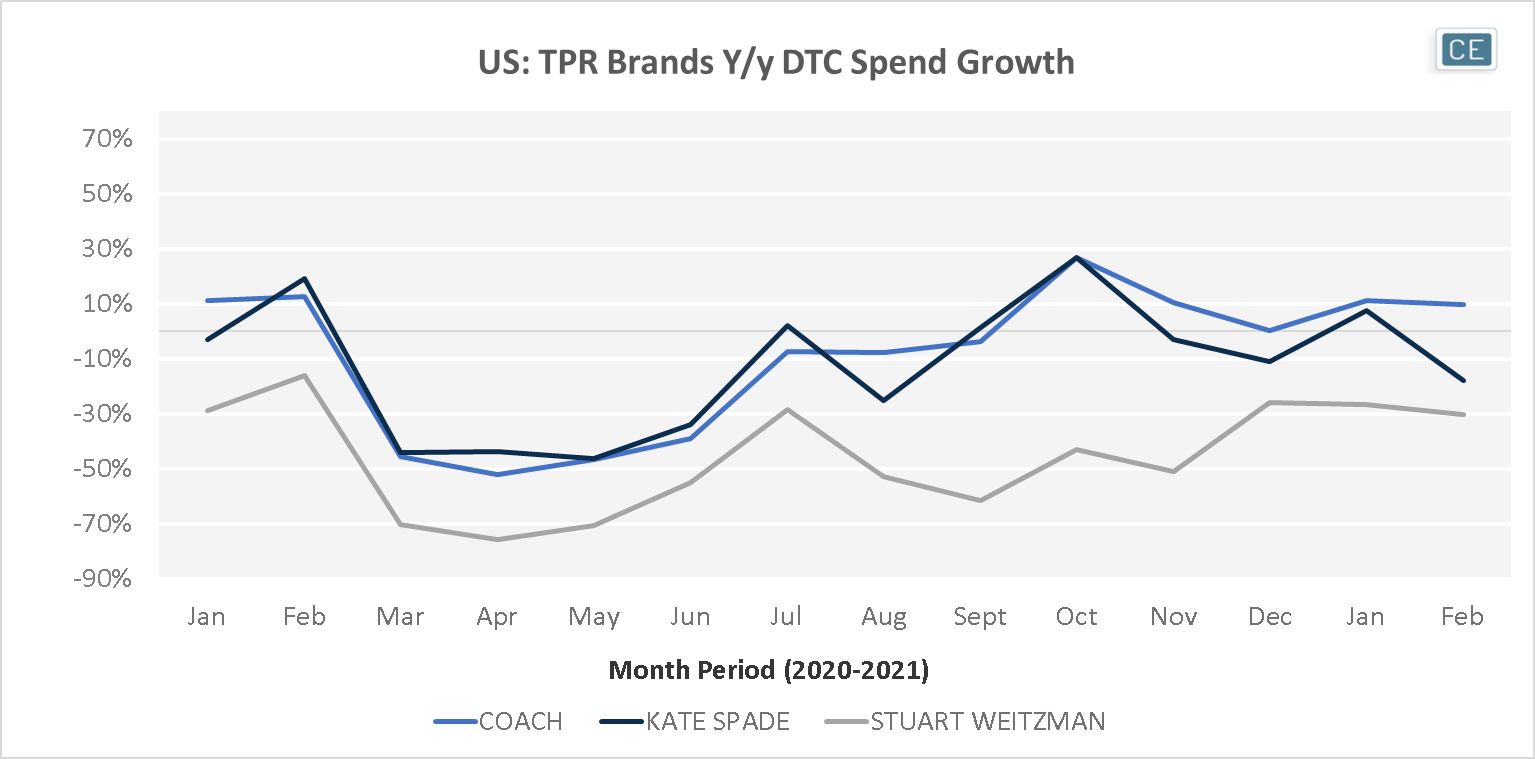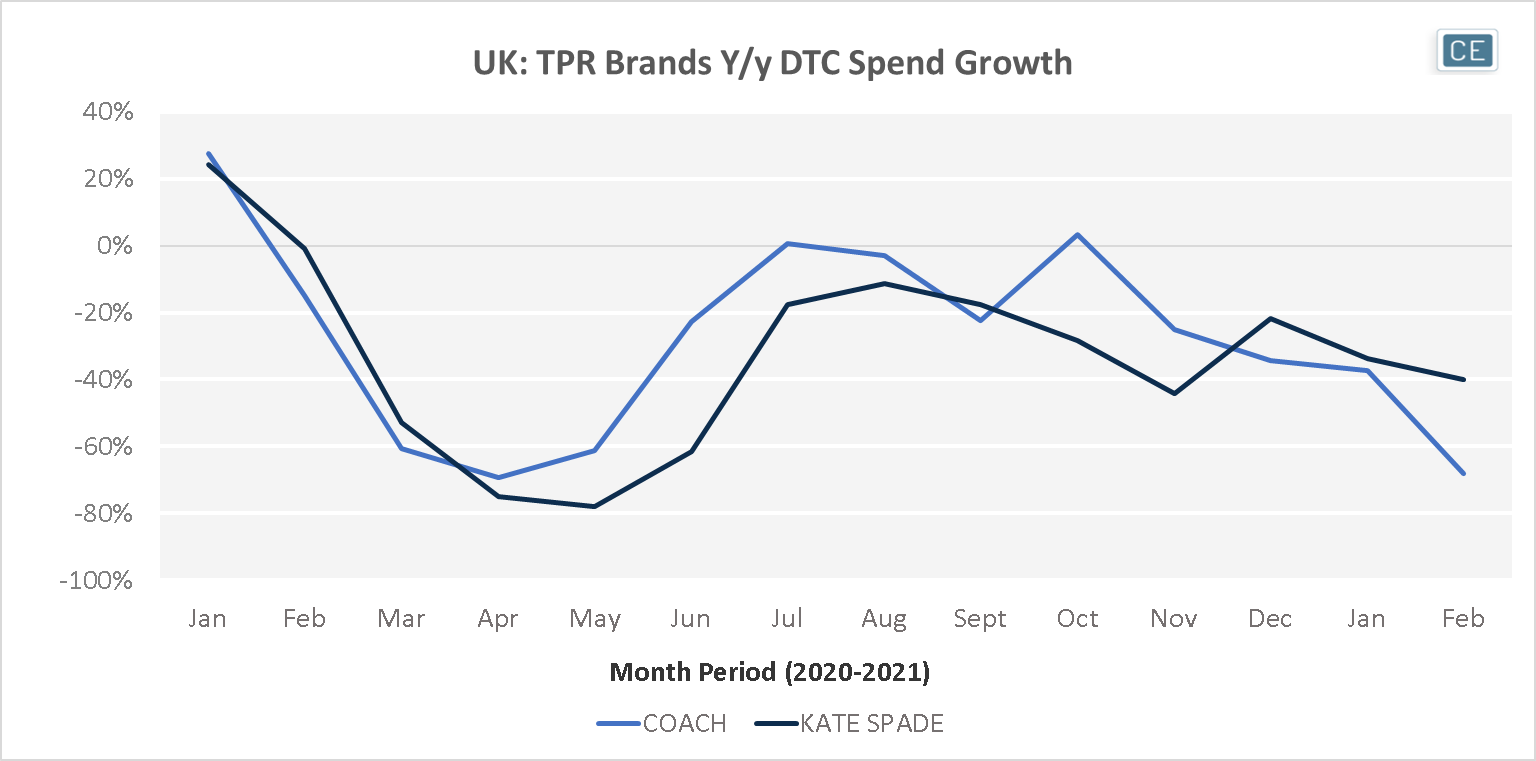 Stuart Weitzman's lagging sales performance may be due to its high price point. In the UK, the average Stuart Weitzman transaction amount in the last year was 2.5x the average Coach transaction, and in the US it was 2.3x. The Kate Spade price point has been more accessible, with average ticket amount on par with Coach in the UK and ~25% less than Coach in the US.
Average Ticket by Brand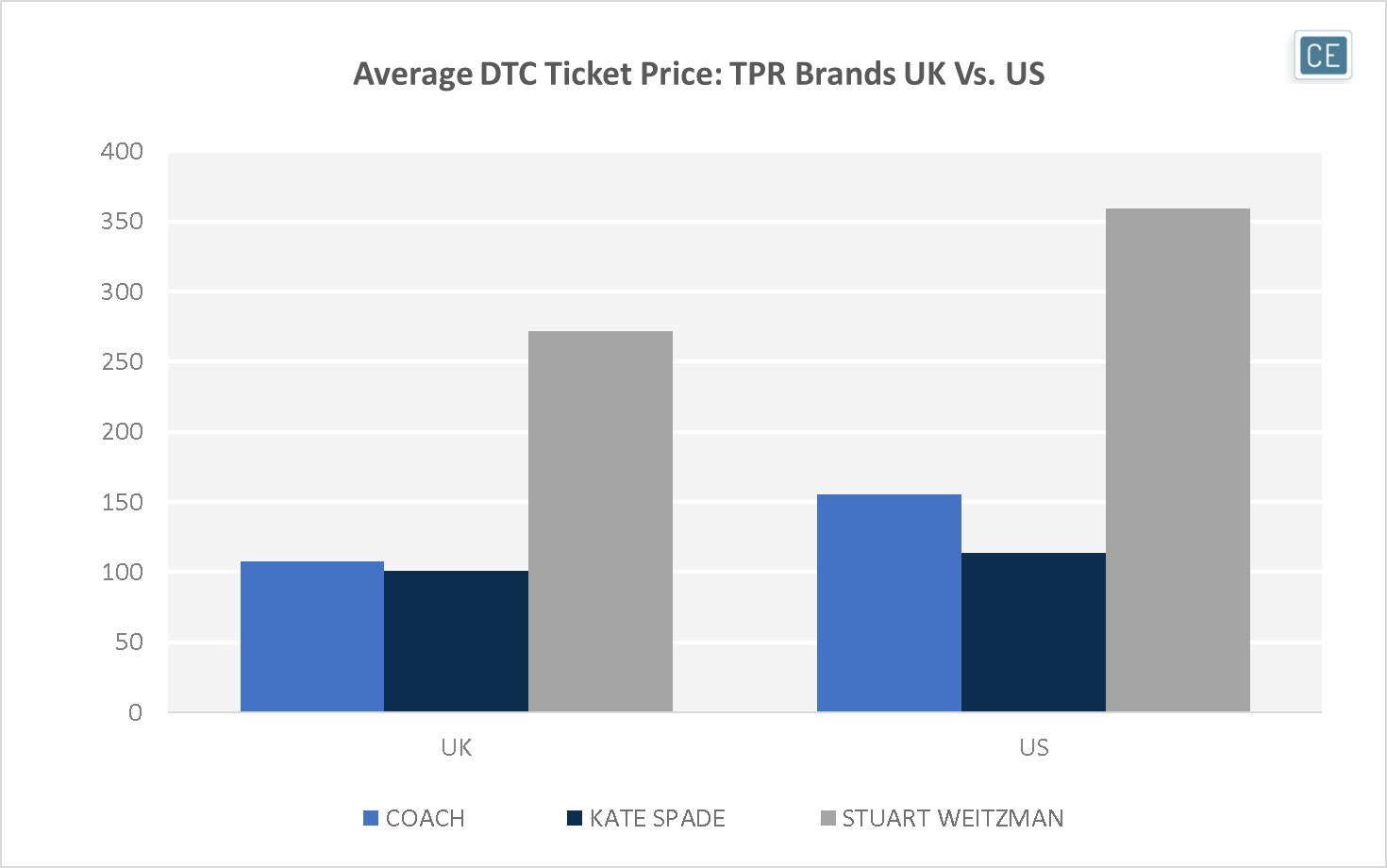 Note: 364 days ending 4/14/2021 for US data, 364 days ending 4/6/2021 for UK data; local currency
To learn more about the data behind this article and what Consumer Edge Research has to offer, visit www.consumer-edge.com.