Big Tech Stock Earnings: FB, TWTR, MSFT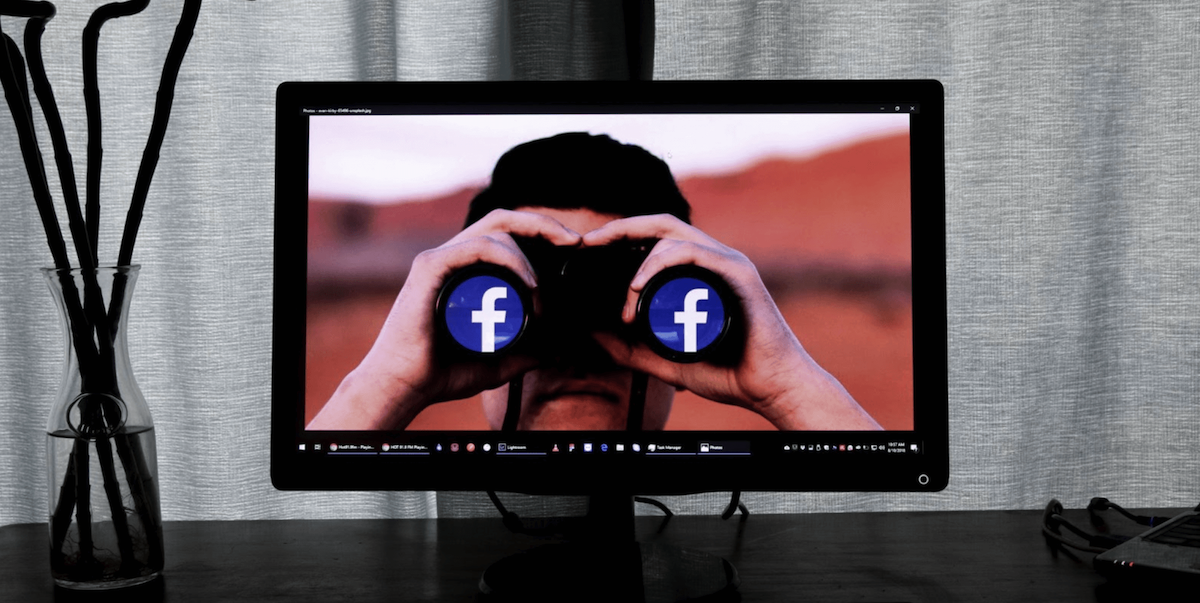 Here we dive into the digital health of three major tech stocks: Facebook (FB), Twitter (TWTR), and Microsoft (MSFT). What do the online trends reveal about these mega-caps? Using our powerful alternative data, we reveal the key digital insights heading into the print.
Let's take a closer look at these internet giants now:
Tech stock #1: Facebook
Earnings date: April 28 (confirmed)
According to Bloomberg, Wall Street is expecting both earnings per share and revenue to rise more than 30% in Q1. This positive outlook comes after the social media giant reported a strong fourth quarter, with Q4 revenue surging 33% year-over-year (YoY) vs. Q2's 11% and Q3's 22% growth.
"The acceleration of online commerce we've seen during the pandemic continued into the holiday season," commented Facebook COO Sheryl Sandberg on FB's last earnings call.
Indeed, in 1Q21, Similarweb data shows that facebook.com's monthly unique visitors (MUVs) stayed flat on a YoY basis. Given that FB is starting to lap early lockdowns, when the pandemic boosted global social media usage, flat YoY growth is not necessarily a bearish indicator.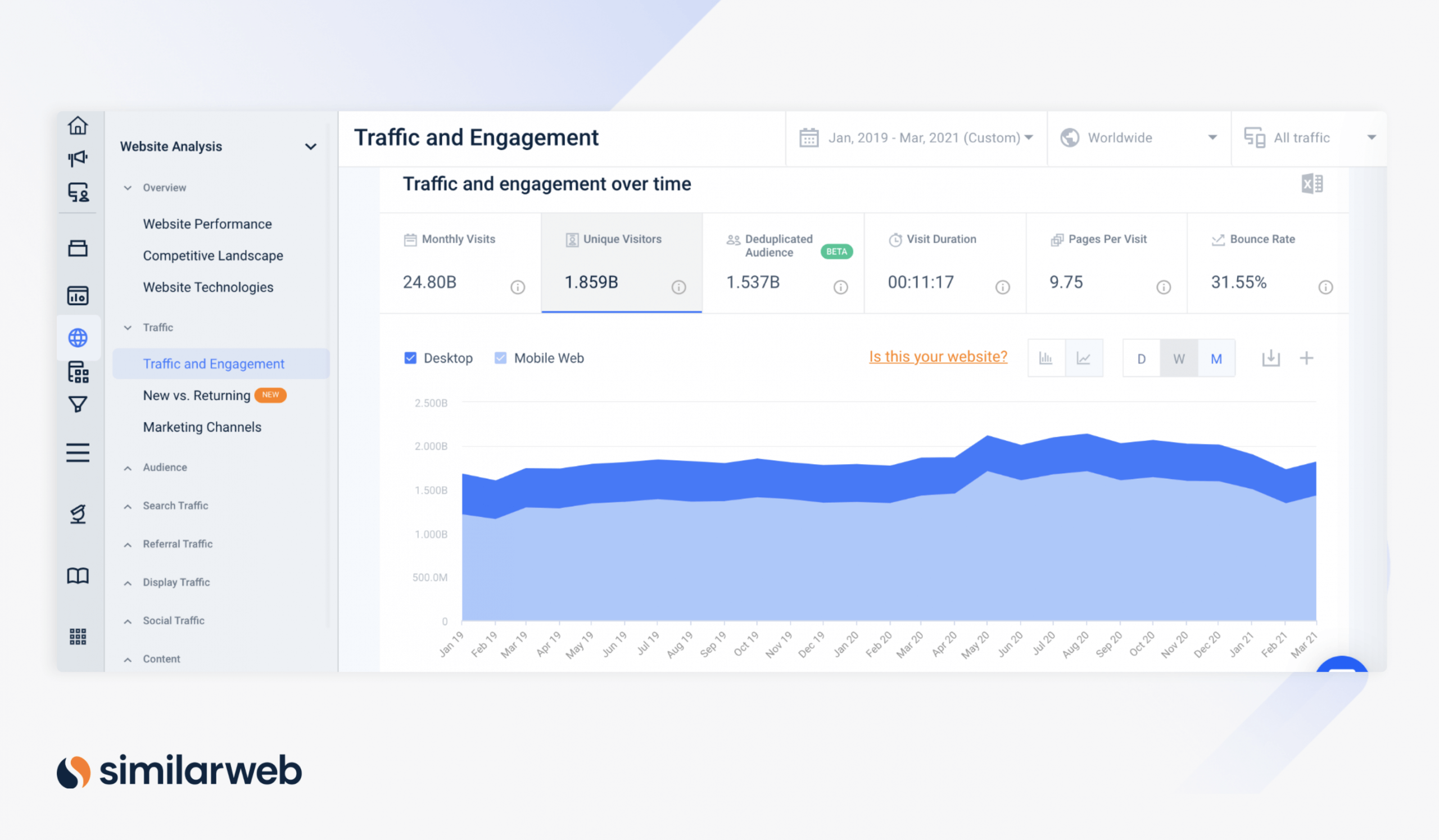 Below is the YoY breakdown of MUVs on a monthly basis. You can see that monthly unique visitor numbers decelerated from 13% YoY growth in December, to 6% in January, -2% in February, and -3% in March. Again, this trend is likely due to the tough comparison to early 2020 as each month an increasing number of countries imposed movement restrictions.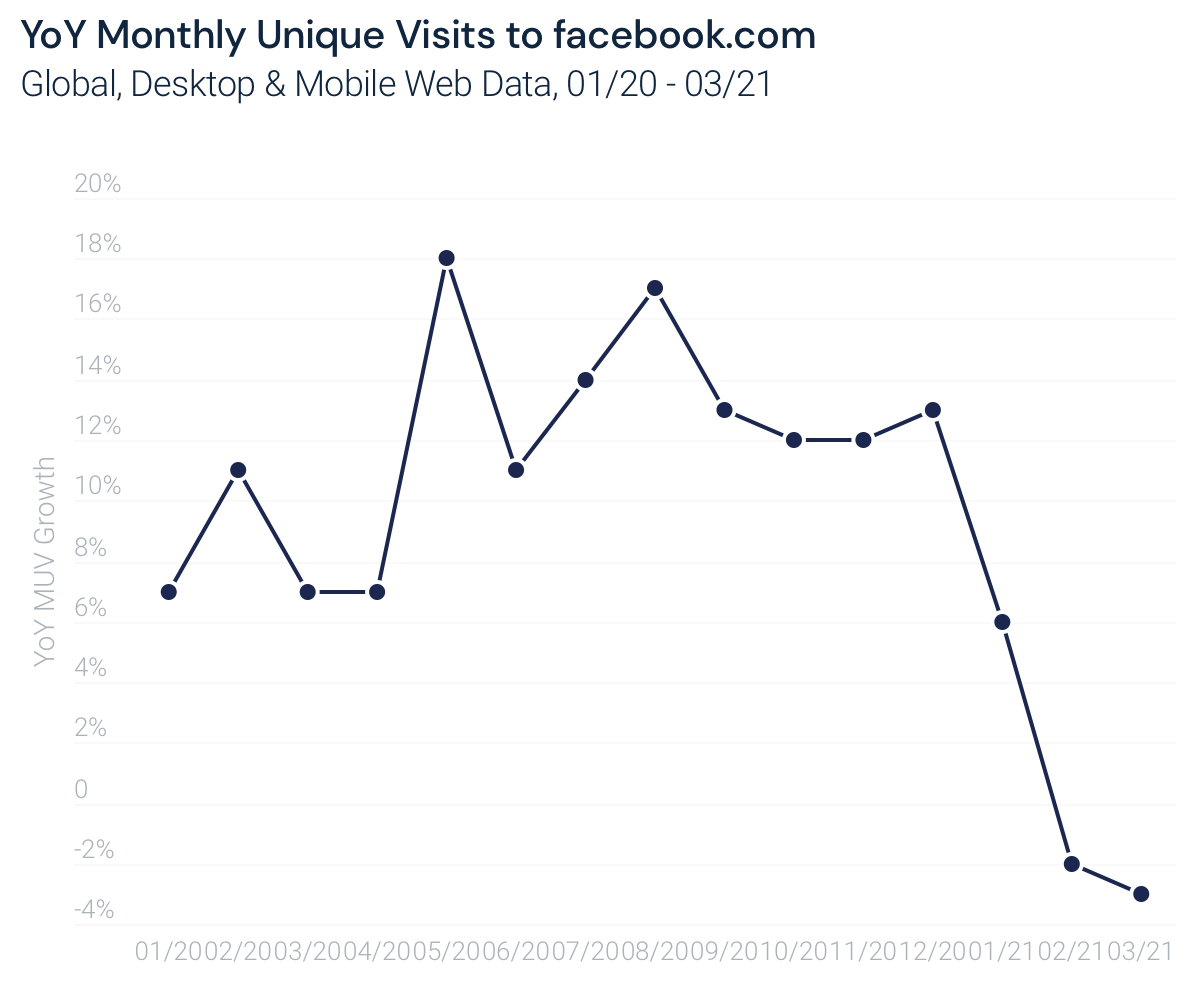 Meanwhile, total visit numbers dropped 4% on a YoY basis vs. the 8% YoY gain recorded last quarter. In fact, total visits slipped from almost 77 billion in Q4 to 67.3 billion in 1Q21. This is the lowest figure recorded in the last couple of years. This could be due to user fatigue, but it could also be driven by increasing competition from other platforms like Instagram and TikTok.
Facebook audience engagement
For Facebook, audience engagement is a closely-watched metric, especially given its potential impact on advertiser interest. Our data shows that while average pages viewed per visit improved slightly since last quarter, this number is still down 16% YoY. Q1 visit duration has also pulled back 9% YoY as people spend less time on the platform.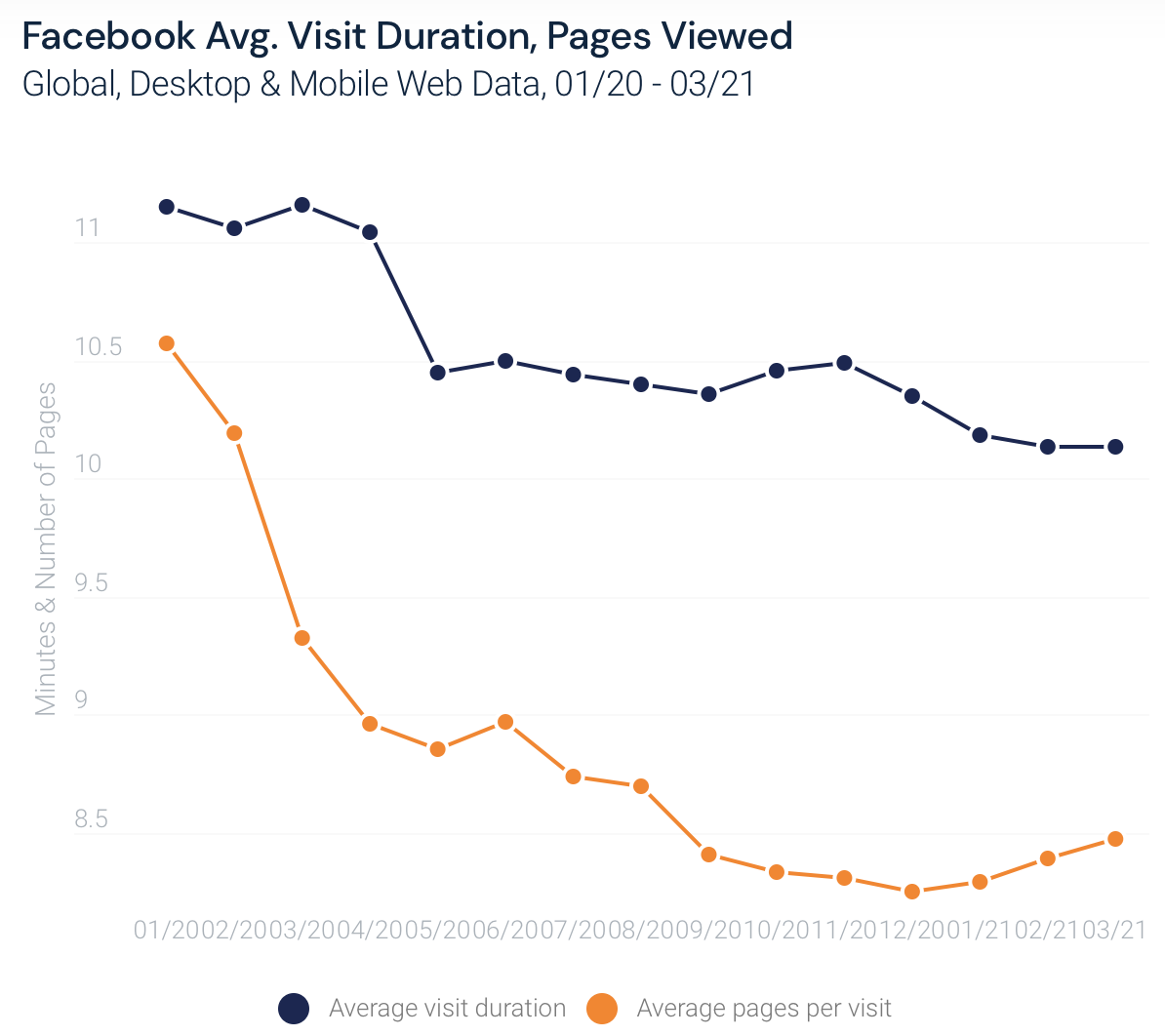 Facebook ad demand trends
Indeed, for the subdomain business.facebook.com, which can indicate advertiser demand trends, MUVs have dropped 8% from the fourth quarter. Nonetheless, ad demand remains robust if we look past the Q4 comparison. For instance, on a YoY basis, Q1 MUVs to business.facebook.com have surged 30% YoY. Similarly, total visits are up 54% YoY in Q1 with the second-highest visitor numbers after last quarter.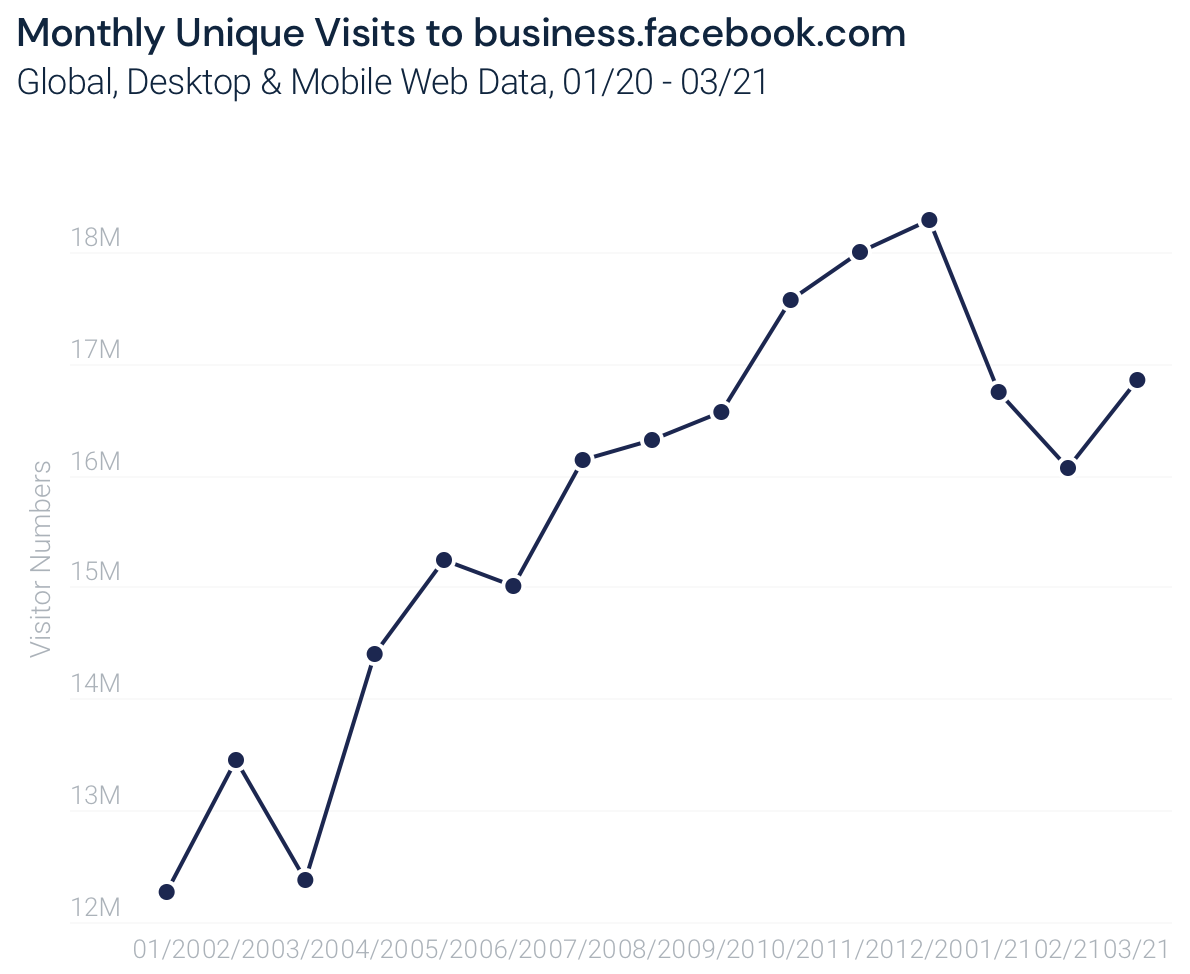 Tech stock #2: Twitter
Earnings date: April 29 (estimate)
Twitter is surging on a year-to-date basis. Banning former President Donald Trump from the platform has barely impacted visitor numbers (as commentators have pointed out, Trump supporters were not Twitter's core base). And at the same time, Twitter is finally innovating. The company just held its first analyst day in years, revealing an ambitious target of 120 million new users. It also unveiled a host of new features.
These include super follows (where followers pay a monthly fee for extra content), disappearing tweets (a la Snapchat, which have now launched), moderated audio chat rooms (think Clubhouse), and an integrated newsletter service (thanks to its Revue acquisition).
Our data does indeed show encouraging engagement metrics for twitter.com. Average visit duration looks impressive, rising 6% YoY and peaking at 16 minutes 27 seconds in January 2021. In fact, visit duration is now flat with Q4, and only slightly less than Q3, which is a bullish signal given that those were very strong quarters for Twitter (with the pandemic, U.S. election, and the holiday season all boosting engagement).
Notably, the average number of pages viewed per visit in Q1 has now hit 12 for the first time in the last couple of years.
Crucially, if we look at only U.S. traffic (rather than global traffic) both pages visited and average visit duration hit new records in 1Q21.

Japan is Twitter's second-biggest market, with a 14% traffic share. However, Twitter users in Brazil are much more engaged, on average spending over 20 minutes on the platform.
Unlike for Facebook, Twitter's total visit numbers stayed relatively flat with Q4, and surged 30% on a YoY basis. MUVs rose 21% YoY, and while the rate of YoY growth did slow (from 35% in Q4 and 34% in Q3), in number terms, 1Q21 was Twitter's best quarter after Q4.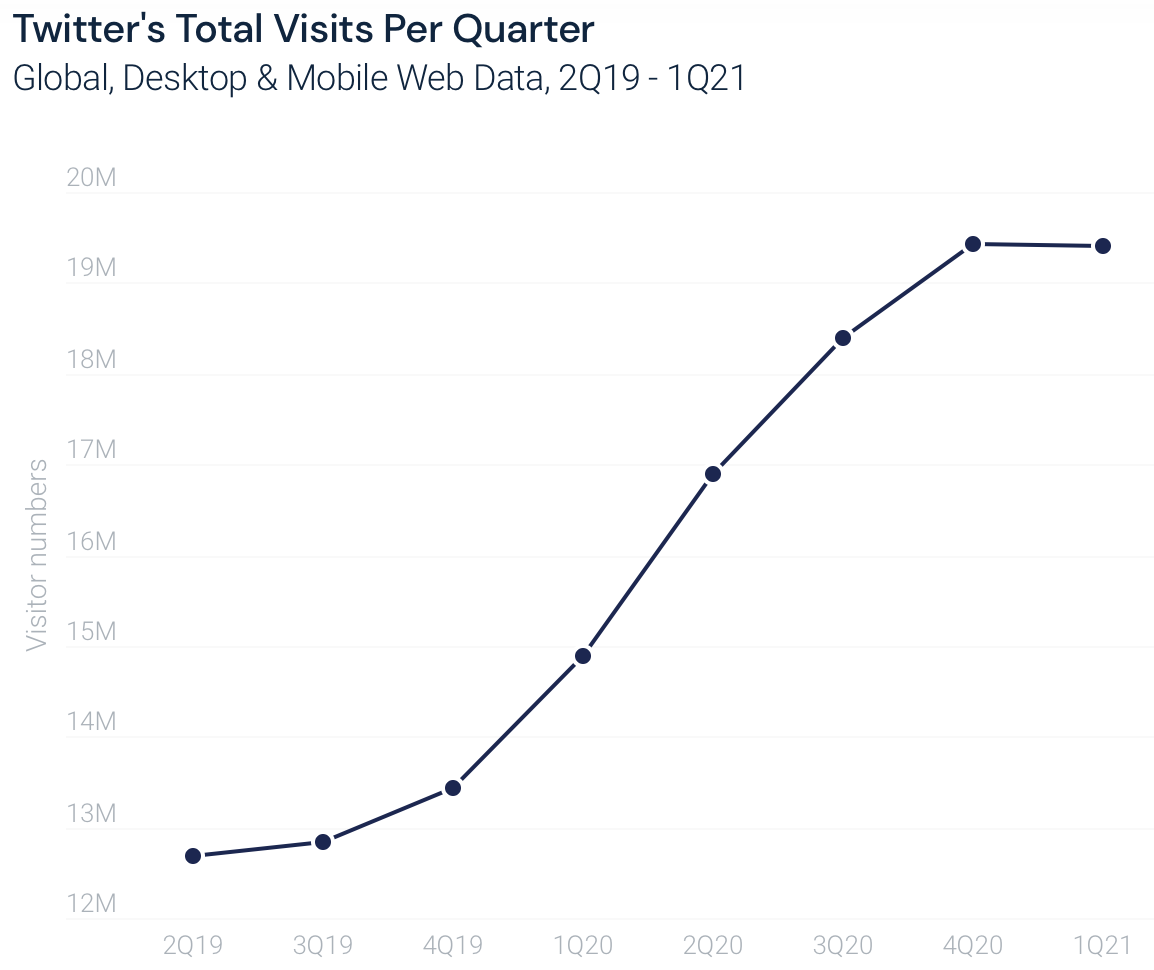 On a global level, we can also see that monthly unique visitors to ads.twitter.com (the onboarding page for Twitter's ad business) spiked 11% from the fourth quarter to the first quarter. MUVs are also up 27% YoY in 1Q21. In fact, MUVs in January to the ad domain have now topped the one million mark.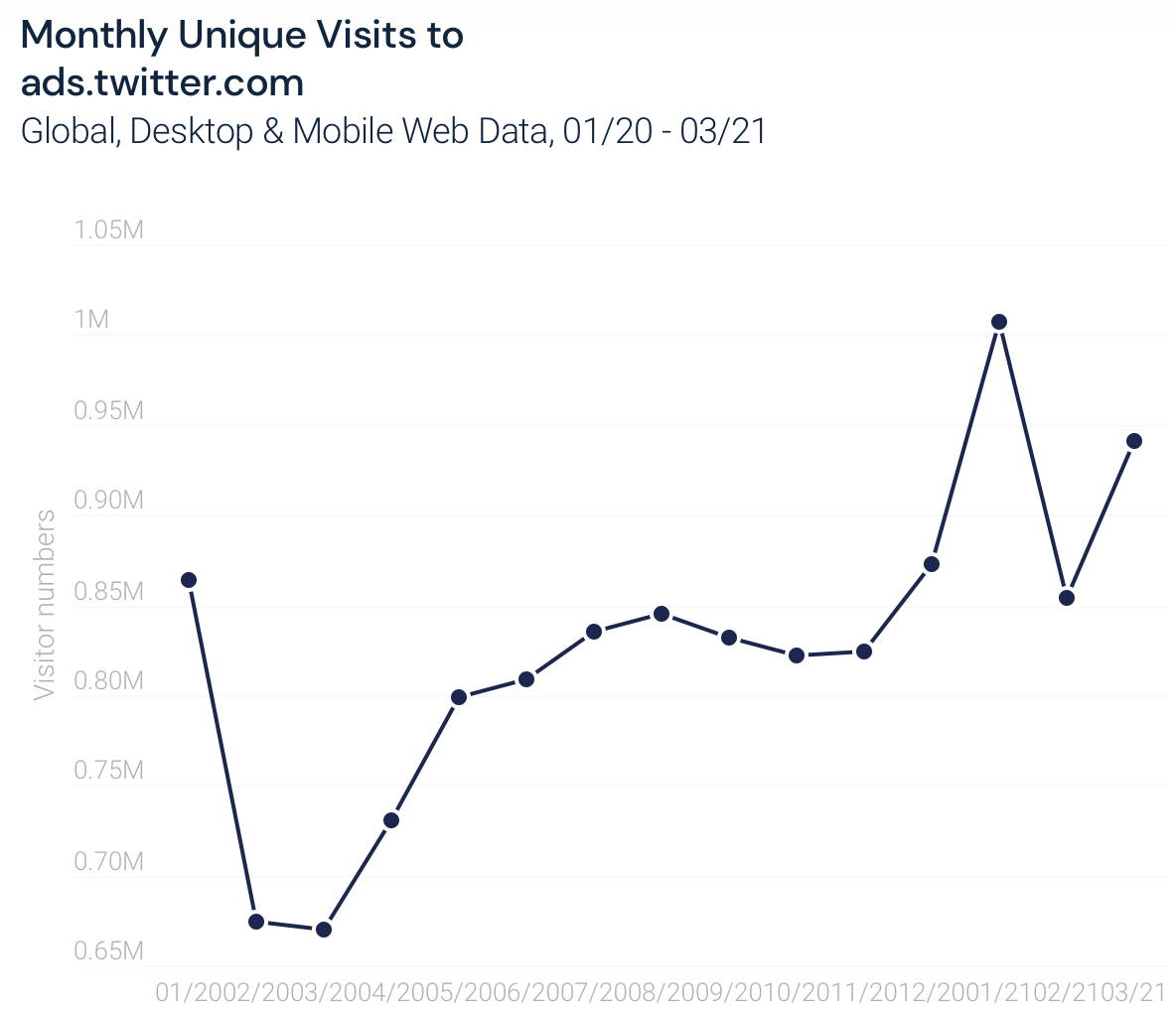 Tech stock #3: Microsoft
Earnings date: May 5 (estimate)
In 2020, Microsoft Teams saw incredible growth spurred on by COVID-19, leaving Slack's visitor numbers far behind. Its integration with the rest of the Microsoft enterprise suite gave it a unique advantage compared to standalone services like Slack or even Zoom (ZM).
In 1Q21, our data indicates that this strong growth has continued, albeit at a slower pace. Indeed, Microsoft now has almost 57 million MUVs to teams.microsoft.com, which translates to a surge of 208% YoY.
On a month-by-month basis, Teams' YoY unique visitor growth dipped to just 50% in March. However bear in mind that in 2020, March visitors exploded by over 1,000% so this is a very tough comp to beat.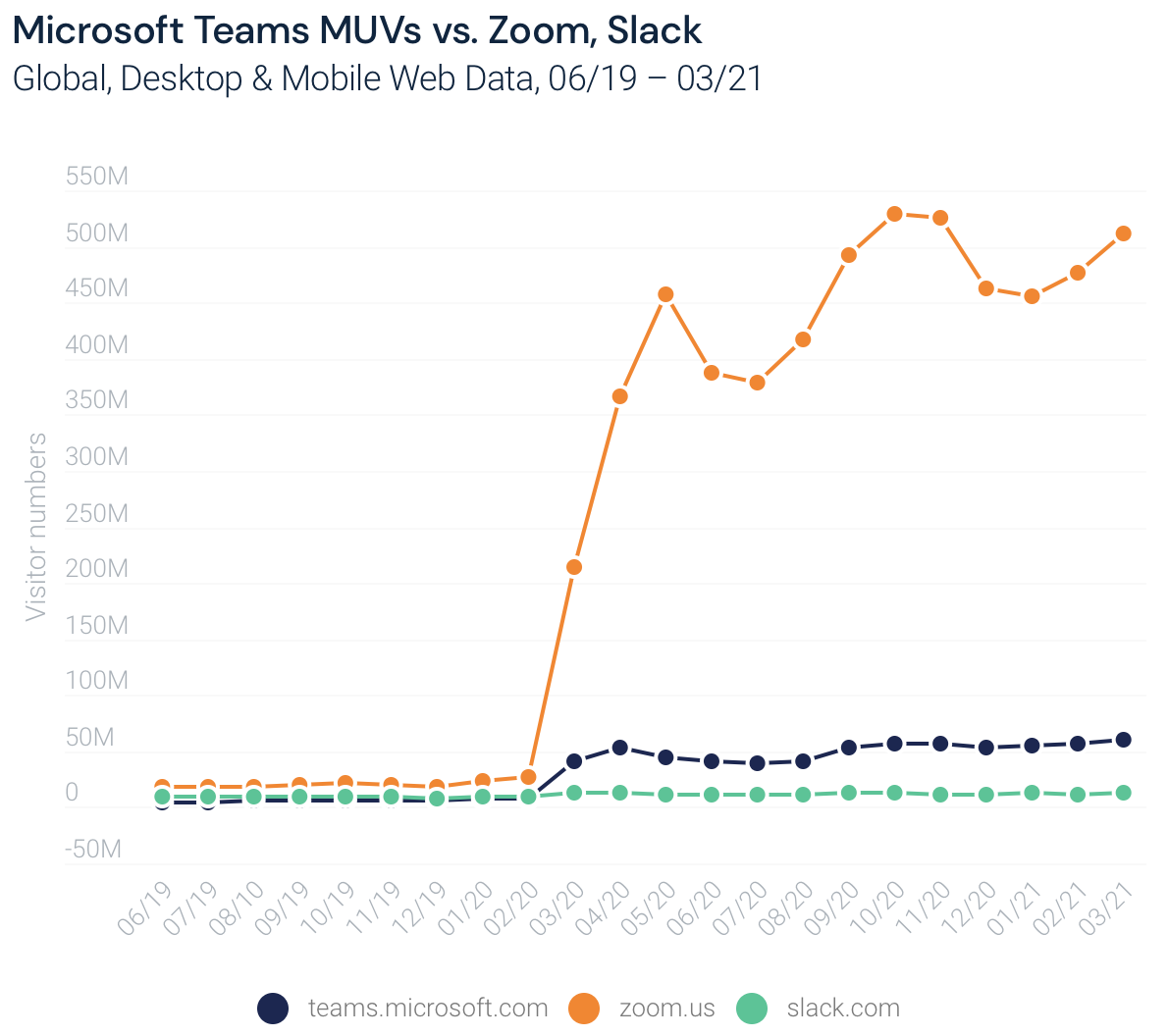 The $19.7B Nuance deal
And although it won't directly impact this quarter's earnings, it's impossible not to mention Microsoft's intriguing $19.7 billion deal for speech recognition firm Nuance. The deal is expected to close by the end of 2020, which means it should be minimally dilutive in fiscal year 2022 and accretive to earnings only by fiscal year 2023.
Longer-term, Microsoft believes Nuance can double its total addressable market (TAM) in the healthcare provider space to nearly $500 billion. Indeed, we can already see that U.S. visits to Microsoft domains with the word "health" and "cloud" have spiked 46% in the last six months, with visits to these domains reaching over 3 million in March.
"Nuance provides the AI layer at the healthcare point of delivery and is a pioneer in the real-world application of enterprise AI," said Microsoft CEO Satya Nadella. "AI is technology's most important priority, and healthcare is its most urgent application." So watch this space.
To learn more about the data behind this article and what Similarweb has to offer, visit https://www.similarweb.com/.