Etsy Earnings Preview: Striving for Growth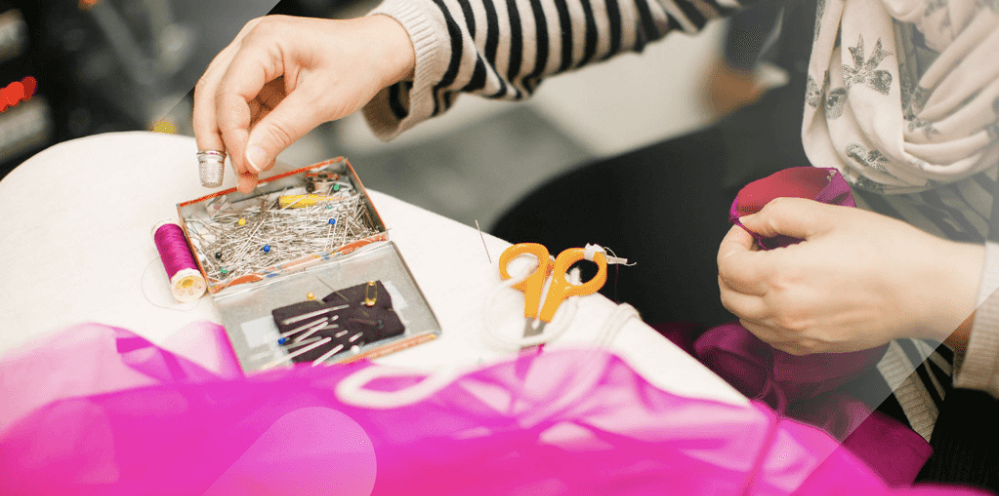 After skyrocketing during the pandemic, Etsy is up just 6% so far this year. That's despite the eCommerce stock smashing first quarter earnings estimates. But Etsy also warned of slowing revenue growth and gross merchandise sales. As global lockdowns ease and on-site activity returns, what will happen next for the handmade and vintage online marketplace?
In this report, we analyze Etsy's digital footprint as a window into 2Q21 earnings, using Similarweb's powerful Stock Intelligence data.
"We currently expect Q2 2021 GMS to decelerate along with the rest of e-commerce as we lap the tremendous 2020 growth rates," commented Etsy CEO Josh Silverman in the Q1 earnings report.
"That said, we'll keep the pedal to the metal in 2021 to continue to improve our customer experiences, make Etsy top-of-mind for the millions of buyers who have found Etsy for the first time or are relying on us now more than ever, and further invest in our very large market opportunity," he added.
The house of brands
We will also delve into Etsy's $1.6 billion Depop acquisition. This was followed by its savvy $217 million deal for Elo7 (aka the Etsy of Brazil). While these deals won't impact Etsy's earnings stats this season, it is a fundamental part of the company's long-term growth plan to create a so-called 'house of brands.'
Indeed, Etsy has already seen success with music gear marketplace Reverb. Since its 3Q19 acquisition, Reverb's gross margin has improved to 53% from 33% while its gross merchandise sales (GMS) per marketing dollar expanded from $20 to $27.
Let's take a closer look:
Etsy earnings: What payment provider traffic shows
Our primary signal for Etsy marketplace revenue is outgoing traffic to third-party payment providers (including PayPal). We can see that this traffic stayed flat (with an improvement of just 1%) from 1Q21 to 2Q21, but increased 24% year-over-year (YoY).
If we look at outgoing traffic specifically to PayPal (which accounts for 40% of all outgoing etsy.com traffic), we can see that its intra-quarter traffic share slightly increased from March to May, but subsequently slowed down from May to June.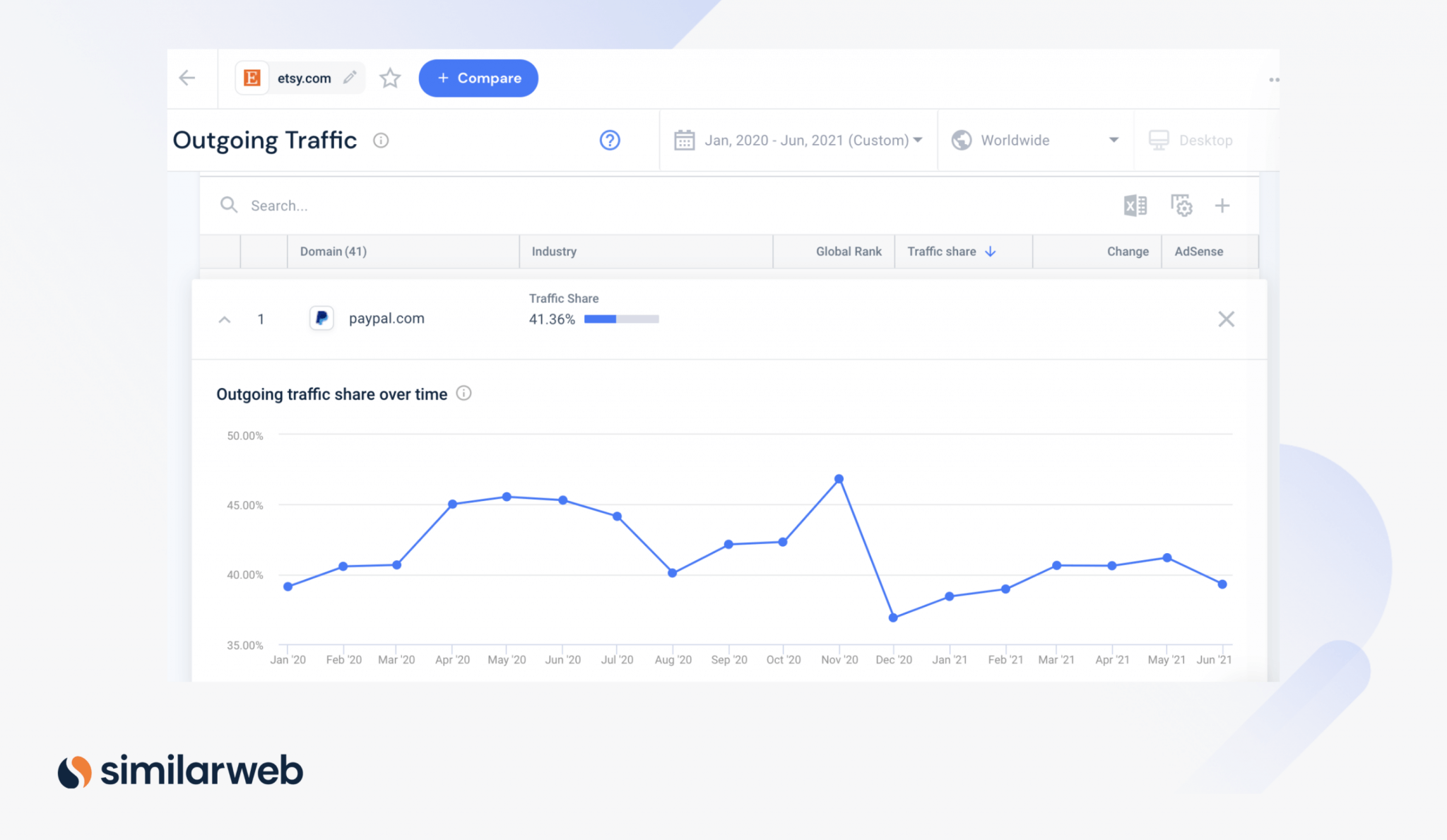 Modeling considerations: While payment traffic is a solid directional indicator of purchases, it does not reflect average order value (AOV), and may be impacted by category shifts (such as masks). As a result, a deceleration in frequency (as measured by payment traffic) may be offset by an acceleration in AOV and take rate i.e. the 5% fee charged by Etsy on a third-party transaction.
Active buyer growth facing headwinds
Meanwhile, global growth in unique visitors to etsy.com, a strong signal for Active Buyer growth, slowed sequentially vs. 1Q21, indicating incremental buyers may be thinning.
Global unique visitors to etsy.com, a historically strong indicator of growth in active buyers on Etsy's marketplace, saw growth significantly decelerate vs. 1Q21. However, note that, Etsy (like most eCommerce retailers) faces a very tough comparison to 2Q20, when traffic exploded during the pandemic. Etsy, in particular, experienced very high demand for masks in 2020, which has now tailed off.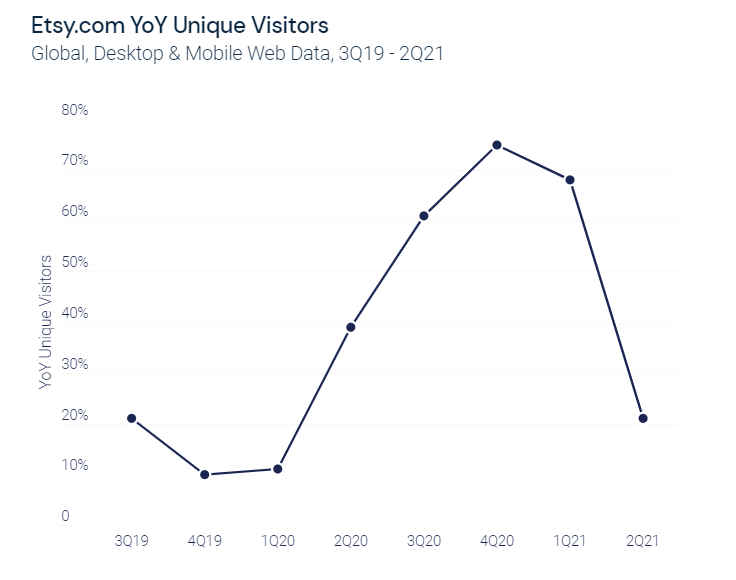 If we look at the actual numbers, rather than YoY growth, we also see a sequential slowdown from the peak in 4Q20, and 1Q21. Nonetheless, as you can see in the chart below, this was actually the third strongest quarter for Etsy in absolute number terms – despite the growth pullback. These elevated visitor levels are an encouraging sign of long-term growth potential, and suggest that Etsy continues to successfully attract new users to its platform.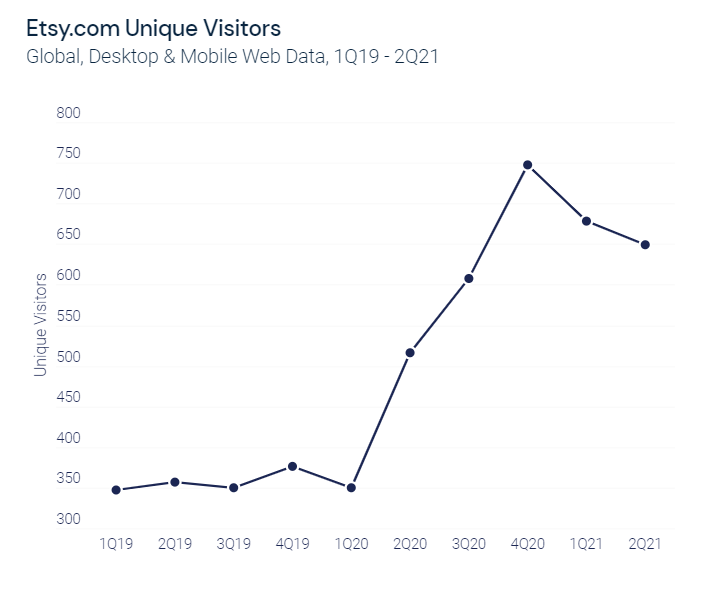 Turning traffic into transactions
Conversion rate is a critical indicator of eCommerce revenue, as it measures the proportion of traffic that ends in a transaction. Etsy has an average conversion rate of 4.7% for 2Q21, which falls just below eBay's conversion rate of 4.8%. In contrast, Amazon has the best conversion rate at a stellar 9.3%.
If we look at 2Q21, we can see that Etsy's conversion rate of 4.76% represents a notable improvement from the first quarter conversion rate of 4.46%. However, this is still a pull back from the pandemic's average conversion rate of over 5% – but a considerable advance on the pre-pandemic conversion rate of around 3.8%. This shows that the online shopping surge of the pandemic has still left its mark on consumer shopping behavior.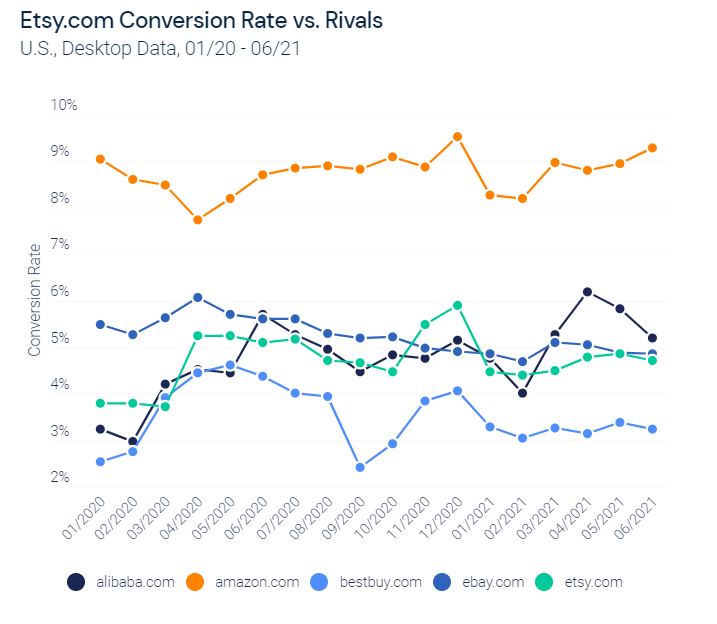 Depop digital data
Etsy's recent acquisition of Gen Z resale favorite Depop prompted a wave of bullish sentiment. In particular, Stifel's Scott Devitt reiterated his "Buy" rating on Etsy following the news, explaining:
"We view the transaction favorably and believe Etsy is well positioned to support further growth and platform improvements at Depop." Plus the transaction deepens Etsy's involvement in the fast growing apparel resale category as well as among the core Gen Z demographic.
Turning to the digital data, we can see that depop.com's unique visitors surged 117% from 2.91 million at the start of the pandemic to 6.3 million in June 2021. However rival thredUP has now overtaken Depop in terms of global monthly visits (which includes returning visitors), and its June unique visitors are just 7% below Depop.
Interestingly, thredUP also enjoys strong audience engagement, as you can see below. It takes the crown when it comes to average visit duration, pages per visit and bounce rate – all key engagement metrics of indicating how effectively a site caters to its audience.
As you would expect, the longer a visitor spends on a website, the more likely they are to make a transaction or return in the future. Will these Depop numbers trend higher once Etsy works its magic? Etsy could, for instance, integrate additional seller services (shipping, payments, advertising) to streamline the audience experience. Bottom line: This is a digital space to watch.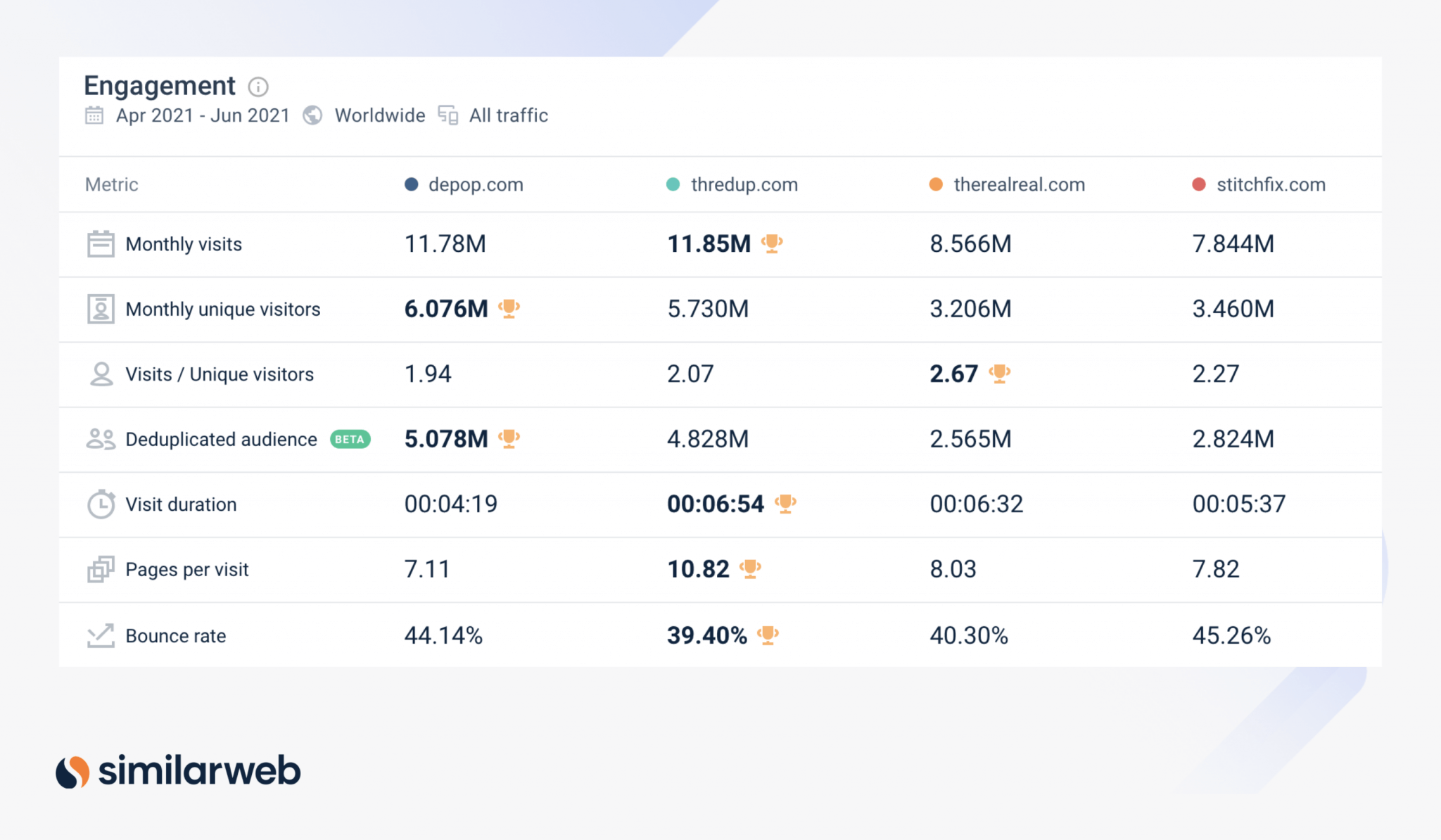 To learn more about the data behind this article and what Similarweb has to offer, visit https://www.similarweb.com/.