Newer Robinhood Customers Deposit More onto the Platform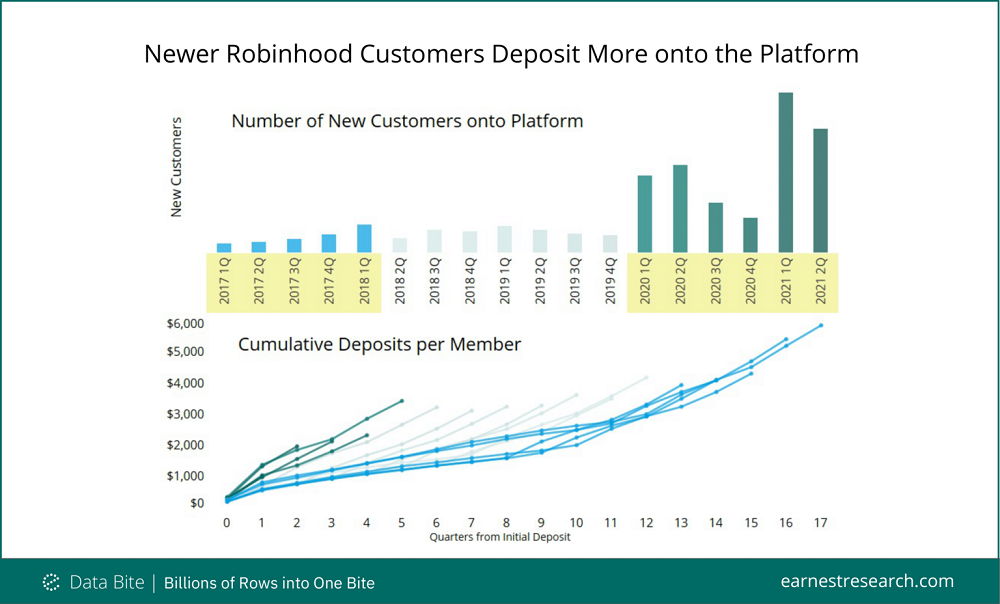 Ahead of its forthcoming $35B IPO, we looked into Robinhood's stated growth strategy to "continue adding new customers to [their] platform" as well as which customer cohorts are most valuable for the trading app.
Customers who joined the Robinhood platform in 1Q20 or later have a far greater Cumulative Deposit Value than prior cohorts, starting with a higher initial deposit, in the range of $240-$340, vs. an appx. $200 in previous periods. The 1Q20 and newer cohorts' subsequent deposits also increased more rapidly, quadrupling vs. doubling one quarter after the initial deposit.
Clearly, 2020 was an exceptional year in many regards, with stimulus checks and "meme stock" investments gyrating markets, and likely a factor in the behavior of Robinhood customers.
Per its S-1 filing, it is clear 2020 was a banner year for the firm, however, it remains to be seen whether future customers will continue to be as valuable, or if the platform will revert to pre-COVID norms.
To learn more about the data behind this article and what Earnest Research has to offer, visit https://www.earnestresearch.com/.