Earnings Season: Snowflake Reports , DocuSign and NetApp On Deck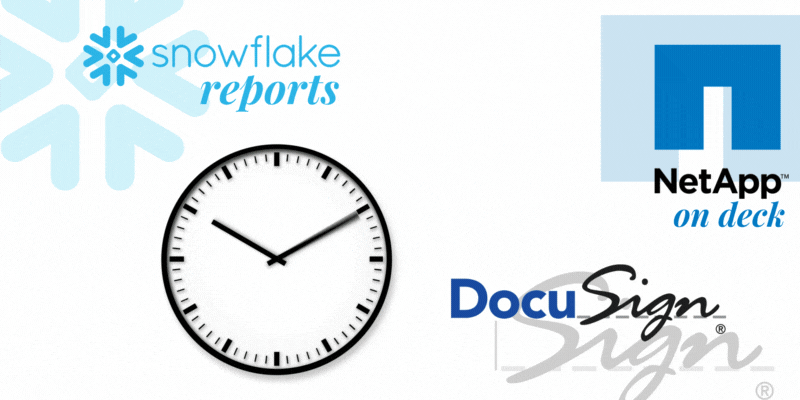 Below, ETR recaps the datasets on leading vendors in the Data Warehousing, Productivity Apps, and Storage sectors. This article is based on ETR's Spring Technology Spending Intentions Survey (TSIS), which captures where IT budgets are being invested, citing participation from 1,500 IT decision-makers. Below are specific excerpts from each vendor's TSIS report, originally published on April 16th, 2021. Stay tuned for our next set of data slated to be published in Mid-July.
Snowflake
Among all customers, spending intentions on Snowflake continue to trend robustly, though data reveals more customers indicating plans to keep spending flat in 2021 than originally reported three months ago; negativity remains virtually nonexistent. Market share is stable vs. three months ago and above year-ago levels.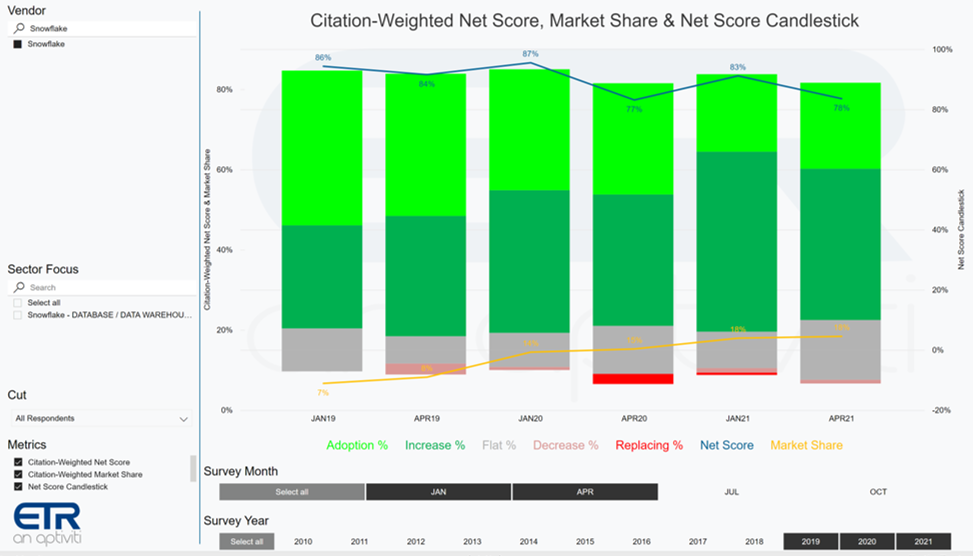 Spending intentions on Snowflake remain elevated among the largest organizations within our sample (Fortune 100/500/1000, S&P 500, Global 1000). Expected spend has pulled back slightly among International, Healthcare/Pharma, Retail/Consumer, and EMEA customers vs. three months ago, but remains above year-ago levels. Midsize, IT/TelCo, and Forbes 225 Private organizations are decelerating y/y.
Earlier this week, the disruptive next-gen data management vendor reported revenue of $228.9M (+110.4% y/y vs +117.2% last q) vs cons $198.9M; the revenue beat was driven by product revenue ($213.8M vs cons $198.9M). Make sure you keep an eye out for a fresh batch of data coming in July, where we will update the spending intentions outlook for Snowflake.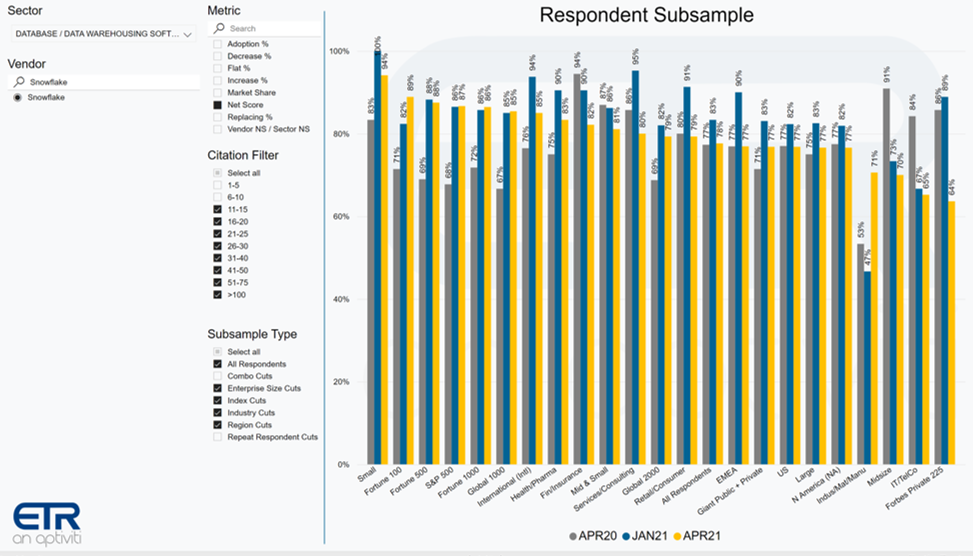 DocuSign
Among all respondents, updated 2021 Net spending intentions on DocuSign has moderated s/s yet remain higher y/y which, combined with growing market share, continues to bode well for demand.
Among Giant Public + Private (Global 2000 + Forbes 225 Privates + U.S. Fed Government) customers, updated 2021 spending intent on DocuSign products is accelerating vs. this time last year, even with some s/s deceleration.
NetApp
Among All respondents, spending intent on NetApp has deteriorated vs. last survey and year-ago levels. More respondents are indicating Negative spending intentions for NetApp than Positive spending intentions. Market share remains largely in line with the data from three months and one year ago.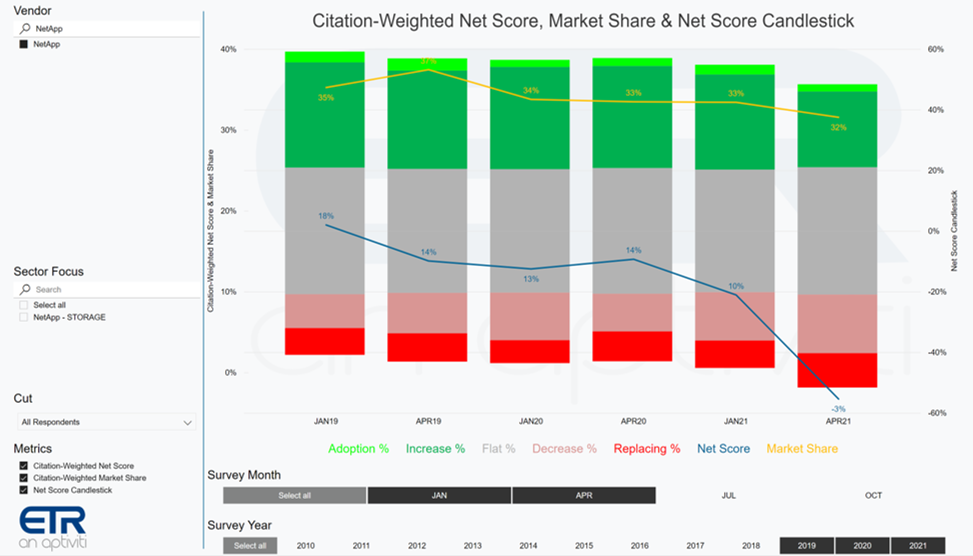 NetApp's Net score has dropped to the lower third of the Storage sector. Market share remains strong trailing only Dell and VMware. Pure Storage and Rubrik continue to lead the sector in 2021 spending intentions.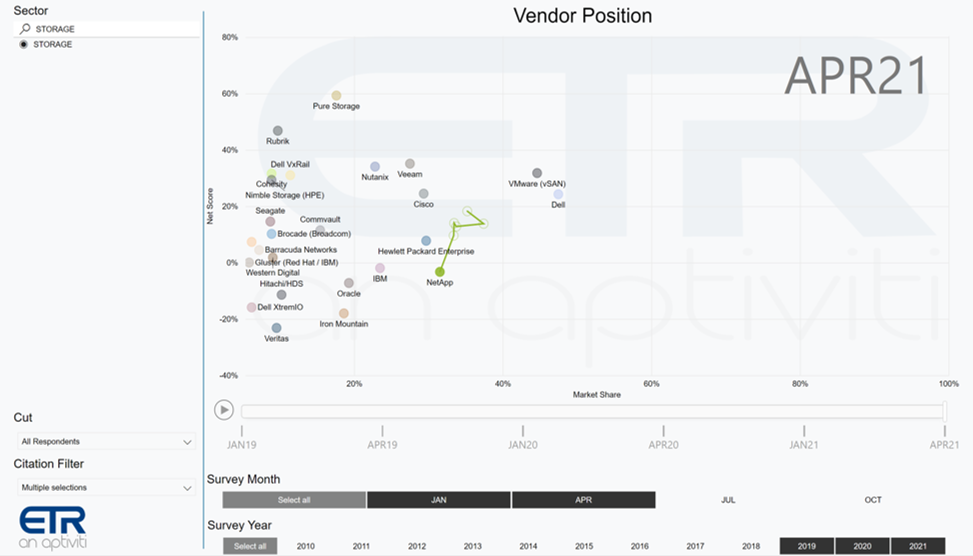 To learn more about the data behind this article and what ETR Research has to offer, visit https://etr.plus/.